Become a Better Investor Newsletter – 17 September 2022
Noteworthy this week
Reduced liquidity has driven down financial markets

Bonds have been exceptionally bad in 2022YTD

Fertilizer production shutdowns in Europe are going to be painful

Poor people worldwide are going to suffer from fertilizer shortage

Retirees are soon making up a quarter of the US Congress
Reduced liquidity has driven down financial markets: As the Fed has stopped injecting liquidity, financial markets have suffered.
Why is 2022 seeing a bear market? Short answer: Liquidity. Fed is taking away the punch bowl, and Congress is taking too much money out of the economy in the form of taxes. Every time taxes go above 18% of GDP (since the 1930s) we have gotten a recession. Every time. pic.twitter.com/IQxZQbsrMr

— Tom McClellan (@McClellanOsc) September 13, 2022
Bonds have been terrible in 2022YTD: The Bloomberg Global Aggregate Index almost showed the same poor performance as S&P500 (!). Bonds haven't been protecting capital very well in 2022.
1/4

Bond Market Carnage Update:

The total return of the Bloomberg Global Aggregate Index made a new low for the year today. It is now DOWN 16.93% YTD.

How stunning is this?

The S&P 500, which is having an extraordinarily bad year, is down 17.50% YTD. pic.twitter.com/M68Gtj07Ug

— Jim Bianco biancoresearch.eth (@biancoresearch) September 14, 2022
Fertilizer production shutdowns in Europe are going to be painful: Fertilizer producers in Europe have reduced their production massively due to high raw material prices. This is going to hit farm yields.
I used this new slide in a speech I gave Thurs in Chicago. The collapse of Europe's fertilizer sector will reverberate around the world for many months to come. Also note I just talked to John Harpole about fertilizer on Power Hungry Podcast. Listen: https://t.co/amMMzBkSSa pic.twitter.com/zWAo8IcppO

— Robert Bryce (@pwrhungry) September 10, 2022
Poor people worldwide are going to suffer from fertilizer shortage: Farm output is critical in the poorest nations. Less fertilizer leads to lower crop yields, which in turn is going to lead to starvation.
Over 3 BILLION people would starve to death without fertilizer made from natural gas.

Anti-natural gas = Pro-starvation pic.twitter.com/HOTN6F3Mdp

— Brian Gitt (@BrianGitt) September 12, 2022
Retirees are soon making up a quarter of the US Congress: 23% of US Congress members are over 70 years (!). Gonna be tough for young America with these guys in power.
This shits gotta stop. Imaging if a company had demographics like this. pic.twitter.com/0k9uLDHCq0

— Wu-Tang Financial 🥑 (@Wu_Tang_Finance) September 14, 2022
---
Poll of the week
What will happen to natural gas prices in Europe now that Putin has shut off almost all flows to Europe?
Vote on LinkedIn or
What will happen to natural gas prices in Europe now that Putin has shut off almost all flows to Europe?

— Andrew "The Worst" Stotz (
@andrew
) September 16, 2022
---
Results from last week's poll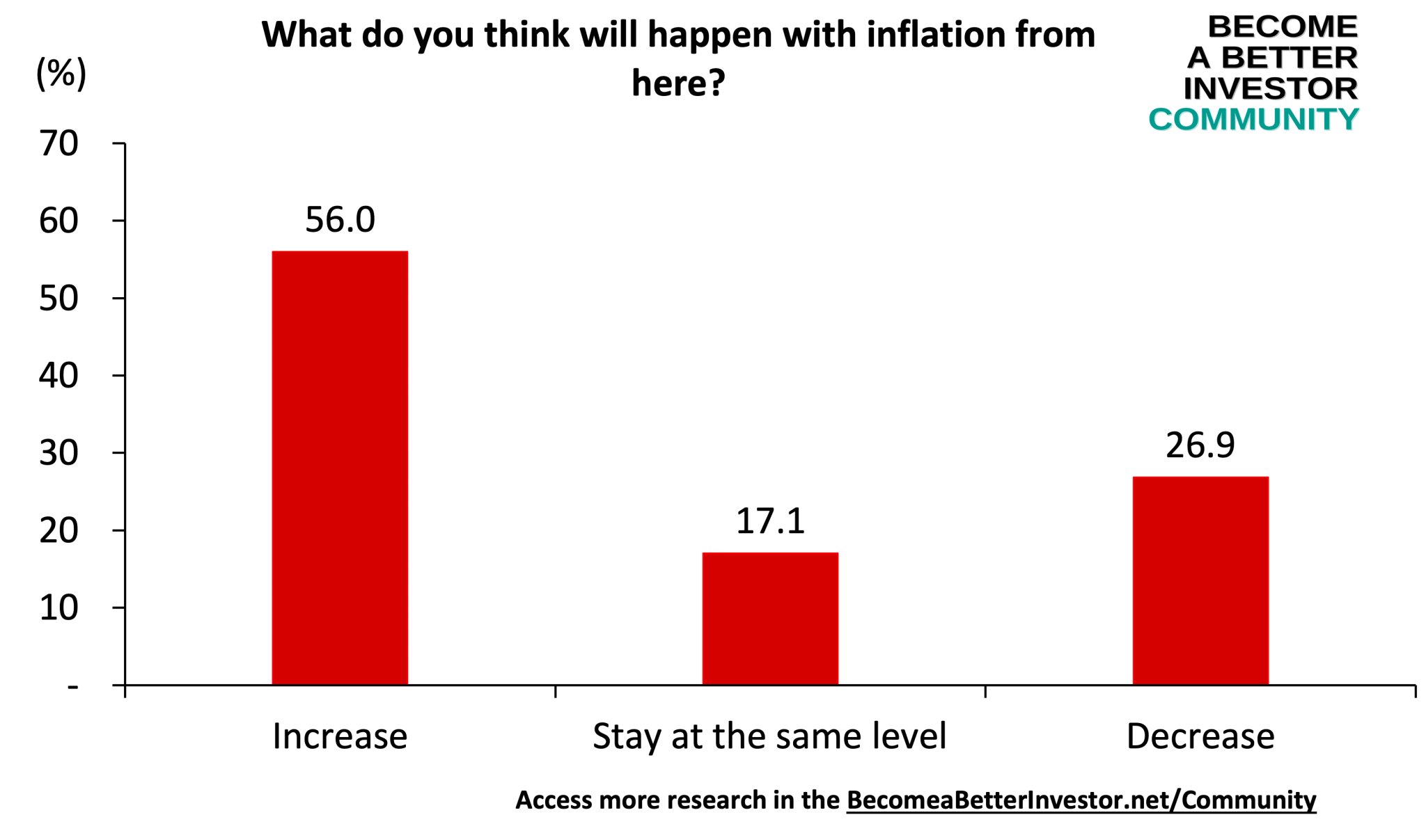 Join the world's toughest valuation training
The Valuation Master Class Boot Camp is a 6-week intensive company valuation boot camp for a successful career in finance.
---
Weekly market performance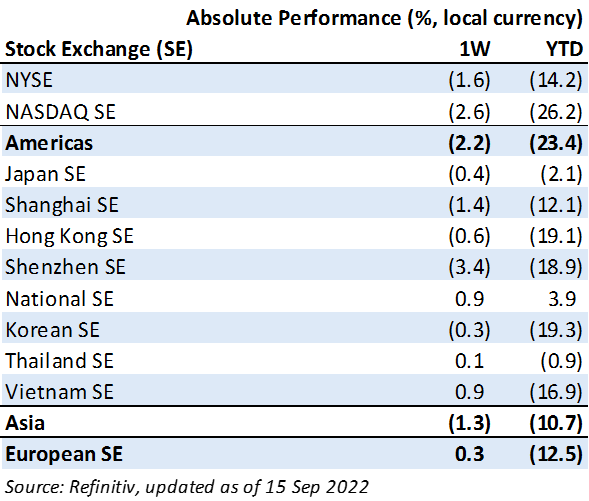 Click here to see more markets and periods.
---
Chart of the week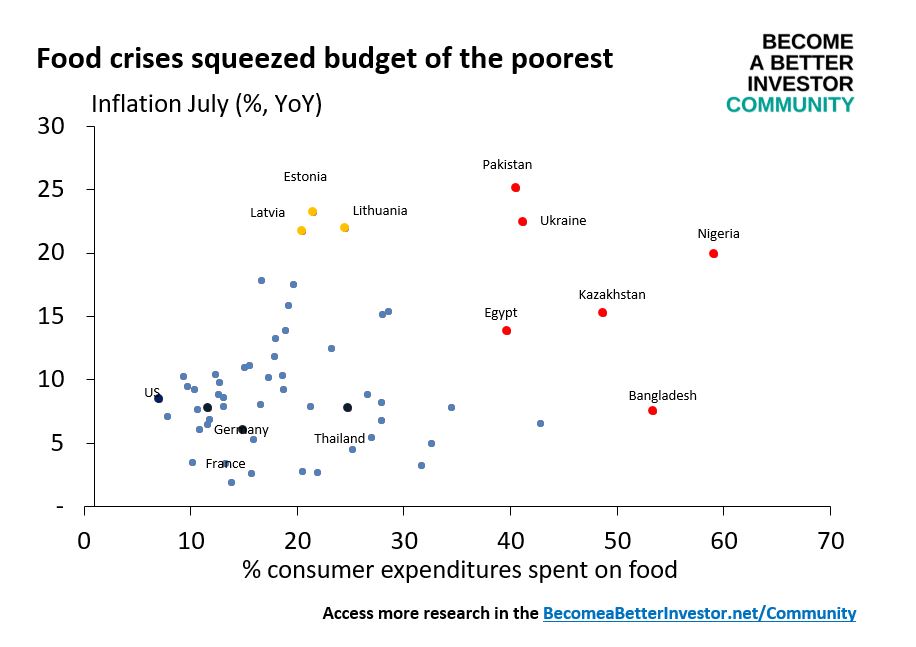 ---
Discussed in the Become a Better Investor Community this week
"I was playing around with Biden's recent speech and made this video. What do you think? Will this speech bring more voters to Democrats or bring more voters to Republicans or not have a meaningful impact."
Join the Become a Better Investor Community today! You can cancel any time, and as a newsletter reader you get a massive discount when you use this coupon code: READER
---
Podcasts we listened to this week
"Stoic philosopher and author Ryan Holiday shows us how to use ancient philosophy to calm our minds and create a foundation for lasting success."
Listen on Apple, Stitcher, Spotify, Web.
---
Readings this week
"It is important that investors minimize the risks of making investment decisions that are based on the results of data-mining exercises."
---
Memes of the week
European energy policy in one meme pic.twitter.com/WwjuVrLyHX

— AndreasStenoLarsen (@AndreasSteno) September 9, 2022
Smashing capitalism with a $9 Starbucks, $140 Ray-Bans and a $1,300 MacBook pic.twitter.com/j6bsWxwSxf

— Kenny Lay (Parody) (@EnronChairman) September 11, 2022
---
New My Worst Investment Ever episodes
BIO: John Lawson is an award-winning entrepreneur and best-selling author. His entrepreneurial spirit helped him achieve a level of success that few obtain.
STORY: A friend convinced John to buy a house and flip it. He took a loan and got into the project. The friend was in charge of the renovations and made changes, which reduced the home's value and made it impossible to sell for a profit. John was stuck with the home for eight years.
LEARNING: Never depend on other people to watch your money. Monitor your investment consistently.
BIO: Keith Johns helps corporate leaders who are feeling stuck in their 9-5 break free from corporate by building and scaling a purpose-driven business.
STORY: Keith came across two Facebook marketing programs and bought them for five figures because he didn't want to miss out. He only had time to implement one of the programs. He is yet to implement the second one to date.
LEARNING: Don't let the fear of missing out (FOMO) push you to do something before you're ready. Don't let emotions or flawed thinking affect your investment decision.
BIO: Nick Karadza and his brother Tom quit their jobs in the software industry to start Rock Star Real Estate. The company has over 60 people and works with thousands of clients who have purchased billions of dollars in income property across Ontario.
STORY: Nick bought his first fixer-upper property when he was 21. What he thought would be a quick-fixing job turned out to be much more work than he had anticipated. After much hard work, he sold the property and made a negligible profit.
LEARNING: Understand the real estate market before you invest in it.
---
Published on Become a Better Investor this week
ADAMA Limited (000553 SZ): Profitable Growth rank of 9 was up compared to the prior period's 10th rank. This is poor performance compared to 910 large Materials companies worldwide.
Read ADAMA – World Class Benchmarking
Sembcorp Industries Limited (SCI SP): Profitable Growth rank of 7 was up compared to the prior period's 8th rank. This is below average performance compared to 1,530 large Industrials companies worldwide.
Read Sembcorp Industries – World Class Benchmarking
Andrew had a chat with Dr. Travis Fox on his "The Ultimate Business Quest" Podcast.
Listen to Andrew Stotz on The Ultimate Business Quest Podcast
Chengdu Hongqi Chain Company Limited (002697 SZ): Profitable Growth rank of 5 was down compared to the prior period's 4th rank. This is average performance compared to 1,030 large Cons. Disc. companies worldwide.
Read Chengdu Hongqi Chain – World Class Benchmarking
What's interesting about Snapchat is that its share price is 88% below its Sep'21 all-time high.
Watch Is Snapchat Suffering a Slow and Painful Death?
---
DISCLAIMER: This content is for information purposes only. It is not intended to be investment advice. Readers should not consider statements made by the author(s) as formal recommendations and should consult their financial advisor before making any investment decisions. While the information provided is believed to be accurate, it may include errors or inaccuracies. The author(s) cannot be held liable for any actions taken as a result of reading this article.