Become a Better Investor Newsletter – 8 October 2022
Noteworthy this week
Inflation is in the things you really need

OPEC+ agrees to cut production quotas, which could boost inflation

Fed seems committed to killing inflation; what will the terminal rate be?

Though the Fed might not be that great at stifling inflation

It has been the most aggressive hiking cycle we've seen

Bonds have been slaughtered as a result

Central banks will be blamed if they don't get inflation under control
Inflation is in the things you really need: If you mainly spend on electronics and toys, the past two decades have been great. However, I hope you've been growing your income if you need healthcare, food, education, and housing.
A short inflation summary:

Everything you really need ⬆️

Everything you don't really need ⬇️ pic.twitter.com/2LH3l4UqOE

— AndreasStenoLarsen (@AndreasSteno) October 3, 2022
OPEC+ agrees to cut production quotas, which could boost inflation: News about big production cuts were actually a cut in production quotas. OPEC+ has already missed the quotas for quite some time. Still, this could put upward pressure on oil prices and inflation.
Every headline claiming OPEC+ cut production by 2mm is dead wrong, misleading, and journalistically incompetent.

OPEC+ cut production QUOTAS, *not* production by 2mm bbl. Most countries were already unable to produce to quota.

The resulting cut to PRODUCTION is ~800k, not 2mm.

— Erik Townsend 🛢️ (@ErikSTownsend) October 6, 2022
Fed seems committed to killing inflation; what will the terminal rate be?: Here are some historical numbers that may give a guide. Keep in mind you typically look at CPI year-on-year, meaning 2022 is the base for the inflation rate in 2023, so the base is relatively high.
Every time the Fed had to seriously fight inflation, they ALWAYS ended up raising Fed Funds above the prevailing core inflation rate.

1980: Core CPI 14%, FF 18%
1984: Core CPI 5%, FF 12%
1990s: Core CPI 6%, FF 10%
1999: Core CPI 3%, FF 6%
2006: Core CPI 3%, FF 5%

2023: ???

— Alf (@MacroAlf) October 3, 2022
Though the Fed might not be that great at stifling inflation: Everyone seems to trust central banks are in control. How have central committees measured up versus the free market in the past?
You all keep thinking CB's can actually control inflation by trying to suppress demand. Here is the problem right now. We are in a structural supply deficit across energy, metals, and ags. CB's cant fix this.

— Tracy (𝒞𝒽𝒾 ) (@chigrl) October 4, 2022
It has been the most aggressive hiking cycle we've seen: Fed hasn't been hiking rates this aggressively since the 1980s.
Pace of rate hikes. #FedDay pic.twitter.com/kquHBtygvk

— Kathy Jones (@KathyJones) September 21, 2022
Bonds have been slaughtered as a result: The aggressive policy has resulted in an outstandingly bad performance of bonds.
When people buy corporate bonds, they think they are buying credit spreads – incorrect!

Instead, they are taking onboard BOTH credit spreads & interest rate/duration risk

YTD Investment Grade Corporate Bond returns have been terrible mostly because of rates, not credit spreads pic.twitter.com/y59uEiYUGF

— Alf (@MacroAlf) October 4, 2022
Central banks will be blamed if they don't get inflation under control: Though, there may be many other casualties. Like financial markets, hence your investments, hence your pension. Click on the image below to watch the video, which brilliantly sums up what central banks have done so far in this cycle.
Central Bankers coordinated "4 stage strategy"
–#BOE #FED #BOU #ECB #inflation #CPI #russia #energy pic.twitter.com/1UjPzAz1pX

— BecauseYoureBored (@BecauseYrBored) October 2, 2022
---
Poll of the week
WTI crude oil price is about US$89/per barrel, where will it be by yearend 2022?

— Andrew "The Worst" Stotz (
@andrew
) October 7, 2022
---
Results from last week's poll

Join the world's toughest valuation training
The Valuation Master Class Boot Camp is a 6-week intensive company valuation boot camp for a successful career in finance.
---
Weekly market performance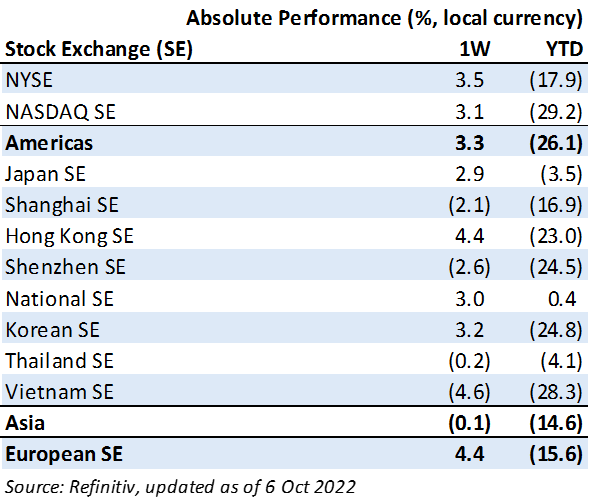 Click here to see more markets and periods.
---
Chart of the week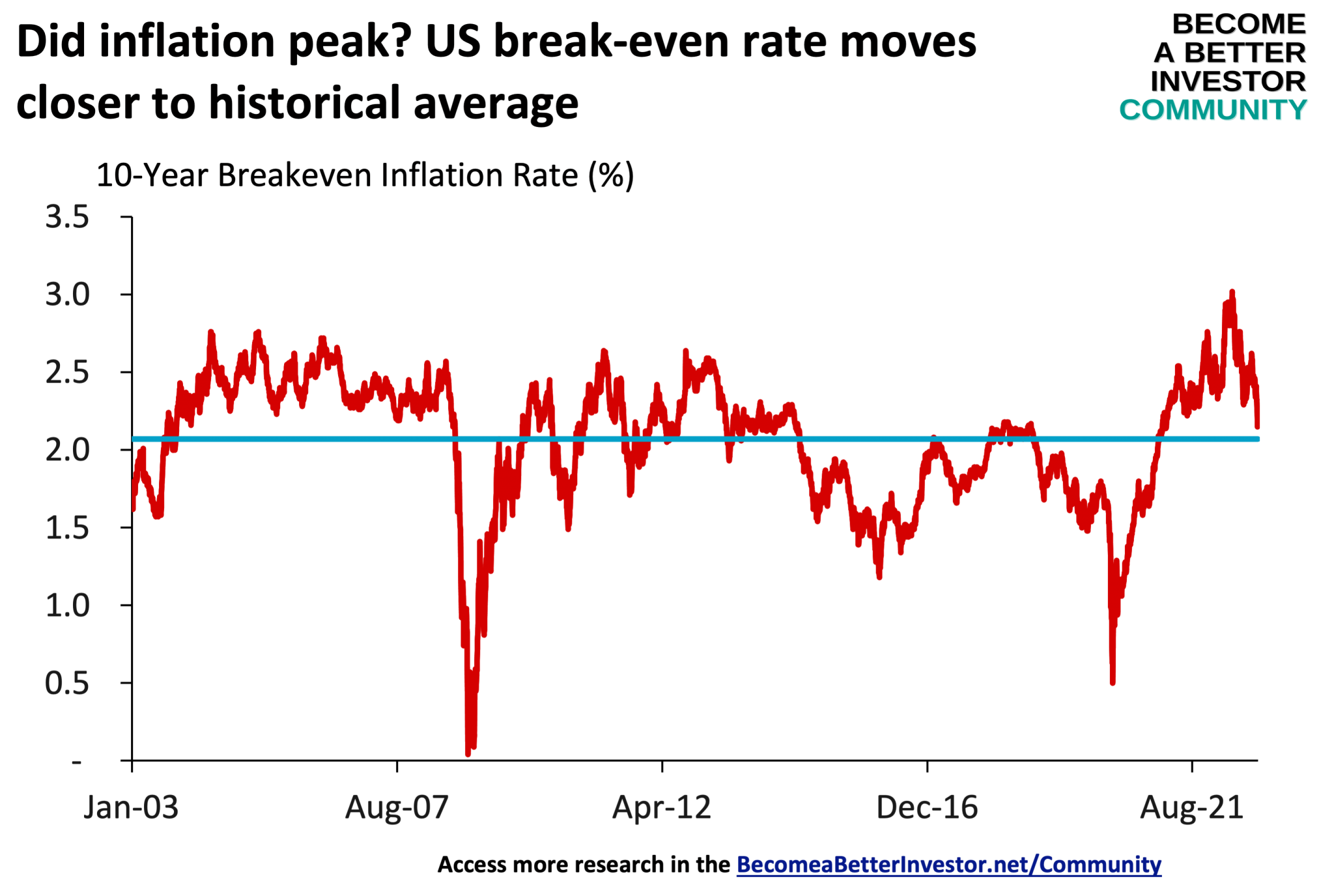 ---
Discussed in the Become a Better Investor Community this week
"Outlook: Central banks are raising rates into a recession to stifle inflation; stagflation would be the worst outcome.
Risks: Inflation gets under control, monetary tightening crash markets, weak China."
Join the Become a Better Investor Community today! You can cancel any time, and as a newsletter reader you get a massive discount when you use this coupon code: READER
---
Podcasts we listened to this week
MacroVoices #343 Jeff Snider: Why the Dollar Remains King
Given the strong US dollar and how it affects the global economy, it's always interesting to hear perspectives on the topic. Jeff Snider possesses substantial knowledge of the eurodollar system.
---
Readings this week
Understanding Competitive Advantage Through Market Power
We examine whether a study of market share and related concepts can help us determine if a company has a sustainable competitive advantage.

This takes us on a journey that includes life cycles, market share, concentration, markups, intangibles, and "superstars."

We study the link between some of these variables and return on investment and provide some analytical tools along the way.

We finish with some case studies to see how these ideas apply to a handful of industries.
Read the entire research paper.
---
Memes of the week
inflation is under control pic.twitter.com/gDk2qflPoy

— Enron Winter Intern (@EnronHeadIntern) October 5, 2022
"Gonna raise rates again lol" pic.twitter.com/3W4v3vMPQU

— litquidity (@litcapital) October 3, 2022
---
New My Worst Investment Ever episodes
BIO: Andrew L. Howell is a Co-Founder of the Salt Lake City law firm York Howell, known as one of Utah's fastest-growing companies.
STORY: Andrew was convinced by his second cousin to enter a business deal with him and another family member. They took out a loan of $1.7 million. The business was a flop, and the two partners abandoned him, leaving him to bear the burden of repaying the loan.
LEARNING: Don't get involved in a business you're unwilling to invest your time and effort into. Don't bring partners into your life if you can avoid it. Avoid getting involved with family members.
BIO: Annie Duke loves to dive deep into decision-making under uncertainty. Her latest obsession is the topic of quitting.
STORY: Annie's worst investment ever was becoming a poker player.
LEARNING: It's ok to do a few different things at a time. Quit more if you have to.
BIO: Mathew Frederick specializes in finding and securing under-contract, off-market multi-family, and office buildings for conversion to their highest best use.
STORY: Mathew bought a building without knowing that it had underground storage tanks of fuel that were polluting the environment. It cost him $400,000 to clean up the mess. The mess further reduced the property's value to $1.7 million from $2.1 million.
LEARNING: Make a minor adjustment to your ego and humility. Do your due diligence. Know the fights to walk away from.
---
Published on Become a Better Investor this week
MK Restaurant Group Public Company Limited (M TB): Profitable Growth rank of 1 was same compared to the prior period's 1st rank. This is World Class performance compared to 1,320 medium Cons. Disc. companies worldwide.
Read MK Restaurant Group – World Class Benchmarking
Semirara Mining and Power Corporation (SCC PM): Profitable Growth rank of 1 was same compared to the prior period's 1st rank. This is World Class performance compared to 330 large Energy companies worldwide.
Read Semirara Mining and Power Corporation – World Class Benchmarking
Alibaba's GMV is twice of Amazon's. In 2020, Jack Ma criticized China's banking system as being inefficient which led to realization that China's big techs are wielding too much power.
Watch Can Alibaba Continue to Maintain Its Dominant Position?
Glodon Company Limited (002410 SZ): Profitable Growth rank of 5 was same compared to the prior period's 5th rank. This is average performance compared to 720 large Info Tech companies worldwide.
Read Glodon – World Class Benchmarking
In September 2022, we published 13 new episodes of the My Worst Investment Ever podcast. Listen to all of them here.
Read My Worst Investment Ever September 2022
---
DISCLAIMER: This content is for information purposes only. It is not intended to be investment advice. Readers should not consider statements made by the author(s) as formal recommendations and should consult their financial advisor before making any investment decisions. While the information provided is believed to be accurate, it may include errors or inaccuracies. The author(s) cannot be held liable for any actions taken as a result of reading this article.