Become a Better Investor Newsletter – 1 October 2022
Noteworthy this week
Fed is hiking rates at a record pace

Jeremy Siegel pounds on the Fed

The Bank of England has already ended QT

Italy's first female PM is anti-establishment

The US could be behind the Nord Stream 1 & 2 leaks

Even Bill Gates sees the breakdown of ESG
Fed is hiking rates at a record pace: The current rate-hike cycle is the fastest we have seen from the Fed, looking back as far as 1983.
Pace of rate hikes. #FedDay pic.twitter.com/kquHBtygvk

— Kathy Jones (@KathyJones) September 21, 2022
Jeremy Siegel pounds on the Fed: Siegel of the Wharton School doesn't hold back when he criticizes JPow and the Fed. Click below to watch the video and listen for yourself.
Jeremy Siegel of the Wharton School ripping apart Powell and the Fed…

"They Know Nothing" 2.0 pic.twitter.com/6F1NDHVh55

— Stephen Geiger (@Stephen_Geiger) September 23, 2022
The Bank of England has already ended QT: After total panic in UK bonds, the Bank of England effectively announced an end to its tightening. It took nine months until they reverted the course.
The Bank of England's "quantitative tightening" lasted 9 months.

— Gandalf (@BTCGandalf) September 28, 2022
Italy's first female PM is anti-establishment: Italy will soon be led by the new PM, Giorgia Meloni. Like in Sweden, Italy saw the right-wing/anti-establishment gaining votes. This could cause trouble with the EU and ECB. Click below to read the entire thread.
Italy will soon have a new government most likely led by the new PM Giorgia Meloni.

Here is what I expect they'll come up with in the first few months, and what's the likely market response.

A short thread.

1/

— Alf (@MacroAlf) September 26, 2022
The US could be behind the Nord Stream 1 & 2 leaks: While media in Developed Europe run stories on why Putin did it, it appears the US could also be behind it. The US probably stands more to win. A Polish political veteran and former minister thanked the US on Twitter. (The tweet has since been deleted, but we got a screenshot)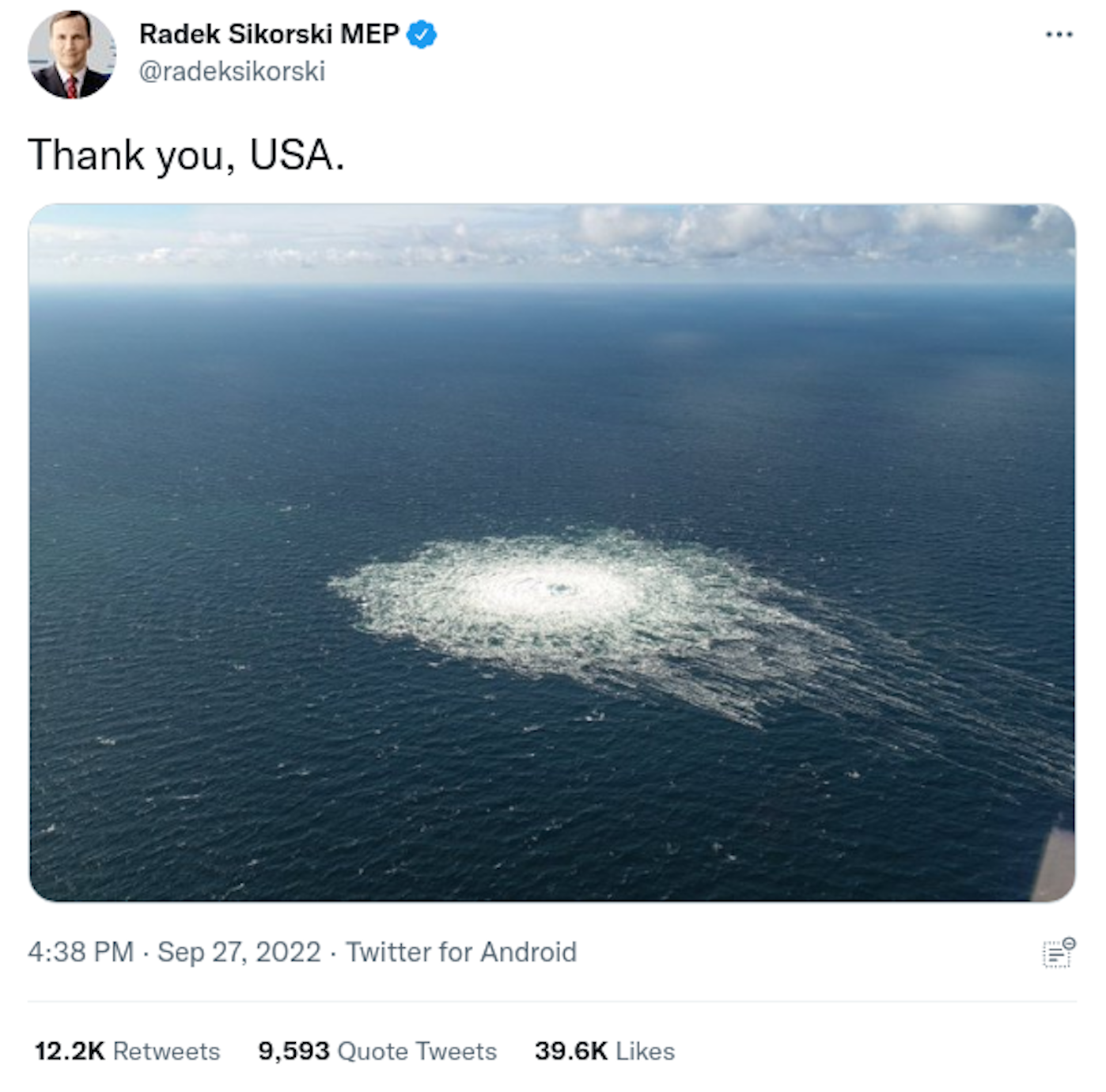 Even Bill Gates sees the breakdown of ESG: I have become more convinced that ESG could be a disastrous solution to society's environmental and social problems.
Bill Gates Slams Unreliable Wind and Solar Energy
Source: Net Zero Watch (Youtube) pic.twitter.com/SRIo2GZ5Jt

— Wittgenstein (@backtolife_2023) September 26, 2022
---
Poll of the week
Which is most likely to have blown up Nordstream pipeline?
#NordStream2

— Andrew "The Worst" Stotz (
@andrew
) September 29, 2022
---
Results from last week's poll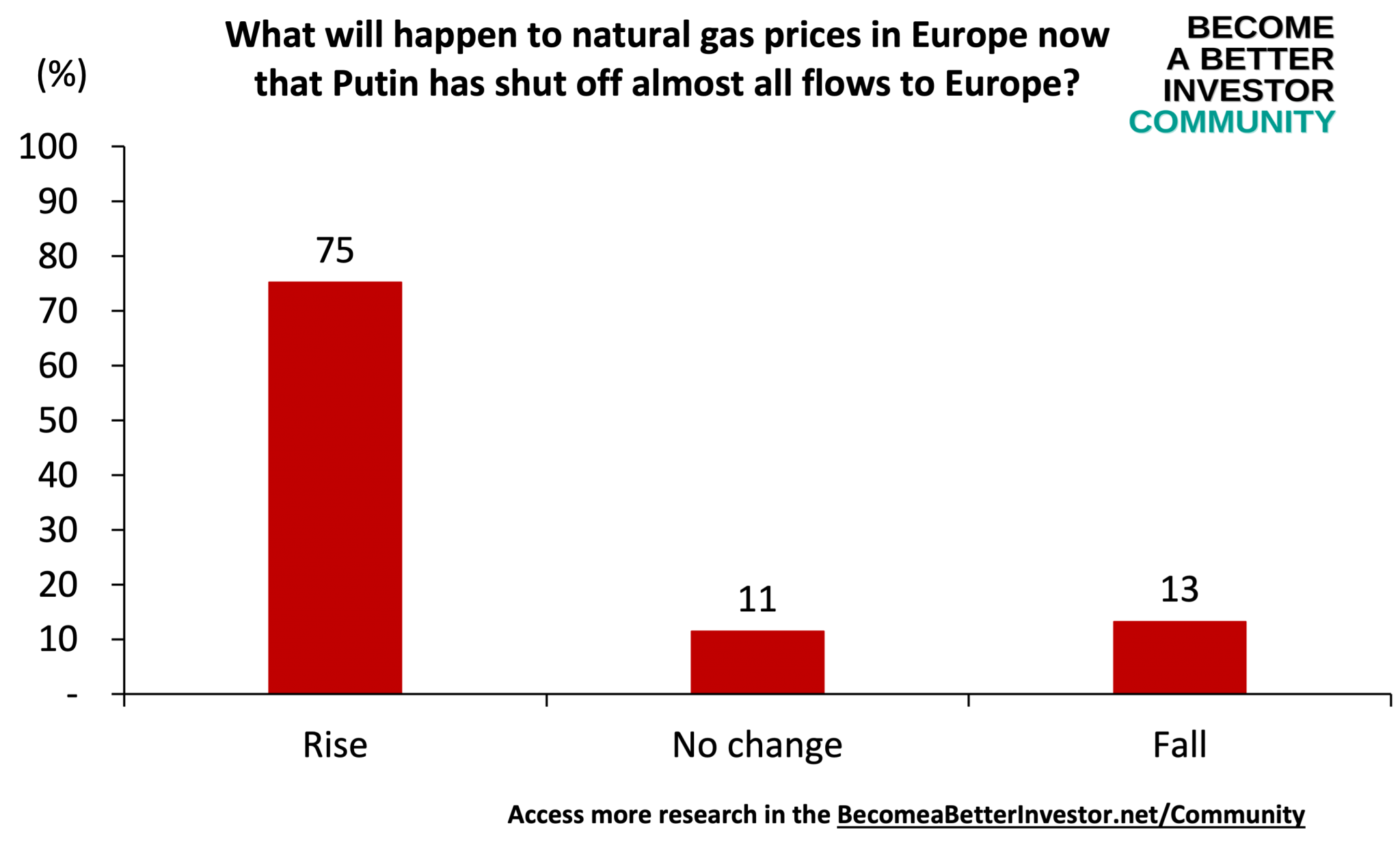 Join the world's toughest valuation training
The Valuation Master Class Boot Camp is a 6-week intensive company valuation boot camp for a successful career in finance.
---
Weekly market performance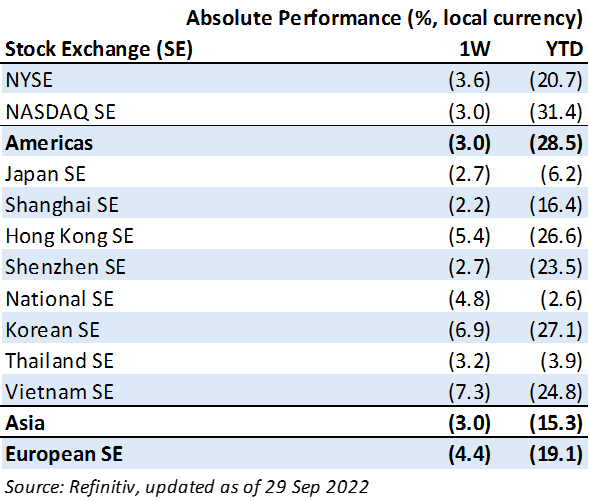 Click here to see more markets and periods.
---
Chart of the week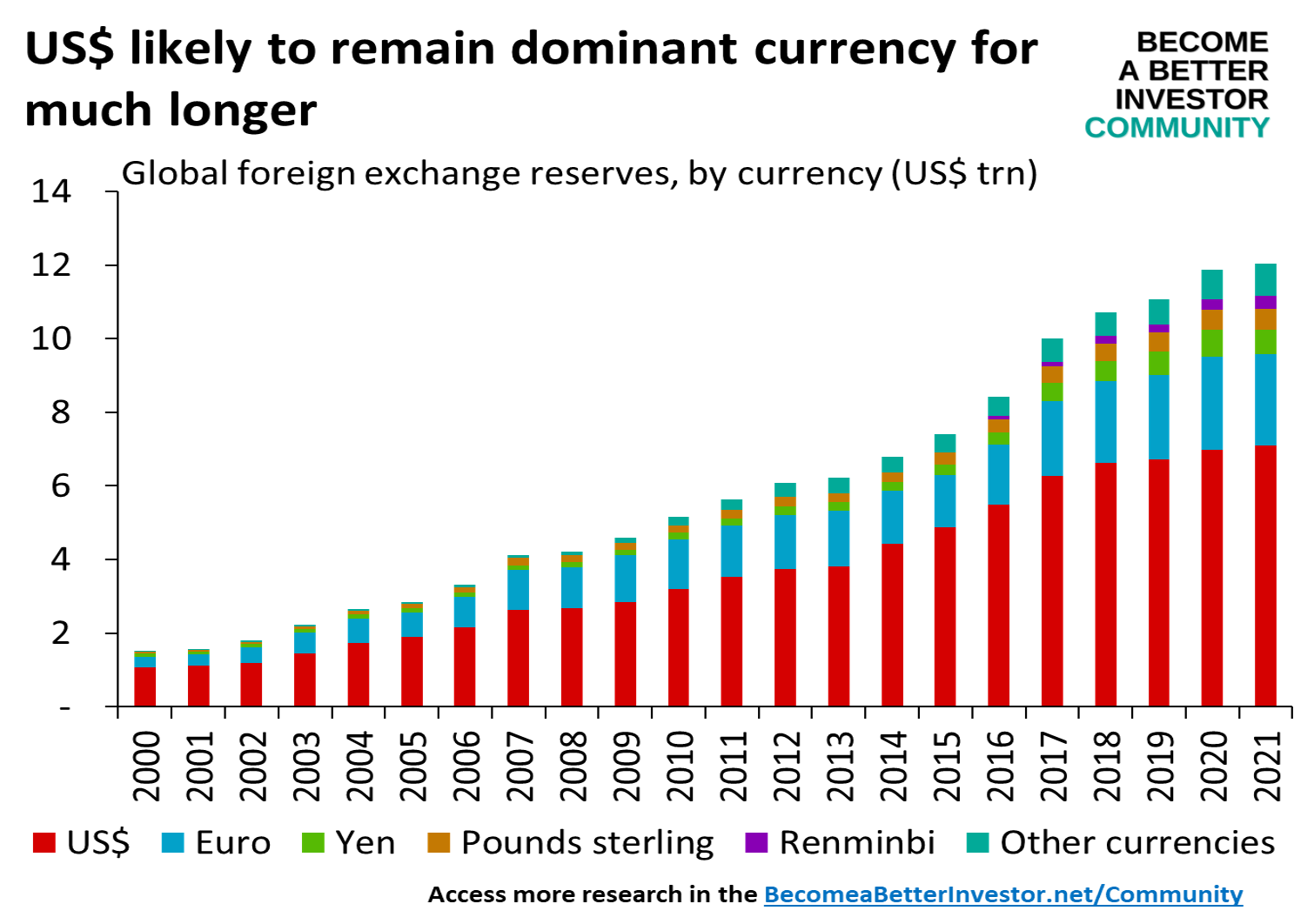 ---
Discussed in the Become a Better Investor Community this week
"Just thinking out loud here. What if, instead of trying to pump more oil & gas with a guarantee to producers, wouldn't it be better for the US to subsidize its citizen for the high domestic energy price? That way, they would keep the energy price high while reducing local inflation and export inflation via the high energy price and USD? China would face higher commodity costs importing food and energy when reopen."
Join the Become a Better Investor Community today! You can cancel any time, and as a newsletter reader you get a massive discount when you use this coupon code: READER
---
Podcasts we listened to this week
2 Things You Must Focus On To Grow Your YouTube Channel Quickly, with Pat Flynn (Part II)
This is a great discussion about YouTube as a marketing strategy. The fascinating thing about this one was when he talked about how he got 50 million YouTube short views but that he felt like almost none of them converted into customers and long-form YouTube video viewers.
The Genius Life #232 The 10 Healthiest Vegetables You Must Eat | Max Lugavere
This podcast was excellent, and I immediately went to the supermarket to get all 10 of these vegetables and create a daily salad for mom and me.
MacroVoices #342 Mike Alkin & Adam Rodman: Can a Nuclear Renaissance Solve the Energy Crisis?
This episode tells you a lot of what you need to know about nuclear power.
---
Readings this week
This article summarizes the latest academic research on buying stocks that produce high cash flows in the near term versus buying stocks with high cash flows in the distant future. The former is called short duration, and the latter is called long duration
From my perspective, the conclusion I would make from this is that we should prefer companies that give us cash in the near term. It doesn't mean that we can't win on companies that provide us cash in the distant future, but that time component exposes those cash flows to many risks.
Given that western media has pretty much banned the communication of the Russian perspective of the Russia Ukraine situation. It's hard to find both sides of the story.
This news conference, published on YouTube under the United Nations, gives a good overview of the core issues that matter to Russia in this case. Whatever your opinions of the current situation, it is valuable to look at both sides.
This highlights one of the things that I try to teach in the Valuation Master Class, which is to think independently and look at both sides of the situation. Any investor would be a fool if they refused to listen to the opposing view before committing money to their investment idea.
---
Memes of the week
Trussonomics #GBP pic.twitter.com/5H4BWf2CEv

— AndreasStenoLarsen (@AndreasSteno) September 26, 2022
gbp keeps on taking 😩 pic.twitter.com/egPiUQoJA8

— Wall Street Memes (@wallstmemes) September 26, 2022
---
New My Worst Investment Ever episodes
BIO: Kirk Chisholm is a wealth manager and principal of Innovative Advisory Group and Host of the popular podcast Money Tree Investing.
STORY: Kirk shares his thoughts regarding the current status of the global markets.
LEARNING: Always check your assumptions. Cash is now safer than bonds. Now is not the time to buy.
BIO: Randall Crowder is an entrepreneur, angel investor, and venture capitalist who is currently the Chief Operating Officer (COO) of Phunware, a publicly-traded technology company on NASDAQ.
STORY: Randall spent too much time being a venture capitalist when all he ever wanted was to be an entrepreneur.
LEARNING: Sometimes, the easy way is absolutely the wrong way. Don't just take what's right before you, especially when you know it's not what you want to do. Nothing good comes easy; you must fight or work for the good things in your life.
BIO: Lance Depew has over 30 years of equity research, portfolio management, and corporate finance experience.
STORY: Lance's worst investment was in a company called Transocean. He bought shares on in 2006 at $80.35 a share. He ultimately exited the position in 2020, when the shares sold at less than $1 a share.
LEARNING: Regardless of how smart you are and how much homework you do, things can go wrong when investing. Take steps to de-risk your positions.
---
Published on Become a Better Investor this week
CITIC Offshore Helicopter Company Limited (000099 SZ): Profitable Growth rank of 5 was up compared to the prior period's 7th rank. This is average performance compared to 1,370 medium Industrials companies worldwide.
Read CITIC Offshore Helicopter – World Class Benchmarking 
YTL Power International Berhad (YTLP MK): Profitable Growth rank of 7 was up compared to the prior period's 10th rank. This is below average performance compared to 310 large Utilities companies worldwide.
Read YTL Power International – World Class Benchmarking
Gulf Energy Development Public Company Limited (GULF TB): Profitable Growth rank of 5 was same compared to the prior period's 5th rank. This is average performance compared to 310 large Utilities companies worldwide.
Read Gulf Energy Development – World Class Benchmarking
The All Weather Strategy: The market expects Fed and the ECB to hike aggressively, even if it causes a recession. Europe's energy crisis is far from over.
Watch A. Stotz All Weather Strategies – August 2022
What's interesting about Daimler Truck is that 99.9% of the shareholders approved the spin-off.
Watch Is the Equity Spin-off Enough to Unlock Daimler Truck's Value?
---
DISCLAIMER: This content is for information purposes only. It is not intended to be investment advice. Readers should not consider statements made by the author(s) as formal recommendations and should consult their financial advisor before making any investment decisions. While the information provided is believed to be accurate, it may include errors or inaccuracies. The author(s) cannot be held liable for any actions taken as a result of reading this article.