Become a Better Investor Newsletter – 26 November 2022
Noteworthy this week
WACC for S&P 500 firms is up by 50%
US housing prices are falling
Mortgage appraisals in the US are positively skewed
Beyond meat, more like beyond profit
We're not yet at the bottom of this bear
WACC for S&P 500 firms is up by 50%: The cost of capital for US firms in the S&P 500 has risen to 6% from 4%. This is going to hit investments. On the positive side, it could reduce malinvestment.
A year ago, the weighted average cost of capital for S&P 500 firms equaled 4.1%, close to the lowest level in history. The past year the cost of capital for US firms surged by the largest amount in 40 yrs. The WACC jumped 2% to 6%, the highest level in a decade. – Goldman Sachs pic.twitter.com/1RqUTc0eNt

— Mike Shell (@MikeWShell) November 22, 2022
US housing prices are falling: It's getting tougher for American households. In addition to inflation and high indebtedness, housing prices have started to come down.
Pretty self-explanatory. As if consumers don't have enough to weigh on them, from energy/food prices to increasingly uncertain maybe hostile jobs market now serious and growing possibility housing prices aren't going to come down just a little, they'll have to come down a lot. pic.twitter.com/kBJRo4KN55

— Jeffrey P. Snider (@JeffSnider_AIP) November 19, 2022
Mortgage appraisals in the US are positively skewed: Given that the appraisals generally is above the contract price, we can assume that people have been able to take out too large mortgages. I'm confident that the situation is the same in Europe.
Fun fact: when you get a mortgage against your house, the bank orders an appraiser to estimate how much the house is worth, since regulators like the loan to be less than 80% of the house value so the loan is safe. The appraisal values have a very curious distribution… pic.twitter.com/6xk9d72BqT

— anthonyleezhang.eth (@AnthonyLeeZhang) November 20, 2022
Beyond meat, more like beyond profit: Who would have thought heavily processed fake meat wouldn't take over the world already? It seems like the company is beyond cleaning as well.
Beyond Meat, Net Income…
2022 YTD: -$299 million
2021: -$182 mil.
2020: -$53 mil.
2019: -$12 mil.
2018: -$30 mil.
2017: -$30 mil.
2016: -$25 mil.$BYND stock is now down 95% from its peak in 2019.

IPO Price: $25/share
All-Time High Price: $239/share
Price Today: $12/share

— Charlie Bilello (@charliebilello) November 23, 2022
We're not yet at the bottom of this bear: Looking at S&P 500, MacroAlf proposes that recessionary bear markets tend to bottom when: PMIs are well below 50, the unemployment rate has risen by 1.3 ppts, and forward EPS has been revised down by 10%+.
Excellent table showing how recessionary bear markets tend to bottom when:

– PMIs are well below 50
– Unemployment rate has already risen by 1.3pp
– Future expected EPS have been revised down 10%+

None of the conditions are met today, and unlikely to be met until Q1/Q2 2023. pic.twitter.com/FDOoT8TjW8

— Alf (@MacroAlf) November 22, 2022
---
Poll of the week
Goldman Sachs recently estimated US S&P500 WACC at 6%, do you think that is too high or too low?#valuation #investing #investment #trading #invest #investor #goldmansachs

— Andrew "The Worst" Stotz (
@andrew
) November 25, 2022
---
Results from last week's poll

Join the world's toughest valuation training
The Valuation Master Class Boot Camp is a 6-week intensive company valuation boot camp for a successful career in finance.
---
Weekly market performance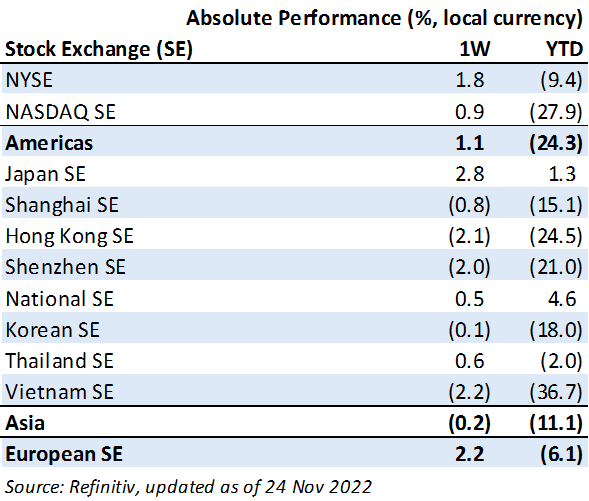 Click here to see more markets and periods.
---
Chart of the week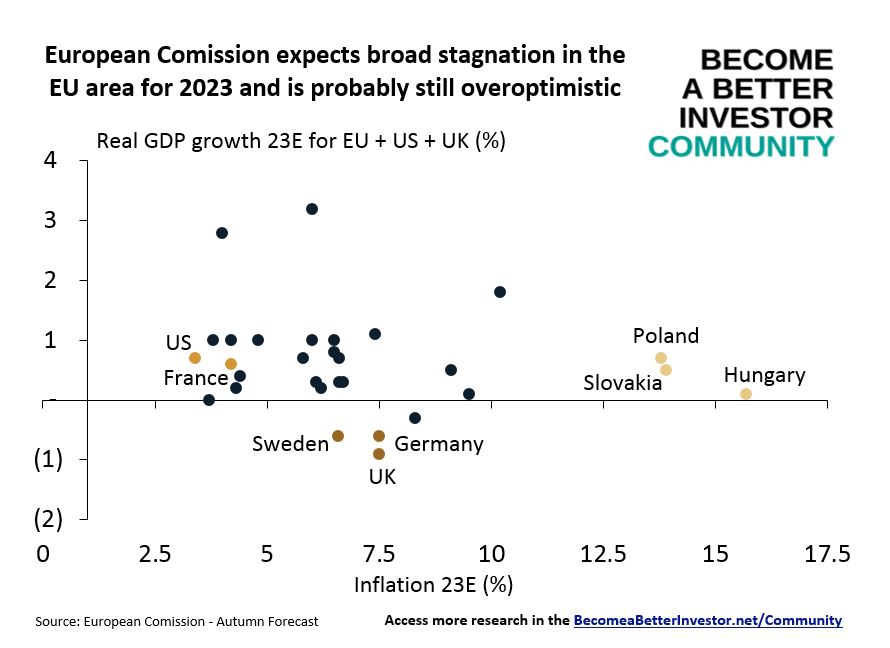 ---
Discussed in the Become a Better Investor Community this week
"Yup agreed saving rate is coming down. But the cumulative savings from stimulus could be a buffer for the recession."
Join the Become a Better Investor Community today! You can cancel any time, and as a newsletter reader you get a massive discount when you use this coupon code: READER
---
Podcasts we listened to this week
The Macro Trading Floor – Jacob Shapiro: From Globalization To A Multipolar World
"In 2022, geopolitics has been one of the leading factors in markets, so we invited an expert in geopolitics to help us navigate this environment. Expecting a shift away from globalization and a more multipolar world over the next decade, this trend has many implications for economies around the world."
---
Readings this week
History Lessons: How "Transitory" Is Inflation?
"Reverting to 3% inflation, which we view as the upper bound for benign sustained inflation, is easy from 4%, hard from 6%, and very hard from 8% or more. Above 8%, reverting to 3% usually takes 6 to 20 years, with a median of over 10 years."
What Really Matters? by Howard Marks
"I've gathered a few ideas from several of my memos this year – plus some recent musings and conversations – to form the subject of this memo: what really matters or should matter for investors. I'll start by examining a number of things that I think don't matter."
---
Book recommendation
Woke: A Guide to Social Justice by Titania McGrath
Absolutely brilliant satire! I can recommend the audiobook, as the narrator does a terrific job.
"Being woke is actually much easier than people think. As Titania demonstrates, anyone can be an activist. By simply adding a rainbow flag to your Facebook profile, or calling out an elderly person who doesn't understand what 'non-binary' means, you can change the world for the better."
Audible is great; have you tried it? If not, click here to get 2 books for free.
---
Memes of the week
If only there were some way to spot Ponzi schemes earlier …

If only there were signs … 🔥 pic.twitter.com/pF1AqgMSzO

— Wall Street Silver (@WallStreetSilv) November 23, 2022
"SBF needs to go to jail!"

The New York Times: pic.twitter.com/ynSzdFdl0Q

— Dr. Parik Patel, BA, CFA, ACCA Esq. (@ParikPatelCFA) November 23, 2022
---
New My Worst Investment Ever episodes
Ep623: Chris Do – Don't Put Good Money After Bad
BIO: Chris Do is a self-described loud introvert, recovering graphic designer, middle child, serial entrepreneur, Emmy award-winning director, educator, and founder of TheFutur.
STORY: Chris's business was based on the West Coast, and they wanted to expand to the East Coast for a bigger market share. So they opened a small office hemorrhaging money and didn't generate substantial revenue.
LEARNING: You can't export your core competency. Optimize your business before you scale.
Access the episode's show notes and resources
Ep622: Cesar Hasselmann – Work Today on the Things You Want to See Happen
BIO: Cesar Hasselmann is an author, mentor, coach, and business consultant.
STORY: Cesar started a very successful gas and supermarket distribution network when he was only 16 years old. Unfortunately, about three years later, his country's president stole public funds and caused most businesses, including Cesar's, to suddenly collapse.
LEARNING: Challenges make you a better entrepreneur. Everything has a time. Understand the macro environment.
Access the episode's show notes and resources
Ep621: Michael Bungay Stanier – Find a Trusted Financial Advisor to Manage Your Investments
BIO: Michael Bungay Stanier is the author of seven books that have sold over a million copies between them. He's best known for The Coaching Habit, the best-selling coaching book of the century and already recognized as a classic.
STORY: Michael had $5,000 that he wanted to invest. He tasked his wife with finding the most suitable investment option. She found e-trading. They opened an online account and bought one share from about 20 companies. When it was time to sell, they lost almost half the remaining value of the portfolio to selling fees.
LEARNING: If you're struggling with investing, find a trusted financial advisor to manage your investments—separate creating wealth from growing wealth. Understand the nature of the markets before you invest.
Access the episode's show notes and resources
---
Published on Become a Better Investor this week
David and Andrew's discussion of how using Deming in the classroom not only inspires achievement it also creates collaboration among excited students.
Listen to By What Method: Deming in Education with David P. Langford (Part 4)
Catcher Technology Company Limited (2474 TT): Profitable Growth rank of 9 was same compared to the prior period's 9th rank. This is poor performance compared to 700 large Info Tech companies worldwide.
Read Catcher Technology – World Class Benchmarking
Indorama Ventures Public Company Limited (IVL TB): Profitable Growth rank of 5 was down compared to the prior period's 1st rank. This is average performance compared to 860 large Materials companies worldwide.
Read Indorama Ventures – World Class Benchmarking
Hindustan Unilever Limited (HUVR IN): Profitable Growth rank of 1 was same compared to the prior period's 1st rank. This is World Class performance compared to 630 large Cons. Staples companies worldwide.
Read Hindustan Unilever – World Class Benchmarking
Hefei Meyer Optoelectronic Technology Incorporated (002690 SZ): Profitable Growth rank of 1 was same compared to the prior period's 1st rank. This is World Class performance compared to 1,240 medium Industrials companies worldwide.
Read Hefei Meyer Optoelectronic Technology – World Class Benchmarking
---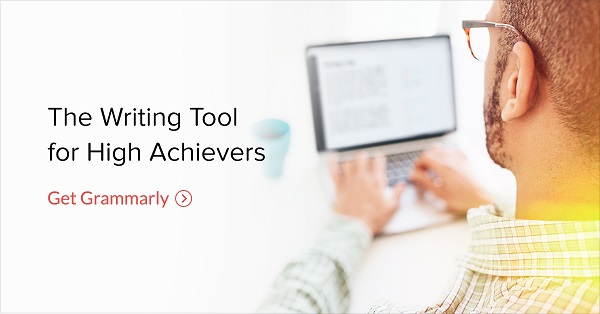 ---
DISCLAIMER: This content is for information purposes only. It is not intended to be investment advice. Readers should not consider statements made by the author(s) as formal recommendations and should consult their financial advisor before making any investment decisions. While the information provided is believed to be accurate, it may include errors or inaccuracies. The author(s) cannot be held liable for any actions taken as a result of reading this article.