Malaysia Has Not Been a "Buy" in Asia for the Past Five Years
Watch the video with Andrew Stotz or read Watching the Street: Malaysia below.
---
---
Consensus Recommendations: Malaysia
If we start with consensus recommendations, we can see that the bottom-up country relative consensus recommendations (the chart on the right) show us that Malaysia has not been a "Buy" in Asia for the past five years.
Analysts are now negative again after being relatively positive in 2015.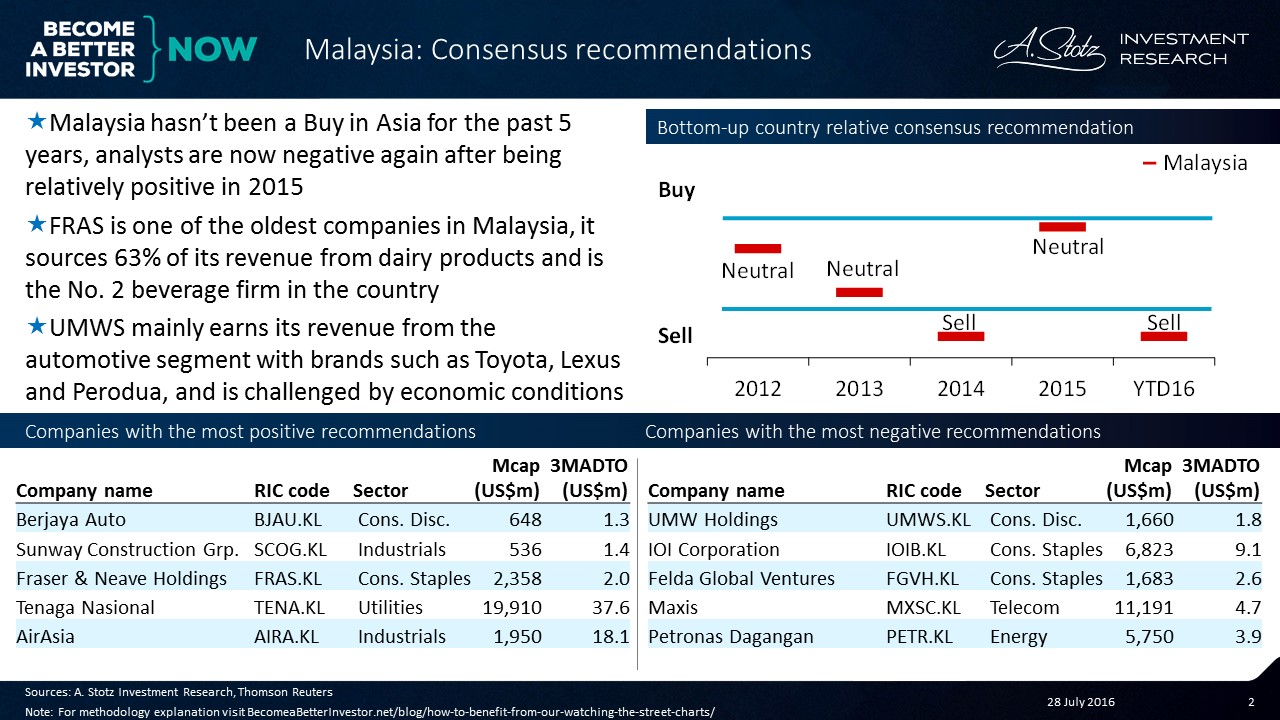 Fraser & Neave Holdings is one of oldest companies in Malaysia, and it's one of the companies with the most positive recommendations. It sources 64% of its revenue from dairy products and, it's the number two beverage company in the world.
Companies with the most negative recommendations are on the right-hand side. One of them is UMWS, which mainly earns its revenue from the automotive segment. They've got brands such as Toyota and Lexus, but they're currently challenged by economic conditions.
Consensus Earnings Estimates: Malaysia
We can see here that analysts have been conservative with EPS growth estimates, but earnings have fallen each year from 2013 to 2015. For 2016, however, EPS is expected to grow by 11%.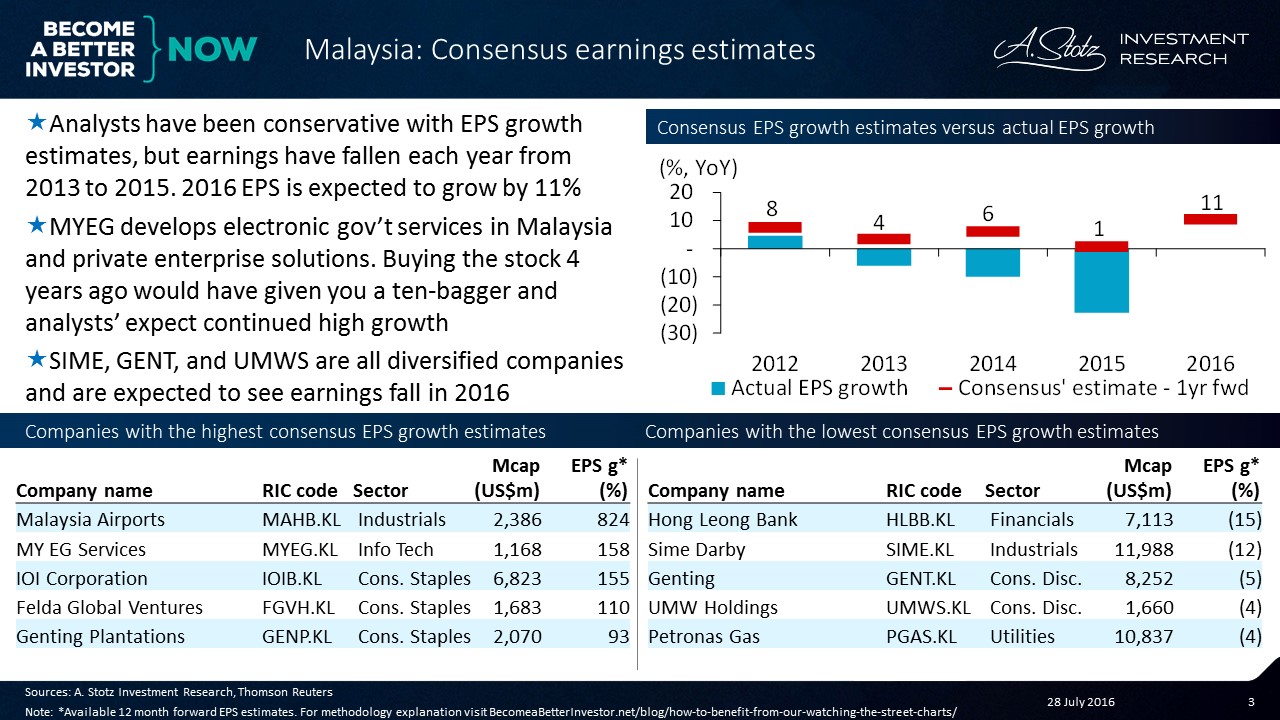 Companies with the highest consensus EPS growth estimates are on the left-hand side, and we can see MYEG which develops electronic government services and private enterprise solutions in Malaysia.
Buying the stock four years ago would have given you a 10-bagger, and analysts expect continued high growth.
On the right side, we see companies with the lowest consensus EPS growth. SIME, GENT and UMWS are all diversified companies with earnings that are expected to fall in 2016.
Consensus Target Prices: Malaysia
Finally, the consensus target price: We can see right here that the analysts' upside expectations have basically always been negative. Analysts are now expecting a 3% upside over the next 12 months.
And note that analysts were fairly accurate in 2014.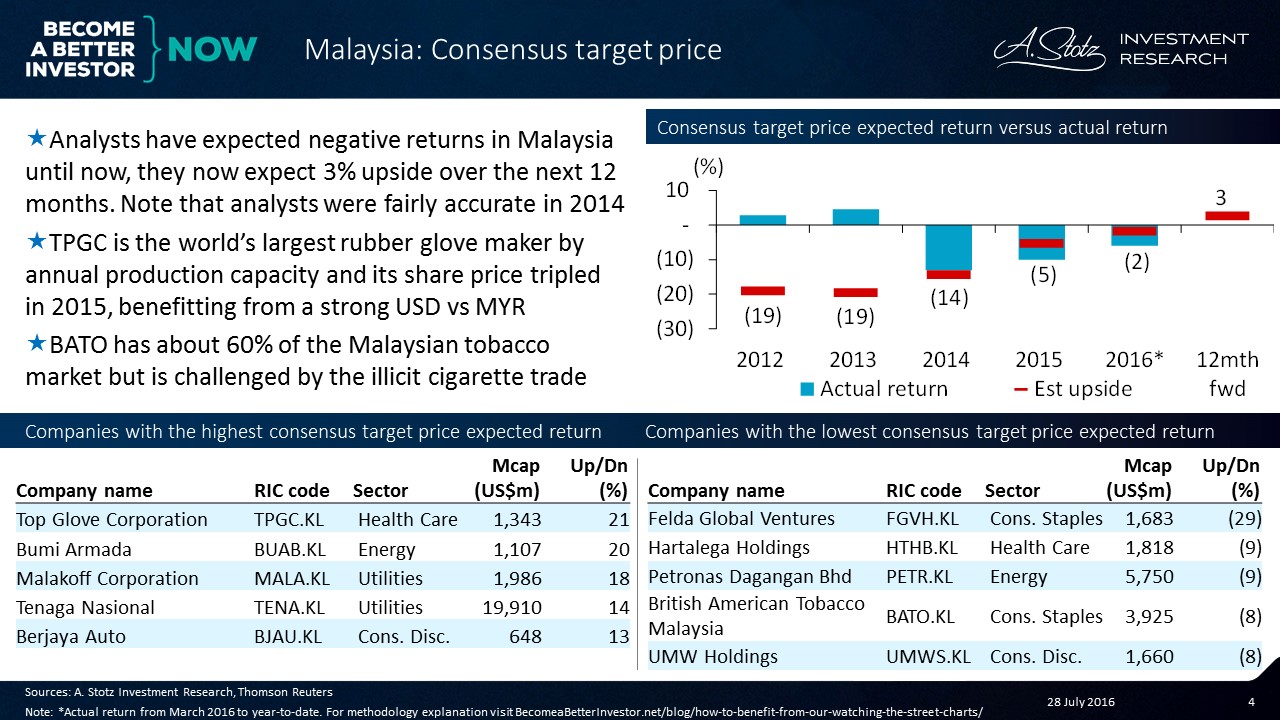 For the companies with the highest consensus target price expected return, the top one is Top Glove which is the world's largest rubber glove maker by annual production capacity. Its share price tripled in 2015, benefiting from a strong US Dollar relative to the Malaysian Ringgit.
Among the companies with the lowest consensus target price expected return, British American Tobacco Malaysia controls about 60% of the Malaysian tobacco market. But it's challenged by the illicit cigarette trade.
---
Do YOU use any kind of analyst estimate when considering an investment?
Let us know in a comment below.
---
DISCLAIMER: This content is for information purposes only. It is not intended to be investment advice. Readers should not consider statements made by the author(s) as formal recommendations and should consult their financial advisor before making any investment decisions. While the information provided is believed to be accurate, it may include errors or inaccuracies. The author(s) cannot be held liable for any actions taken as a result of reading this article.