Bermaz Auto Deals Mazda at High Efficiency in ASEAN
Background
Bermaz Auto Berhad is an investment holding company engaged in assembly, distribution and retailing as well as after-sales services of Mazda vehicles in Malaysia and the Philippines.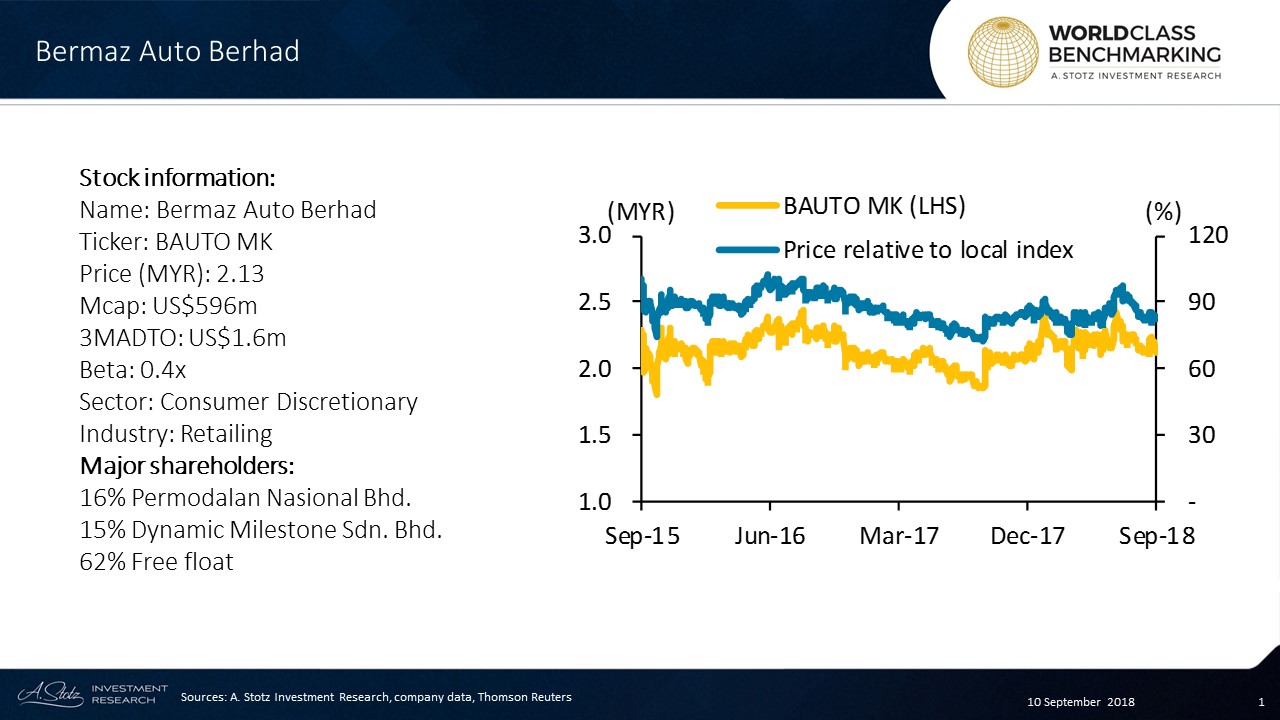 As of FY2018, BAUTO owns 28 3S (sales, spare parts and after-sales services) centers, 1 body and paint repair center and 73 dealer centers.
Business Description
BAUTO sells Mazda vehicles in Malaysia and via its subsidiary Bermaz Auto Philippines Inc (BAP) in the Philippines. In 2017, BAUTO sold about 10,000 units (8,000 in 1H18) in Malaysia and 5,000 in the Philippines.
It owns 10 3S (sales, spare parts and after-sales service), 1 body and paint repair center and 73 third-party dealer centers in Malaysia and has 18 3S centers in the Philippines operated by third-party dealers.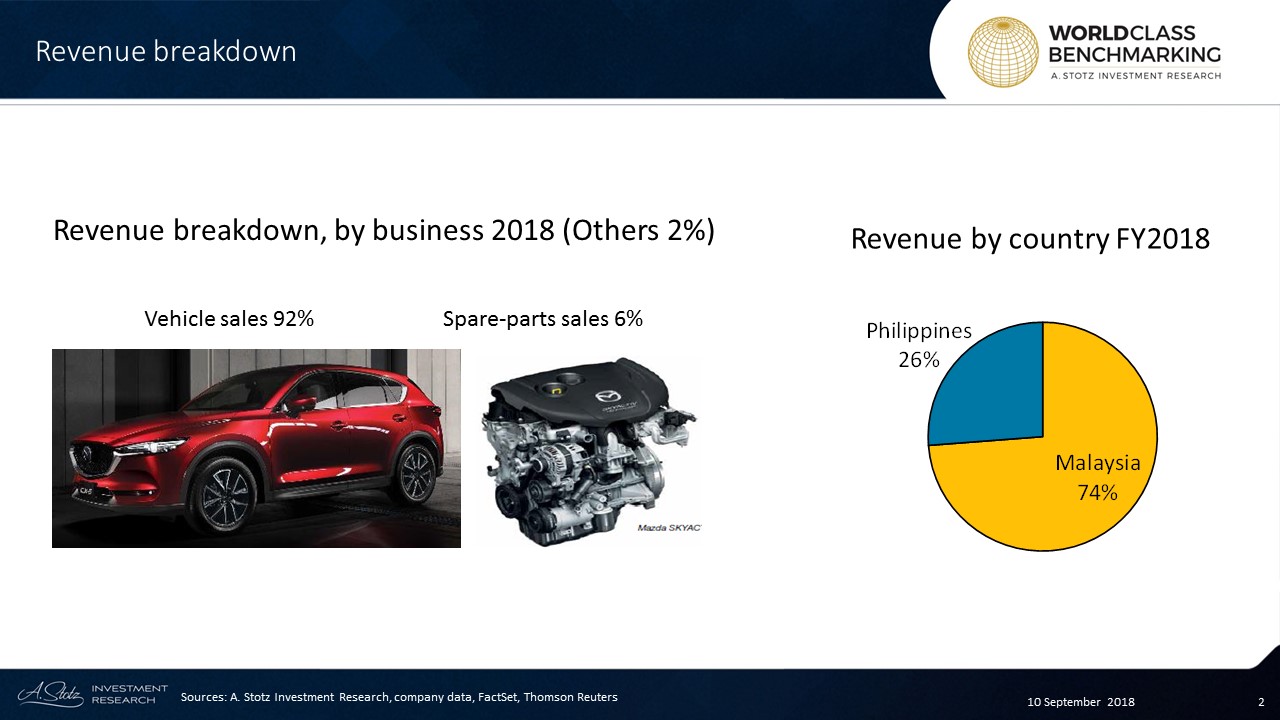 Cars are assembled in Malaysia via a 30-70% JV with Mazda Motor Corporation (7261 JP). In FY2018, the JV produced about 15,000 units and has an annual capacity of 31,000 units. About 50% of assembled cars go to Malaysia, 40% to Thailand, and the rest to other markets.
Sales to be supported by BAP's expansion of dealerships to 21 in 2019 from 18 as well as upcoming launches in 2018-2019 of the SUV CX-3 facelift, hatchback Mazda 2, sedan Mazda 6, and the 7-seat SUV CX-8.
The remaining revenue comes from after-sales services including spare parts sales and maintenance for Mazda vehicles.
Leadership
Ariff Fadzillah has served as independent Chairman since 2011. He also serves as the Chairman of Ecofirst Consolidated Berhad (ECOF MK) and Ikhmas Jaya Group Berhad (IJGB MK). He holds a Bachelor of Arts Degree in History from University Malaya, Malaysia, a Diploma in International Relations from the University of Oslo, Norway, a Diploma in Development Administration from London School of Economics, UK, and a Master of Arts in International Relations from New York University, US.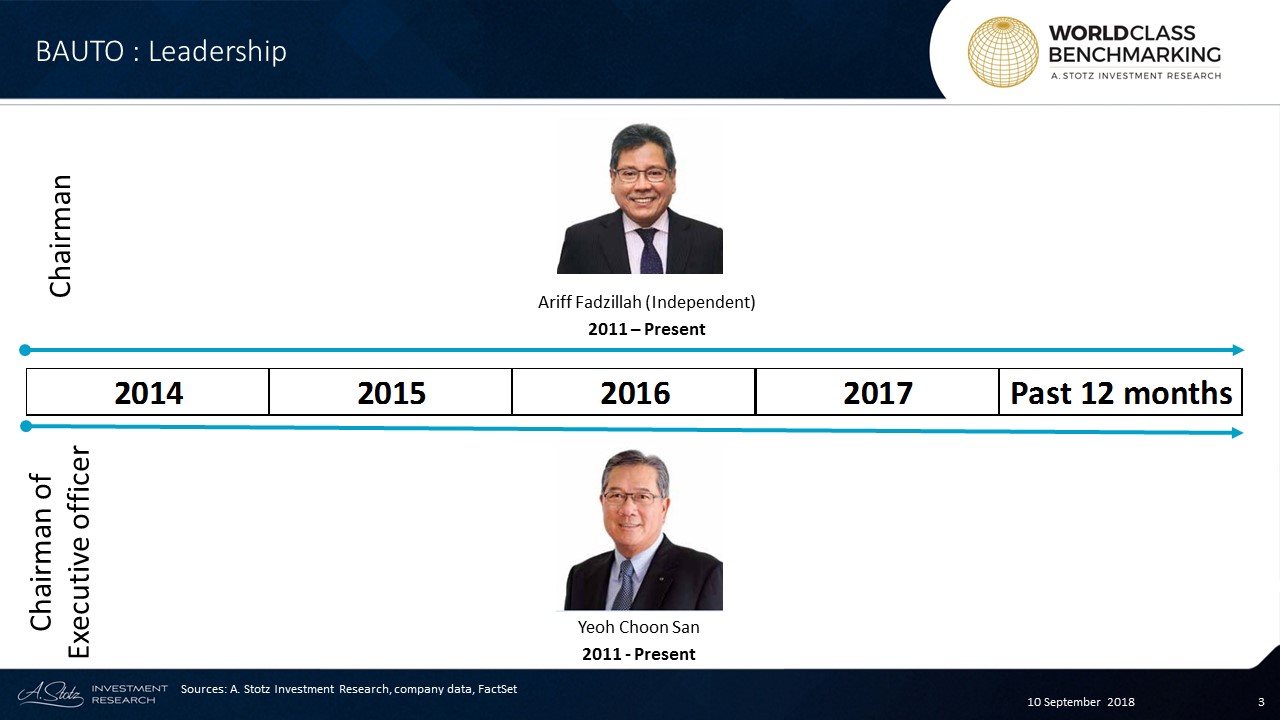 Yeoh Choon San was appointed CEO in 2011 and has served as a Director of Bermaz Motor Sdn Bhd, Bermaz Motor Trading Sdn Bhd, Mazda Malaysia Sdn Bhd and Inokom Corporation Sdn Bhd. Moreover, he holds a Higher National Diploma in Automotive Engineering.
World Class Benchmarking
Profitable Growth has been excellent over the years, and in the past 12 months, BAUTO ranked in the top 129 out of 1,290 medium-sized Consumer Discretionary companies worldwide.
Profitability has consistently ranked at #1 except for a dip to #2 in 2017. Growth fell below average in 2016 and 2017, however, in the past 12 months the rank improved to #4.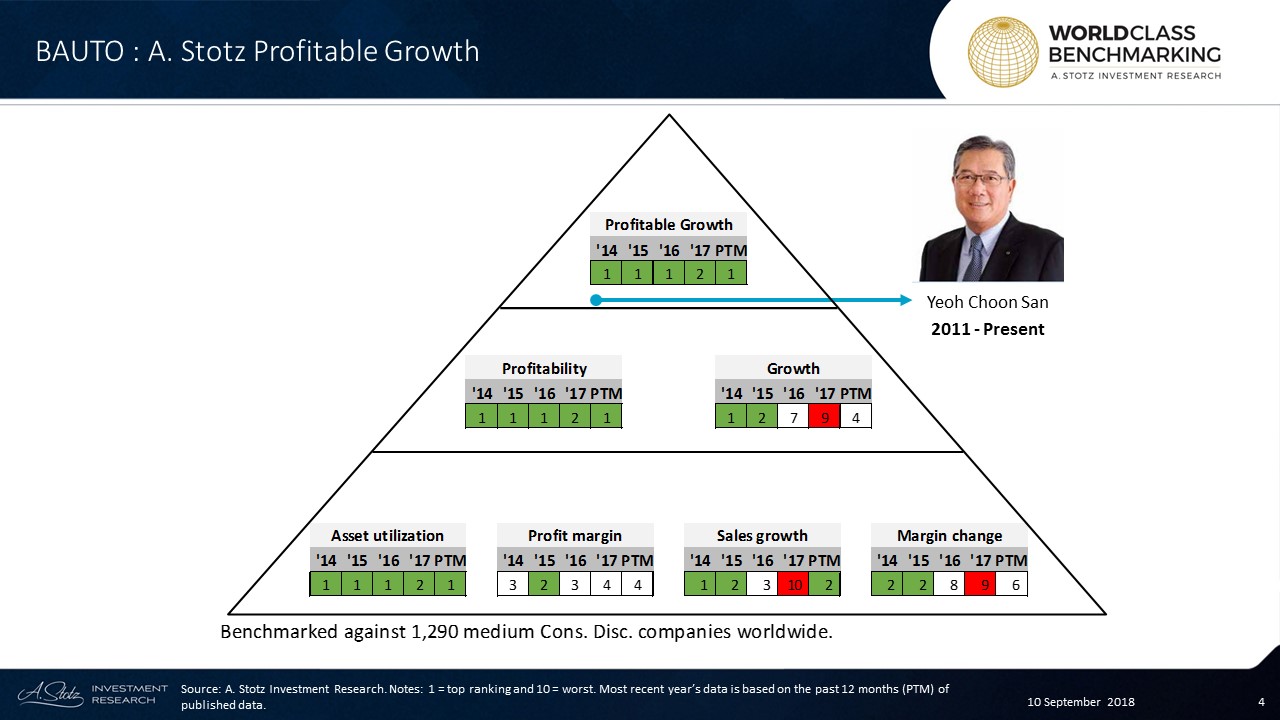 Asset utilization has shown the same ranks as Profitability and Profitable Growth. Profit margin has stayed above average since 2014 till the past 12 months.
Sales growth was doing great until 2016 before it plunged to #10 in 2017, however, it returned to #2 in the most recent period. The Margin change rank was great till 2015 but has ranked below average since 2016.
---
What're your thoughts on BAUTO?
If you like our research, share it with your friends.
---
DISCLAIMER: This content is for information purposes only. It is not intended to be investment advice. Readers should not consider statements made by the author(s) as formal recommendations and should consult their financial advisor before making any investment decisions. While the information provided is believed to be accurate, it may include errors or inaccuracies. The author(s) cannot be held liable for any actions taken as a result of reading this article.