Consistent Top Rank at ViTrox Corporation
Background
ViTrox Corporation Berhad exports about 75% of its semiconductor production inspection equipment and related software from its base in Malaysia to more than 22 countries around the world.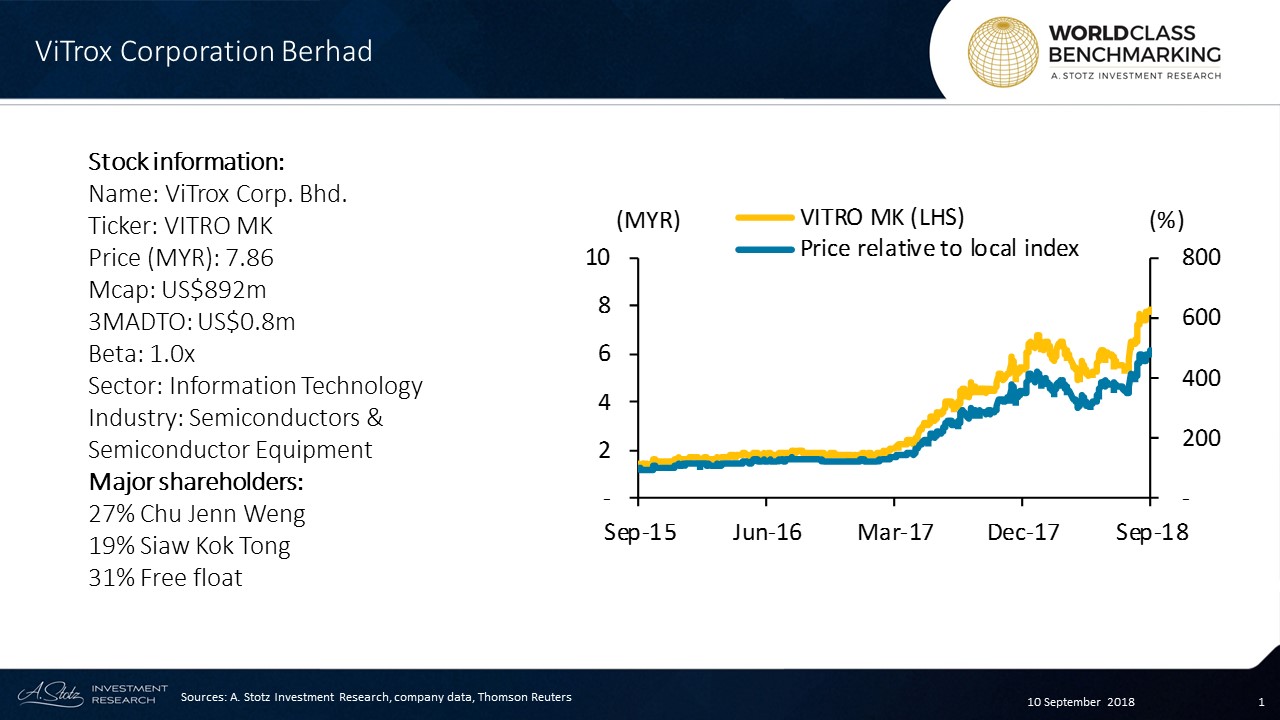 Its key markets include China, now its biggest with nearly 1/3 of sales, Taiwan, Japan, Germany and the US. It has over 320 existing customers.
Business Description
VITRO is a Malaysian producer of automated vision inspection equipment and related software solutions for use in the semiconductor and electronics manufacturing industry. Its clients range from outsourced Assembly and Test companies, to printed circuit board (PCB) manufacturers, and electronics assemblies companies.
The group's biggest division, which accounts for a little under 2/3 of sales, is Automated Board Inspection (ABI), which is inspection equipment used in the process of assembly of semiconductor chips on PCBs. The automotive and telecom industries account for over half of ABI sales.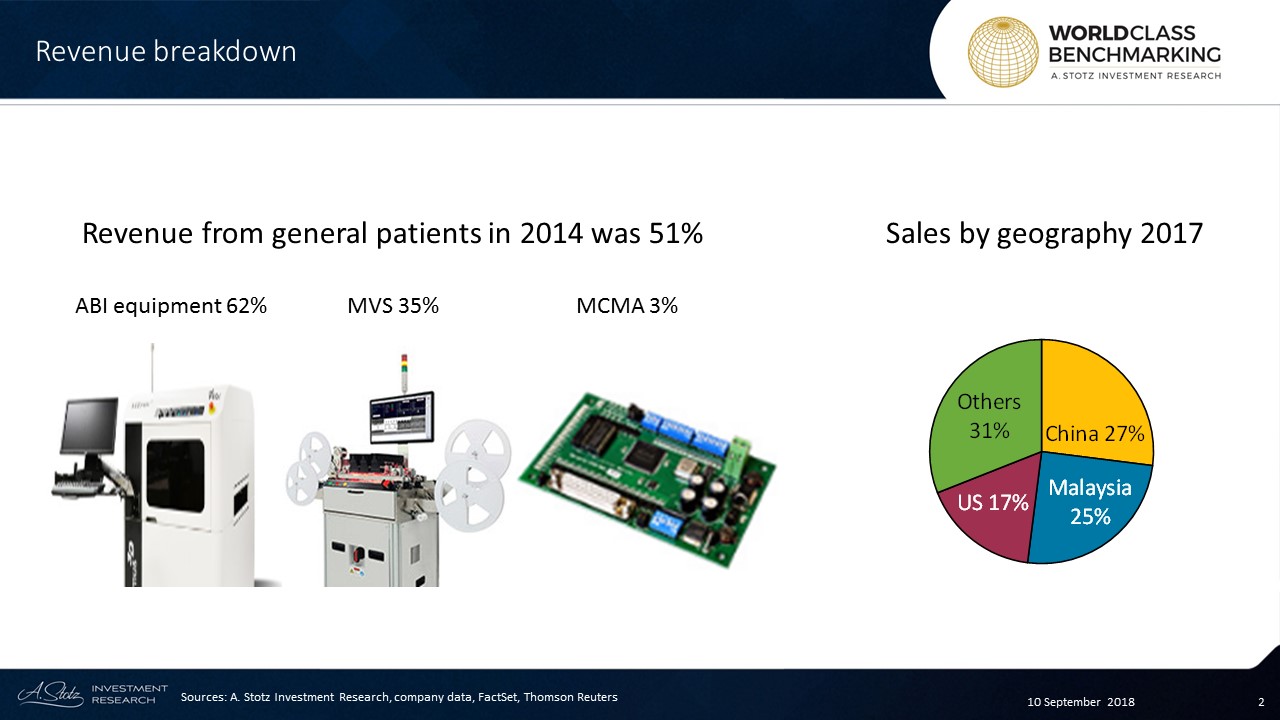 Machine Vision System (MVS) contributes just a little over 1/3 of sales, and is inspection equipment used in the production of semiconductors, while the rest of sales is motion control for machine automation (MCMA).
The group has over 320 customers, with the single largest customer contributing only 13% of group revenue, and the top 10 customers contribute less than 60%. China has now passed Malaysia as the largest geographic market contributing to VITRO's sales.
Leadership
Kiew Kwong Sen has served as the independent Chairman of VITRO since 2005. Furthermore, he is the President of Gibraltar Semiconductor, Blue Cell Technologies, and the director of ACX Ceramic Taiwan, Penang Science Council and Penang Green Council. He holds a Bachelor of Science in Mechanical Engineering from National Taiwan University, Taiwan, a Master of Science in Industrial Engineering from the University of California, US and an Honorary Doctorate Degree from Toyohashi University of Technology, Japan.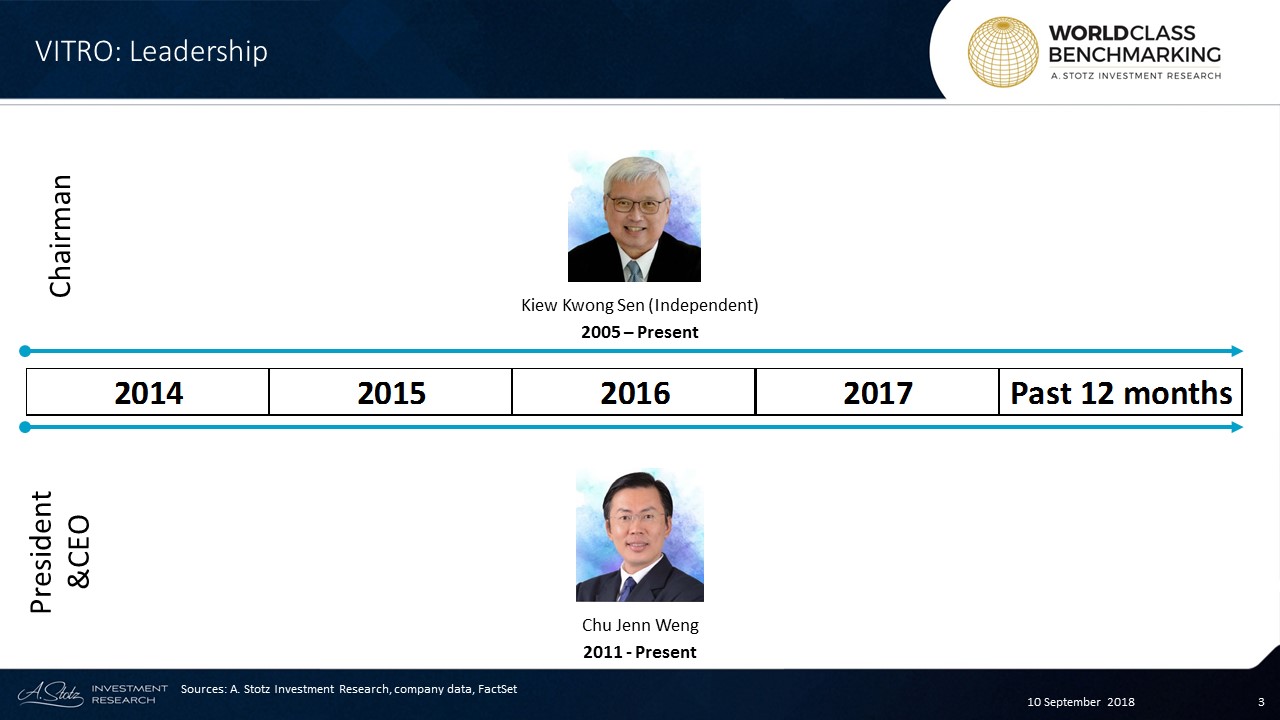 Chu Jenn Weng was appointed CEO and president of VITRO in 2011, he had been a Managing Director since 2005. He graduated with a Bachelor's Degree in Electrical and Electronics Engineering from Universiti Sains Malaysia and Master of Science in Image Processing from the same university in Malaysia.
World Class Benchmarking
Profitable Growth has consistently ranked at #1 since 2014, and in the past 12 months, VITRO ranked in the top 104 out of 1,040 small InfoTech companies worldwide.
Profitability has been top-ranked since 2014 as well. Growth fell to #6 from # 2 in 2015, after that it has ranked above average and ranked at #4 in the most recent period.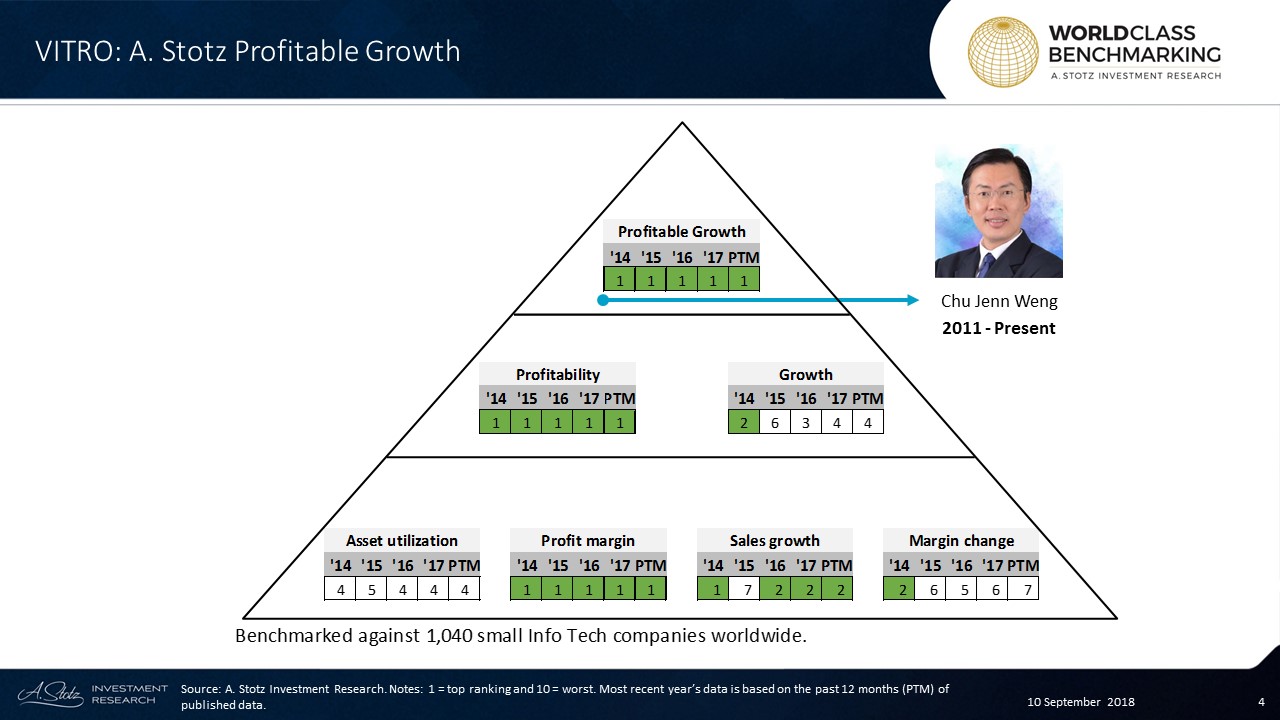 Asset utilization has ranked #4, except for the year 2015 when it was ranked at #5. Profit margin has shown the same performance as Profitable Growth and Profitability, i.e. consistently ranked in the top 10%.
In 2015, Sales growth ranked below average, other than that it has been excellent. Margin change has fallen since 2015 and has been the drag on the company's Growth rank.
---
What're your thoughts on VITRO?
If you like our research, share it with your friends.
---
DISCLAIMER: This content is for information purposes only. It is not intended to be investment advice. Readers should not consider statements made by the author(s) as formal recommendations and should consult their financial advisor before making any investment decisions. While the information provided is believed to be accurate, it may include errors or inaccuracies. The author(s) cannot be held liable for any actions taken as a result of reading this article.