A. Stotz All Weather Alpha Focus – January 2022
All Weather Alpha Focus was 0.5% below the 60/40 portfolio in January. We expect Fed and ECB to do what they can to prop up markets. Economic recovery is going to continue in 2022, which makes equities attractive. The new Indian Gov't budget could stimulate continued high growth and keep the Indian stock market strong. Risks: New lockdowns, unexpected Fed rate hikes, crash in the Indian market.
A. Stotz All Weather Alpha Focus is Global, Opportunistic, Long-term, and Defensive:
Global – Invests globally, not only Thailand
Opportunistic – Tilts towards asset classes, sectors, regions, and themes in a quest to enhance returns and manage risks
Long-term – Gains from long-term equity return
Defensive – Aims to reduce extreme losses during equity market downturns
All Weather Alpha Focus is available in Thailand through FINNOMENA, and you can learn more here. Please note that this post is not investment advice and should not be seen as recommendations. Also, remember that backtested or past performance is not a reliable indicator of future performance.
Review
World stocks retreated slightly in January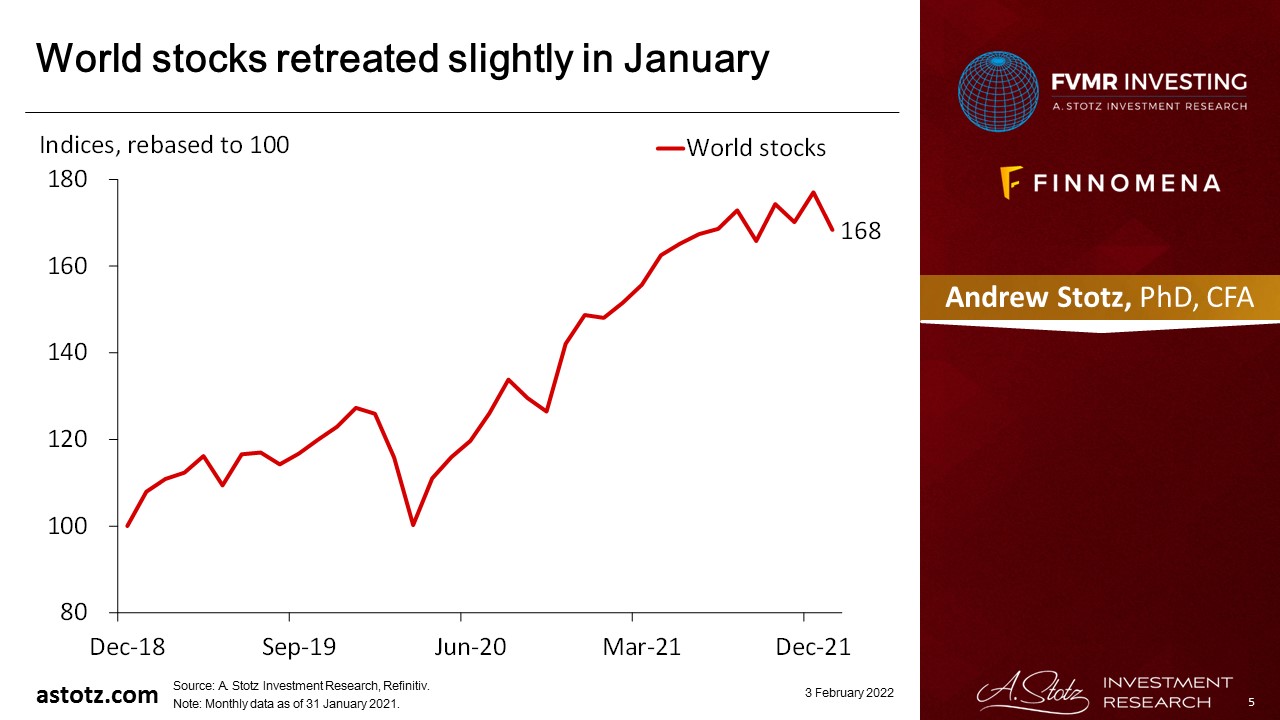 Performance of the World stock markets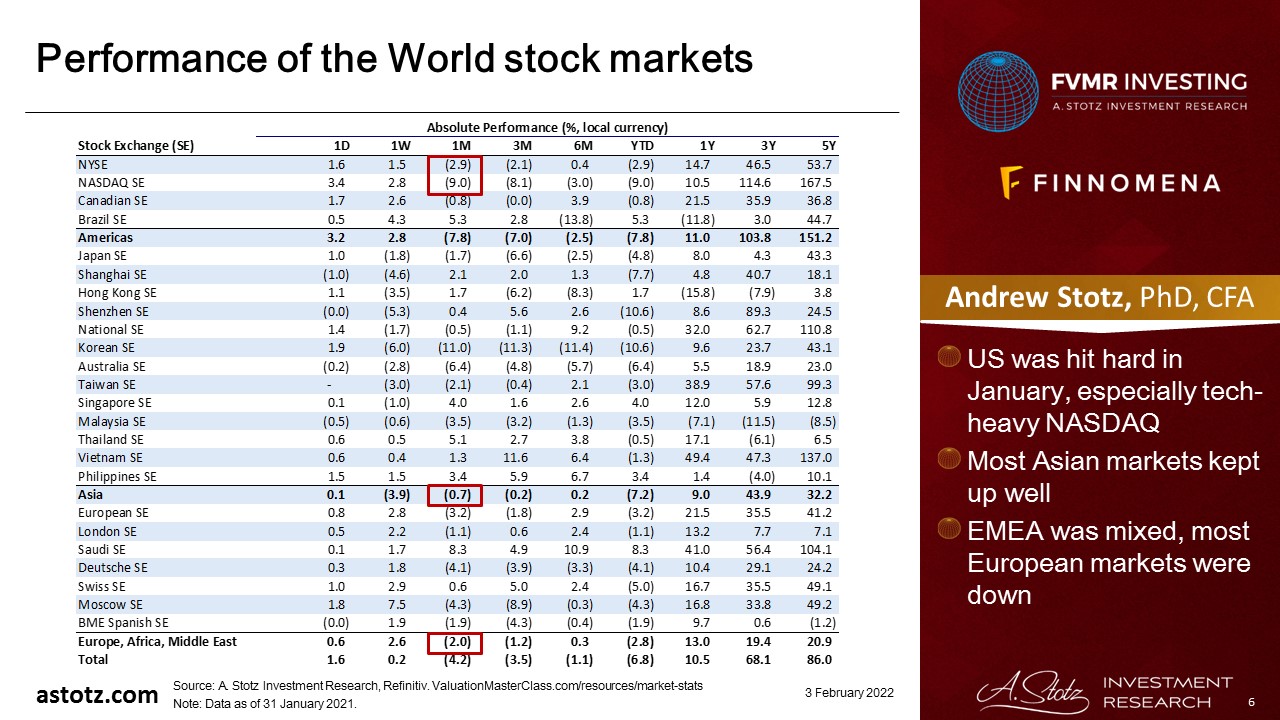 US was hit hard in January, especially tech-heavy NASDAQ
Most Asian markets kept up well
EMEA was mixed, most European markets were down
Poor start of the year for World equity
January 2022 saw a lot of volatility and ended down 4.6%
Fed convinced the market of rate hikes and fighting inflation
Geopolitical conflicts around Ukraine led to further uncertainty
Omicron uncertainty remains a wet blanket
Healthcare performed the worst
World healthcare was down 9.9%, underperforming World equity by 5.3% in January
As healthcare stocks did well in December, they corrected harder in January
Big drop in Info Tech in January 2022
As the overall market reacted negatively to Fed's rate-hike signals, Tech stocks took a big hit due to high valuations and fell by 5.8%
World Info Tech showed higher volatility than the overall market in January
The World Info Tech fund ended the month as the second-worst performer among the funds the strategy invests in
Infrastructure ended below World equity
World infrastructure fell by 5.2% or 0.6% more than World equity
India performed the best within equity
India was up by 1.3%, outperforming World equity by 5.9% in January
Indian stocks started January strongly but retracted as global markets fell
While foreign outflows continued, the market got support from strong domestic buying
Fed rate hikes and falling Tech
S&P 500 recorded its worst monthly performance since March 2020 at -5.5%
Fed signaling rate hikes in March 2022 led to an equity sell-off
US Tech stocks saw large falls due to high valuations
US-Russian tensions around Ukraine added uncertainty
Russia aims to supply Europe directly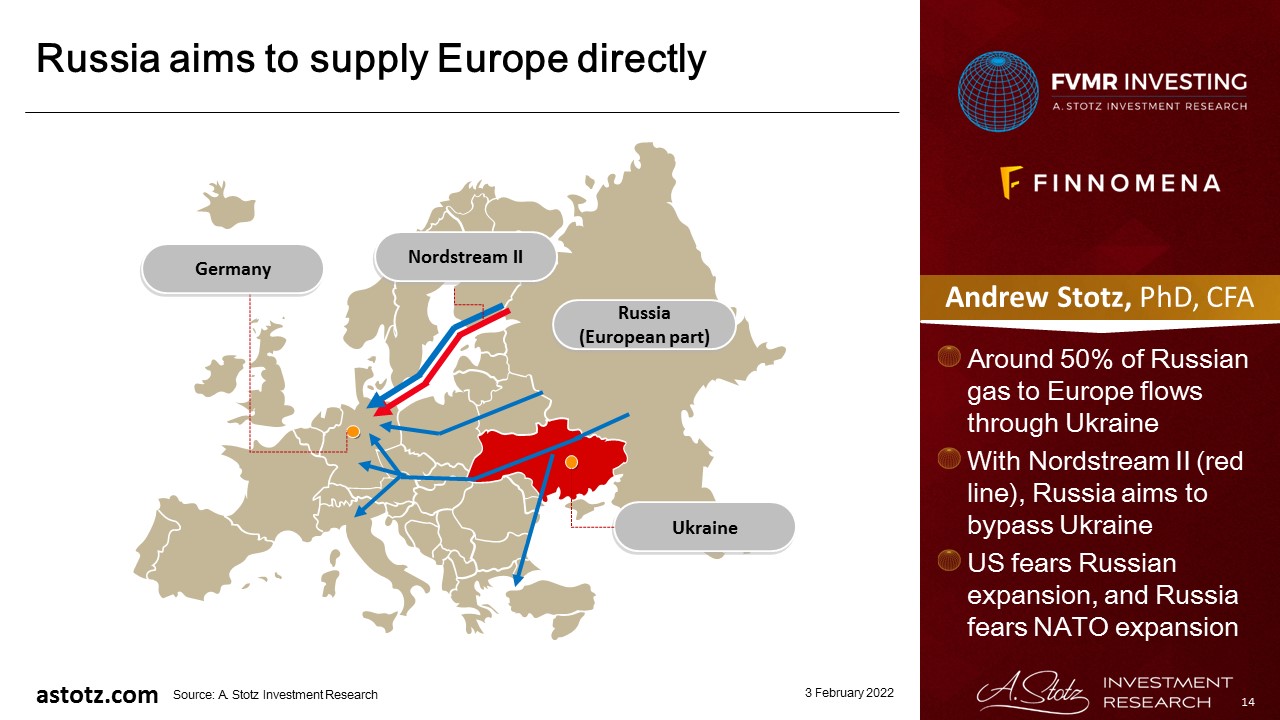 Around 50% of Russian gas to Europe flows through Ukraine
With Nordstream II (red line), Russia aims to bypass Ukraine
US fears Russian expansion, and Russia fears NATO expansion
The money market remained flat
The Thai money market was flat in January
The main purpose of our money market allocation is downside protection
Most other funds the strategy was invested in were down in the past month; hence, a bigger allocation to bonds would have been better
Gold affected by the Fed too
Gold was down by 0.7%, falling 3.9% less than World equity
Gold closed January at US$1,797/oz t
Gold initially did well in January due to the stock market turmoil and geopolitical games
However, as the Fed signaled more aggressive rate hikes, the US$ strengthened, and the gold price fell back sharply
Alpha Focus got hurt by the recent equity fall
Three months is a short period to evaluate any performance
As equities fell worldwide, the strategy got hit hard
Though it reduced the gap to 60/40 by the end of January
Alpha Focus was 0.5% below the 60/40 portfolio
India was the main positive at 1.3% up
Of our three tilts, only India performed better than World equity
All Weather Alpha Focus is an exclusive strategy available in Thailand through FINNOMENA, learn more here. 
---
DISCLAIMER: This content is for information purposes only. It is not intended to be investment advice. Readers should not consider statements made by the author(s) as formal recommendations and should consult their financial advisor before making any investment decisions. While the information provided is believed to be accurate, it may include errors or inaccuracies. The author(s) cannot be held liable for any actions taken as a result of reading this article.