A. Stotz All Weather Strategies – October 2022
---
Executive summary
Central bankers appear to be raising rates into a recession to stifle inflation; stagflation would be the worst outcome
Demand for necessities (food and energy), inflation, and supply-chain disruptions can drive Commodities higher
We see opportunities to allocate to specific sectors and markets within equity
Bonds and Gold to protect capital
Risks: Monetary tightening crash markets, collapsing energy prices, BOT actions
The All Weather Strategy is available in Thailand through FINNOMENA. If you're interested in our allocation strategy, you can also join the Become a Better Investor Community. Please note that this post is not investment advice and should not be seen as recommendations. Also, remember that backtested or past performance is not a reliable indicator of future performance.
What happened in world markets in October 2022
Performance of the World stock markets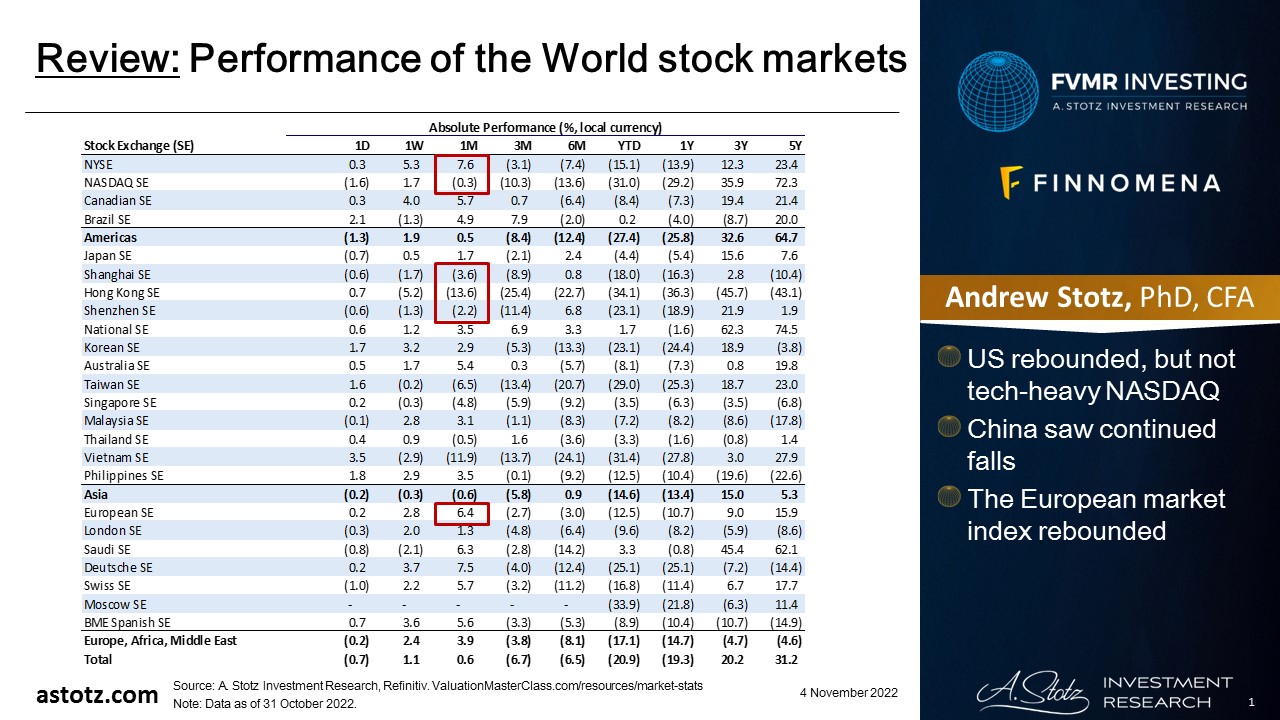 US rebounded, but not tech-heavy NASDAQ
China saw continued falls
The European market index rebounded
Find the updated Performance of the World stock markets here.
World stocks have taken a hit in 2022 but gained 5.9% in October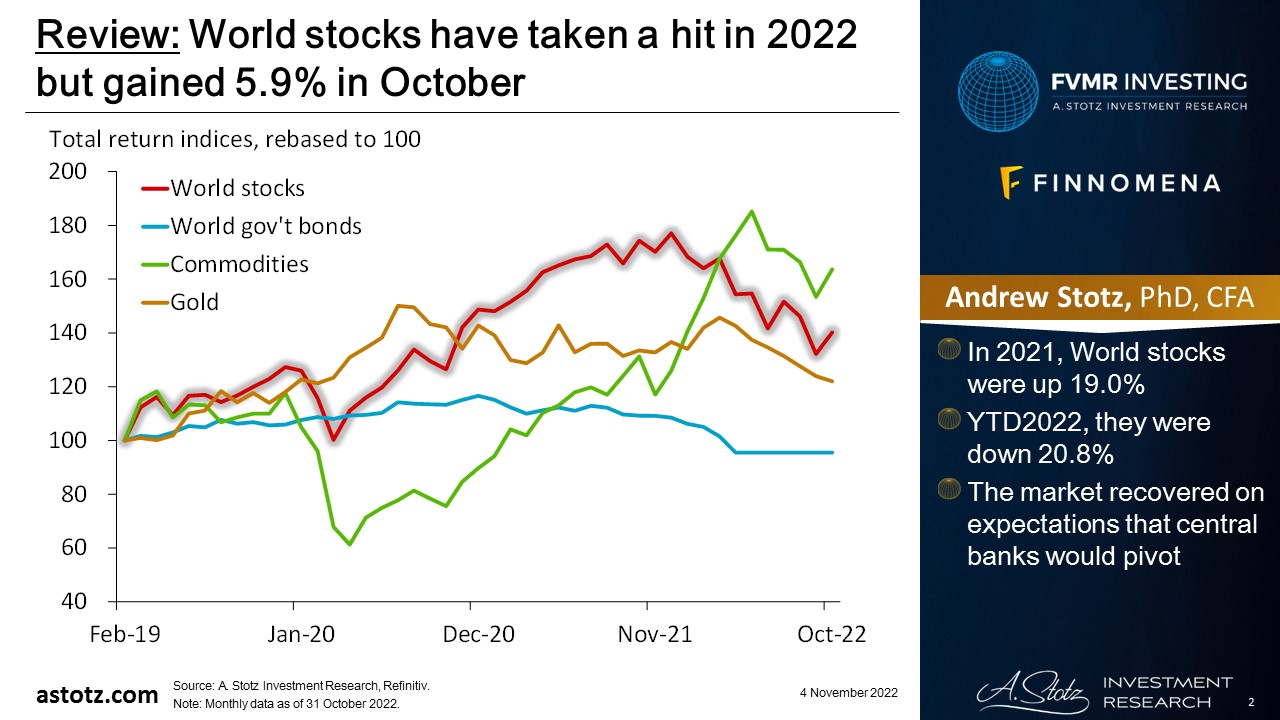 In 2021, World stocks were up 19.0%
YTD2022, they were down 20.8%
The market recovered on expectations that central banks would pivot
Thai money market stayed flat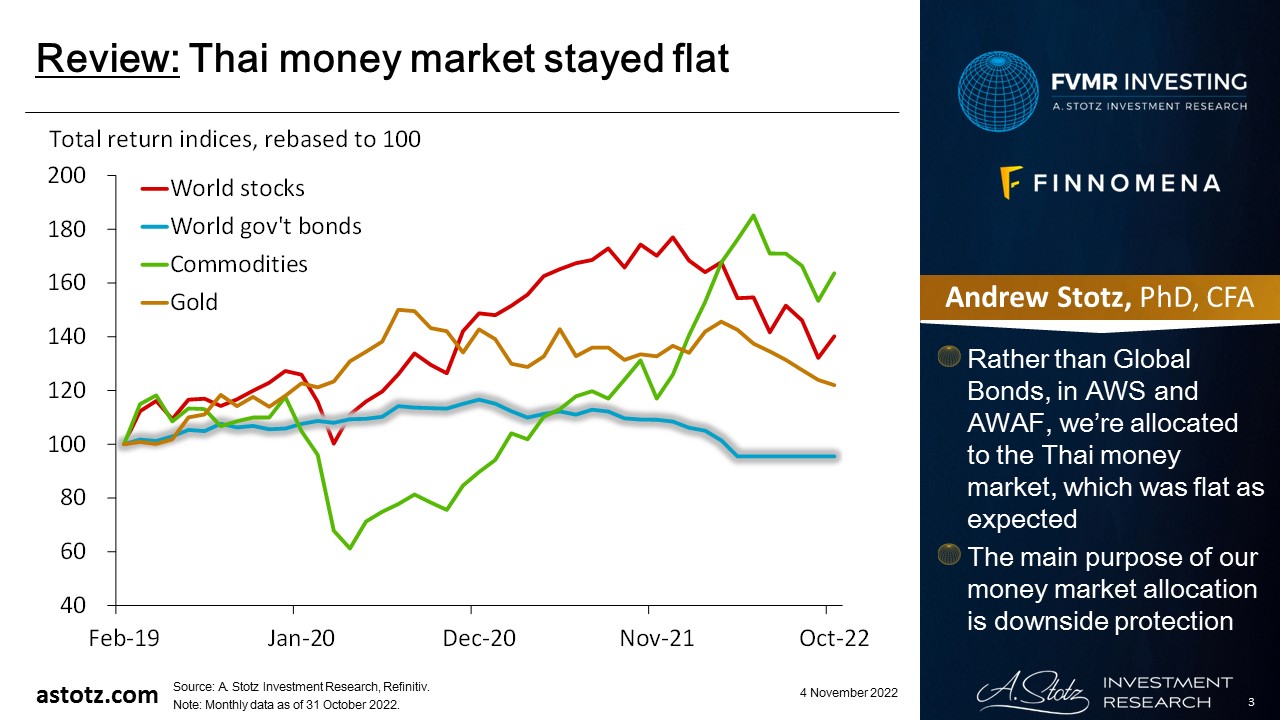 Rather than Global Bonds, in AWS and AWAF, we're allocated to the Thai money market, which was flat as expected
The main purpose of our money market allocation is downside protection
Commodities were up by 3.1% in October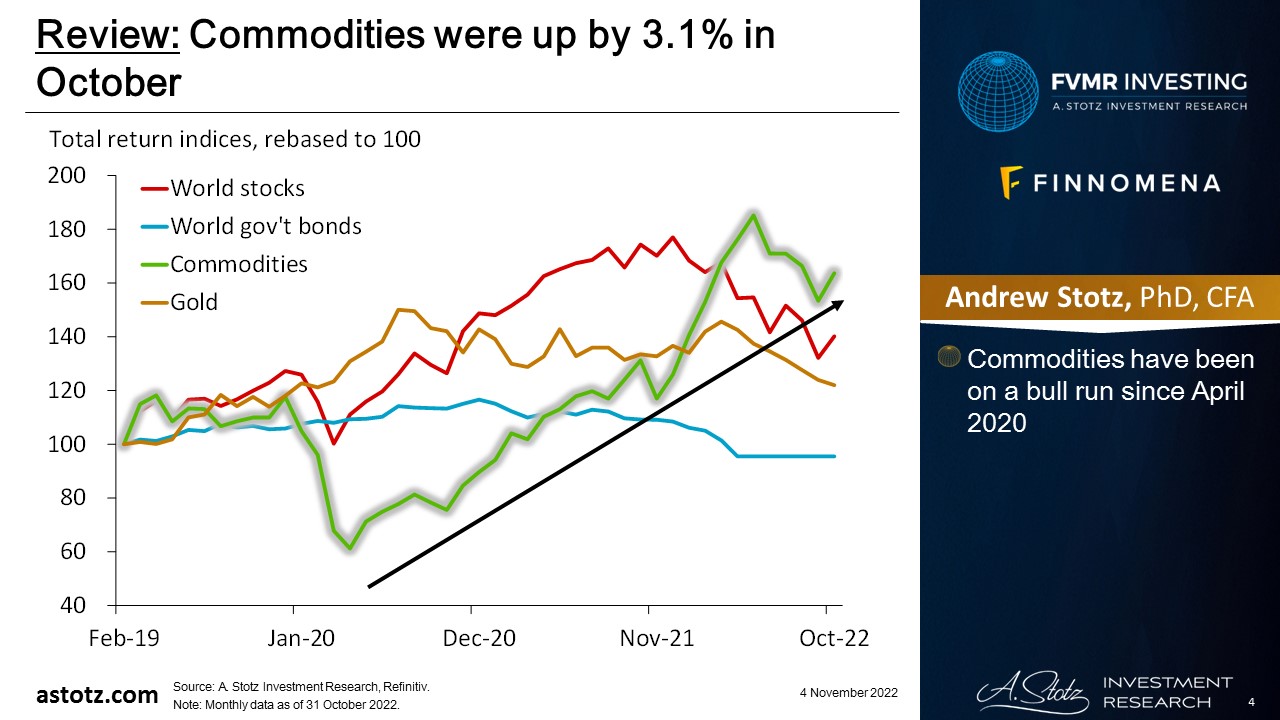 Commodities have been on a bull run since April 2020
WTI oil rebounded slightly and closed October 2022 at US$87/bbl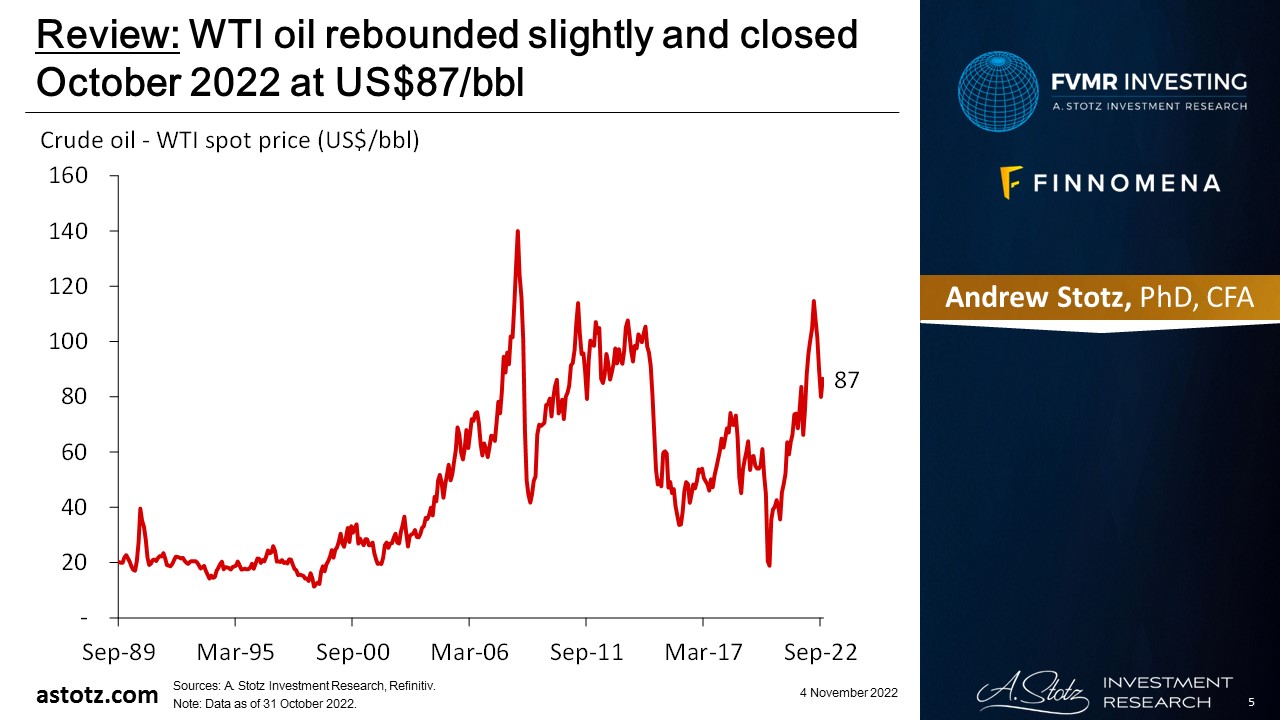 Energy was the best performer, followed by livestock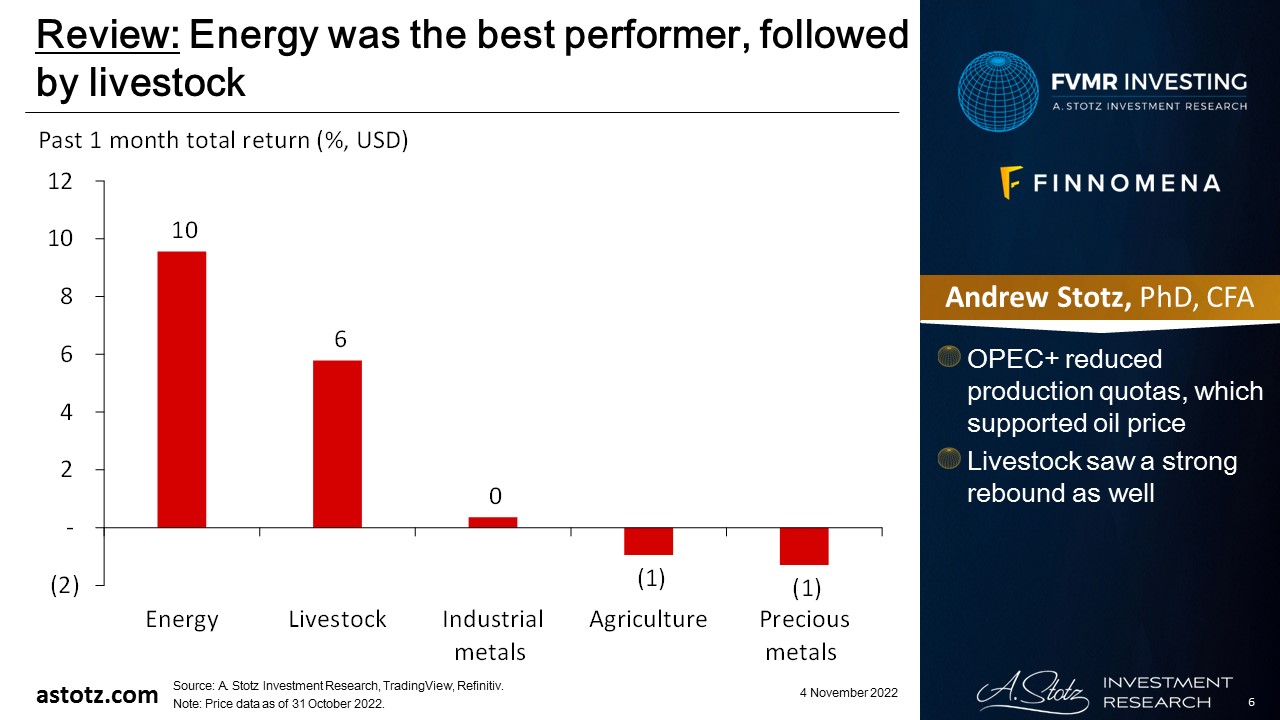 OPEC+ reduced production quotas, which supported oil price
Livestock saw a strong rebound as well
Gold has fallen in 2022, down by 2.3% in October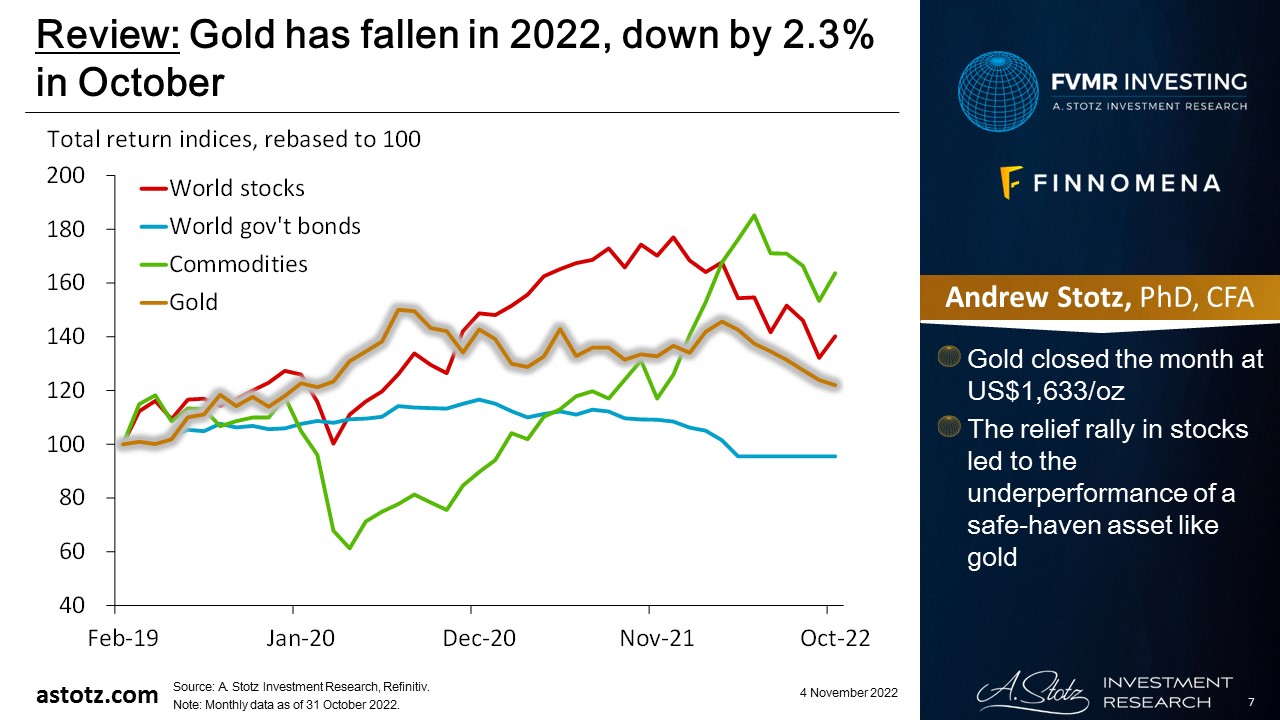 Gold closed the month at US$1,633/oz
The relief rally in stocks led to the underperformance of a safe-haven asset like gold
Much of the recent weakness in gold is actually US$ strength

Think of gold price as a currency pair
Typically, a stronger US$ means a lower gold price in US$
This also means that gold performance differs in other currencies
Only US$ and CHF have strengthened relative to gold YTD2022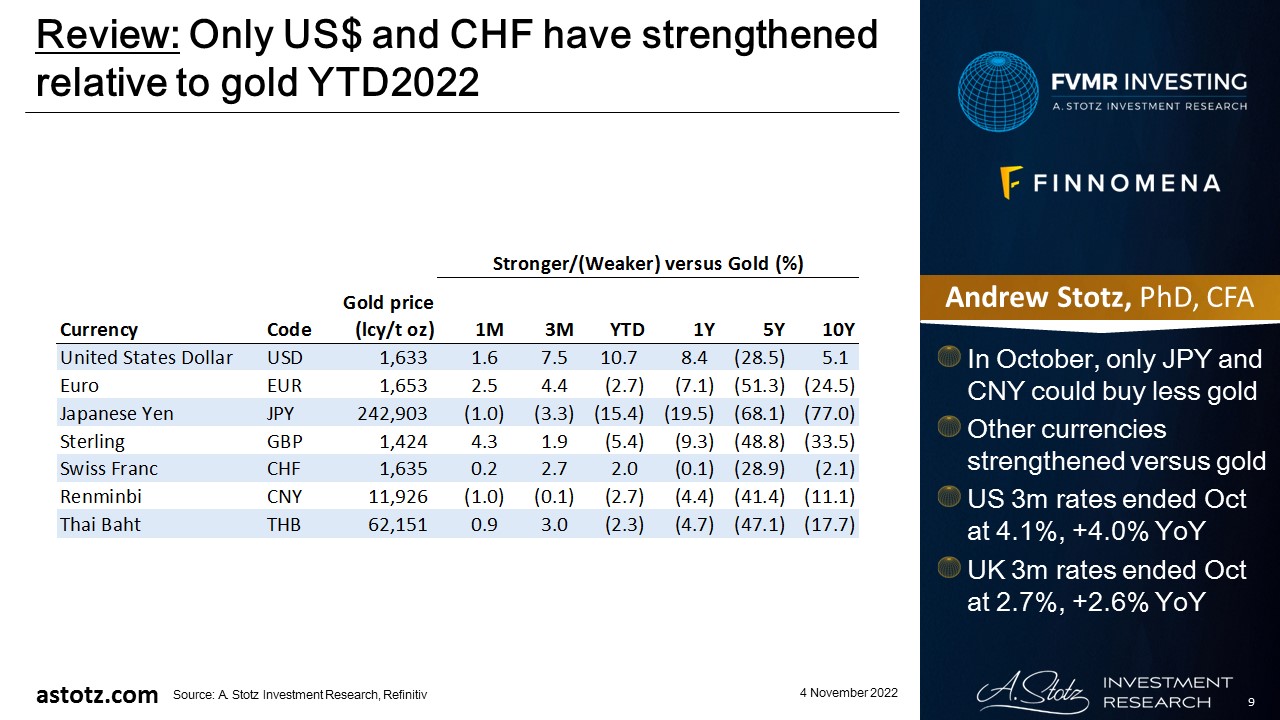 In October, only JPY and CNY could buy less gold
Other currencies strengthened versus gold
US 3m rates ended Oct at 4.1%, +4.0% YoY
UK 3m rates ended Oct at 2.7%, +2.6% YoY
Corporate bonds have had an exceptionally bad year
When people buy corporate bonds, they think they are buying credit spreads – incorrect!

Instead, they are taking onboard BOTH credit spreads & interest rate/duration risk

YTD Investment Grade Corporate Bond returns have been terrible mostly because of rates, not credit spreads pic.twitter.com/y59uEiYUGF

— Alf (@MacroAlf) October 4, 2022
UK long-term gov't bonds have suffered a massive loss YTD
Long-term UK Gilt bonds have posted a total return of -52.3% since Dec 2021. An entire decade of gains wiped out. pic.twitter.com/FW8LI62dsh

— Liz Young (@LizYoungStrat) October 11, 2022
REITs have not served as an inflation hedge
Are REITS really down 38% this year? Wasn't this supposed to be an inflation hedge? Asking for a friend…. pic.twitter.com/9vaPUHHTA3

— Andrew Beer (@andrewdbeer1) October 10, 2022
US rate hikes have led to significantly higher mortgage payments
The housing market explained. pic.twitter.com/bF5ZppweYk

— Genevieve Roch-Decter, CFA (@GRDecter) October 14, 2022
Rate hikes typically lead to declines in house prices
Ouch.

Housing in times of rate hikes. pic.twitter.com/RKwWBPU01t

— Daniel Lacalle (@dlacalle_IA) October 25, 2022
The global financial system is built on US$, that's why it has gotten stronger
One of the most important charts in macro

Our financial system is $-centric, and to function orderly it requires a constant USD flow to its leveraged users

The momentum of global (trade) growth & US deficits are vital parameters to track, and neither look supportive short-term pic.twitter.com/tVlzIRBFHn

— Alf (@MacroAlf) October 18, 2022
The Euro has weakened significantly against the US dollar
BACK BELOW PARITY

A 75 bps hike from the ECB and yet the EUR sells off again

EUR is guided by growth expectations, not rates pic.twitter.com/ZdWkJ4QoF4

— AndreasStenoLarsen (@AndreasSteno) October 27, 2022
The weak Euro has lead to a massive drop in the German trade balance
Good Morning from #Germany, which is not benefiting from the weak #Euro. The export nation's trade balance slipped to a slim €1.2bn in Aug because imports are becoming more expensive & exports are not growing accordingly. The terms of trade are thus deteriorating sharply. pic.twitter.com/mSZ58co88N

— Holger Zschaepitz (@Schuldensuehner) October 5, 2022
The Yen has weakened as Bank of Japan engages in yield curve control
Sovereign debt, even when denominated in a country's own currency and majority-owed to domestic entities, matters once it gets too high.

As Japan's bond yields ran into their 0.25% yield cap, the currency was the release valve, devaluing Japanese peoples' savings: pic.twitter.com/a6d79pMsbu

— Lyn Alden (@LynAldenContact) October 29, 2022
US-China fight over semiconductors
What happened in China yesterday is massive. I haven't seen anything as big in my lifetime. Basically Biden said to American engineers working in China in the semiconductor to either resign or be ready to lose their American citizenship. Everyone resigned. Industry collapsed 🤯

— abhishek (@abhishek_tri) October 15, 2022
China has expanded its control of the global trade network
🇨🇳 China's companies have been heavily investing in ports around the world, but also with a special emphasis on Europe. There are more than a dozen ports in the Mediterranean and Europe in which the Chinese state-owned enterprises have acquired stakes. Hamburg is the next target. pic.twitter.com/nYvBopHBGA

— Velina Tchakarova (@vtchakarova) October 20, 2022
Xi Jinping has consolidated his power
now i REALLY wanna invest in China pic.twitter.com/ZXCh8x8uT9

— Concoda (legit) 🥷 (@concodanomics) October 22, 2022
China's former president, Hu Jintao, was escorted out from the closing ceremony of the Communist Party's national congress on October 22nd
Structural supply deficit support commodities
You all keep thinking CB's can actually control inflation by trying to suppress demand. Here is the problem right now. We are in a structural supply deficit across energy, metals, and ags. CB's cant fix this.

— Tracy (𝒞𝒽𝒾 ) (@chigrl) October 4, 2022
OPEC+ has reduced the production quota, which is likely to reduce global oil supply
Every headline claiming OPEC+ cut production by 2mm is dead wrong, misleading, and journalistically incompetent.

OPEC+ cut production QUOTAS, *not* production by 2mm bbl. Most countries were already unable to produce to quota.

The resulting cut to PRODUCTION is ~800k, not 2mm.

— Erik Townsend 🛢️ (@ErikSTownsend) October 6, 2022
Biden wants to put an extra tax on energy producers, disincentivizing investments
Biden's new US Drilling Reduction Act is gonna send oil prices flying in 2023… https://t.co/HAyrGDID5s

— Kuppy (@hkuppy) October 31, 2022
We could see an OPEC-style cartel for metals used in batteries
OPEC 2.0 coming in metals needed for Electric Vehicles? 🙀 pic.twitter.com/bJRDIghjJ3

— AndreasStenoLarsen (@AndreasSteno) October 31, 2022
Central banks have been loading up on gold
'Almost 400 tons of gold were scooped up by central banks in the third quarter, more than quadruple the amount a year earlier. That takes the total so far this year to the highest since 1967, when the dollar was still backed by the metal.' https://t.co/x9ZwDKpJI6 pic.twitter.com/EozM0W9714

— Jesse Felder (@jessefelder) November 1, 2022

Key takeaways
Bonds are still having a terrible year
US$ remains super strong and continues as the reserve currency; its strength is making it hard for countries to cope
Xi Jinping has consolidated his power
Structural supply deficit likely to support commodities
Central banks have been loading up on gold
Performance review: All Weather Inflation Guard
All Weather Inflation Guard was up 2.2%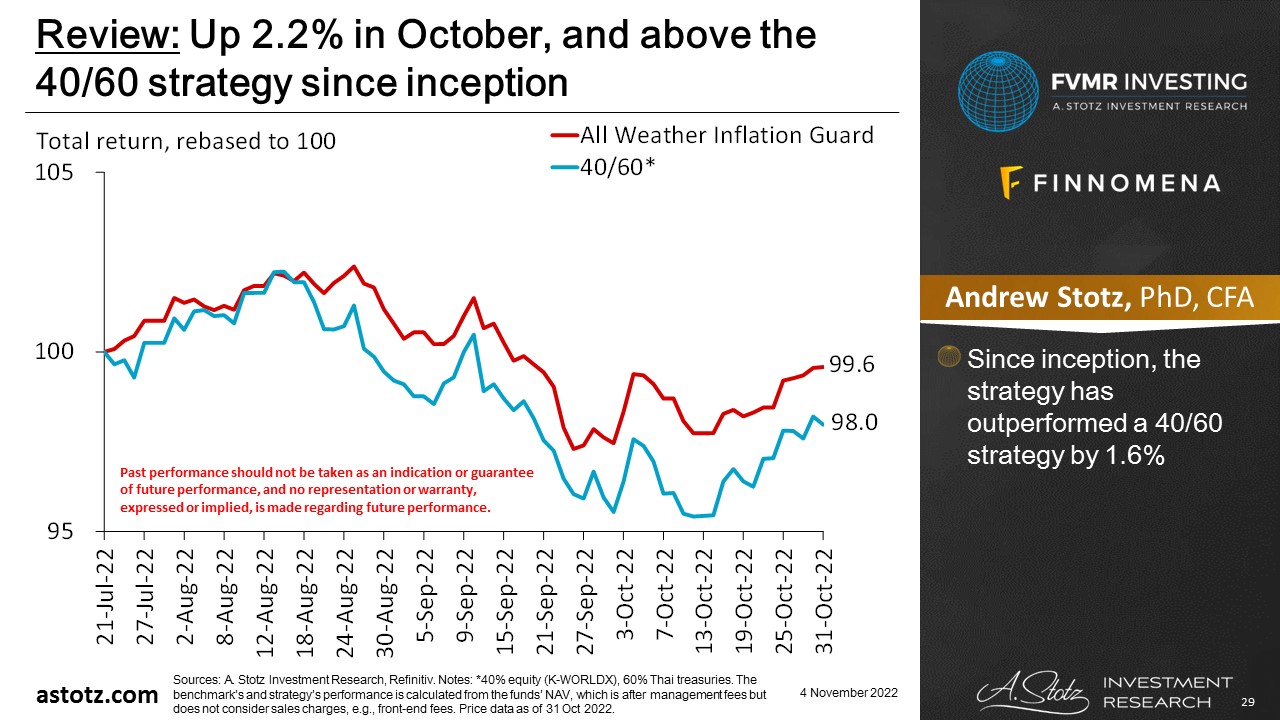 Since inception, the strategy has outperformed a 40/60 strategy by 1.6%
The strategy was 0.3% lower than the 40/60 portfolio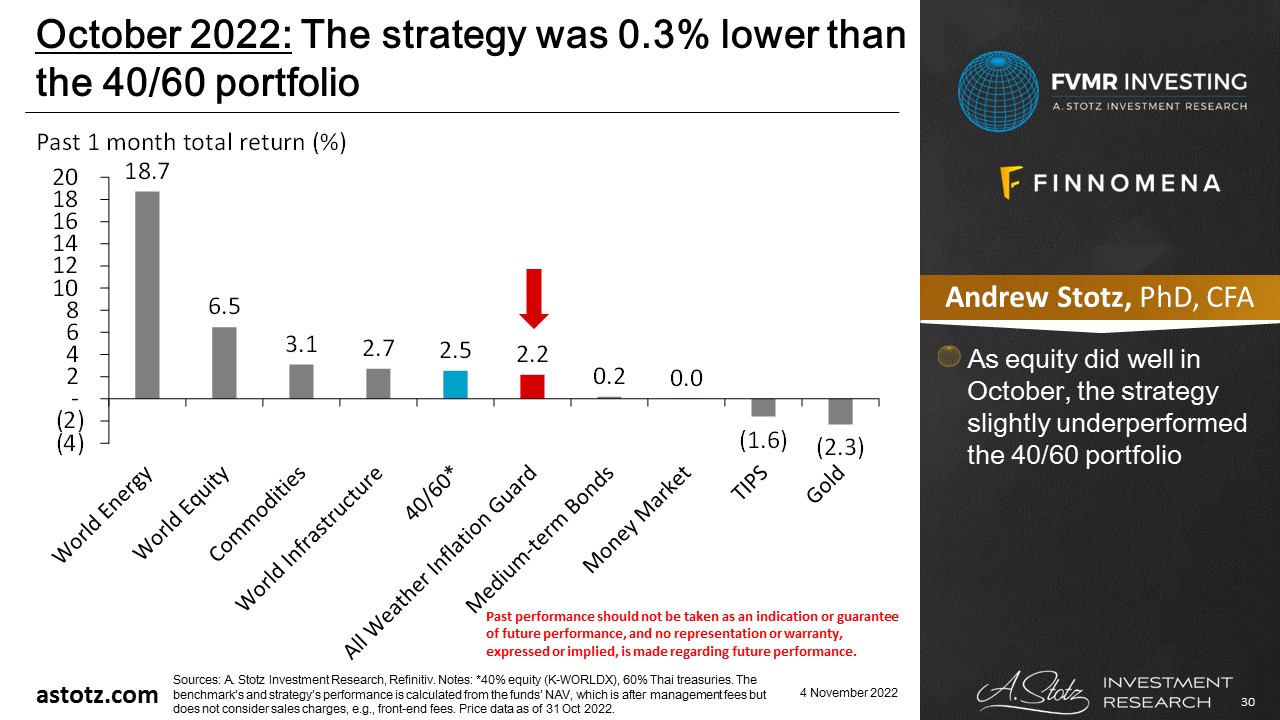 As equity did well in October, the strategy slightly underperformed the 40/60 portfolio
Performance review: All Weather Strategy
All Weather Strategy was up 0.8%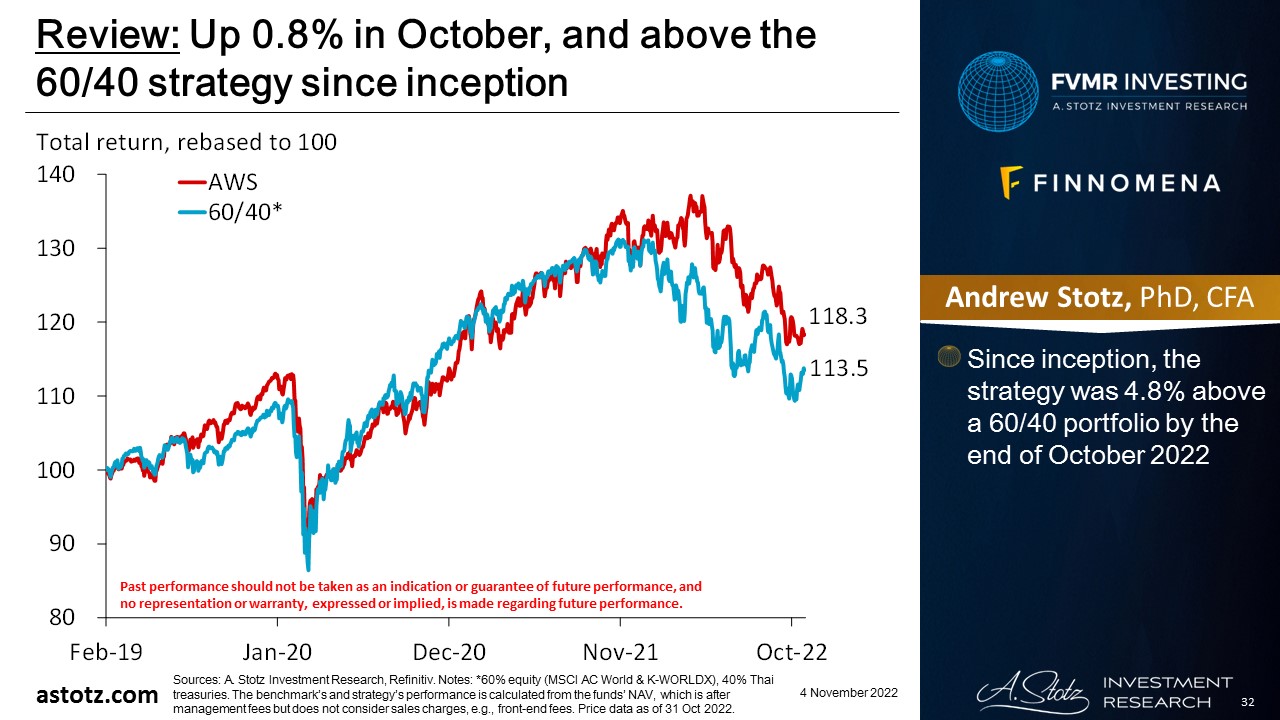 Since inception, the strategy was 4.8% above a 60/40 portfolio by the end of October 2022
The strategy was 2.7% below the 60/40 portfolio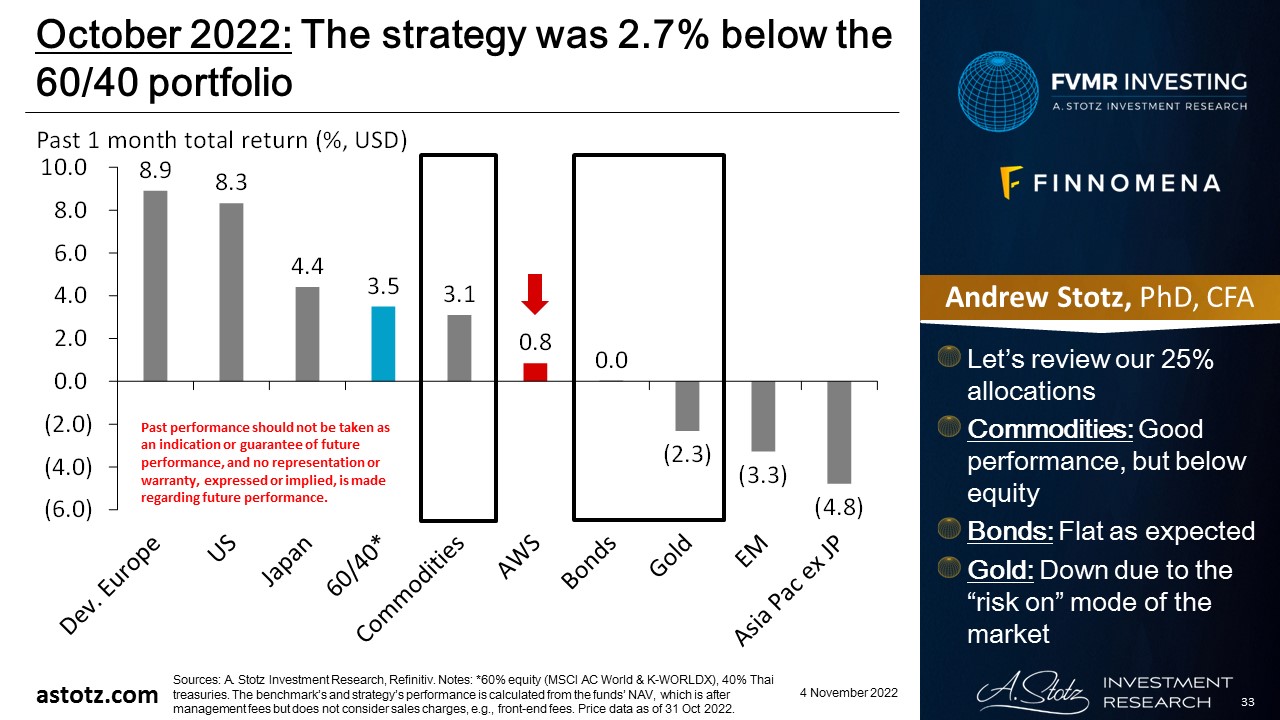 Let's review our 25% allocations
Commodities: Good performance, but below equity
Bonds: Flat as expected
Gold: Down due to the "risk on" mode of the market
The strategy has lost less on 9 out of the 10 worst global stock market days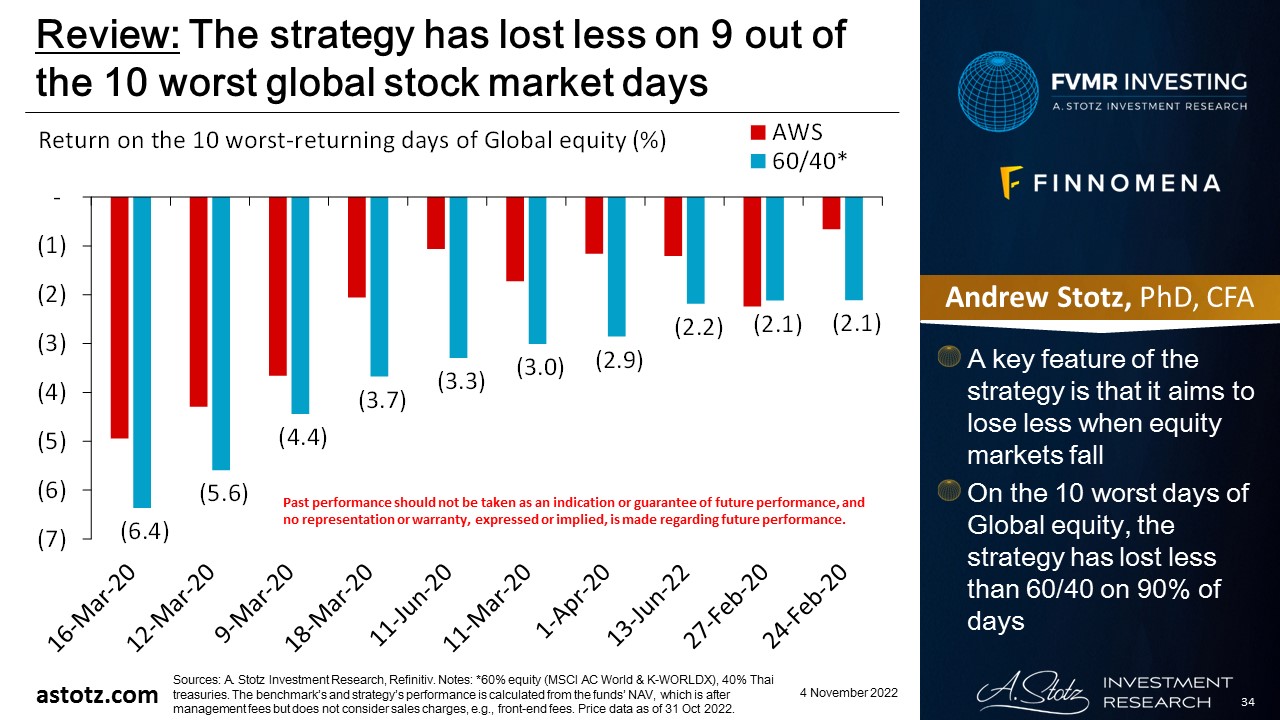 A key feature of the strategy is that it aims to lose less when equity markets fall
On the 10 worst days of Global equity, the strategy has lost less than 60/40 on 90% of days
Underperformed in October, but outperformed a 60/40 in 59% of months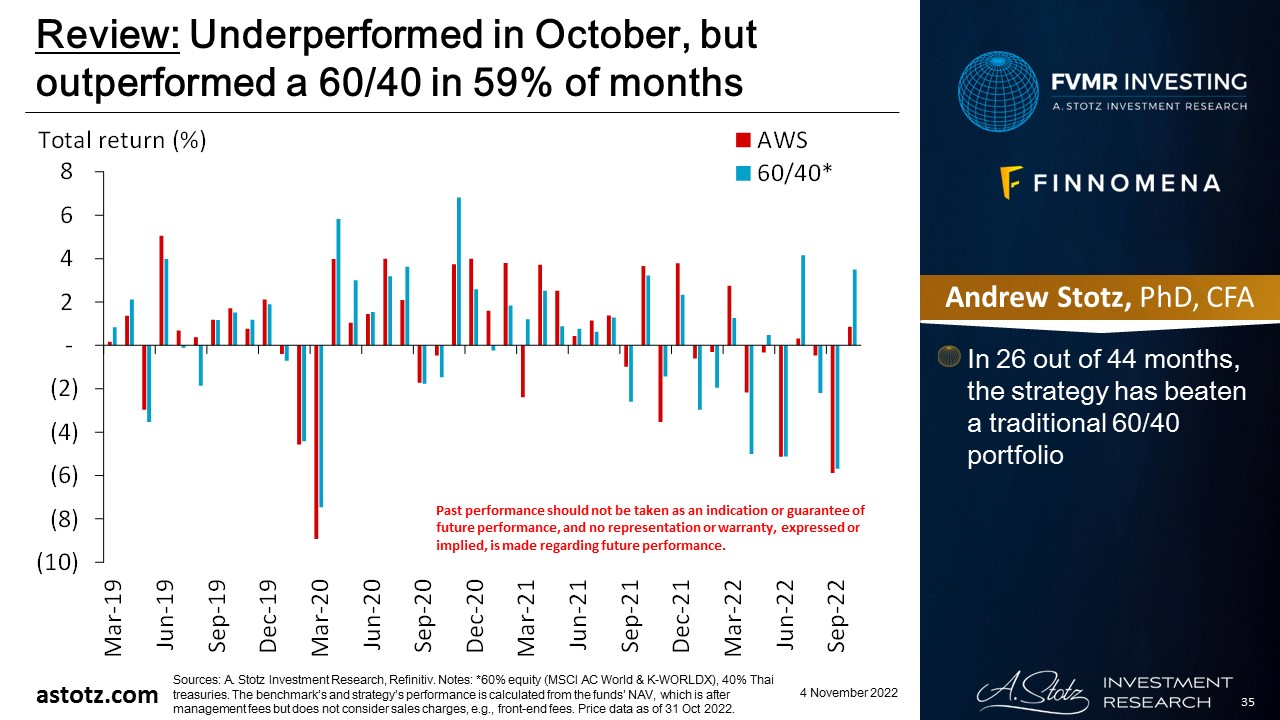 In 26 out of 44 months, the All Weather Strategy has beaten a traditional 60/40 portfolio
Performance review: All Weather Alpha Focus
All Weather Alpha Focus was up 2.9%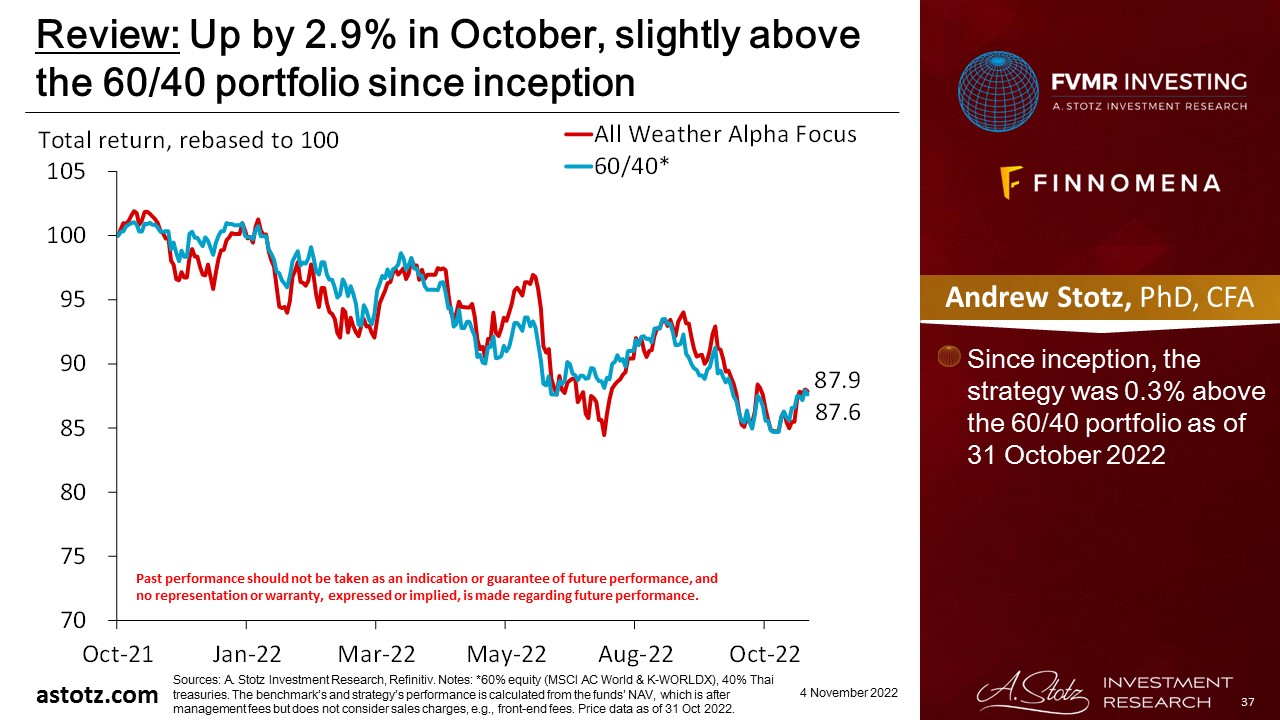 Since inception, the strategy was 0.3% above the 60/40 portfolio as of 31 October 2022
The strategy has still done better than World equity since inception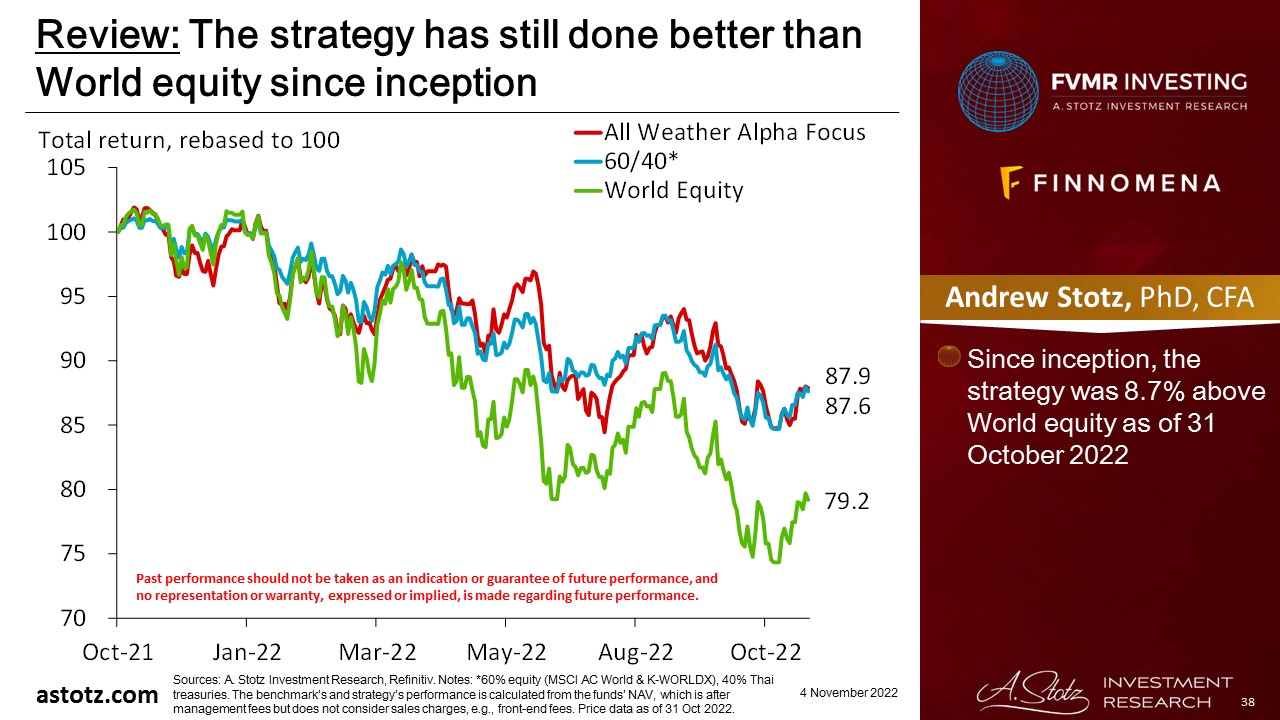 Since inception, the strategy was 8.7% above World equity as of 31 October 2022
The strategy was 0.2% below the 60/40 portfolio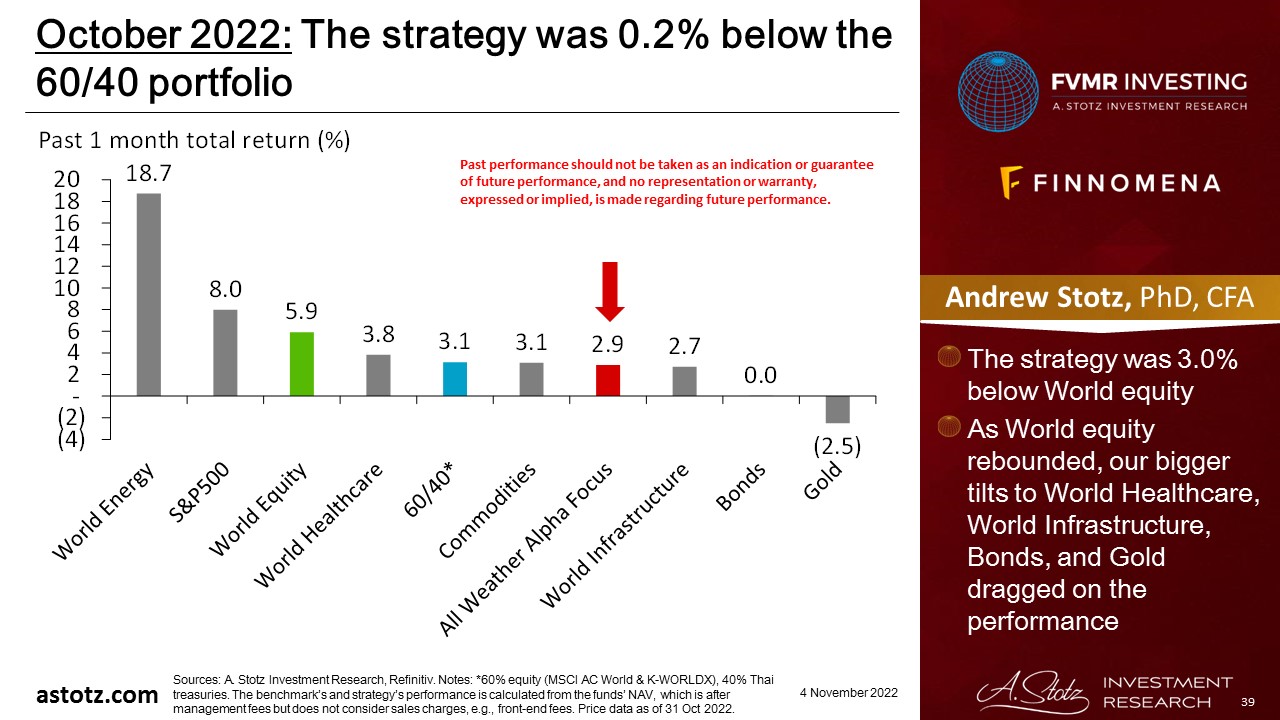 The strategy was 3.0% below World equity
As World equity rebounded, our bigger tilts to World Healthcare, World Infrastructure, Bonds, and Gold dragged on the performance
Global outlook that guides our asset allocation
Oil price has retreated, but not yet inflation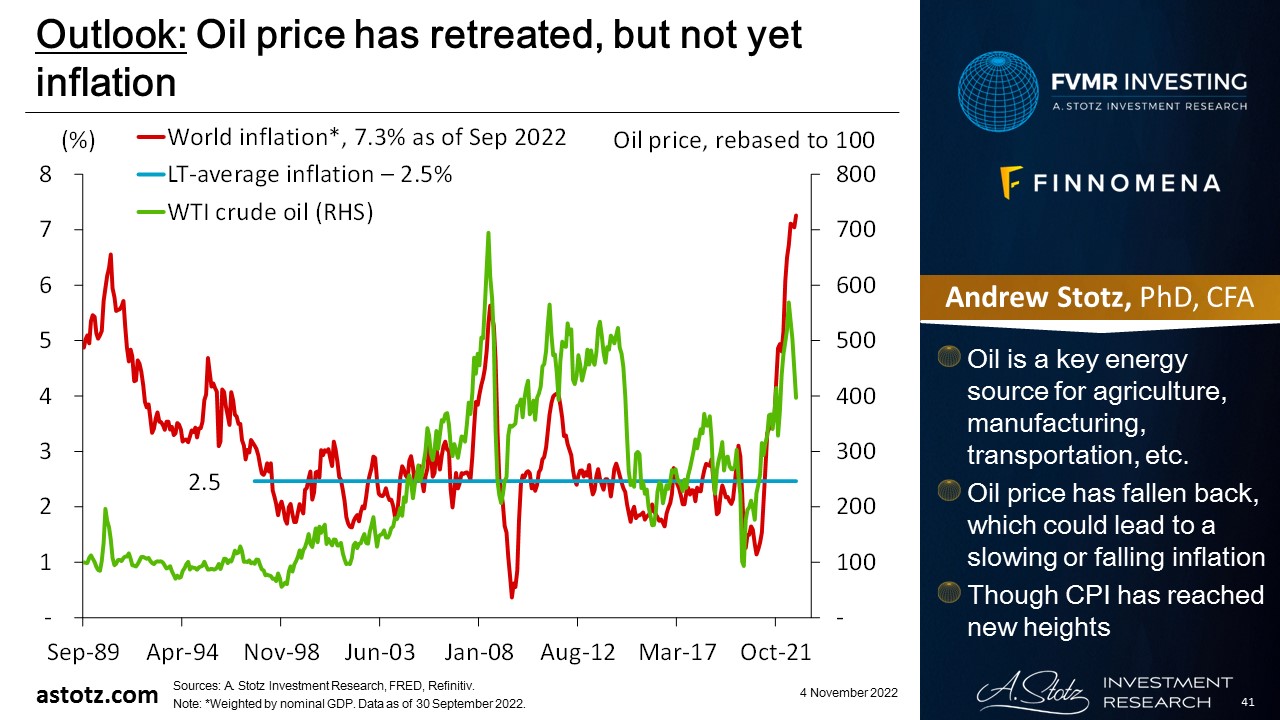 Oil is a key energy source for agriculture, manufacturing, transportation, etc.
Oil price has fallen back, which could lead to a slowing or falling inflation
Though CPI has reached new heights
Inflation through the roof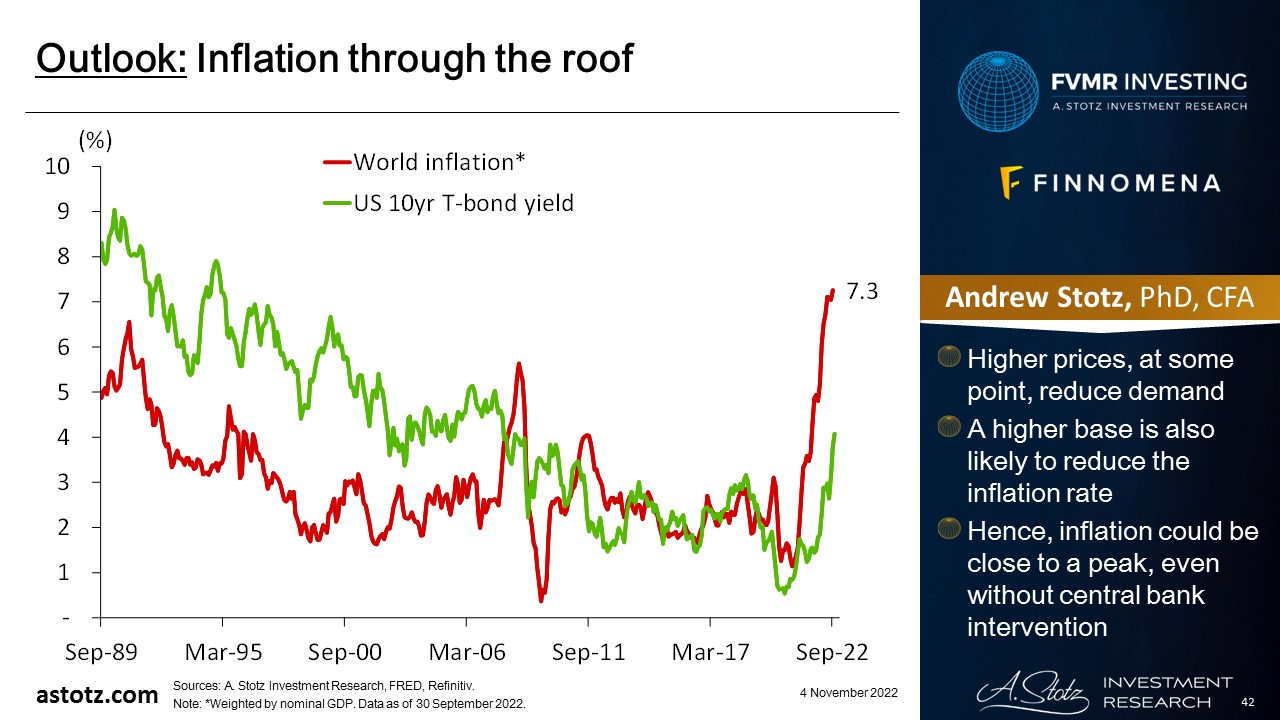 Higher prices, at some point, reduce demand
A higher base is also likely to reduce the inflation rate
Hence, inflation could be close to a peak, even without central bank intervention
The 3m gov't bond yield has risen to 3.8% from 1.4% a year ago

Still, global inflation has raced up significantly more
Expect central banks to continue raising rates as they haven't yet stifled inflation
The market expects inflation to return to "normal"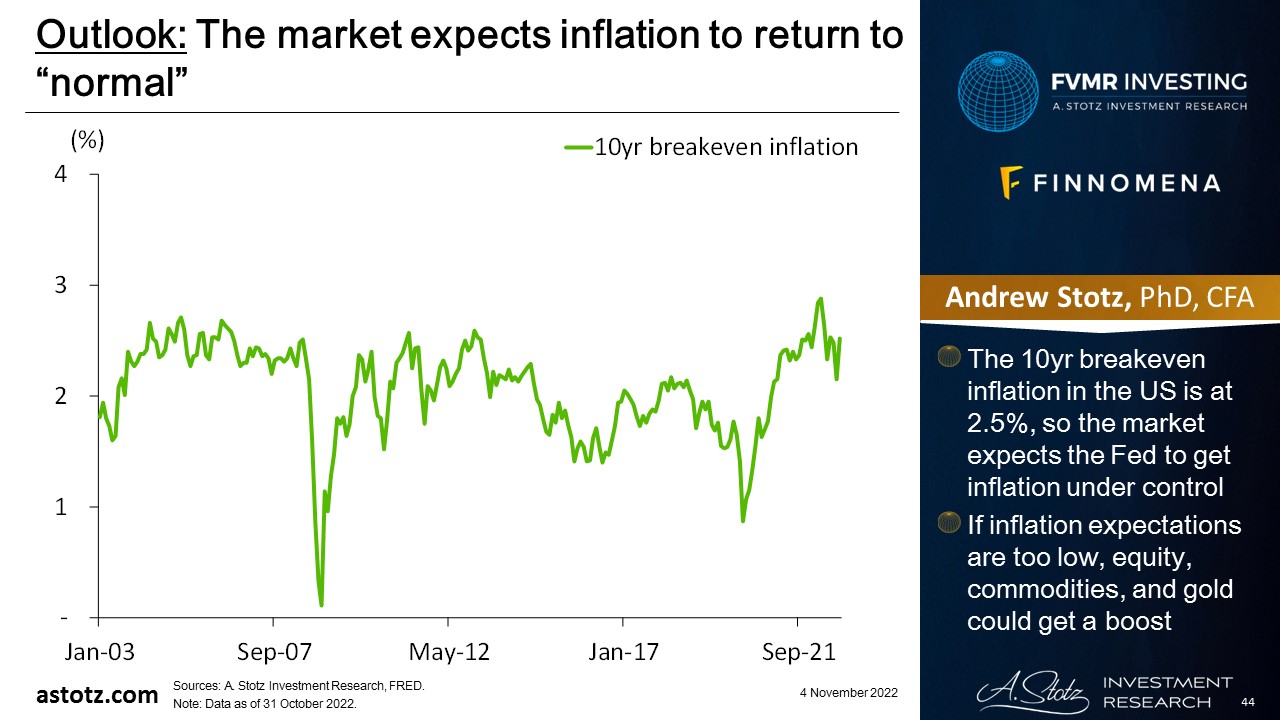 The 10yr breakeven inflation in the US is at 2.5%, so the market expects the Fed to get inflation under control
If inflation expectations are too low, equity, commodities, and gold could get a boost
US CPI appears to be peaking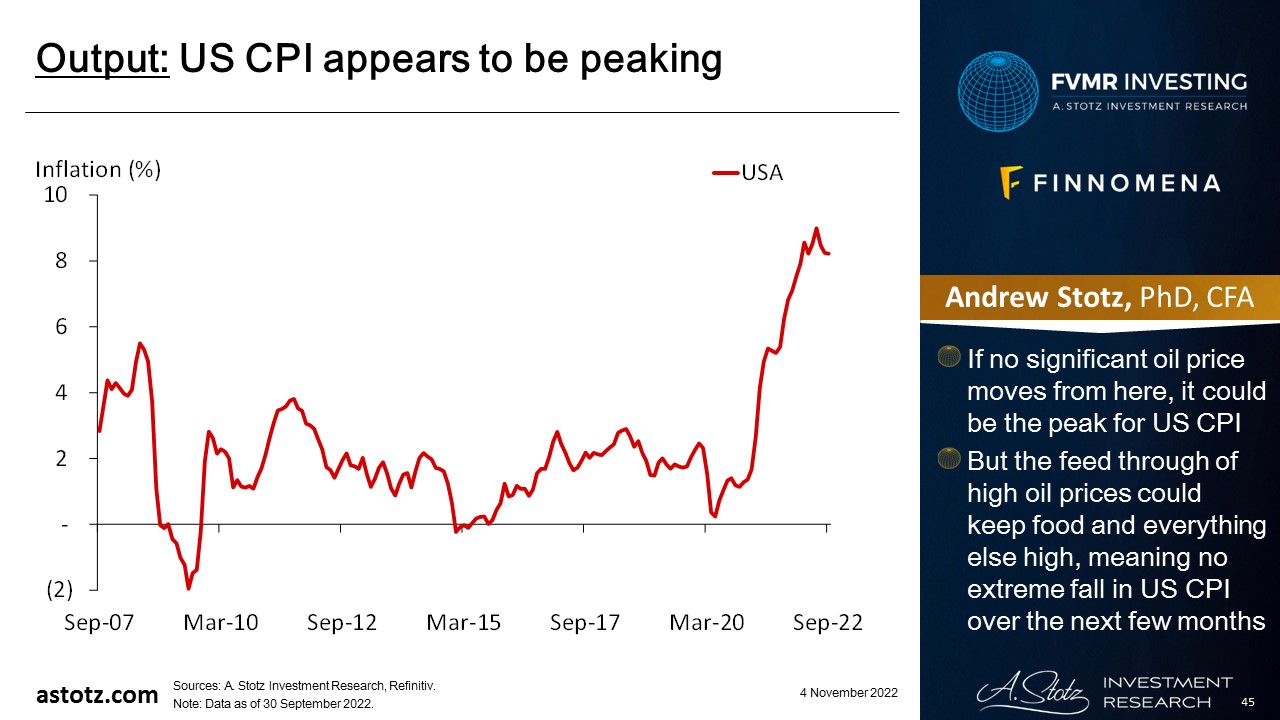 If no significant oil price moves from here, it could be the peak for US CPI
But the feed through of high oil prices could keep food and everything else high, meaning no extreme fall in US CPI over the next few months
A December Fed hike is priced in

The market is pricing in a 100% certainty of another Fed rate hike at the next FOMC meeting
The implied probability is 61.5% for a 0.5% hike to a target rate of 4.25-4.50%
This is the fastest rate-hike cycle by the Fed since the 1980s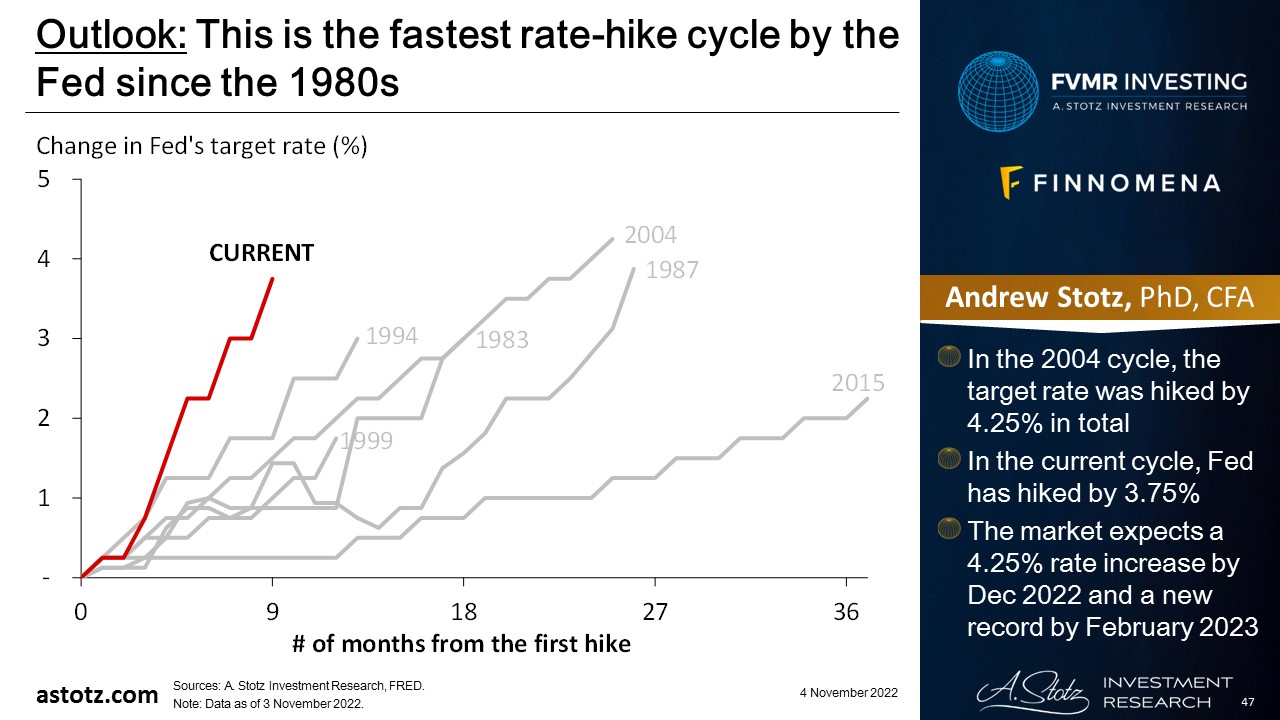 In the 2004 cycle, the target rate was hiked by 4.25% in total
In the current cycle, Fed has hiked by 3.75%
The market expects a 4.25% rate increase by Dec 2022 and a new record by February 2023
Fed is expected to be the most aggressive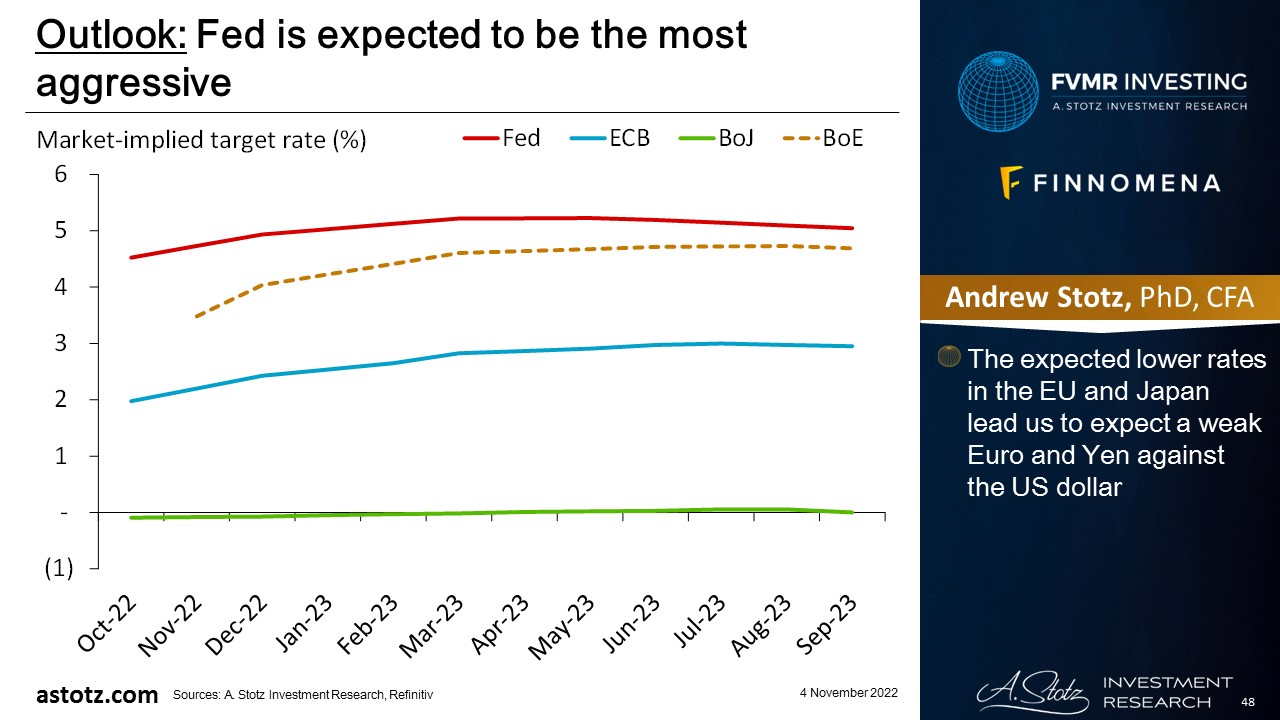 The expected lower rates in the EU and Japan lead us to expect a weak Euro and Yen against the US dollar
Strong US$ hurts Emerging markets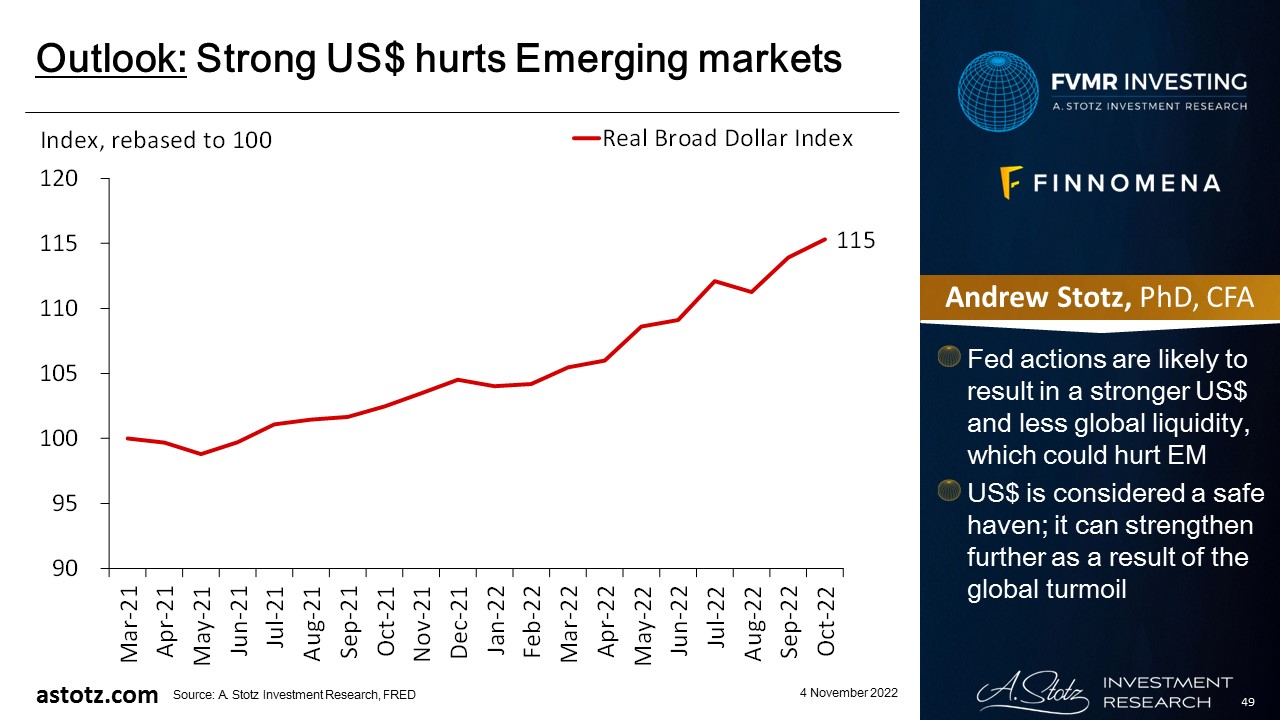 Fed actions are likely to result in a stronger US$ and less global liquidity, which could hurt EM
US$ is considered a safe haven; it can strengthen further as a result of the global turmoil
Strong US$ and China are concerns
A stronger US$ is negative for many Asian markets due to US$ denominated debt getting harder to pay back
We're not yet convinced about the Chinese recovery
Xi Jinping has consolidated his power, gov't intervention to stifle inflation could impact targeted companies' earnings, and the tyrannic zero-covid policy hasn't been lifted
Yield-curve inversion is diving deeper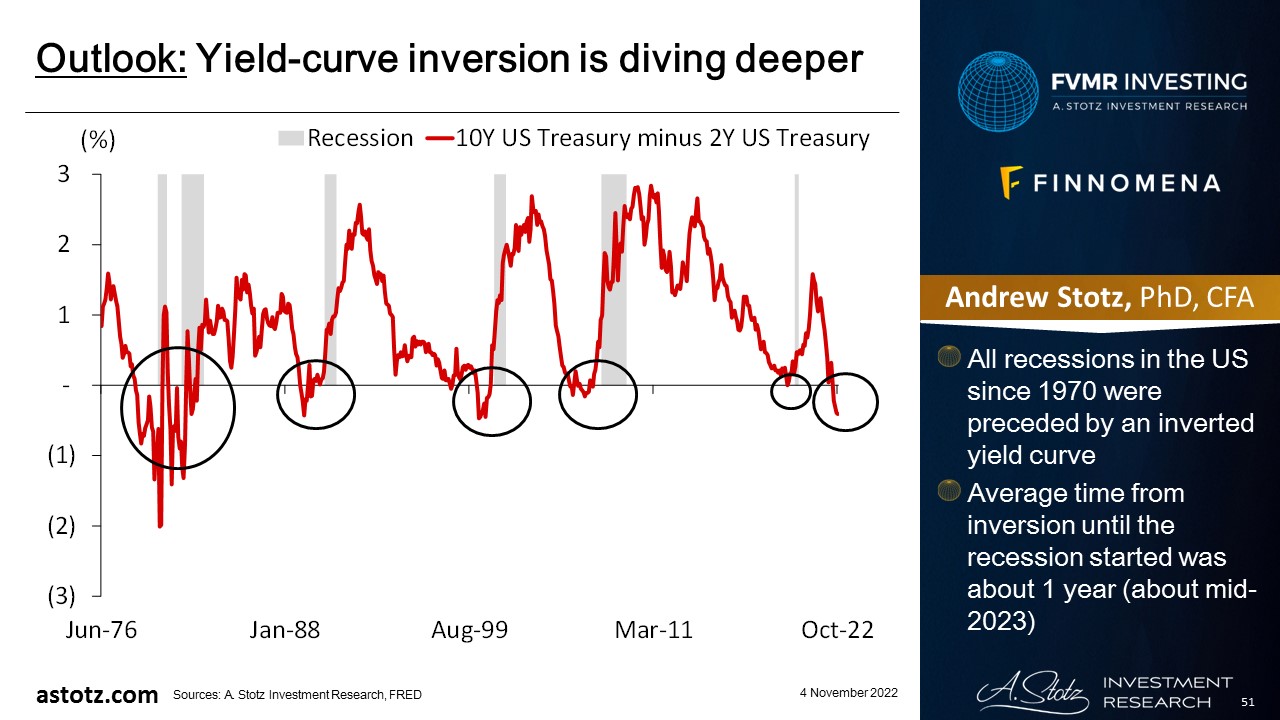 All recessions in the US since 1970 were preceded by an inverted yield curve
Average time from inversion until the recession started was about 1 year (about mid-2023)
Watch if yield spread "breaks"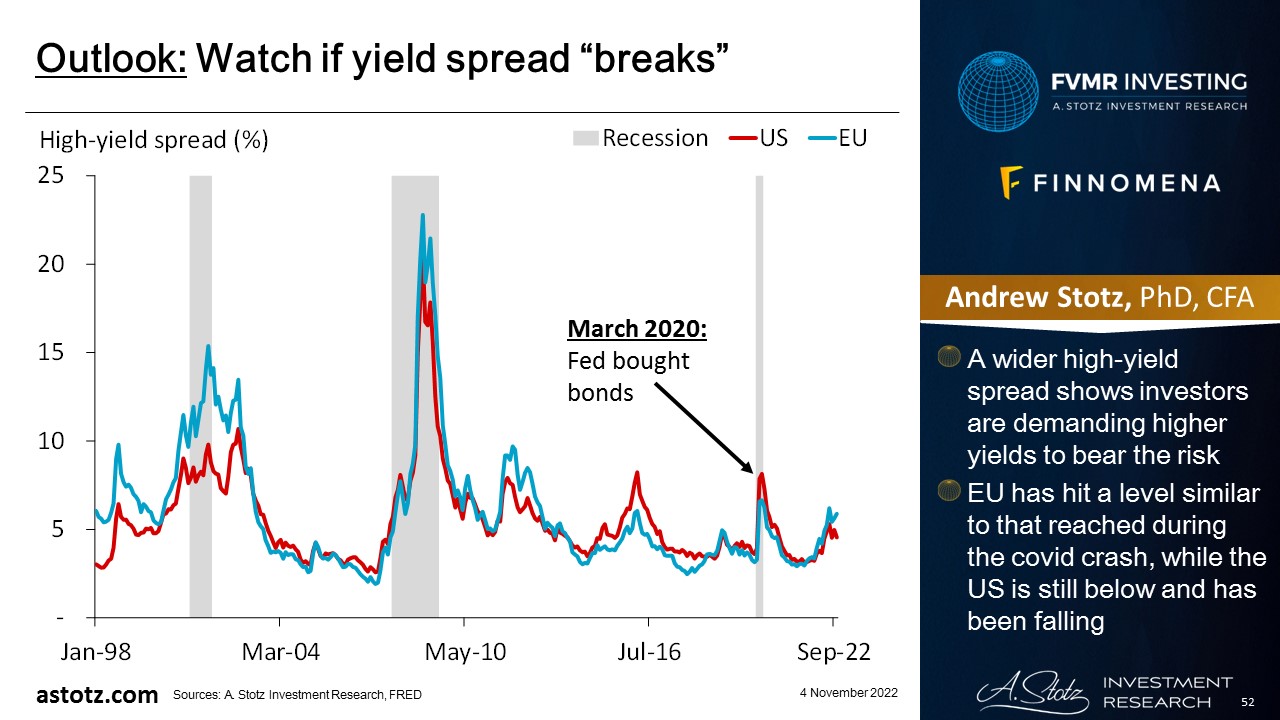 A wider high-yield spread shows investors are demanding higher yields to bear the risk
EU has hit a level similar to that reached during the covid crash, while the US is still below and has been falling
Valuations have come down, primarily due to price fall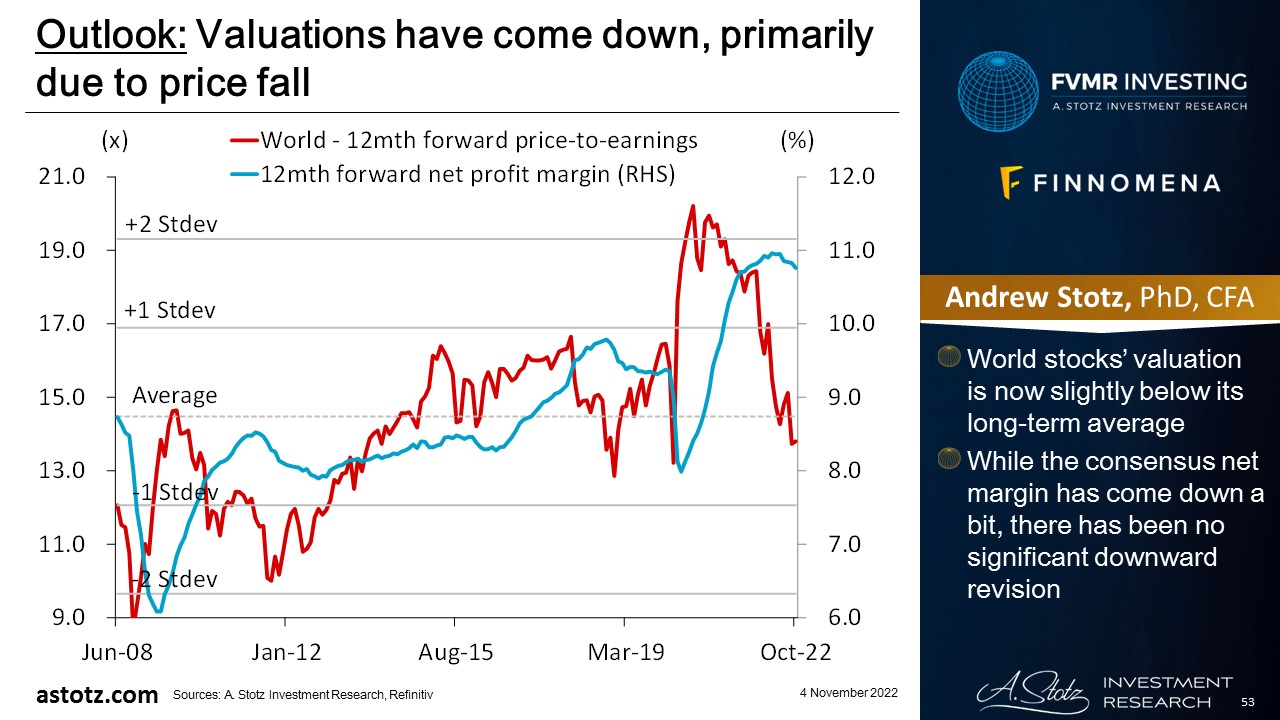 World stocks' valuation is now slightly below its long-term average
While the consensus net margin has come down a bit, there has been no significant downward revision
Every other region forecasts a 2yr fall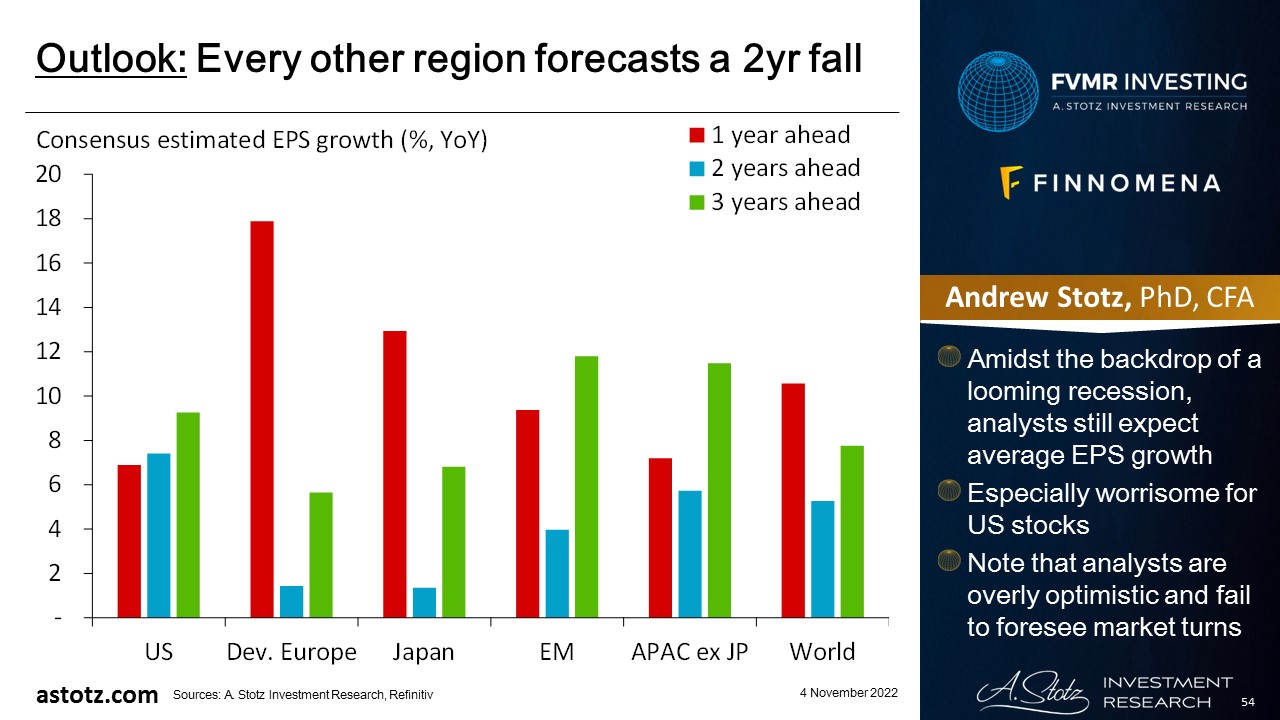 Amidst the backdrop of a looming recession, analysts still expect average EPS growth
Especially worrisome for US stocks
Note that analysts are overly optimistic and fail to foresee market turns
There hasn't been much QT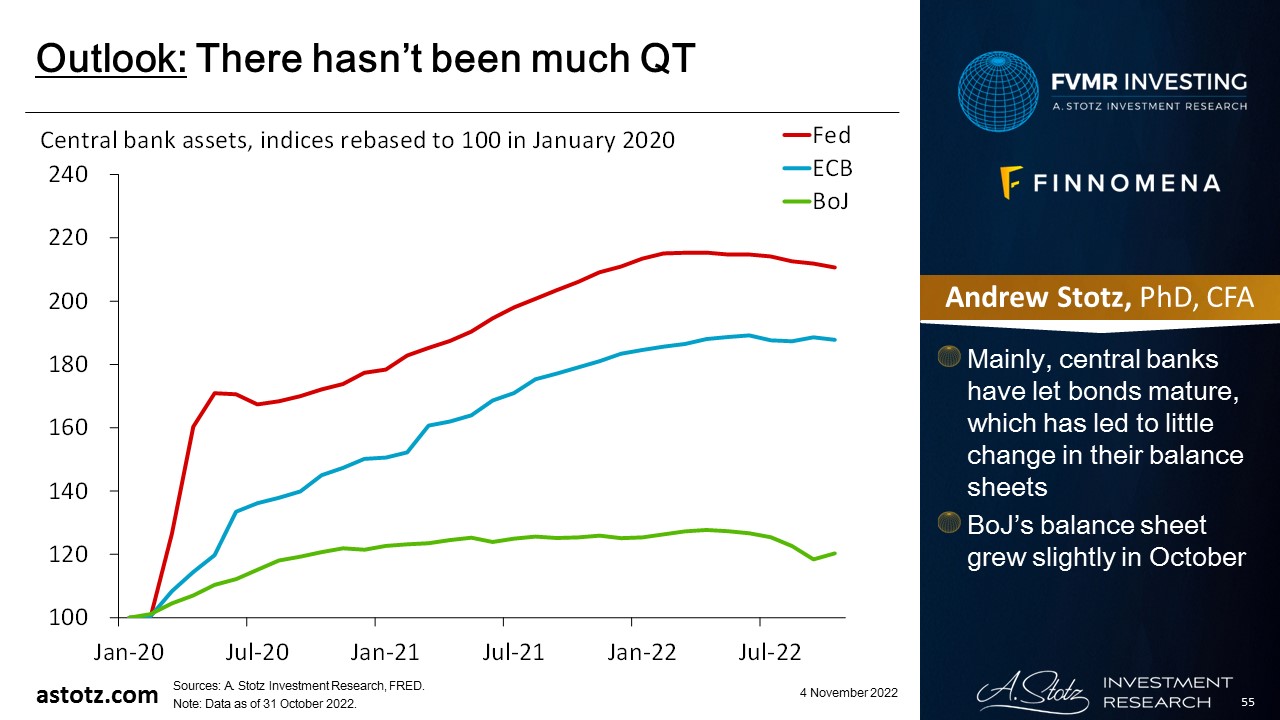 Mainly, central banks have let bonds mature, which has led to little change in their balance sheets
BoJ's balance sheet grew slightly in October
We think the course will eventually be reversed
Many central banks are communicating that they're going to get inflation down, and investors seem to buy the rhetoric
We still think central bankers and politicians will change course and return to accommodative policies as soon as something "breaks"
And we do think central bankers are going to break things
Stagflation is the worst possible outcome
If central banks manage to kill growth but not inflation, we'll get stagflation
Stagflation is typically bad for both stocks and bonds
Commodities have typically done well during inflationary times, and gold has historically fared well during stagflation
Bonds are typically a safe place to be, even though 2022 has been exceptionally bad
In recessions, safer assets like government bonds are typically performing well
Though with high inflation, low yields could still lead to negative real returns
We typically don't allocate to Bonds to speculate on the upside but rather use it as a way to protect capital over time
While European natural gas price has returned to June 2021 level, oil remains high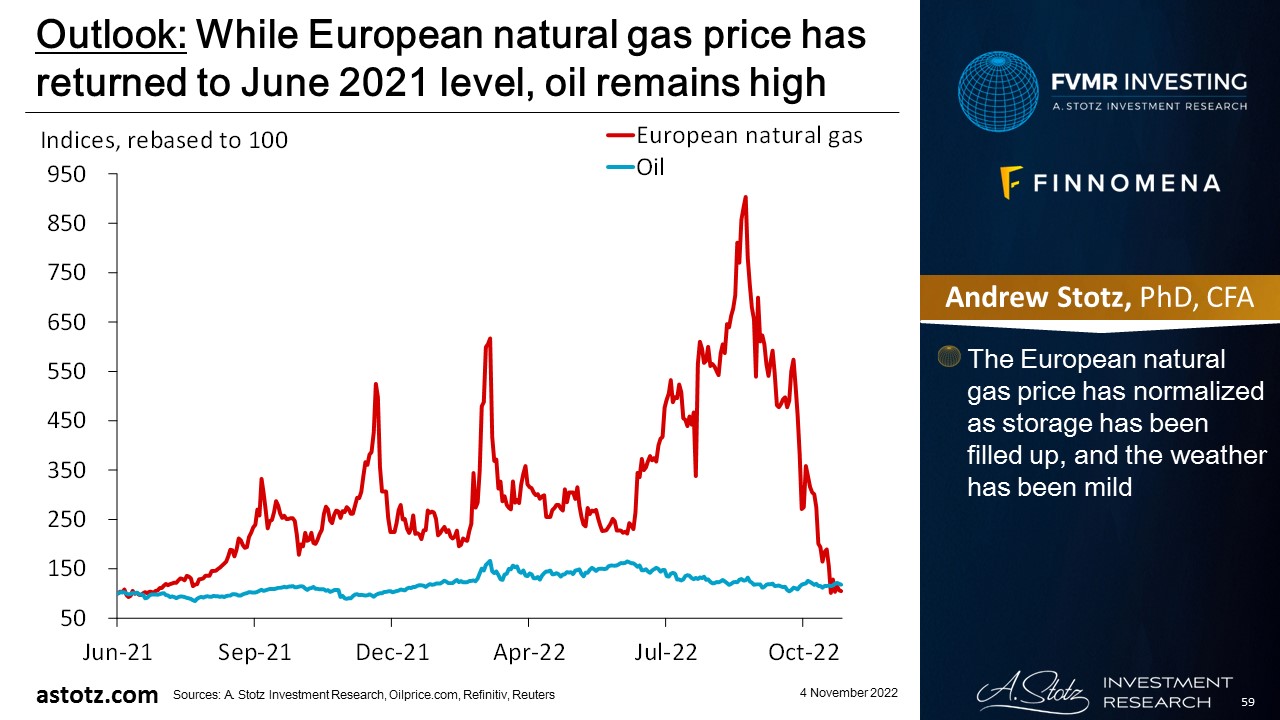 The European natural gas price has normalized as storage has been filled up, and the weather has been mild
While European natural gas price has returned to June 2021 level, oil remains high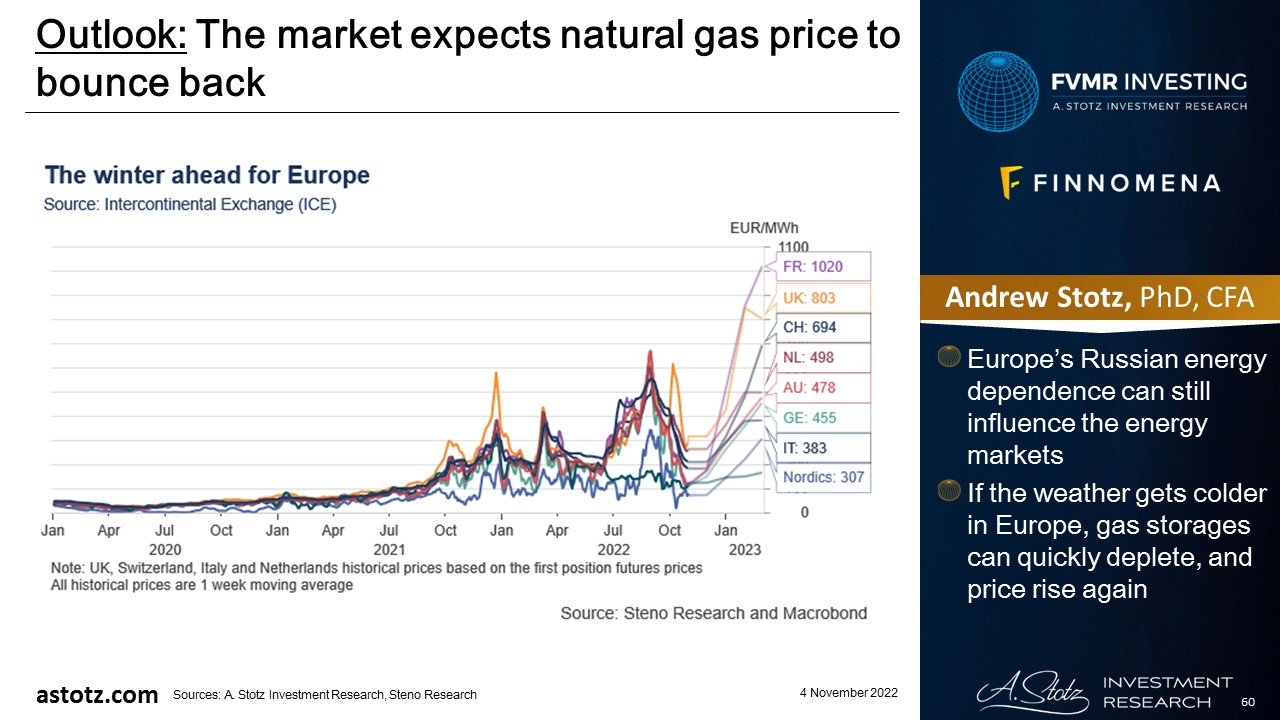 Europe's Russian energy dependence can still influence the energy markets
If the weather gets colder in Europe, gas storages can quickly deplete, and price rise again
Fundamental support for energy prices
OPEC+ keeps missing its output targets, and the cartel has announced to cut production and support oil price
Ukraine war could lead to further supply shocks
Energy prices can also remain high due to past underinvestment in new projects
Supply for agricultural commodities could tighten further
Besides energy, Russia is an exporter of many industrial metals, and Russia and Ukraine are both important exporters of soft commodities
La Niña* could reduce the supply of important commodities like corn, soybean, and wheat
High energy prices feed through to food; cereals have rebounded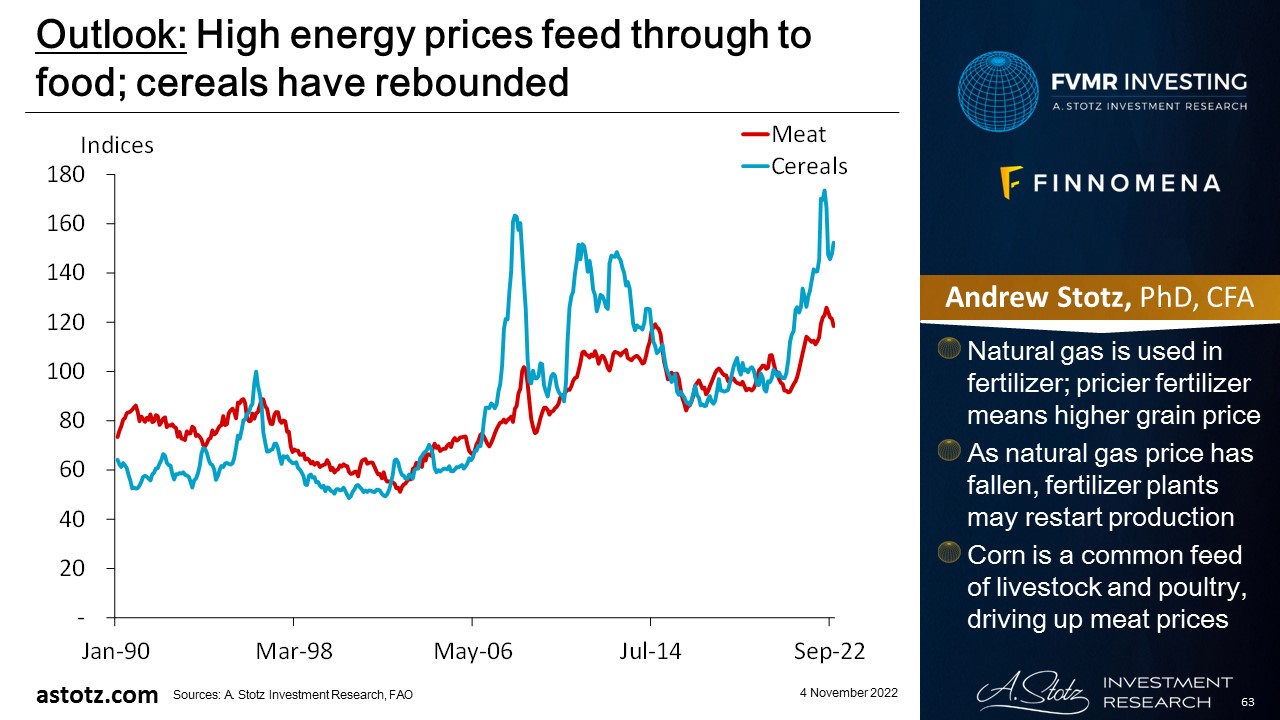 Natural gas is used in fertilizer; pricier fertilizer means higher grain price
As natural gas price has fallen, fertilizer plants  may restart production
Corn is a common feed of livestock and poultry, driving up meat prices
World food price index hit a record 160 in March 2022, still at 136 in October 2022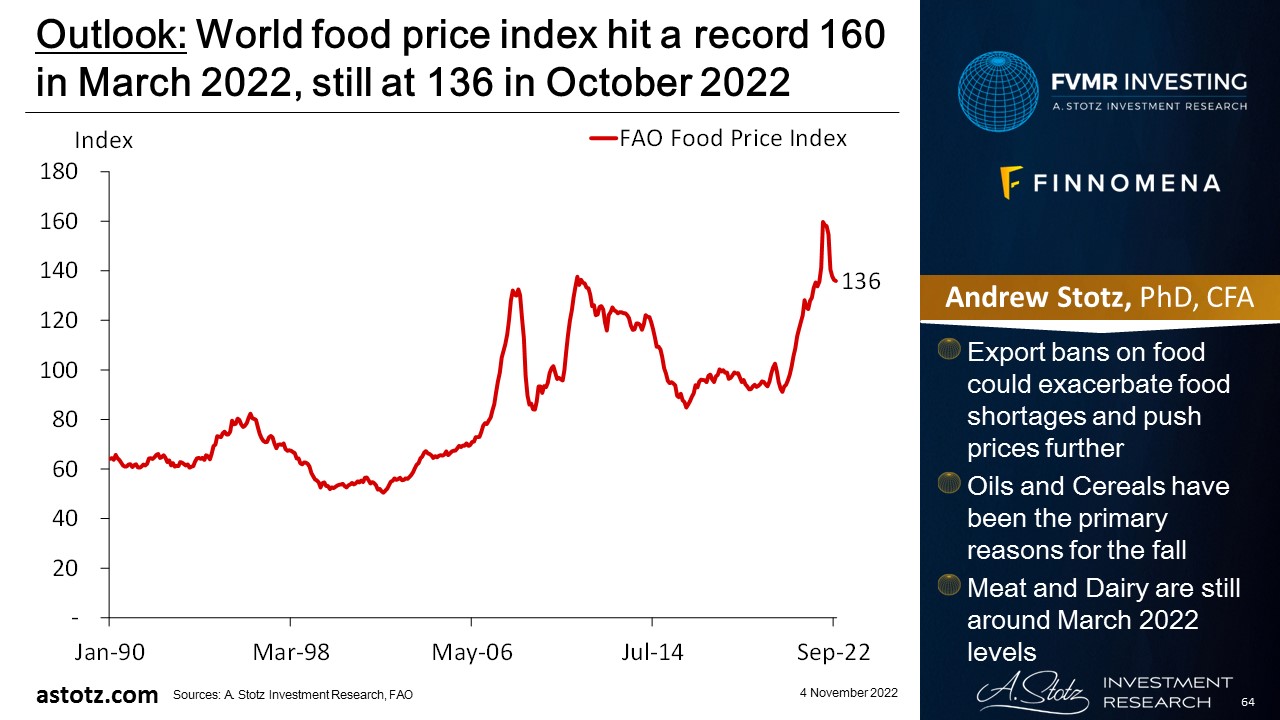 Export bans on food could exacerbate food shortages and push prices further
Oils and Cereals have been the primary reasons for the fall
Meat and Dairy are still around March 2022 levels
Commodities have fundamental support
Demand for necessities (food and energy), inflation, and supply-chain disruptions related and unrelated to the war in Ukraine are going to keep commodities prices high
A re-opening of China could lead to increased demand for commodities
Also, if we were to go into a stagflationary period, Commodities could show resilient
We keep gold as an insurance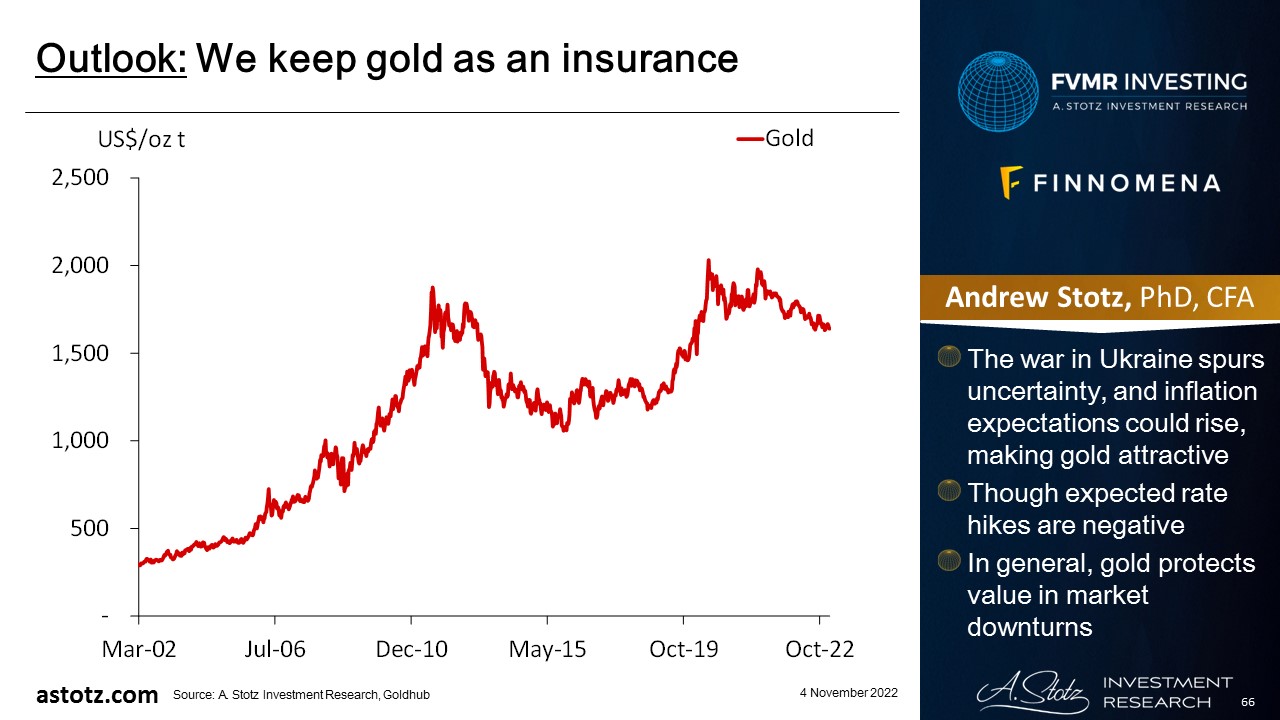 The war in Ukraine spurs uncertainty, and inflation expectations could rise, making gold attractive
Though expected rate hikes are negative
In general, gold protects value in market downturns
Global recession pushing down stocks
Central banks' aggressive rate hikes and QT crash the stock markets
Collapsing energy prices would be damaging since we have exposure through our allocations to World Energy and Commodities
We are mainly exposed to Thai bonds; hence, BOT's actions impact the most
Key takeaways
Central bankers appear to be raising rates into a recession to stifle inflation; stagflation would be the worst outcome
Demand for necessities (food and energy), inflation, and supply-chain disruptions can drive Commodities higher
We see opportunities to allocate to specific sectors and markets within equity
Bonds and Gold to protect capital
Risks: Monetary tightening crash markets, collapsing energy prices, BOT actions
---
DISCLAIMER: This content is for information purposes only. It is not intended to be investment advice. Readers should not consider statements made by the author(s) as formal recommendations and should consult their financial advisor before making any investment decisions. While the information provided is believed to be accurate, it may include errors or inaccuracies. The author(s) cannot be held liable for any actions taken as a result of reading this article.