Recommendations on Singapore Have Seen a Massive Fall
Watch the video with Andrew Stotz or read Watching the Street: Singapore below
---
---
Consensus Recommendations: Singapore
The chart shows us bottom-up country relative consensus recommendations. What we can see from this is that consensus recommendations on Singapore have gone from a "Buy" in the 2014-2015 period to currently a "Sell"—a massive fall.
One of the companies with most positive recommendations is Venture Corporation, VENM. It's a global electronic manufacturing service company, and analysts expect strong growth in its Test & Measurement and Life Science segments.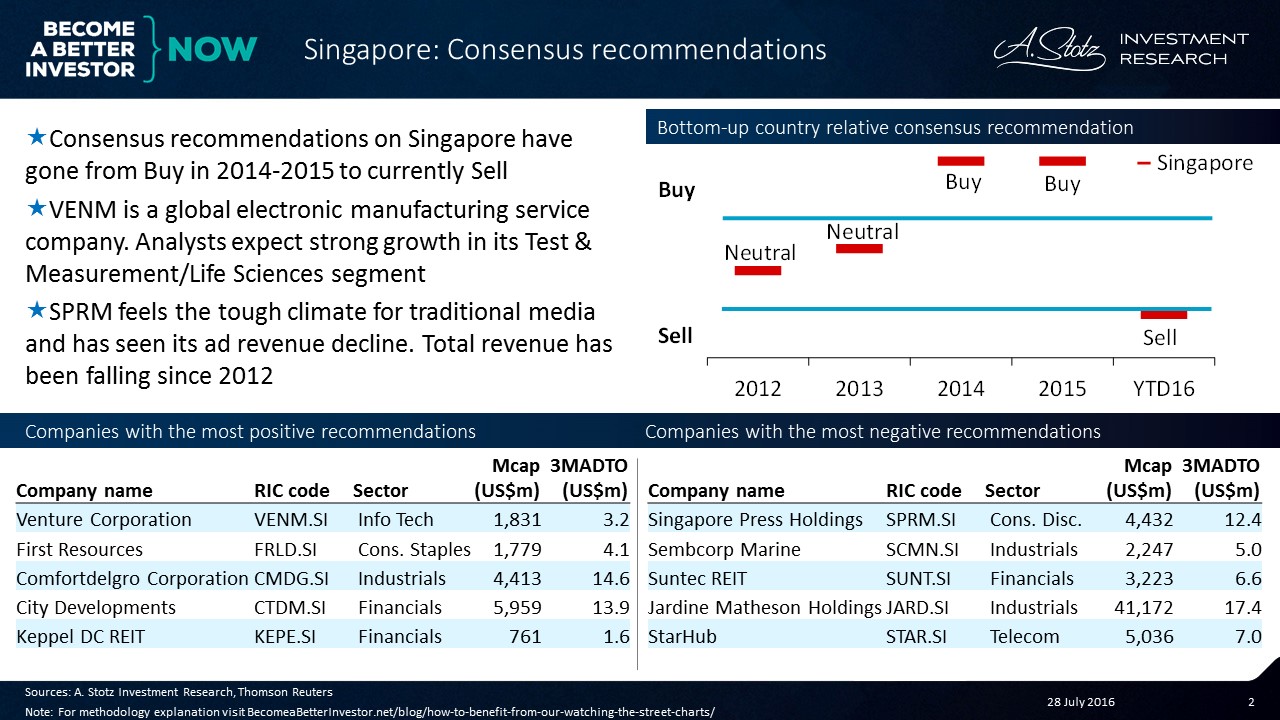 One of the companies with the most negative recommendations is Singapore Press Holdings, which is experiencing the tough climate for traditional media. Total revenue has been falling since 2012.
Consensus Earnings Estimates: Singapore
We can see the consensus EPS growth estimates versus the actual growth. Clearly, the forecast has remained above actual growth for years, which signifies steady analyst optimism.
From 2012 to 2015, analysts expected earnings to grow by 6% on average. However, the actual EPS fell in three out of those four years.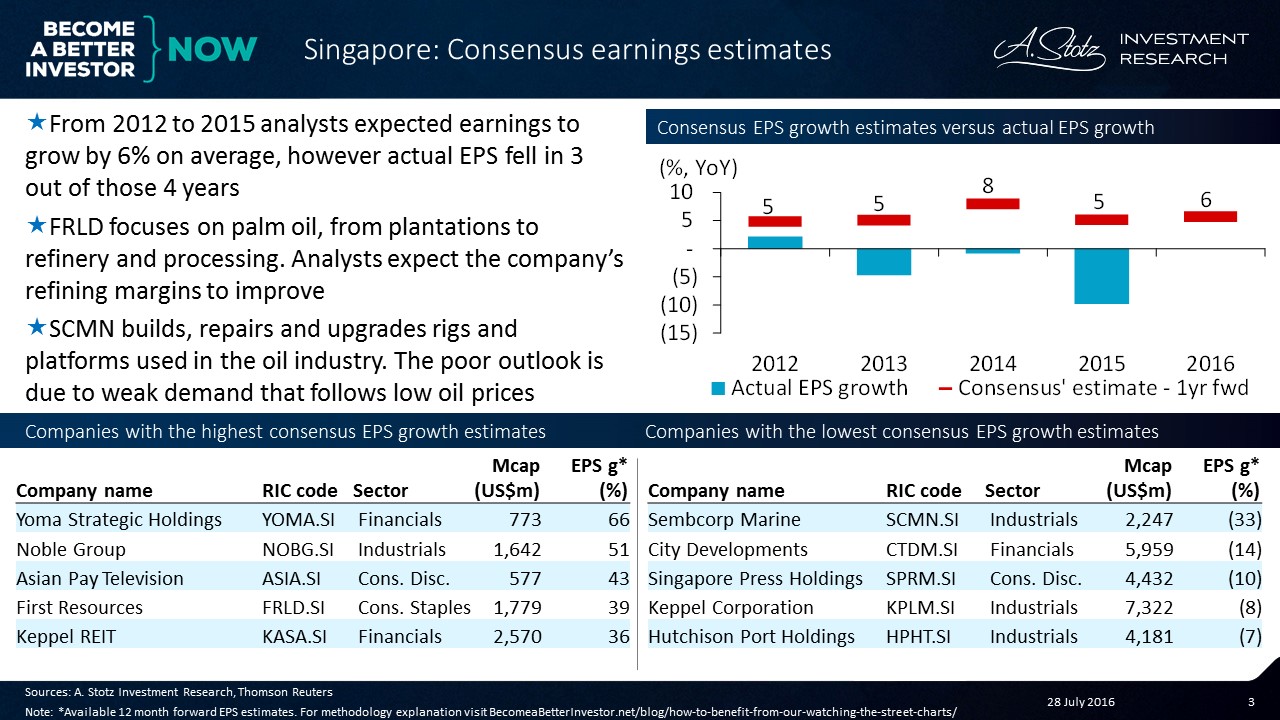 One of the companies with the highest consensus EPS growth estimates is First Resources, which focuses on palm oil farming, refining and processing. Analysts expect the company's refining margins to improve.
One of the companies with the lowest consensus EPS growth estimates is SCMB, which builds, repairs and upgrades rigs and platforms for the oil industry. The poor outlook is due to weak demand stemming from low oil prices.
Consensus Target Prices: Singapore
Let's finish up with the consensus target price. Here we can see the consensus target price expected return versus the actual return.
We can also see a widening gap between analyst expectations and historical performance.
The consensus target price expected return is now in the double digits. Looking back, the estimated upside hasn't been too accurate.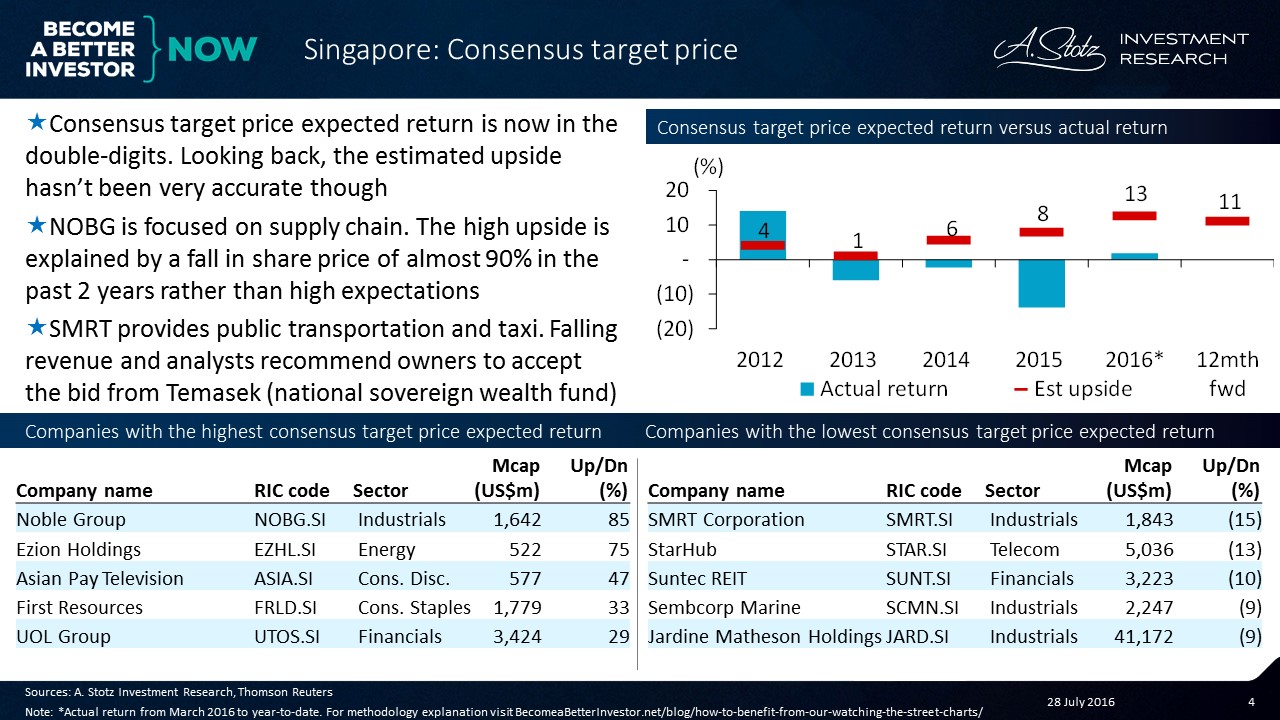 The company with the highest consensus target price expected return is Noble Group, which is focused on supply chain management. The high upside is explained by a falling share price of almost 90% over the past two years rather than high expectations.
The company with the lowest consensus target price expected return is SMRT, which provides public transport and taxis. With falling revenue, analysts favor management accepting a buyout bid from Temasek, the national sovereign wealth fund.
---
Do YOU use any kind of analyst estimate when considering an investment?
Let us know in a comment below.
---
DISCLAIMER: This content is for information purposes only. It is not intended to be investment advice. Readers should not consider statements made by the author(s) as formal recommendations and should consult their financial advisor before making any investment decisions. While the information provided is believed to be accurate, it may include errors or inaccuracies. The author(s) cannot be held liable for any actions taken as a result of reading this article.