Watch the video with Andrew Stotz or read a summary of the World Class Benchmarking on M.C.S. Steel Public Company Limited.
---
---
Background
M.C.S. Steel Public Company Limited fabricates and distributes 70,000 tons of structural steel products annually.
Its main products are steel beams used predominantly in the construction of high-rise buildings.
Exports to Japan account for the vast majority of the group's revenue to such an extent that even those familiar with the company might confuse it for a Japanese corporation. In fact, it's a Thailand-based company and also sells to the domestic construction industry.

Business Description
MCS is involved in the production and distribution of high-grade steel beams used mainly as girders in the construction of high-rise buildings.
It ships virtually all of its steel to major Japanese construction corporations, notably Kajima, Shimizu, Obayashi, and Takenaka, four of the so-called "top-five Japanese super general contractors." These firms are the biggest in Japan by revenue and use MCS's steel, because its quality is sufficient to meet Japan's requirements for earthquake resistance.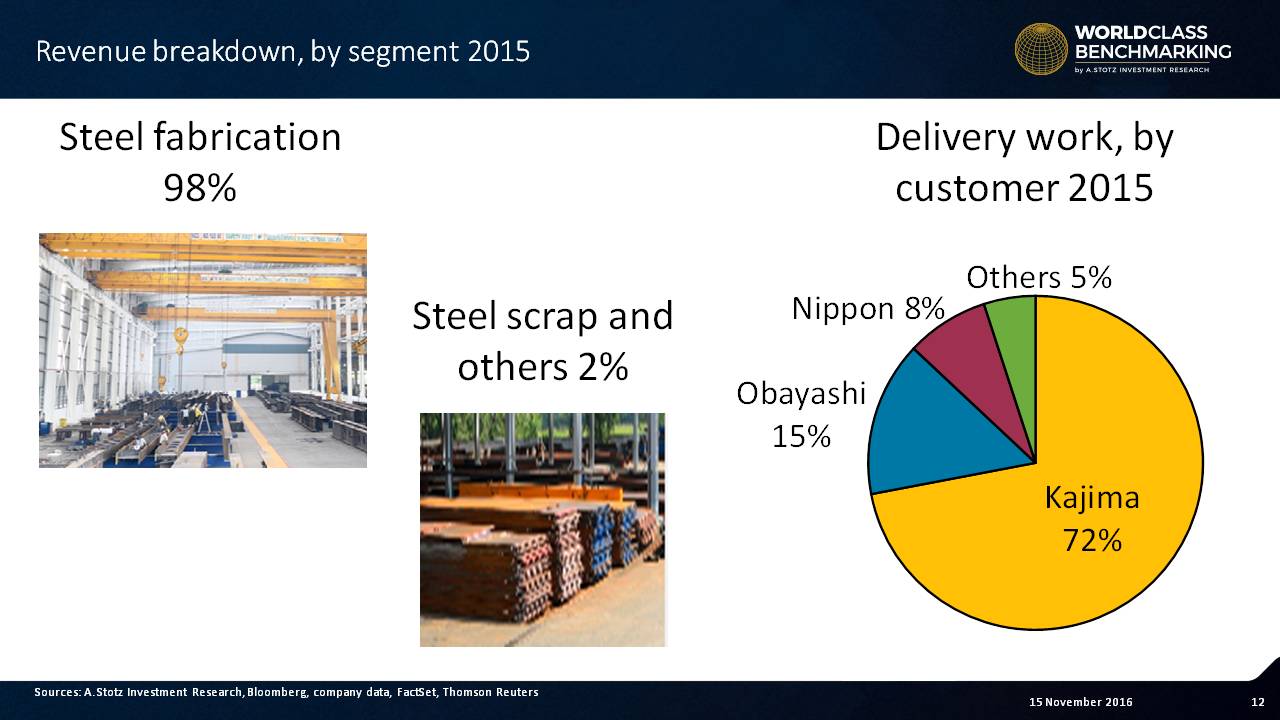 MCS also supplies Nippon Steel and Sumitomo Metal Corp—Japan's largest and the world's second-largest steelmaker. Going forward, demand is forecast to further pick up in Japan due to a rise in construction activity related to the 2020 Olympic Games in Tokyo.
The company runs 12 factories, which are all situated in Phra Nakhon Si Ayutthaya province, with a total annual capacity of 70,000 tons/year. A further 70,000 tons is available through its Chinese subcontractor.
Leadership
Chairman Dr. Naiyuan Chi has managed the board at MCS since 2005. He has a doctorate in engineering and owns 14% of the common stock together with his family.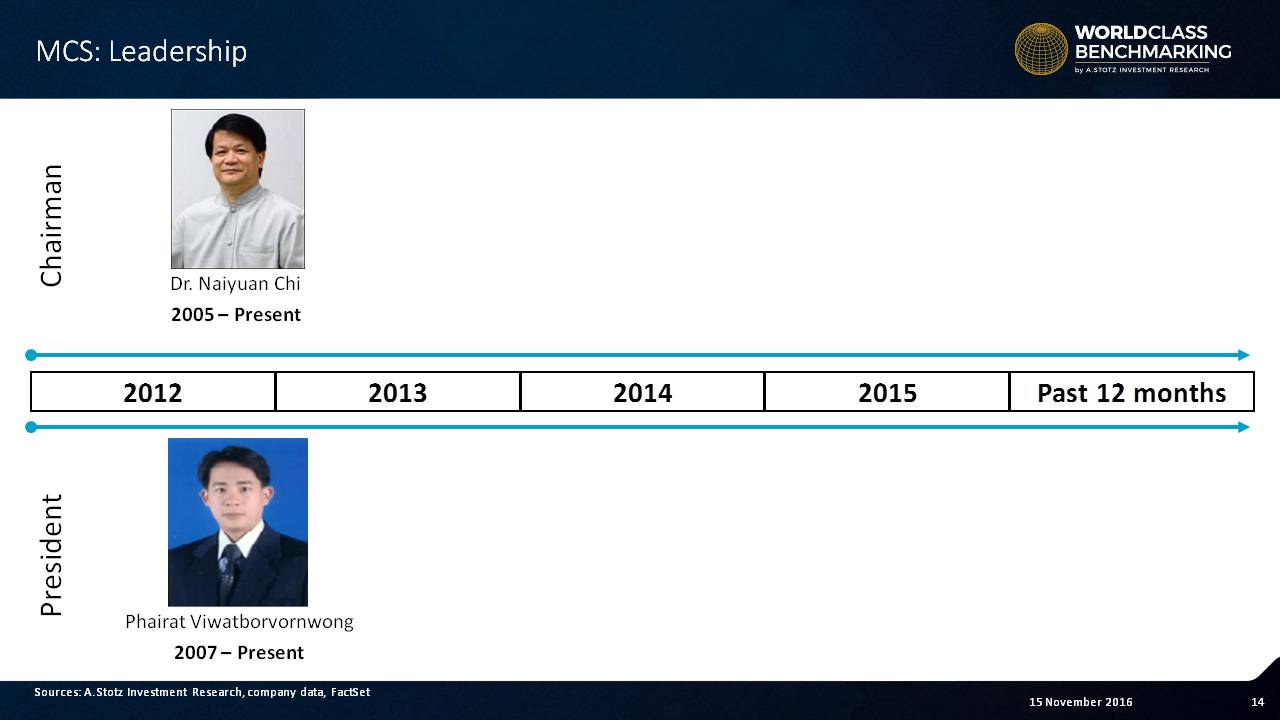 CEO Phairat Viwatborvornwong has helmed the company since 2007, however, he doesn't own a large stake in the country. He holds only about 10,000 shares.
The leadership has worked well as MCS's share price has quadrupled over the last 3 years.
World Class Benchmarking
While 2012 and 2014 saw less stellar results, Profitable Growth has ranked #2 so far in 2016, only slightly behind the prior year's results.
MCS Steel ranks among the best 130 of 650 small materials companies in the world.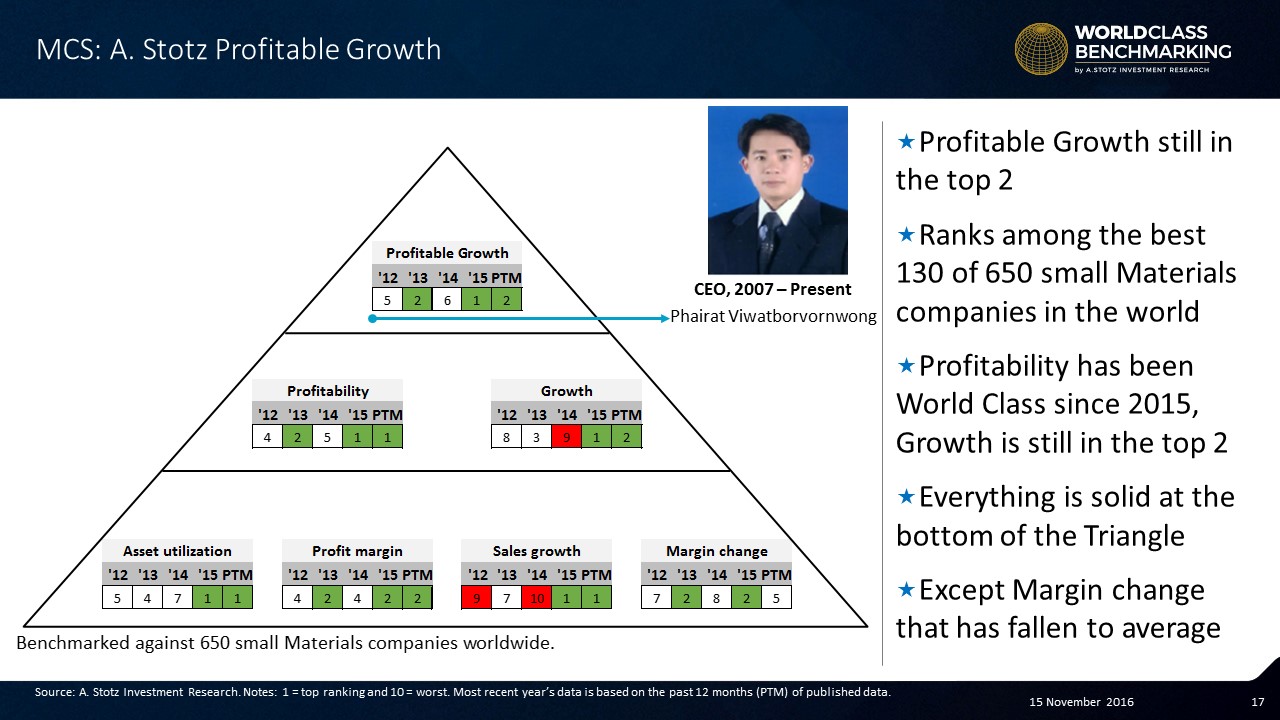 Profitability has been World Class since 2015, and Growth has recovered well from the plunge in 2014.
Nearly every performance metric remains solid at the bottom of the triangle, except for Margin change, which fell to average.
---
---
Did YOU know about M.C.S. Steel before? What do you think about the company?
If you like our research, share it with your friends.
---
DISCLAIMER: This content is for information purposes only. It is not intended to be investment advice. Readers should not consider statements made by the author(s) as formal recommendations and should consult their financial advisor before making any investment decisions. While the information provided is believed to be accurate, it may include errors or inaccuracies. The author(s) cannot be held liable for any actions taken as a result of reading this article.