Business DNA: Taking Seaweed to the Masses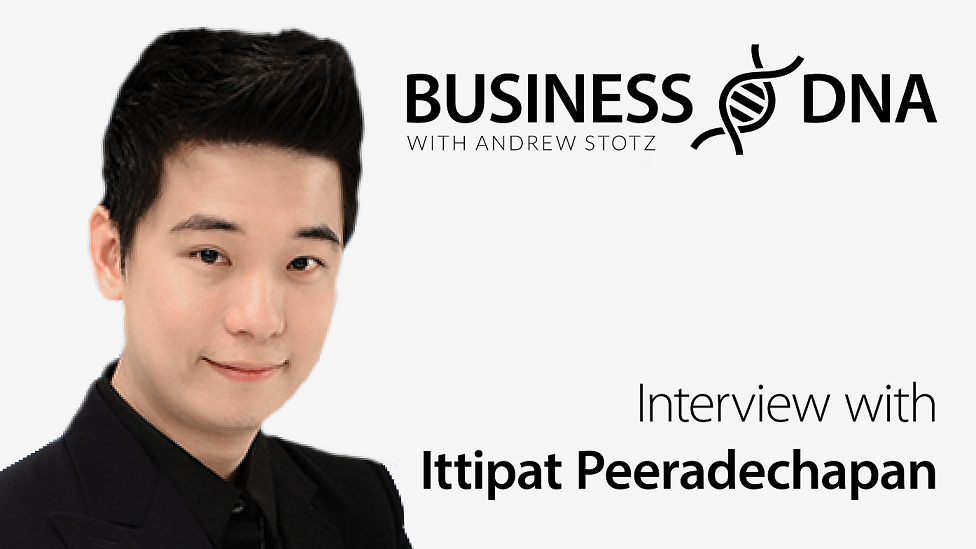 After winning several high-stakes online gaming tournaments as a teenager, Mr. Peeradechapan re-invested his winnings in a roasted chestnut business. Later, and while still quite young, he founded his deep-fried seaweed snack company that became an immediate success throughout Asia. He is already a business icon in Thailand, replete with a movie thinly based on his life – Top Secret: Wai Roon Pun Lan.
Founded in 2004, Taokaenoi Food & Marketing Public Company Limited manufactures and distributes flavored seaweed snacks. It offers other snacks such as popcorn, potato snacks, and dried fruits. The company has six production facilities in Nonthaburi, Pathum Thani and Phra Nakhon Si Ayutthaya (Ayutthaya).
Company DNA: Tao Kae Noi
The focus of this interview was to try to understand the company's DNA. Now that we had a little bit of a background on the company, we want to drill down to find the unique essence of what differentiates Taokaenoi.
Please take a moment to explain Tao Kae Noi's DNA.
IP: There are two factors that drive this company. It starts with my personality. I was, and remain, a young entrepreneur. I proved to the world that you can become successful if you set a goal and dedicate yourself to it.
A new generation of entrepreneurs has learned from my experience and become successful. My story can inspire everyone, not only my employees. Hence, "Tao Kae Noi" means young entrepreneur.
Another factor that drives this company to become successful is the flexibility of my business. We do not fix what Tao Kae Noi should be. We are ready to change when there are obstacles, problems and things that will improve us. We want to be better.
Tao Kae Noi does not limit itself to produce only fried seaweed items, even though that is what we're known for. We also produce delicious and healthy products. However, we are mainly focused on the seaweed industry, since it is the lifeblood of this business.
It would be costly to capture another market compared to the seaweed industry, since we have already achieved major economies of scale. The seaweed industry is going through a high-growth-rate period. Hence, if we focus too much on another industry, we surely will lose the market share in this field.
Does your company have a 3-5-year growth plan?
IP: My plan is to turn Tao Kae Noi into a truly global company by 2024, though it will still focus mainly on the seaweed industry. Our business will expand to hundreds of countries and generate revenue to at least Bt10 billion.
Our business will focus on three regions: Southeast Asia, China and the United States. What is your main constraint to growth? It is the difference in culture between each country to which we export. As I said, some Westerners have never tried seaweed in their lives. We need to find a way to blend in with food that suits them.
I also need to increase the quality of my workforce in order to make mine a global company. We may need more human resource professionals who help us develop skills that will aid in our global push.
Now can you tell me the biggest misconception people have about your business? 
IP: The biggest misunderstanding is that people usually think that seaweed is good for you. My perspective, however, is that my seaweed is better for you than other similar snacks.
Moreover, people think that the seaweed industry is a niche market, which specifically targets only Asian people. However, Westerners and Americans have taken to seaweed as well. Soon enough, I believe the seaweed industry will move from a niche market to the mass market.
Leader DNA: Ittipat Peeradechapan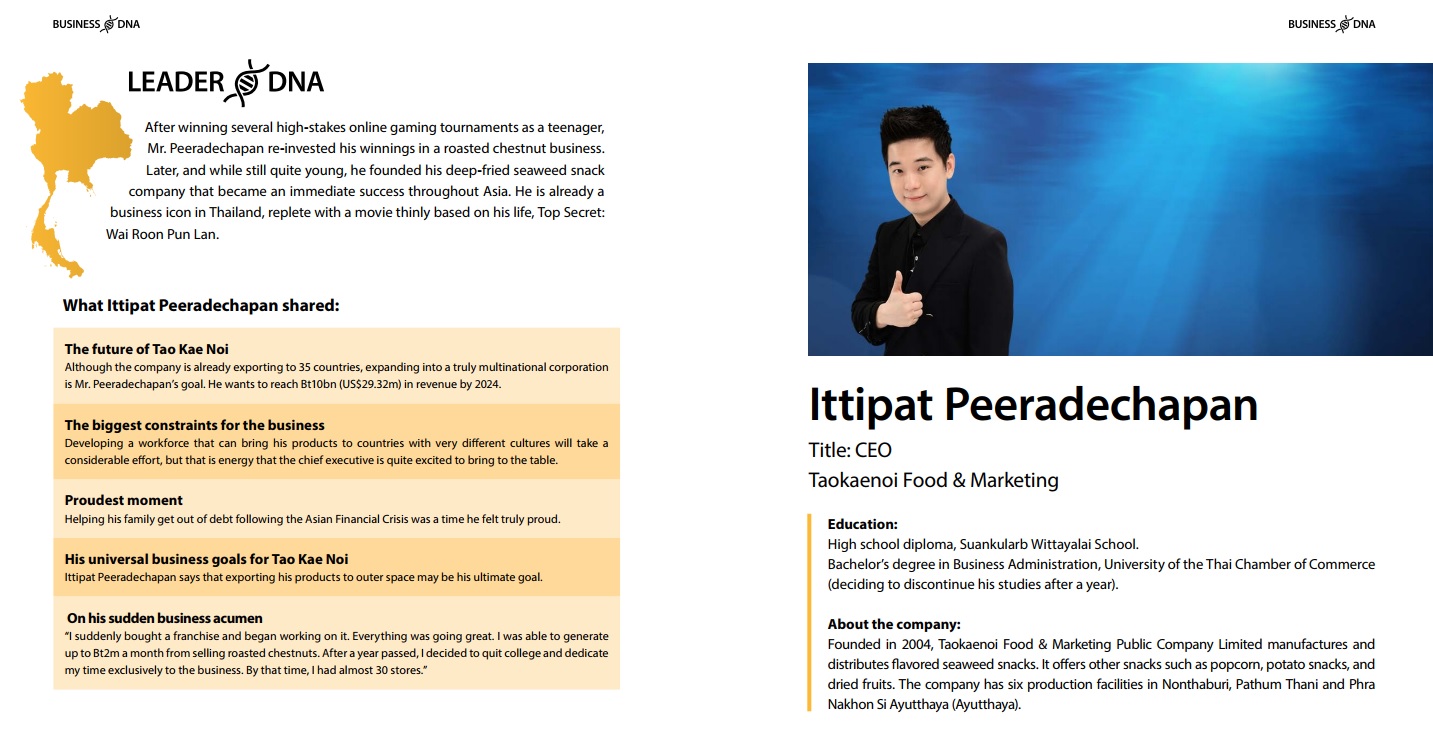 What's something about your business that has you really excited right now – something that will have a real impact on the future of your company?
IP: I'm really excited about the trend toward healthy foods. It is true that the market share for unhealthy foods is wide, however, they tend to be showing little growth. Nowadays, people are paying more attention to their health and are seeking out healthier food. Healthier products such as ours have a high potential to grow and will take over the unhealthy items' market share in the future.
Additionally, I hope that I could have the chance to distribute my product to the universe, rather than just the earth. I would like to be more than just global.
What was the biggest mistake or challenge that you faced during your career? How did you deal with it and what have you learned from it?
IP: One of my biggest mistakes is that when there are problems that occur in my business, I tend to resolve the symptoms of such problems and then forget about them. I do not delve into root causes that led to the problems in the first place, so the same problems were able to occur in my business again.
How about a story about your proudest moment in your career, a time that you felt like "I made it" or "This is a good moment?"
IP: One of my proudest points was when I was able to lift my family out of their bankruptcy. We are now in a stable financial situation. My family no longer goes through life worrying about money.
Additionally, people take my story to inspire themselves and become successful. My story does not inspire only people in the business field either. One student who heard my story later received first-class honors. Helping someone else to become successful is delightful.
Key Takeaways
The future of Tao Kae Noi – Although the company is already exporting to 35 countries, expanding into a truly multinational corporation is Mr. Peeradechapan's goal.

The biggest constraints for the business – Developing a workforce that can bring his products to countries with very different cultures will take a considerable effort.
Proudest moment – Helping his family get out of debt following the Asian Financial Crisis was a time he felt truly proud.
His universal business goals for Tao Kae Noi – Ittipat Peeradechapan says that exporting his products to outer space may be his ultimate goal.
On his sudden business acumen – "I was able to generate up to Bt2m a month from selling roasted chestnuts. I decided to quit college and dedicate my time exclusively to the business."
Learn more about how Ittipat plans on going global in the full interview.
---
What do you think about Ittipat's Leader DNA? How do you like the Business DNA interview format?
Feel free to share this article with your friends.
---
DISCLAIMER: This content is for information purposes only. It is not intended to be investment advice. Readers should not consider statements made by the author(s) as formal recommendations and should consult their financial advisor before making any investment decisions. While the information provided is believed to be accurate, it may include errors or inaccuracies. The author(s) cannot be held liable for any actions taken as a result of reading this article.