Growth at Banpu Has Been Driven by Improving Net Margin
Background
Banpu Public Company Limited is a Thai energy company and operates business in coal, power generation and integrated energy sectors.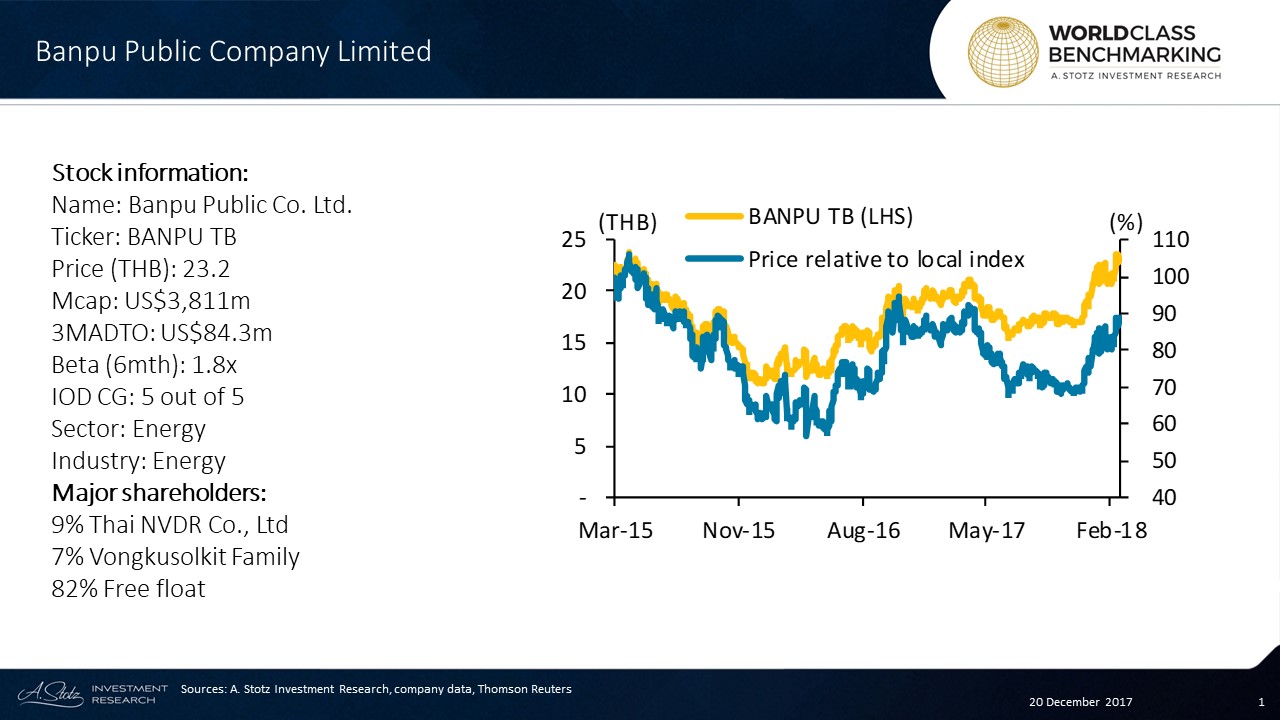 Among its subsidiaries are Indonesian PT Indo Tambangraya Megah Tbk (ITMG IJ) that is engaged in coal mining and Banpu Power PCL (BPP TB) an Independent Power Producer in Thailand.
Business Description
BANPU operates coal-related businesses ranging from exploration and development to production of coal. Its coal reserves are in Indonesia, China, and Australia. BANPU's presence in Indonesia is through its 65%-owned subsidiary PT Indo Tambangraya Megah Tbk (ITMG IJ).
The power business consists of a 79% stake in Banpu Power PCL (BPP TB) which has several coal-fired power plant developments in Thailand, Laos, China, and Japan. These include a 50% stake in PLCP Power Ltd., a 1,434MW plant in Map Ta Phut Industrial Estate, Rayong province and a 40% stake in Hongsa Power Co., Ltd. in Laos.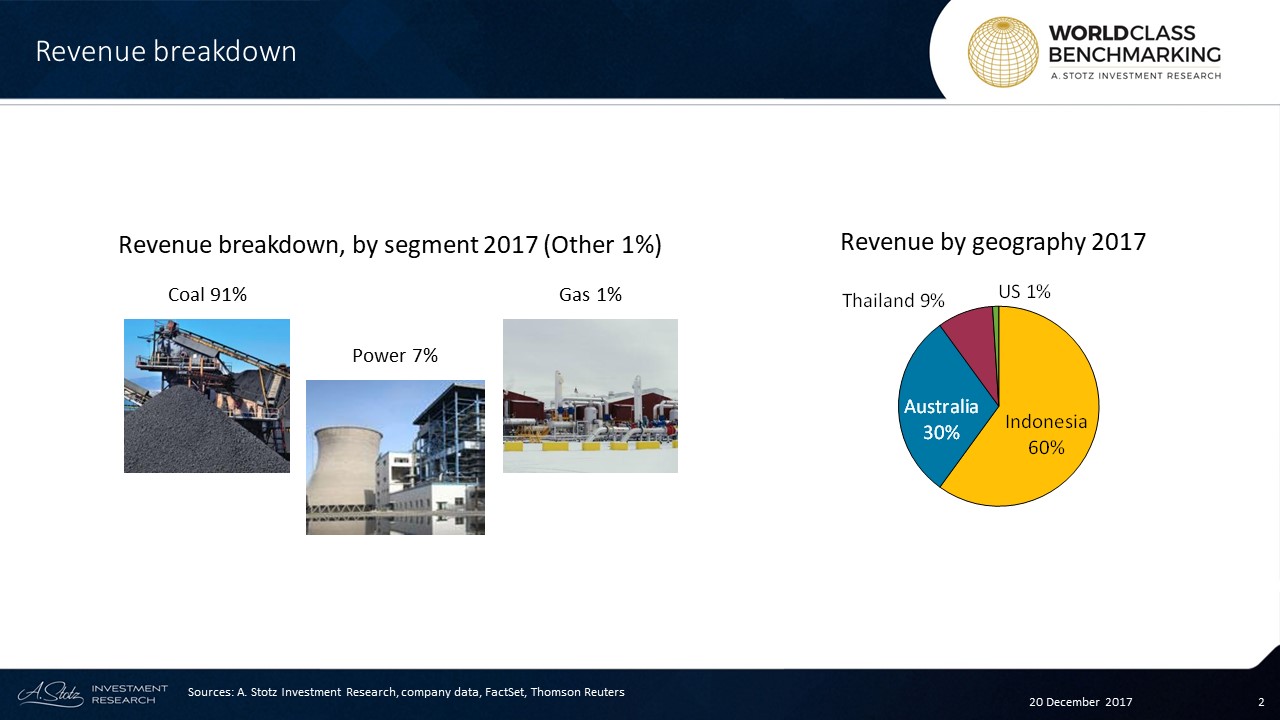 The verdict in the 10-year long Hongsa court case was announced on March 6. BANPU should pay the plaintiff Bt1.5bn plus interest of 7.5% p.a. from July 2007. This shouldn't have any long-term negative impact on BANPU.
BANPU has made multiple acquisitions in US shale gas resources. The gas segment currently accounts for 1% of BANPU's total revenue but is expected to grow. The natural gas is sold entirely to the US domestic market, mainly used for power generation.
Leadership
Chanin Vongkusolkit became CEO of BANPU in 1983 and was appointed Chairman of BANPU in 2016. He also holds board membership in multiple subsidiaries of BANPU and other energy companies in Thailand. His education consists of a Bachelor's degree in Economics from Thammasat University, Thailand and an MBA from St Louis University, US.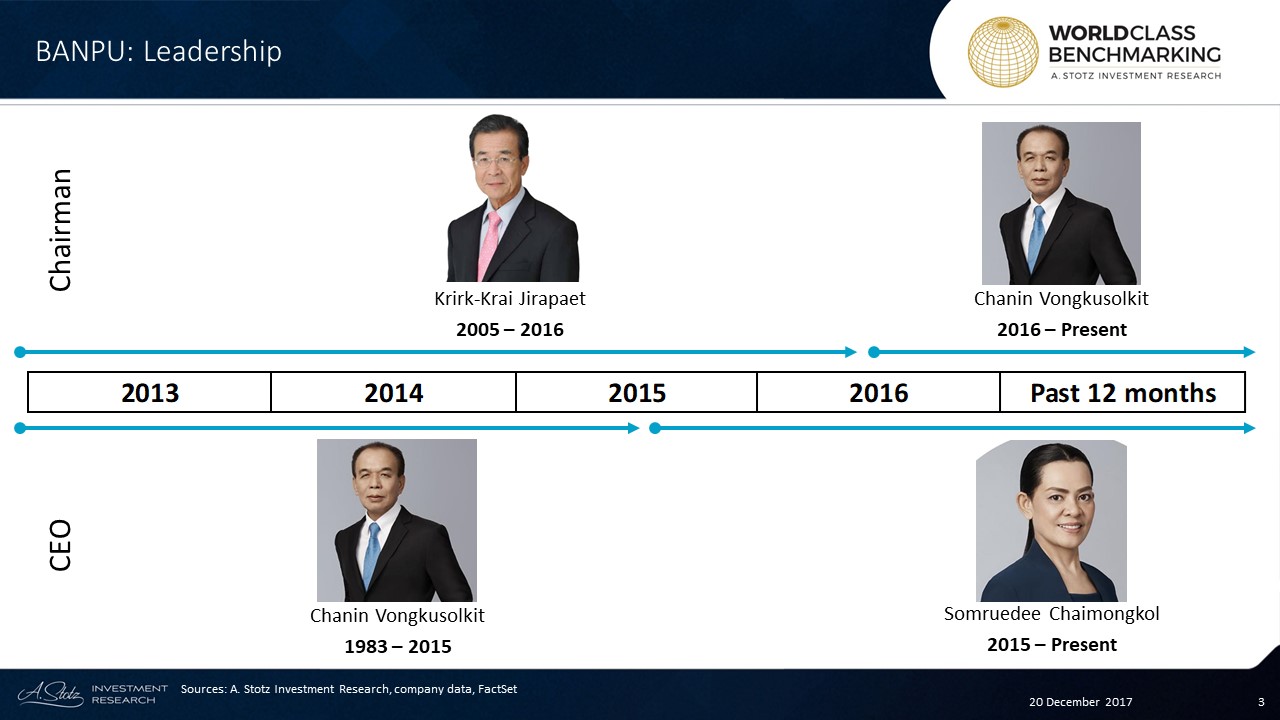 Somruedee Chaimongkol took on the role of CEO in 2015 after serving as CFO of BANPU since 2006. Like Chanin Vongkusolkit, she also holds multiple board memberships in BANPU's subsidiaries. She holds a Bachelor's degree in Accounting from Bangkok University, Thailand and graduated from Harvard Business School in the year 2000.
World Class Benchmarking
Profitable Growth has consistently ranked below average and has not shown any clear trend of improvement.
Profitability was stable at #8 up until 2016 when the rank improved slightly to #7. Growth has had large fluctuations improving from the worst in 2015 to good ranks in 2016 and in the past 12 months.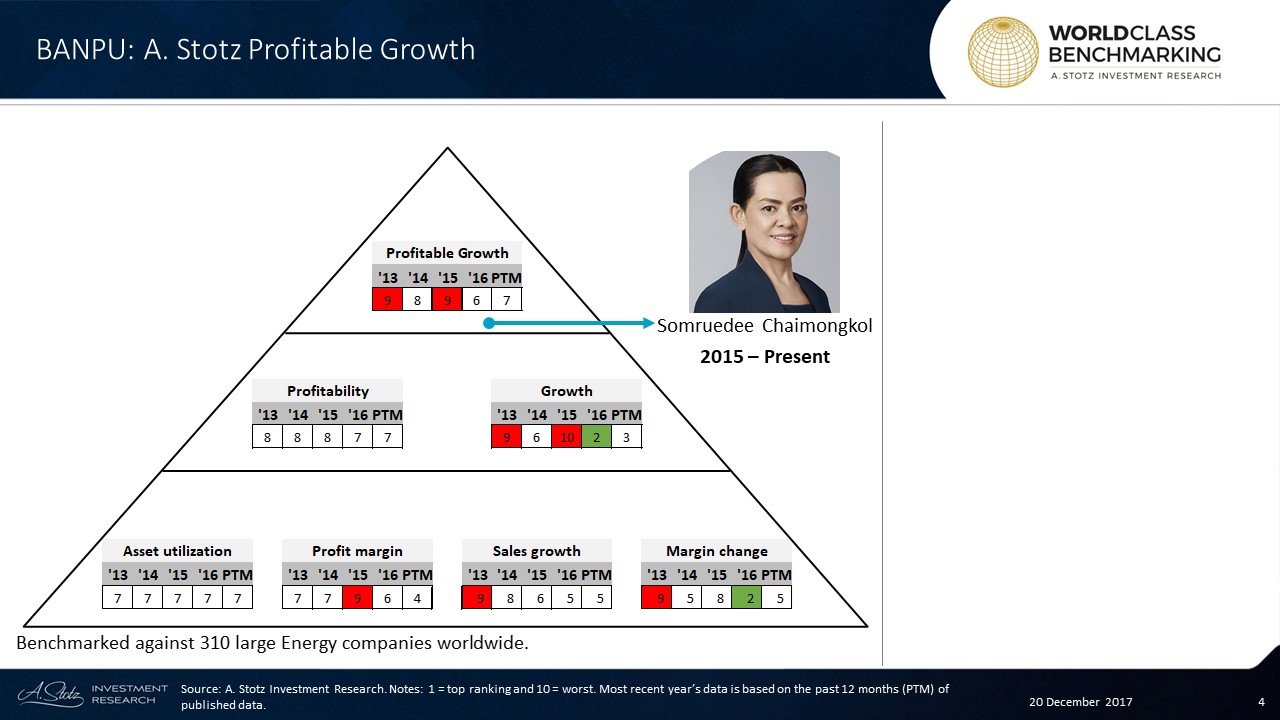 Asset utilization has consistently ranked #7 whereas Profit margin has seen a good improvement in recent years.
Both Sales growth and Margin change have seen improvements from low ranks to become average over the years. Sales grow has had a consistent improvement in contrast to the Margin change that has fluctuated more.
---
What're your thoughts on BANPU?
If you like our research, share it with your friends.
---
DISCLAIMER: This content is for information purposes only. It is not intended to be investment advice. Readers should not consider statements made by the author(s) as formal recommendations and should consult their financial advisor before making any investment decisions. While the information provided is believed to be accurate, it may include errors or inaccuracies. The author(s) cannot be held liable for any actions taken as a result of reading this article.