Become a Better Investor Newsletter – 5 November 2022
Noteworthy this week
Fed hiked 0.75% as expected by the market
Central banks have been loading up on gold
Biden disincentivizes energy investments
Hundreds of new mines are needed to meet battery demand
We could see an OPEC-style cartel for battery metals
Fed hiked 0.75% as expected by the market: JPow announced another 0.75% hike, and the Bank of England followed suit a few days later. Central banks are going to break things.
Ok quickly on the Fed:

No pause coming

Higher terminal (4-handle is off the table sorry bros)

Harder landing likely is what was said among many other things

What was unsaid:
1/

— Paulo Macro (@PauloMacro) November 2, 2022
Central banks have been loading up on gold: Central banks bought a record amount of gold in 3Q22, the highest since 1967. Not all share their purchases and holdings regularly, though, e.g., big ones like China and Russia.
'Almost 400 tons of gold were scooped up by central banks in the third quarter, more than quadruple the amount a year earlier. That takes the total so far this year to the highest since 1967, when the dollar was still backed by the metal.' https://t.co/x9ZwDKpJI6 pic.twitter.com/EozM0W9714

— Jesse Felder (@jessefelder) November 1, 2022
Biden disincentivizes energy investments: Biden wants to put an extra tax on energy producers, disincentivizing investments, which could lead to higher oil prices.
Biden's new US Drilling Reduction Act is gonna send oil prices flying in 2023… https://t.co/HAyrGDID5s

— Kuppy (@hkuppy) October 31, 2022
Hundreds of new mines are needed to meet battery demand: Millions of tons of lithium, cobalt, nickel, and graphite are needed to meet future battery. Is the green revolution that green?
More than 300 new mines are required to meet battery demands for EV's and energy storage by 2035 #lithium #cobalt #nickel #graphite

(you are going to need massive amounts of fossil fuels to pull this feat off) pic.twitter.com/A1u2a5Mwls

— Tracy (𝒞𝒽𝒾 ) (@chigrl) November 1, 2022
We could see an OPEC-style cartel for battery metals: Indonesia, which is the world's largest nickel producer, is looking into forming a cartel for battery metals like nickel, cobalt, and manganese. These metals are in high demand due to the "green transition."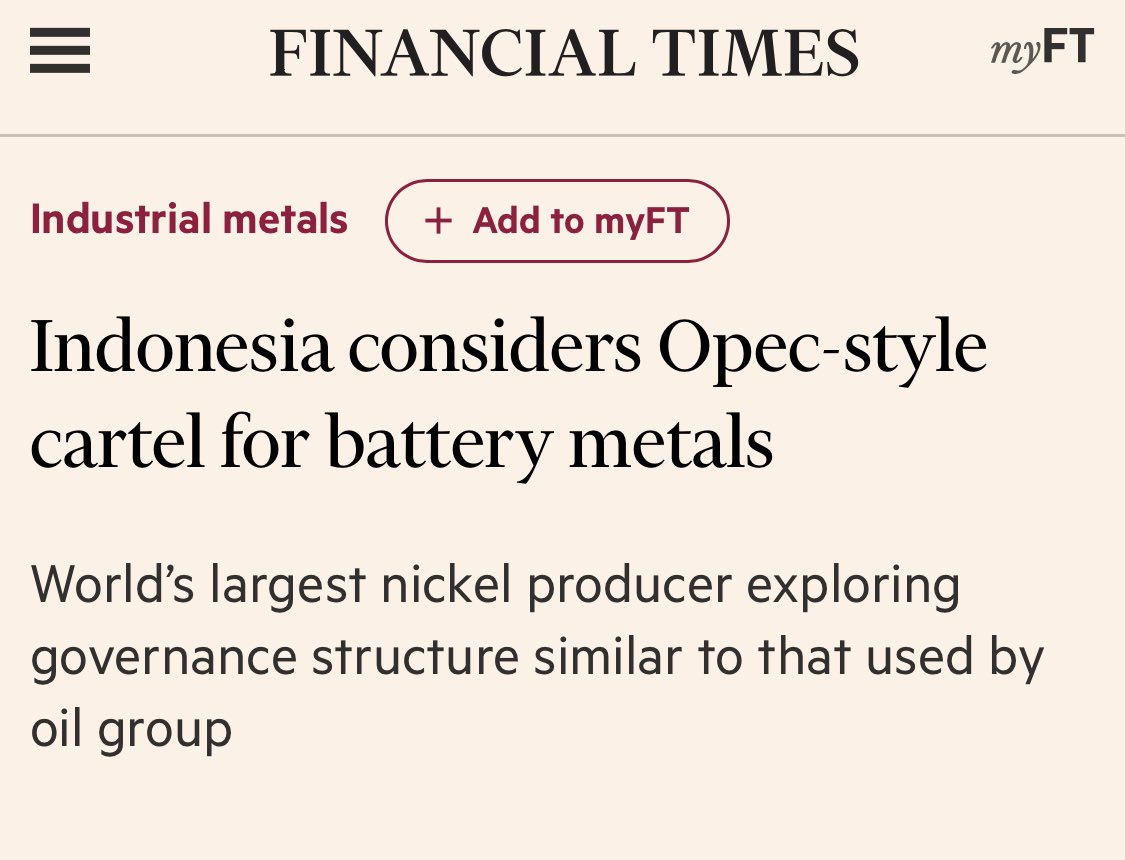 ---
Poll of the week
What is your forecast for the Nov. 8 US mid-term elections?

Republicans sweep the House
Republicans sweep House AND Senate
Democrats hold on to their position

— Andrew "The Worst" Stotz (@Andrew_Stotz) November 4, 2022
---
Results from last week's poll
The skewed results show that the politicalness of Musk means that you either love it or leave it
Since Musk took Twitter private, I should have said, "Where do you think Twitter's share price will be in 12-24 months from now when Musk relists it on the stock market?"

Join the world's toughest valuation training
The Valuation Master Class Boot Camp is a 6-week intensive company valuation boot camp for a successful career in finance.
---
Weekly market performance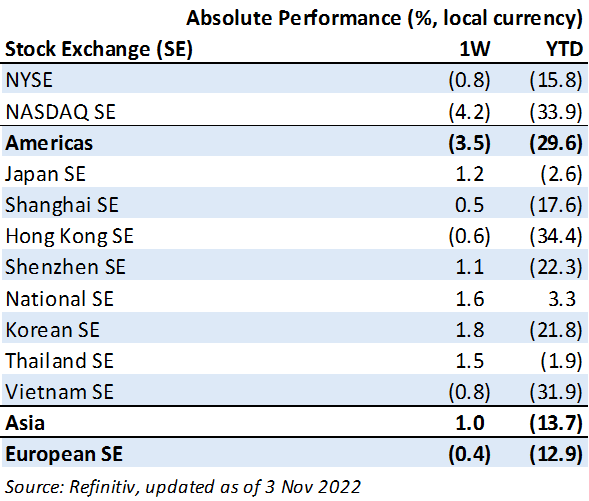 Click here to see more markets and periods.
---
Chart of the week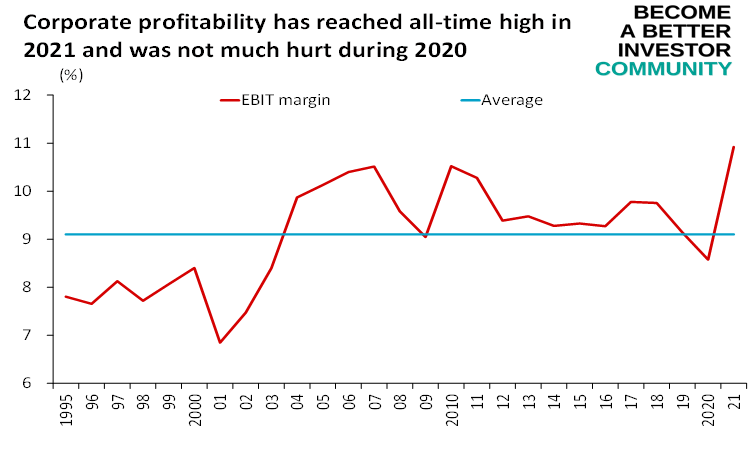 ---
Discussed in the Become a Better Investor Community this week
The FOMC meeting is tomorrow, what do you think @channel?
Unchanged
5% hike
75% hike (priced in)
>0.75% hike
"I think either 3-4 (leaning towards 4)…my hypothesis is reflected from the high mortgage rates (7%) and inflation."
"I think 3"
"I am thinking J Pow hits us with a very unpopular 100bps. ( I have been wrong on the last 2 votes though 😀 )"
Join the Become a Better Investor Community today! You can cancel any time, and as a newsletter reader you get a massive discount when you use this coupon code: READER
---
Podcasts we listened to this week
MacroVoices #347 Ole Hansen: Commodities Can Go Up Even In Recession
Erik and Ole discuss:
Fed's policy and inflation
Lack of investments, decarbonization and electrification
Perspectives on US dollar
Will inflation persist during a recession?
Copper, gold and agriculture
---
Readings this week
Summary of Momentum: what do we know 30 years after Jegadeesh and Titman's seminal paper? By Tobias Wiest.
---
Book recommendation
Money: The True Story of a Made-Up Thing by Jacob Goldstein
Fantastic overview of the history of money and what it is.
Audible is great; have you tried it? If not, click here to get 2 books for free.
---
Memes of the week
Learn more about the upcoming Valuation Master Class Boot Camp: https://t.co/oPmNc3MDUH pic.twitter.com/dg9uaVPmNj

— Andrew "The Worst" Stotz (@Andrew_Stotz) November 4, 2022
Legend pic.twitter.com/TZ3CMAjDcp

— Kevin Dalton (@KevinForBOS) October 31, 2022
— Kurt Stoll (@kurtstoll_CAN) October 30, 2022
---
New My Worst Investment Ever episodes
BIO: Cam F Awesome is a multi-time National Champion Heavyweight Olympic boxer and former USA National Boxing Team Captain.
STORY: Cam invested so much time and effort chasing his dream of going to the Olympics. An avalanche of events stole this dream from him, and now he doesn't stand a chance of ever going to the Olympics.
LEARNING: There are ups and downs in investing. Persevere and be willing to pivot.
BIO: Dudu Cearense is an ex-soccer player, financial adviser, and private banker.
STORY: Dudu's worst investment ever was not learning about managing his money when he was a successful soccer player.
LEARNING: Invest in learning about money management.
BIO: Kim Barrett is a world-renowned million-dollar marketing strategist with a focus on Facebook. Kim is an international speaker and trainer, having taught marketing worldwide and helping businesses grow to six, seven, and even eight figures.
STORY: Kim had a successful start to his business. He was bringing in lots of sales, and he felt he needed more staff to handle these sales. The problem was that he spent too much on those people without looking at their achievements and his team's capacity limits.
LEARNING: Have a clear understanding of your business numbers. Dive deep into the capacity that you have before hiring. Avoid a business model that makes it easy to grow costs and hard to increase revenues.
---
Published on Become a Better Investor this week
Marubeni Corporation (8002 JP): Profitable Growth rank of 3 was up compared to the prior period's 4th rank. This is above-average performance compared to 1,470 large Industrials companies worldwide.
Read Marubeni – World Class Benchmarking
Sichuan Kelun Pharmaceutical Company Limited (002422 SZ): Profitable Growth rank of 6 was up compared to the prior period's 7th rank. This is below-average performance compared to 380 large Health Care companies worldwide.
Read Sichuan Kelun Pharmaceutical – World Class Benchmarking
In October 2022, we published 13 new episodes of the My Worst Investment Ever podcast. Listen to all of them here.
Read My Worst Investment Ever October 2022
Fed interest rate hiking cycle sweeping across the world. EM rates have been higher but kept low by China; FMs suffer the most Rate rise reduced global earnings by 6.2%; in DM US and UK hit hardest.
Listen to Your Wealth Engine – 31 October 2022
PT Kalbe Farma Tbk (KLBF IJ): Profitable Growth rank of 2 was up compared to the prior period's 3rd rank. This is World Class performance compared to 380 large Health Care companies worldwide.
Read Kalbe Farma – World Class Benchmarking
---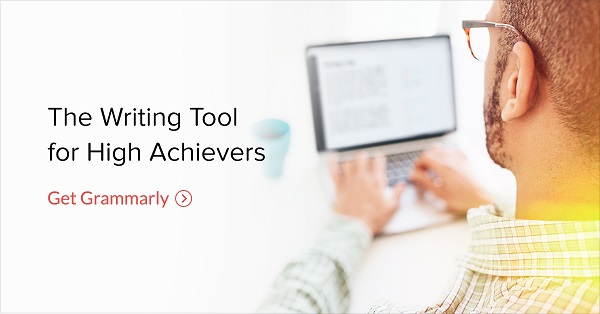 ---
DISCLAIMER: This content is for information purposes only. It is not intended to be investment advice. Readers should not consider statements made by the author(s) as formal recommendations and should consult their financial advisor before making any investment decisions. While the information provided is believed to be accurate, it may include errors or inaccuracies. The author(s) cannot be held liable for any actions taken as a result of reading this article.