Become a Better Investor Newsletter – Europe Going Down
Noteworthy this week
Energy crisis worsens in Europe
Not all countries are rich enough to deal with high energy prices
OPEC+ continues to miss output targets
Japan restarts nuclear
Biden to forgive student loans
Energy crisis worsens in Europe: Most European countries saw electricity prices close to an equivalent of US$1,000 per barrel of oil.
Almost the entire European continent is now operating at electricity prices above EUR 600/MWh

This is roughly equivalent to $1000 (!) per barrel of oil

The last decade average cost of electricity was in the EUR 20-30/MWh range

Not sure a few hikes are going to fix the EUR here pic.twitter.com/4MoYU0fK2a

— Alf (@MacroAlf) August 23, 2022
Not all countries are rich enough to deal with high energy prices: Europe is rich, and have so far been able to deal with the high energy costs. Poorer countries don't have the same luxury.
BREAKING: Protests break out in Lahore, Pakistan.

People took to the streets after receiving huge utility bills despite 12-16 hour daily black out 🚨 pic.twitter.com/coQU6Y7ozD

— Wall Street Silver (@WallStreetSilv) August 23, 2022
OPEC+ continues to miss output targets: While the energy crisis hits the globe, OPEC+ continues to underdeliver on its output targets.
Woozer#OPEC+ missed output targets by 2.9 million barrels per day in July

Compliance with the production targets stood at 546% in July vs 320% in Junehttps://t.co/TWB5dbtltV

— Tracy (𝒞𝒽𝒾 ) (@chigrl) August 22, 2022
Japan restarts nuclear: Other countries take the energy crisis more seriously than Europe and take action toward energy security. Also, India is set to build nuclear reactors.
Japan plans new measures to boost nuclear power to cut emissions and avoid shortages 🇯🇵☢️

⏰ Government will consider extending lifespan of reactors beyond maximum 60 years
📈 Economy ministry aims to restart another 7 reactors by summer 2023 or laterhttps://t.co/cQDvXuYkYV

— Stephen Stapczynski (@SStapczynski) August 24, 2022
Biden to forgive student loans: President Biden announced a plan to forgive up to US$10,000 in student loan debt for Americans making less than US$125,000/year. Does this send the right signals? (Click on the picture and watch the video)
"I've saved all my money. doesn't have any student loans. Am I going to get my money back?"

Elizabeth Warren: "Of course not."

"I worked a double shift…you're laughing at me…we did the right thing and we get screwed."pic.twitter.com/xGWKOZi9av

— RNC Research (@RNCResearch) August 24, 2022
---
Poll of the week
The US dollar index (DXY) is at about 108, 17% strengthening over the past 12 months. What do you expect of the dollar by the end of 2022?
Vote on LinkedIn or
The US dollar index (DXY) is at about 108, 17% strengthening over the past 12 months. What do you expect of the dollar by the end of 2022?

— Andrew "The Worst" Stotz (@andrew) August 26, 2022
---
Join the world's toughest valuation training
The Valuation Master Class Boot Camp is a 6-week intensive company valuation boot camp for a successful career in finance.
---
Weekly market performance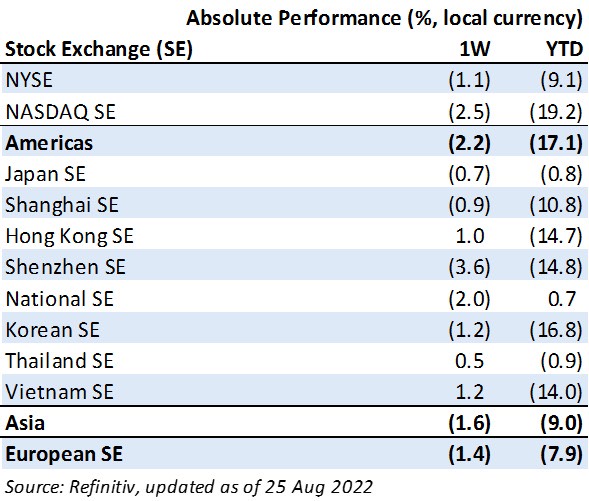 Click here to see more markets and periods.
---

---
Chart of the week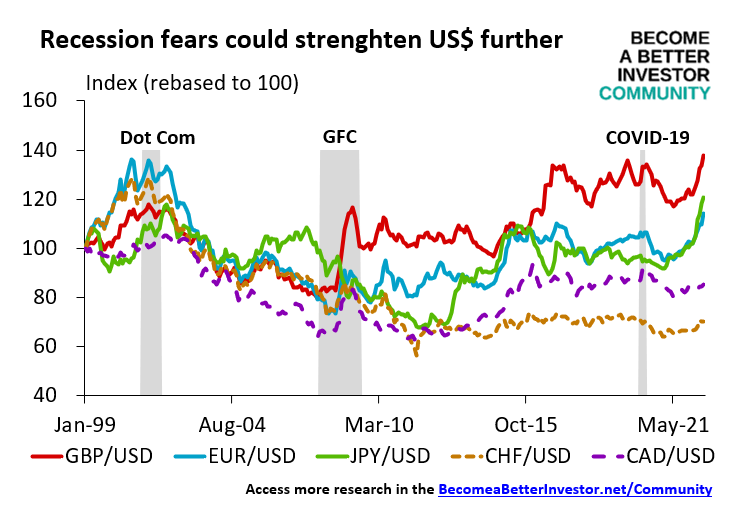 ---
Discussed in the Become a Better Investor Community this week
"Rich European countries can typically find ways to pay for the crazy high energy prices. Other countries aren't able to do so."
"This is absolutely horrifying. First Sri Lanka, then now Pakistan. To what extent do you see this spreading through to SEA (South East Asia)?"
"Africa is probably next. Nigeria? Ethiopia??Kenya? Congo? Egypt? Those are some of the countries that those are some of the countries that are very vulnerable right now."
Join the Become a Better Investor Community today! You can cancel any time, and as a newsletter reader you get a massive discount when you use this coupon code: READER
---
Podcasts we listened to this week
LinkedIn is super powerful and Judi knows here stuff. From this I learned about the benefit of turning our regular newsletter into a LinkedIn Newsletter. Listen on Apple, Stitcher, Spotify, Web.
Jim Grant gives his perspectives on how the Fed can mess things up. He also talks about why he prefers gold at the moment. Listen on Apple, Stitcher, Spotify, Web.
---
Readings this week
Supply chain disruptions and the outbreak of the Russian war led to massive gains from investments in commodities. However, a potential upcoming recession could harm commodities' demand side, leading to a collapse in natural resources stocks (Materials and Energy were among the worst performing sectors during the GFC).
But in reality, the relationship is not that simple. I recently found an interesting commentary on natural resources which explains the relationship between the economic cycle and commodity cycle. Learn here why resources could actually perform great during a recession.
---
Memes of the week
Anyone know how to make this happen? pic.twitter.com/G2mhSQC9jX

— Wall Street Silver (@WallStreetSilv) August 25, 2022
— Wall Street Silver (@WallStreetSilv) August 26, 2022
---

---
New My Worst Investment Ever episodes
BIO: Jerome Myers left corporate America because he realized that although he had many accomplishments, he had not gained significance because he was not leading a centered life.
STORY: Jerome quit corporate America and went into real estate without any skills or experience in the industry. He missed a million-dollar investment because he had nothing to bring to the table.
LEARNING: If you're trying to figure out how to get something done, pay a person who's already done it, who has a comprehensive system, to accelerate your learning process. Articulate the value you bring to a deal or an organization.
BIO: Eric Sim is the author of Small Actions: Leading Your Career To Big Success, giving 66 actionable tips to help one achieve career success.
STORY: Eric bought a condo with the hopes of selling it at a higher price. Unfortunately, the government changed, affecting the demand for condos. Eric is yet to sell the property or rent it for income.
LEARNING: Don't let your past successes blind you when investing. Identify your buyer before you even buy that real estate.
BIO: Direk Khanijou is a student of business and currently works with his family in the textile business in Bangkok, Thailand. He started his investment portfolio at 20 while studying at the University College London.
STORY: Direk invested in a pharmaceutical company simply because it had some of the most respected hedge funds on the shareholder roster. He lost 94% on his investment less than two years later.
LEARNING: Be careful of leverage and taking on too much debt. Don't stray outside of your circle of competence when investing. Be cautious of endowment bias.
---
Published on Become a Better Investor this week
What's interesting about Hermès is that it is still owned by the family (now in 6th generation).
Watch Is a Hand-Made Hermès Bag a Better Long-Term Investment than Its Stock?
KT&G Corporation (033780 KS): Profitable Growth rank of 3 was same compared to the prior period's 3rd rank. This is above average performance compared to 610 large Cons. Staples companies worldwide.
Read KT&G – World Class Benchmarking
What's interesting about Coca-Cola is that Warren Buffett owns more than 9% of the company.
Watch Should Warren Buffett Sell Coca-Cola After 34 Years?
Petronas Chemicals Group Berhad (PCHEM MK): Profitable Growth rank of 2 was same compared to the prior period's 2nd rank. This is World Class performance compared to 910 large Materials companies worldwide.
Read Petronas Chemicals Group – World Class Benchmarking
What's interesting about Carlsberg is that goodwill accounts for a massive 40% of assets.
Watch How Long before Carlsberg Recovers from Abandoning Russia?​​​​​​​
---
DISCLAIMER: This content is for information purposes only. It is not intended to be investment advice. Readers should not consider statements made by the author(s) as formal recommendations and should consult their financial advisor before making any investment decisions. While the information provided is believed to be accurate, it may include errors or inaccuracies. The author(s) cannot be held liable for any actions taken as a result of reading this article.