Become a Better Investor Newsletter – 18 November 2023
Noteworthy this week
Being long-term is an edge
Drawdowns can be long, really long
Reminder: FX risk is real
UST offers a better yield than EM bonds
US switches to Mexico from China
Being long-term is an edge: It's hard not to make a return if you're long-term. It sounds very simple, but it's harder than it sounds, as we're bombarded with (and attracted to) short-term advice.
Short-termism pits you against Wall Street pros.

The ability to think and act long-term is one of your greatest edges, so make sure you're using it!

h/t @RPSeawright pic.twitter.com/mo6nSpe4Dl

— Daniel Crosby (@danielcrosby) November 15, 2023
Drawdowns can be long, really long: While we typically consider nominal returns, what matters are real returns (nominal returns minus inflation). It took close to 15 years to surpass the highs of the dot-com bubble.
It took two decades for the stock market to durably surpass its early 1970s highs after adjusting for CPI.

And it took about a decade and a half for the stock market to surpass its 2000 high after adjusting for CPI.

Accumulated dividends help to shorten the time a bit. pic.twitter.com/61ikDRt69s

— Lyn Alden (@LynAldenContact) November 12, 2023
Reminder: FX risk is real: While Turkey is a recent extreme example, it's not the first nor the last time a currency completely crashes. It serves as an important reminder that when you invest in a foreign market, you also invest in that market's currency.
The Turkish lira continues to collapse utterly relative to the US dollar.

10 years ago, One dollar would net you just over 2; now, One dollar is worth over 28… pic.twitter.com/BpnWFRfj0d

— Swordfishvegetable (@Swordfishv44183) November 15, 2023
UST offers a better yield than EM bonds: Emerging markets (EM) are generally considered riskier than the US, and you would, therefore, expect/demand higher returns from EM bonds than US Treasuries (UST). We do indeed live in interesting times.
'An unlikely aberration has taken place in global bond markets for the first time on record: yields on emerging-market bonds in local currencies have fallen below US Treasuries.' https://t.co/FtsBCqqsQK pic.twitter.com/QHBsHsSpLC

— Jesse Felder (@jessefelder) November 13, 2023
US switches to Mexico from China: The US decoupling from China shows in US imports, where Mexico has just overtaken China.
US is now importing more from Mexico than China

This development has occurred for the first time since 2003 pic.twitter.com/DUwULkeG2j

— Game of Trades (@GameofTrades_) November 13, 2023
---
Join the world's toughest valuation training
Become a Valuation Expert. Valuation Master Class Boot Camp graduates can confidently value any company in the world and possess in-demand industry skills.
---
Weekly market performance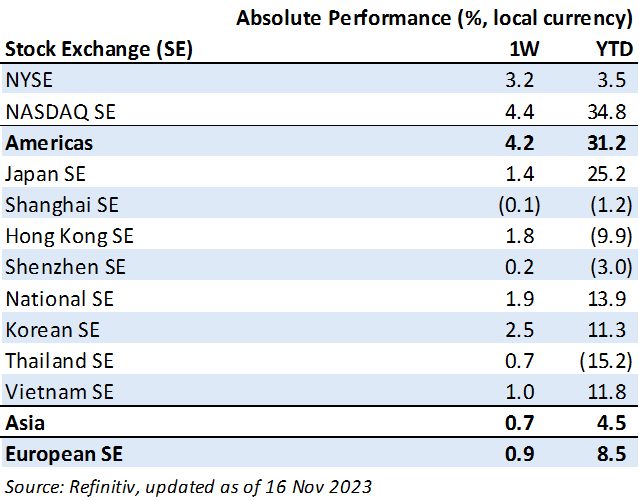 Click here to see more markets and periods.
---
Chart of the week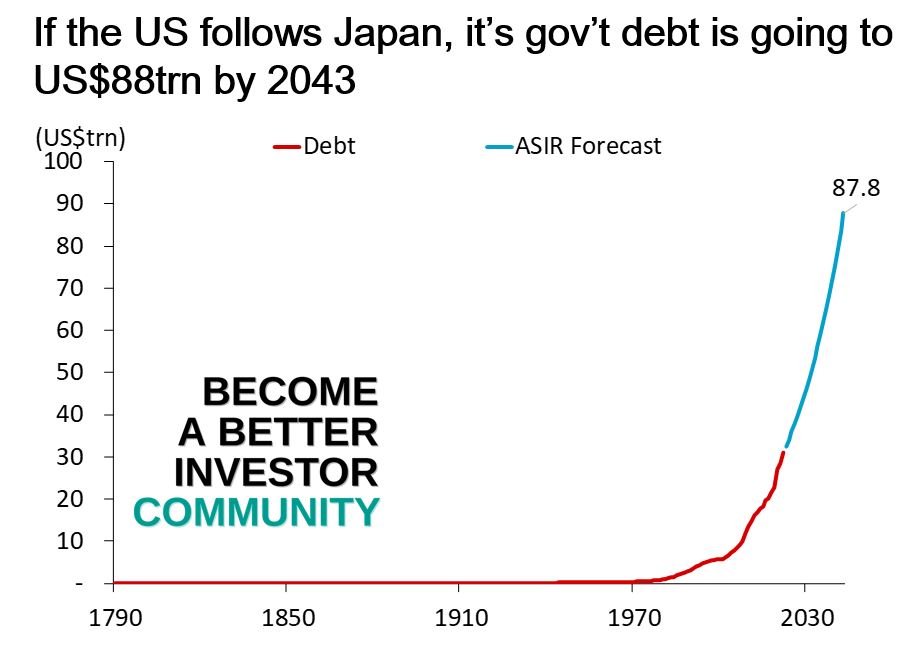 ---
Discussed in the Become a Better Investor Community this week
"The world is brainwashed with ESG….it's everywhere…it's a plague…"
Try 1 month of the Become a Better Investor Community for FREE today!
You can cancel at any time. Click here to learn more.
---
Podcasts we listened to this week
The Joe Rogan Experience – #2054 – Elon Musk
"Elon Musk is a business magnate, designer, and engineer. His portfolio of businesses include Tesla, Inc., SpaceX, Neuralink, X, and many others."
Listen to the episode on Spotify.
---
Readings this week
The Preference for Wealth and Inequality: Towards a Piketty Theory of Wealth Inequality
"We then introduce shocks to the preference for wealth and show that progressive wealth taxation prevents wealth from being held by people with high saving rates. This permanently reduces the capital stock, which is detrimental to the welfare of future generation of workers. This also raises the interest rate, to the benefit of the property-owning upper-middle class. By contrast, a progressive consumption tax successfully and persistently redistributes welfare from the very rich to the poor."
---
Book recommendation
The Fund: Ray Dalio, Bridgewater Associates, and the Unraveling of a Wall Street Legend by Rob Copeland
"In The Fund, award-winning New York Times journalist Rob Copeland punctures this carefully-constructed narrative of the benevolent business titan, exposing his much-promoted 'principles' as one of the great feats of hubris in modern memory—in practice, they encouraged a toxic culture of paranoia and backstabbing."
Get the book on Audible or Kindle.
Audible is great; have you tried it? If not, click here to get 2 books for free.
---
Memes of the week
Can we interest you in some Treasury bonds? We're currently financing two wars and need some liquidity.

Don't worry about them losing their value, we're backing them with the U.S. military. pic.twitter.com/N0fe6Dyspm

— Not Jerome Powell (@alifarhat79) November 15, 2023
Socialists in a nutshell pic.twitter.com/gtVVzNKsbD

— Declaration of Memes (@LibertyCappy) November 15, 2023
---
New My Worst Investment Ever episodes
ISMS 35: Larry Swedroe – Great Companies Are Not Always High-Return Investments
In this episode of Investment Strategy Made Simple (ISMS), Andrew gets into part two of his discussion with Larry Swedroe: Ignorance is Bliss. Today, they discuss two chapters of Larry's book Investment Mistakes Even Smart Investors Make and How to Avoid Them. In this twelfth series, they discuss mistake number 22: Do You Confuse Great Companies with High-Return Investments? And mistake number 23: Do You Understand How the Price Paid Affects Returns?
LEARNING: Great companies are not always high-return investments. Understand how the price paid affects returns. Rebalance your portfolio regularly.
Access the episode's show notes and resources
Ep749: Chris Vermeulen – Find What You're Passionate About
BIO: Chris Vermeulen shares a different way of investing that doesn't use diversification or the buy-and-hold method. In his new book, "Asset Revesting – How To Exclusively Hold Assets Rising In Value, Profit During Bear Markets, And Continue Building Wealth In Retirement," he explains why this approach is the way forward.
STORY: Chris and his father imported infrared saunas from China only to discover they were not certified in Canada after arrival. Chris had invested over $250,000 that went down the drain.
LEARNING: Find what you're passionate about. Invest in what you're familiar with. Start small, test things out, and then go big.
Access the episode's show notes and resources
Ep748: Kenny Rose – Don't Invest in Anything You're Not Fully Educated In
BIO: Kenny Rose is the Chicago-based founder and CEO of FranShares, a platform that democratizes franchise investing.
STORY: Kenny invested in an aviation stock and hit the jackpot. Feeling lucky, he invested in a company dealing with processors and microchips, an industry he knew nothing about. He bought the stock at $4. About a year later, the stock went down to $2.50. Kenny panicked and sold his stocks. The stock is trading at over $100 today.
LEARNING: Before you invest, think about how much you're willing to lose, what your time horizon is, and what your maximum loss might be. Educate yourself about what you want to invest in. Outsource what you don't know to professionals who know those spaces better.
Access the episode's show notes and resources
---
Published on Become a Better Investor this week
In this episode, John Dues and host Andrew Stotz discuss what Dr. Deming meant by "institute training on the job" and "adopt and institute leadership" (principles 6 and 7). How do you follow those principles in the context of education?
Listen to What do training and leadership really mean? Deming in Schools Case Study (Part 13)
Sheng Siong Group Limited (SSG SP): Profitable Growth rank of 1 was same compared to the prior period's 1st rank. This is World Class performance compared to 570 large Cons. Staples companies worldwide.
Read Sheng Siong Group Ltd – World Class Benchmarking
Henan Lingrui Pharmaceutical Company Limited (600285 SH): Profitable Growth rank of 2 was same compared to the prior period's 2nd rank. This is World Class performance compared to 390 medium Health Care companies worldwide.
Read Henan Lingrui Pharmaceutical – World Class Benchmarking
All asset classes except gold fell in October 2023. Performance review of our strategies in October 2023 – All Weather Inflation Guard was down 1.5%, All Weather Strategy was down 2.4%, All Weather Alpha Focus was down 1.9%. Global outlook that guides our asset allocation.
Read A. Stotz All Weather Strategies – October 2023
Tripod Technology Corporation (3044 TT): Profitable Growth rank of 5 was down compared to the prior period's 4th rank. This is average performance compared to 660 large Info Tech companies worldwide.
Read Tripod Technology Corp – World Class Benchmarking
---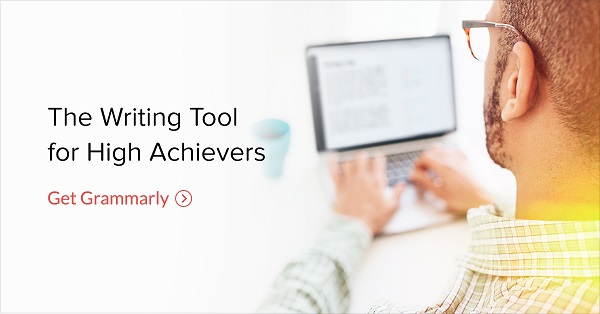 ---
DISCLAIMER: This content is for information purposes only. It is not intended to be investment advice. Readers should not consider statements made by the author(s) as formal recommendations and should consult their financial advisor before making any investment decisions. While the information provided is believed to be accurate, it may include errors or inaccuracies. The author(s) cannot be held liable for any actions taken as a result of reading this article.