Become a Better Investor Newsletter – 10 September 2022
Noteworthy this week
ECB hiked 0.75%

The European energy crisis is self-inflicted

European businesses are taking the hit

The energy crisis spreads to the financial system

The USD wrecking ball is going to crash more
ECB hiked 0.75%: While it was a record hike, the policy rate is still low in Europe. A lower rate in the EU versus the US partly explains the Euro depreciation against the US Dollar.
To put things into perspective: The 75 basis point rate hike is the largest in the #ECB's history. But the ECB is still way behind the curve. While #Inflation is at a record 9.1%, ECB deposit rate w/0.75%, light years away from a high. pic.twitter.com/wYWlyT8u1b

— Holger Zschaepitz (@Schuldensuehner) September 8, 2022
The European energy crisis is self-inflicted: No matter how often European politicians blame Putin, the energy crisis was self-inflicted. There was an energy crisis in Europe before Putin invaded Ukraine.
European energy policy be like: pic.twitter.com/YQ7S5dWV38

— Srivatsan Prakash (@SrivatsPrakash) September 6, 2022
European businesses are taking the hit: The high energy prices are hitting households and businesses. "In Germany, $2 trillion of value added depends on $27 billion of gas from Russia." Across Europe, small businesses are on the verge of bankruptcy due to unmanageable energy bills.
How much German economic output is dependent on Russian gas?

A very interesting take from Zoltan on the leveraged nature of this relationship.

"In Germany, $2 trillion of value added depends on $27 billion of gas from Russia"

— Alf (@MacroAlf) September 6, 2022
The energy crisis spreads to the financial system: We also saw the news about margin calls related to energy trading. This could lead to problems in the financial system and/or bailouts.
Euro area clearing banks are the counterparts in the $1.5trn energy margin calls

Lehman 2.0 or big bailouts.. That is now the trade-off in Europe

— AndreasStenoLarsen (@AndreasSteno) September 6, 2022
The USD wrecking ball is going to crash more: The US Dollar has appreciated massively and is likely to continue to strengthen. As USD liquidity disappears, demand remains strong/grow. This creates a bad situation for countries and companies that have borrowed in USD.
Why is the USD appreciating?

For 12,000,000,000,000 reasons.

This is the amount of USD denominated debt issued by foreign entities who service these liabilities with their dollar income from global trades.

When the economy slows down & US isn't supplying USDs…

It hurts. pic.twitter.com/GUg9yqRz1q

— Alf (@MacroAlf) September 5, 2022
---
Poll of the week
The Democrats have 219 (50.3%) seats in the US House, Republicans have 211 (48.5%). What do you think will happen with inflation from here?
Vote on LinkedIn or
What do you think will happen with inflation from here?

— Andrew "The Worst" Stotz (
@andrew
) September 9, 2022
---
Results from last week's poll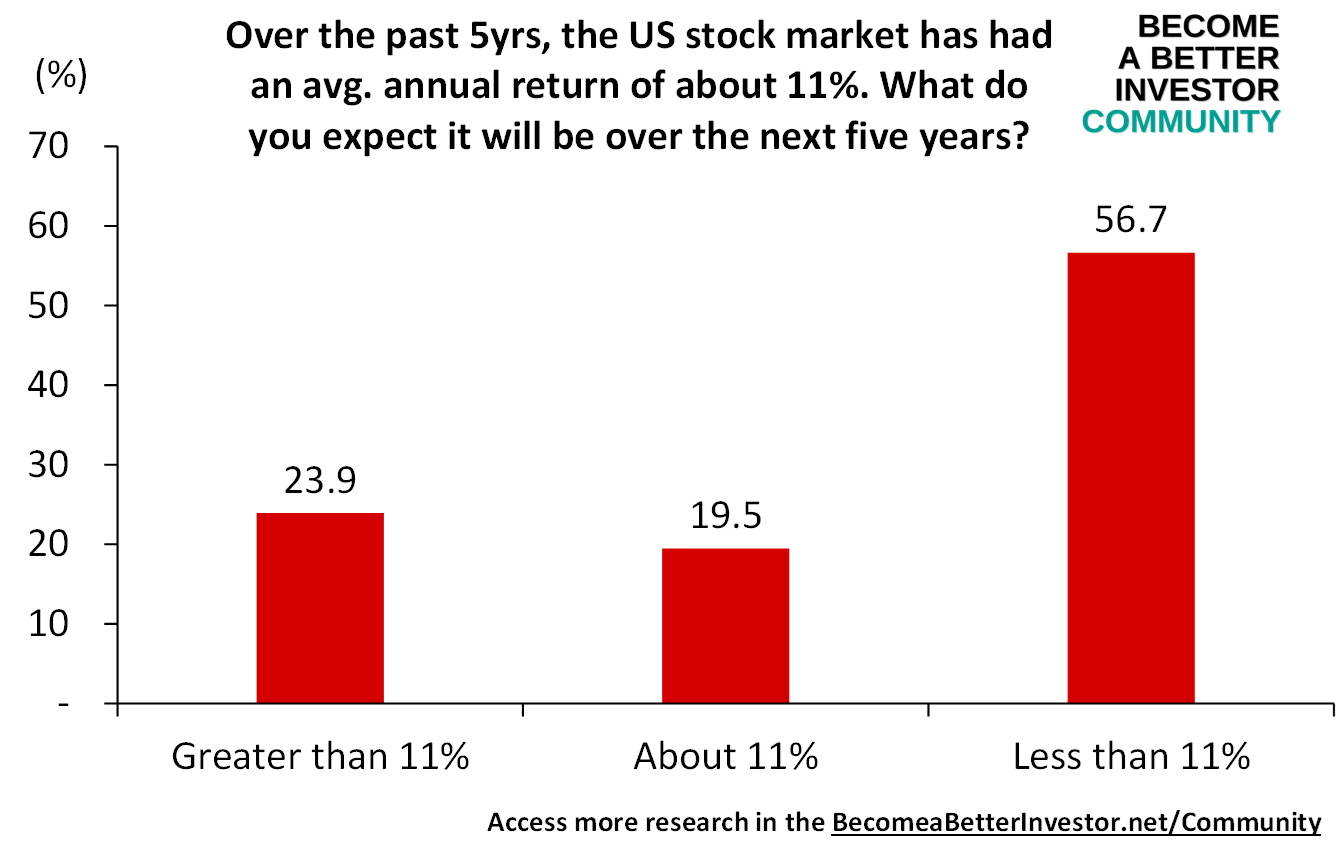 Join the world's toughest valuation training
The Valuation Master Class Boot Camp is a 6-week intensive company valuation boot camp for a successful career in finance.
---
Weekly market performance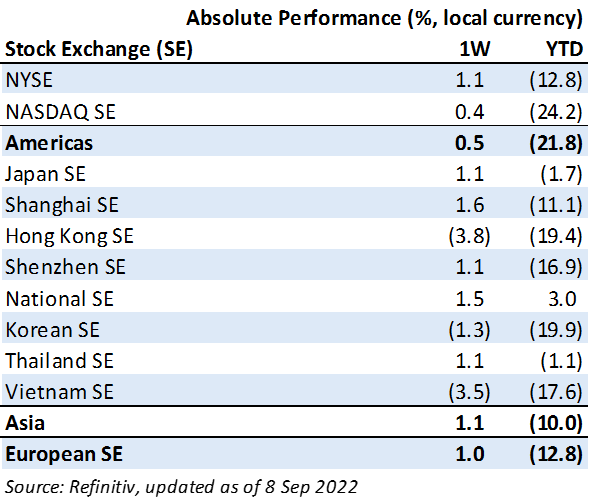 Click here to see more markets and periods.
---
Chart of the week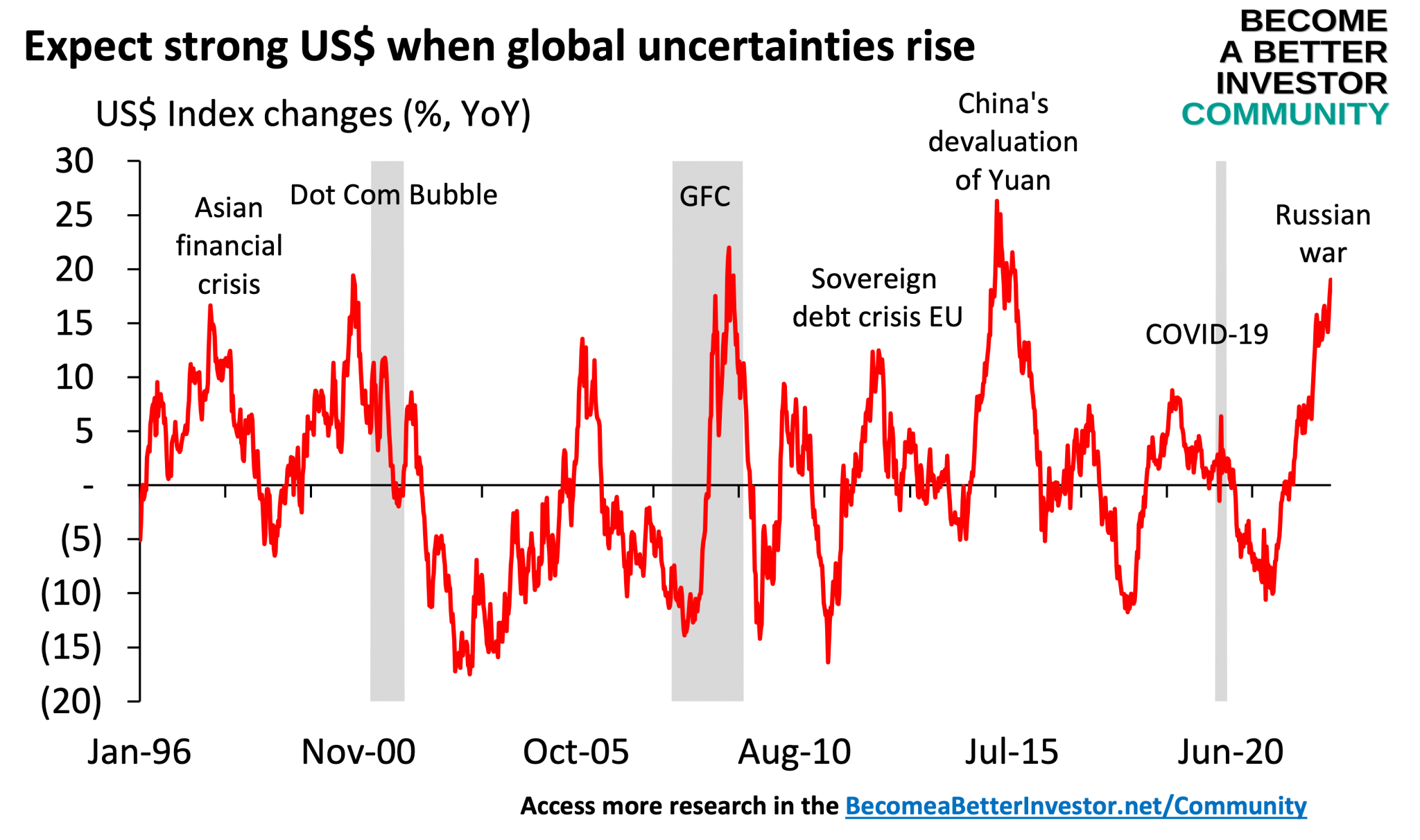 ---
Discussed in the Become a Better Investor Community this week
"I remember seeing that, a big move from these nations that should help keep cost of electricity down. In the case of ASEAN nations ( from when they initially formed) have agreed to not engage in any nuclear activities.
I think that the nuclear generation nations that produce excess energy could begin selling Electricity generated from nuclear to non-nuclear nations.What outcome could you see happening for ASEAN?"
"from their data Democrats have increased probability by 2% since 24th Aug."
"That's the interesting part about what's driving the increased possibility for Democrats. Maybe Biden's recent speech or some other thing has got them more optimistic for Democrats"
Join the Become a Better Investor Community today! You can cancel any time, and as a newsletter reader you get a massive discount when you use this coupon code: READER
---
Podcasts we listened to this week
Episode 340 is an excellent interview by Erik Townsend of Dr. Anas Alhajji about energy.
He thinks the energy crisis going to get worse. We are not really seeing that in oil prices right now so I found this interview interesting.
Good discussion about why price caps on Russian oil by the G7 won't work. Also, he gives a historical perspective on the Petrodollar and why oil will be priced in dollars for years to come.
 Listen on Apple, Stitcher, Spotify, Web.
---
Readings this week
An interesting piece that stipulates we might be on the verge of a massive societal change. It also highlights the importance of the "5% who don't go along with it and tries to speak out."
---
Memes of the week
If only someone like the great WWII cartoonist Bill Mauldin had warned us forty years ago.

Oh, wait. pic.twitter.com/FOto18948C

— Andy Hall (@AndyHal15523851) September 2, 2022
— Kuppy (@hkuppy) September 6, 2022
---
New My Worst Investment Ever episodes
BIO: Miguel Rodriguez is the CEO of the US Presidential Service Center. He has retired from an outstanding US government career and is currently a facilitator with the George Washington University Graduate School of Political Management Program.
STORY: Miguel was actively involved in developing government contracting with companies. Some of these companies would take his ideas and start side projects without his knowledge. This led him to learn the importance of protecting his intellectual properties the hard way.
LEARNING: Always have an NDA with you before pitching your ideas. Get compensated for your intellectual property.
BIO: Sahil Vaidya co-founded The Minimalist in 2015, one of India's fastest-growing creative solutions companies. In 2019, Sahil was featured in the Forbes 30 Under 30 Asia list.
STORY: Sahil's worst investment was investing too much time chasing dopamine hits.
LEARNING: Incorporate gratitude in your life. Don't be fooled by the shiny object syndrome.
BIO: Tony Whatley is an entrepreneur, business mentor, best-selling author, podcast host, and speaker.
STORY: An unplanned pregnancy saw Tony stay in a bad relationship that worsened daily and threw him into depression.
LEARNING: Don't be afraid to walk away from a bad situation. Always know your self-worth.
---
Published on Become a Better Investor this week
Cathay Pacific Airways Limited (293 HK): Profitable Growth rank of 10 was the same compared to the prior period's 10th rank. This is poor performance compared to 1,530 large Industrial companies worldwide.
Read Cathay Pacific Airways – World Class Benchmarking
China Petroleum & Chemical Corporation (600028 SH): Profitable Growth rank of 6 was down compared to the prior period's 4th rank. This is below-average performance compared to 330 large Energy companies worldwide.
Read China Petroleum & Chemical – World Class Benchmarking 
What's interesting about BYD is that Warren Buffett owns 20% of its outstanding H-shares.
Watch Warren Buffett Owns BYD Auto, Should You?
Dashang Company Limited (600694 SH): Profitable Growth rank of 8 was down compared to the prior period's 7th rank. This is below-average performance compared to 1,030 large Cons. Disc. companies worldwide.
Read Dashang – World Class Benchmarking
What's interesting about Meta is that it trades at a PE ratio of 13x.
Watch Facebook Stock Crashed 58%: BUY or SELL?
---
DISCLAIMER: This content is for information purposes only. It is not intended to be investment advice. Readers should not consider statements made by the author(s) as formal recommendations and should consult their financial advisor before making any investment decisions. While the information provided is believed to be accurate, it may include errors or inaccuracies. The author(s) cannot be held liable for any actions taken as a result of reading this article.