Youth Will Soon Drive India, Indonesia, Pakistan, and the Philippines
Watch the video with Andrew Stotz or read a summary below. This post focuses on economic and population basics of five select markets in Asia.
---
---
Majority of Countries in Asia Have Room to Grow GDP per Capita before Their Populations' Age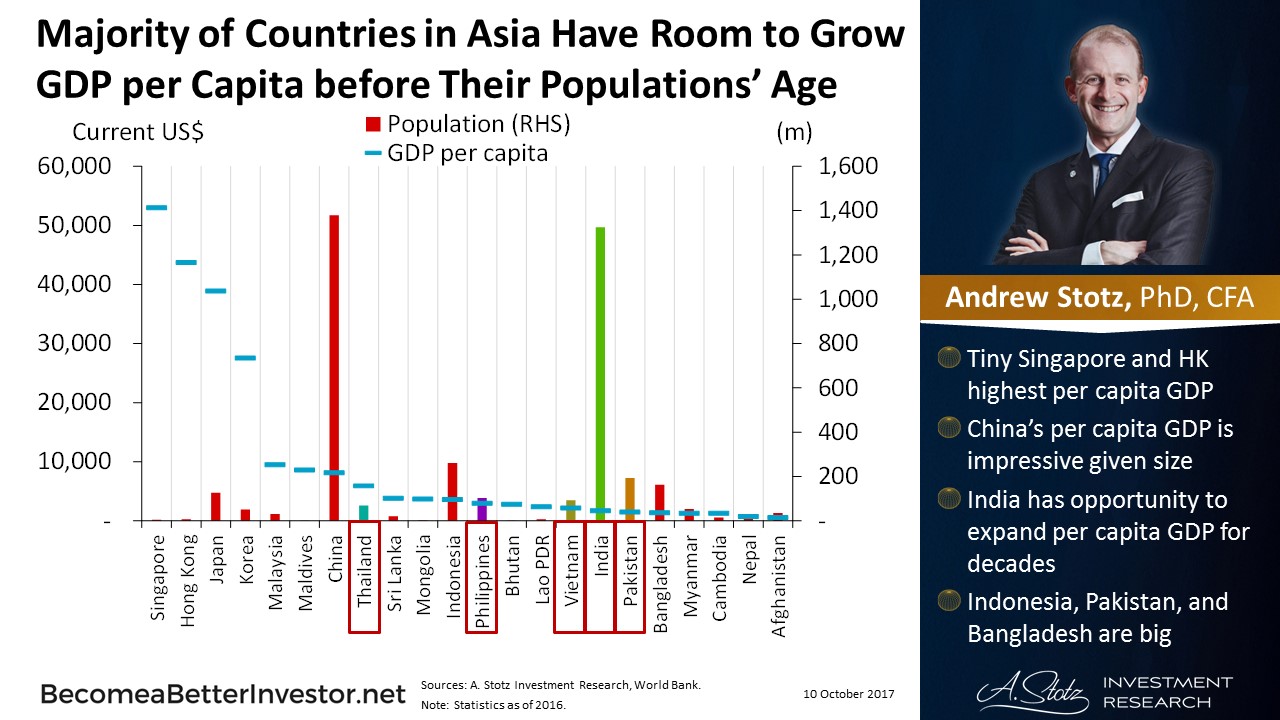 ---
Tiny Singapore and Hong Kong have the highest per capita GDP
China's per capita GDP is impressive given size
India has opportunity to expand per capita GDP for decades
Indonesia, Pakistan, and Bangladesh have big population
---
India Growing Twice as Fast as China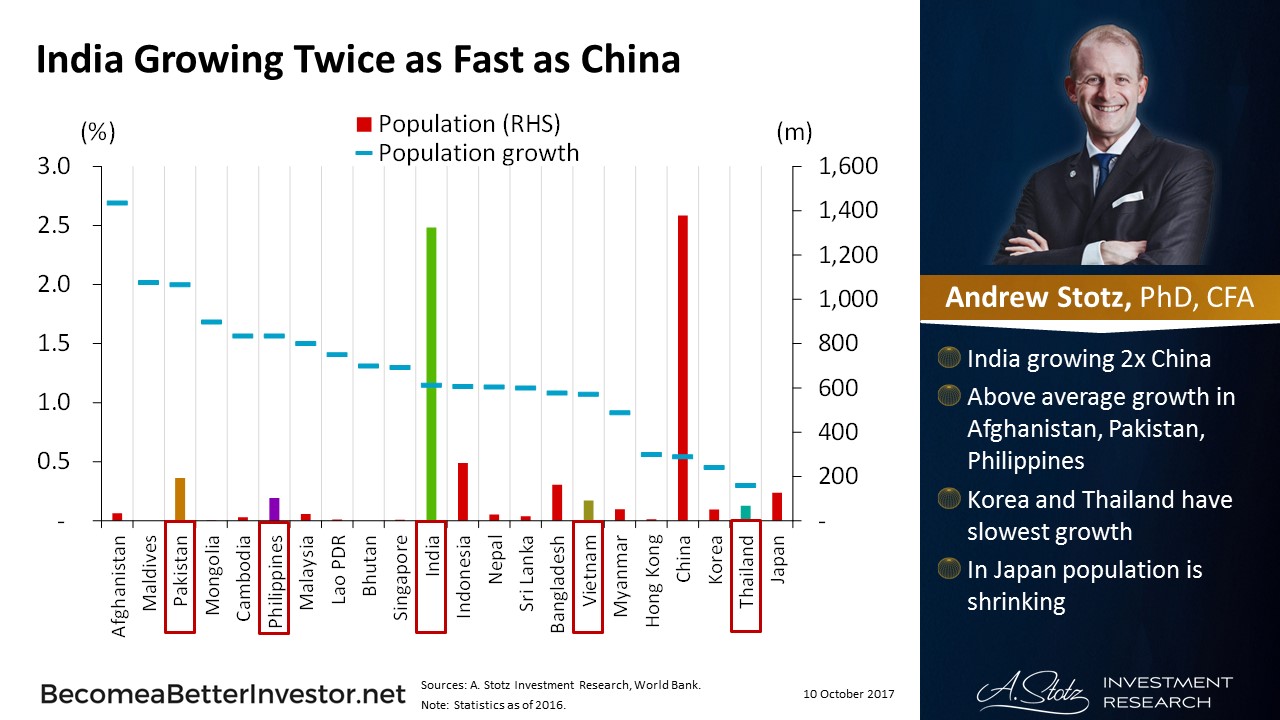 ---
India is growing twice as fast as China
Above average growth in Afghanistan, Pakistan, and the Philippines
Korea and Thailand have the slowest growth
In Japan, population is shrinking
---
Youth Will Soon Drive India, Indonesia, Pakistan, and the Philippines. Lost Youth in Thailand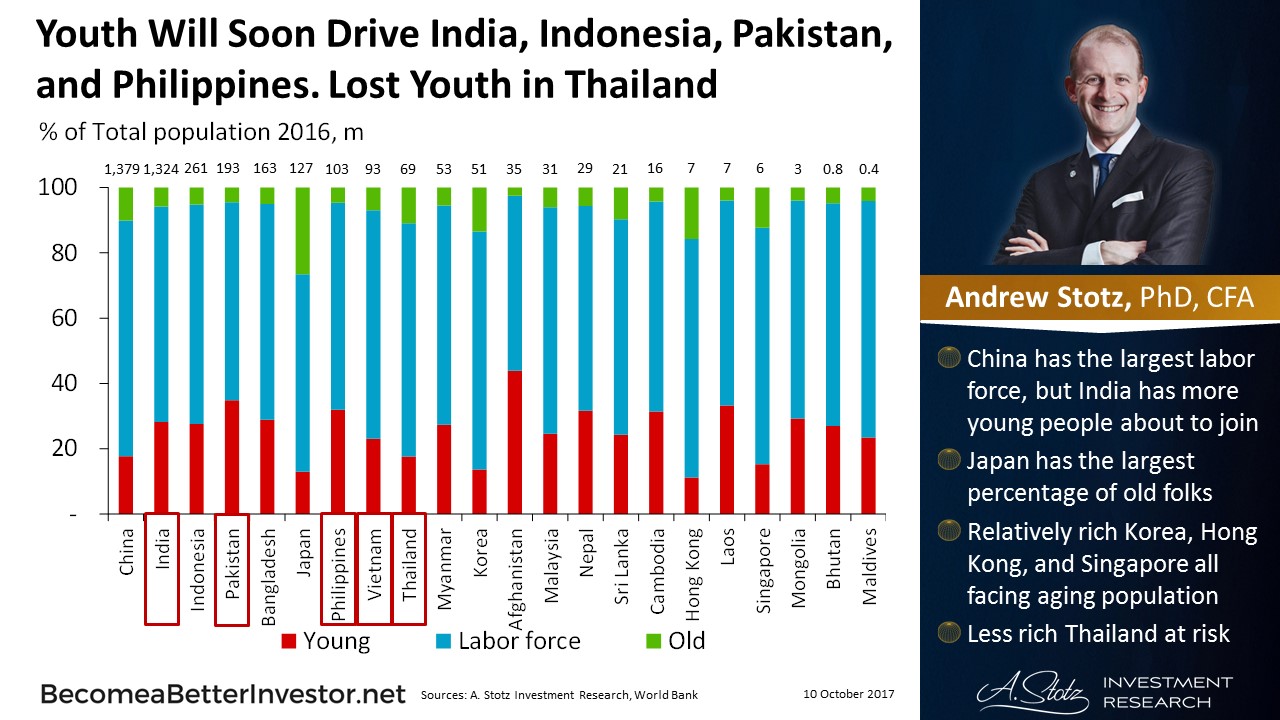 ---
China has the largest labor force, but India has more young people about to join
Japan has the largest percentage of old folks
Relatively rich Korea, Hong Kong, and Singapore are all facing aging population
Less rich Thailand is at risk
---
India, Pakistan, and the Philippines Have an Abundance of Youth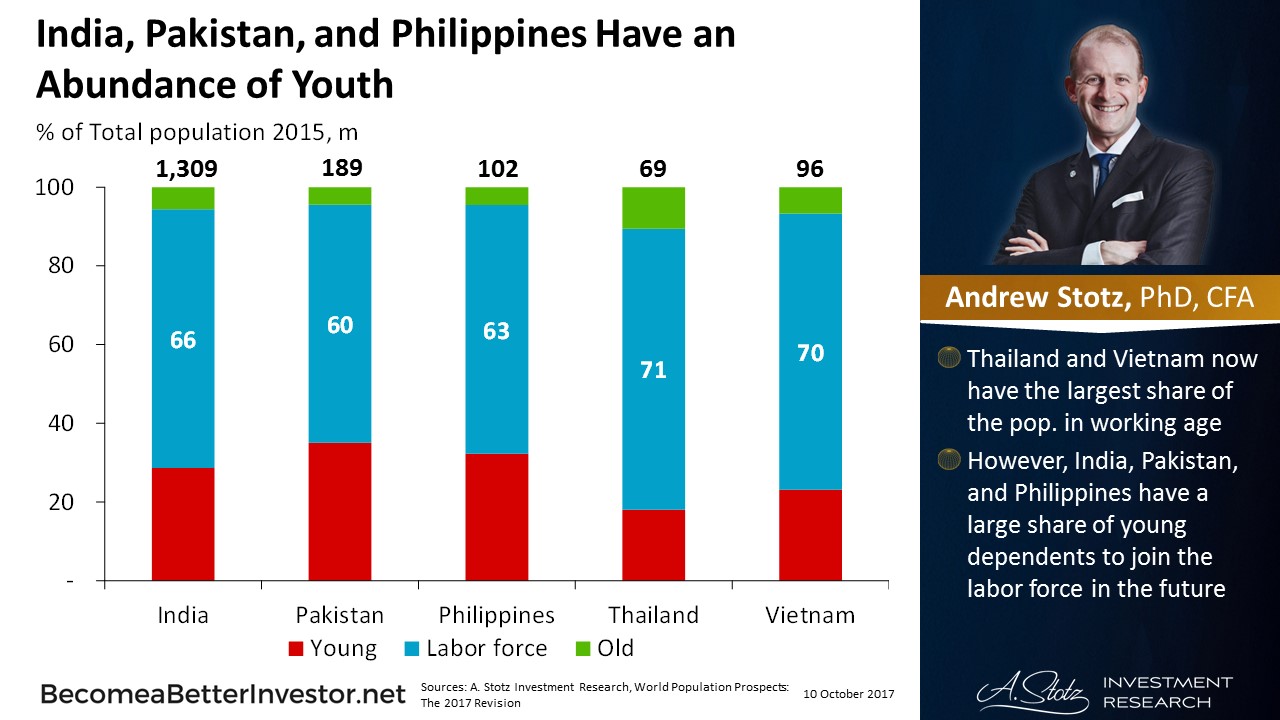 ---
Thailand and Vietnam now have the largest share of the population in working age
However, India, Pakistan, and the Philippines have a large share of young dependents to join the labor force in the future
---
Thailand and Vietnam Are Facing Aging Population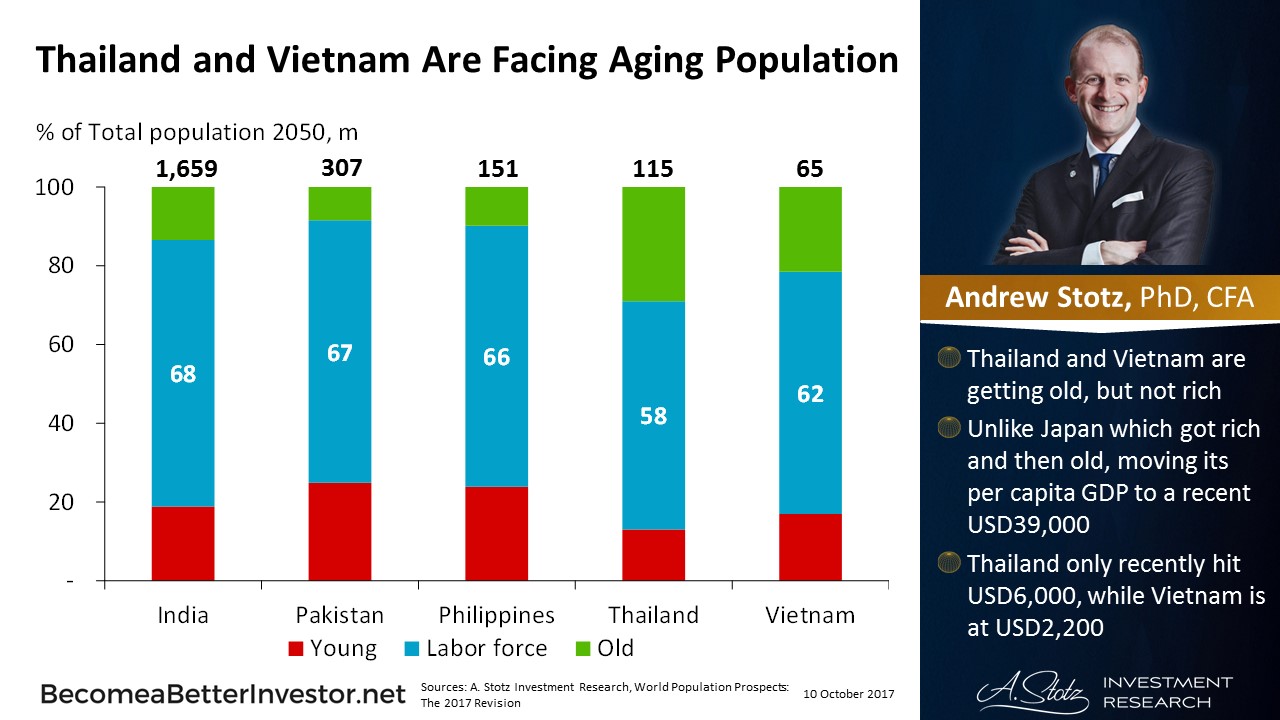 ---
Thailand and Vietnam are getting old, but not rich
Unlike Japan which got rich and then old, moving its per capita GDP to a recent USD39,000
Thailand only recently hit USD6,000, while Vietnam is at USD2,200
---
Banking Issues Faced by Both India and Pakistan with about a 10% NPL Ratio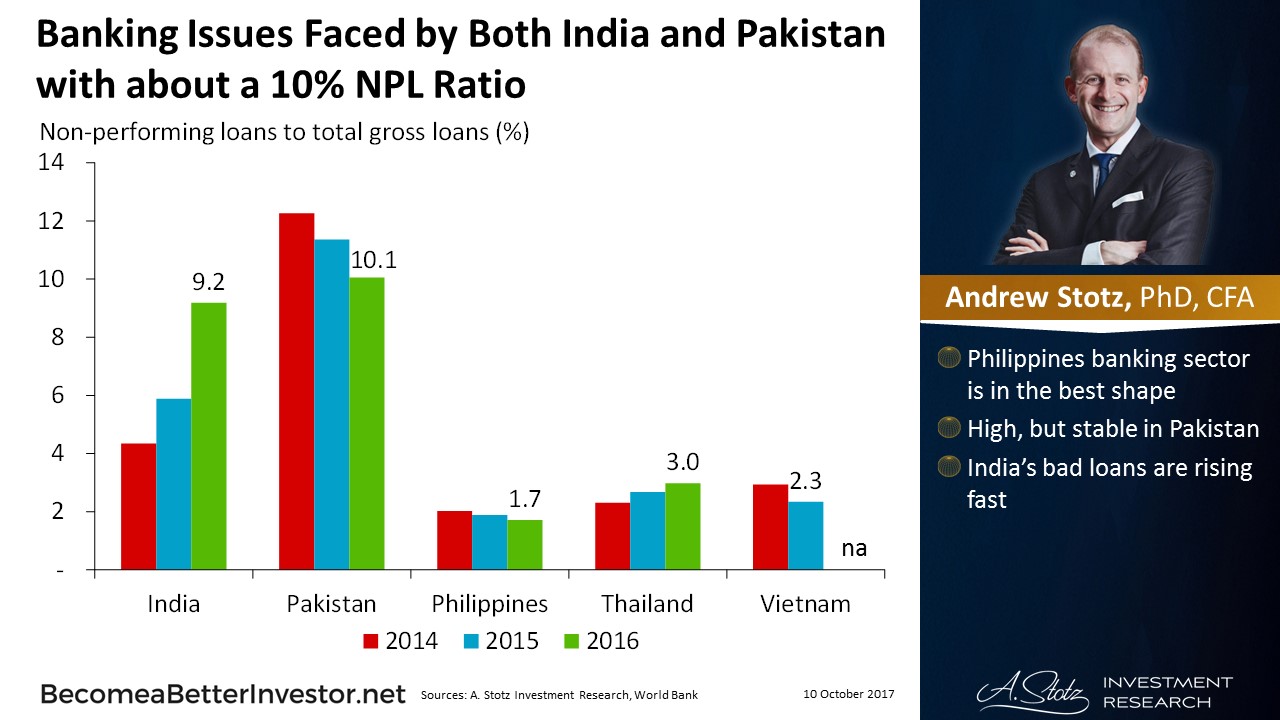 ---
Philippine banking sector is in the best shape
High, but stable non-performing loans in Pakistan
India's bad loans are rising fast
---
Only Thailand Is a Major Exporter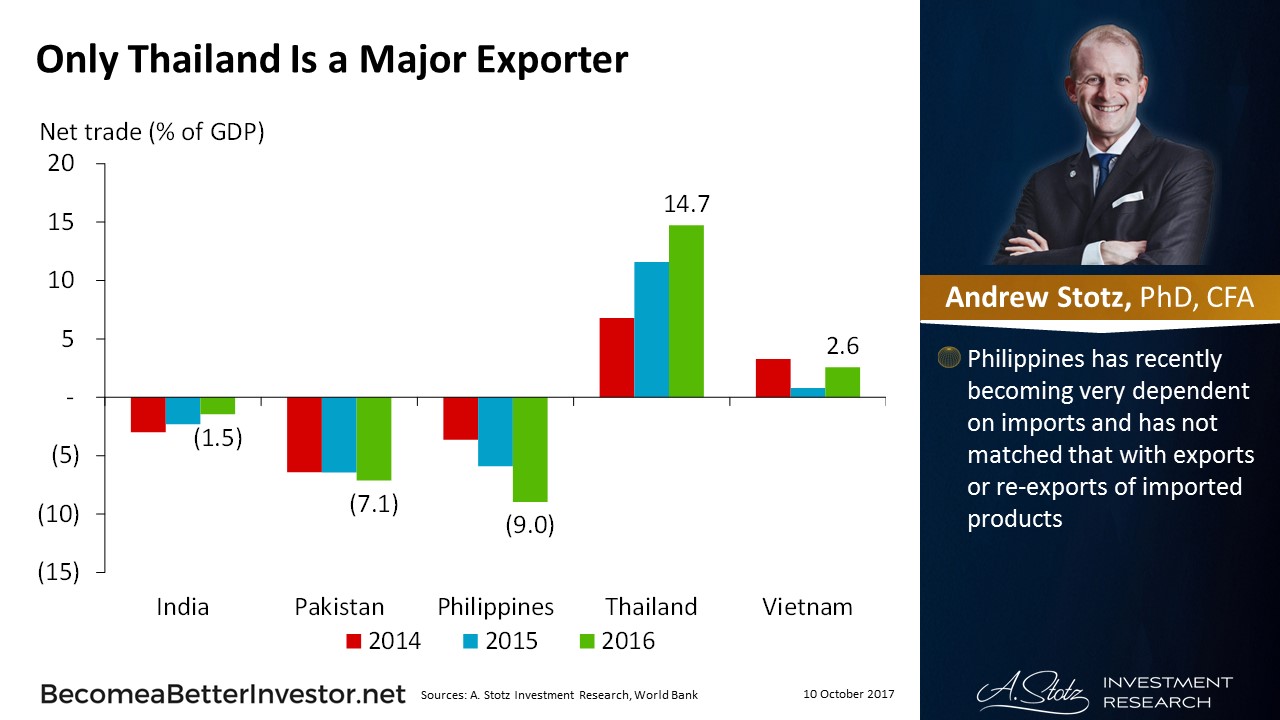 ---
The Philippines has recently become very dependent on imports and has not matched that with exports or re-exports of imported products
---
Inflation and Unemployment Rate Are Very Low in Thailand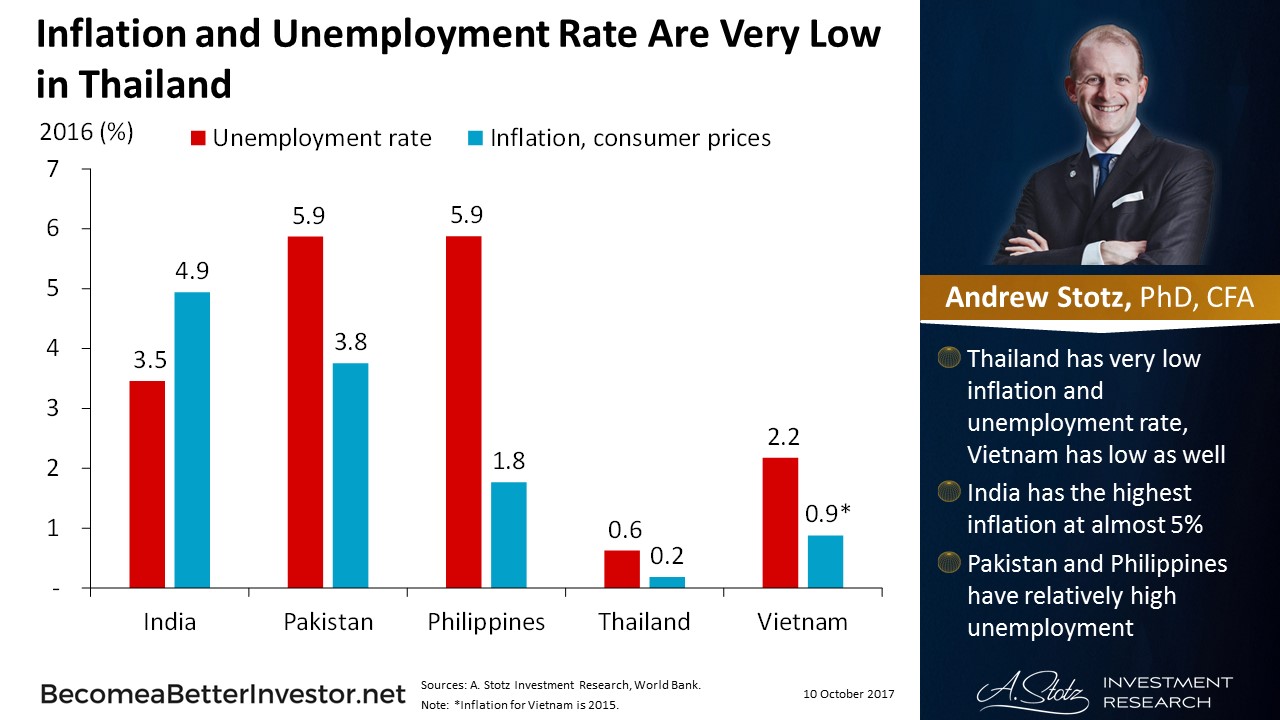 ---
Thailand has very low inflation and unemployment rate, Vietnam has low as well
India has the highest inflation at almost 5%
Pakistan and the Philippines have relatively high unemployment
---
---
DISCLAIMER: This content is for information purposes only. It is not intended to be investment advice. Readers should not consider statements made by the author(s) as formal recommendations and should consult their financial advisor before making any investment decisions. While the information provided is believed to be accurate, it may include errors or inaccuracies. The author(s) cannot be held liable for any actions taken as a result of reading this article.