Thai Energy Company about to Enter Norway
Background
Bangchak Corporation Public Company Limited is a Thai energy company engaging in refinery, marketing, bio-based products, green power and natural resources business.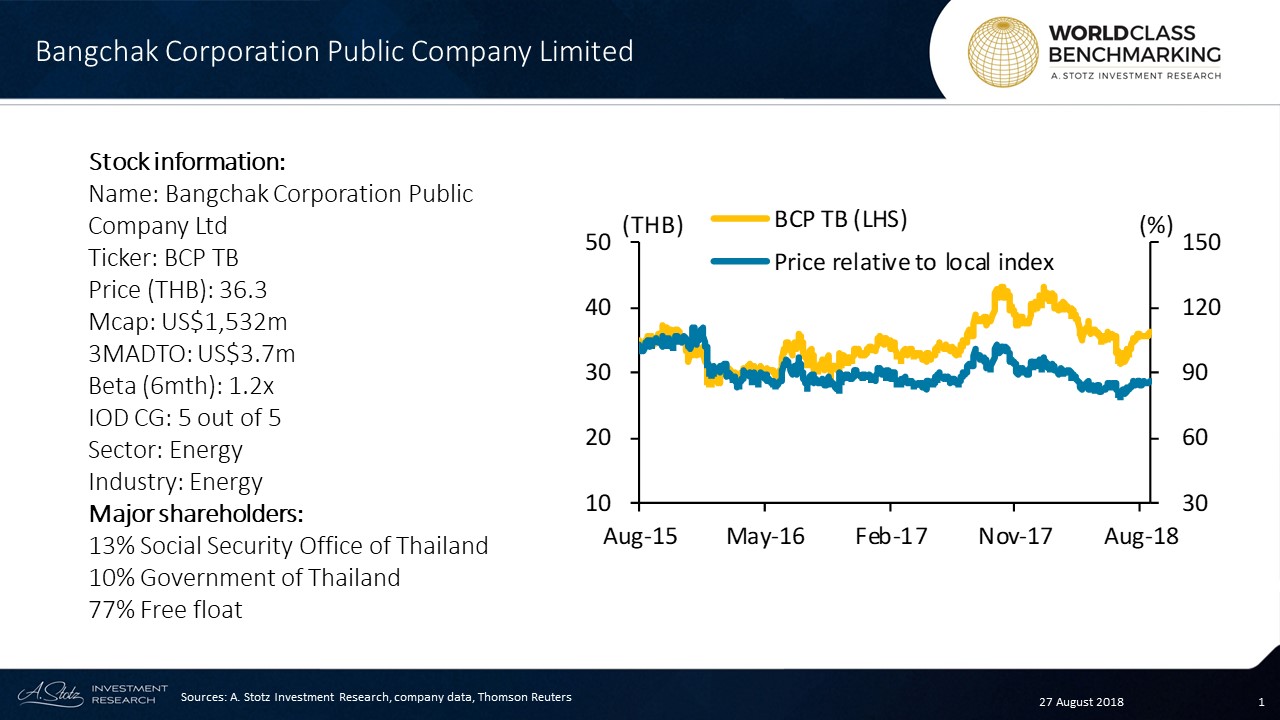 Its core business is petroleum refining with a capacity of 120,000 barrels per day and the company distributes to its more than 1,000 Bangchak service stations in Thailand.
Business Description
BCP's core revenue contributor is its refinery business with a capacity of 120,000 barrels per day. Besides producing Euro 4 standard-compliant gasohol and diesel, it's also first in Asia to produce Euro 5 standard gasohol E20, a standard set to reduce exhaust emissions.
In 2017, about 76% of the refined products were sold via BCP's marketing business group which owns more than 1,000 Bangchak service stations. At its stations, BCP also provides restaurants, car maintenance centers, and convenience stores in co-operation with Spar Thailand.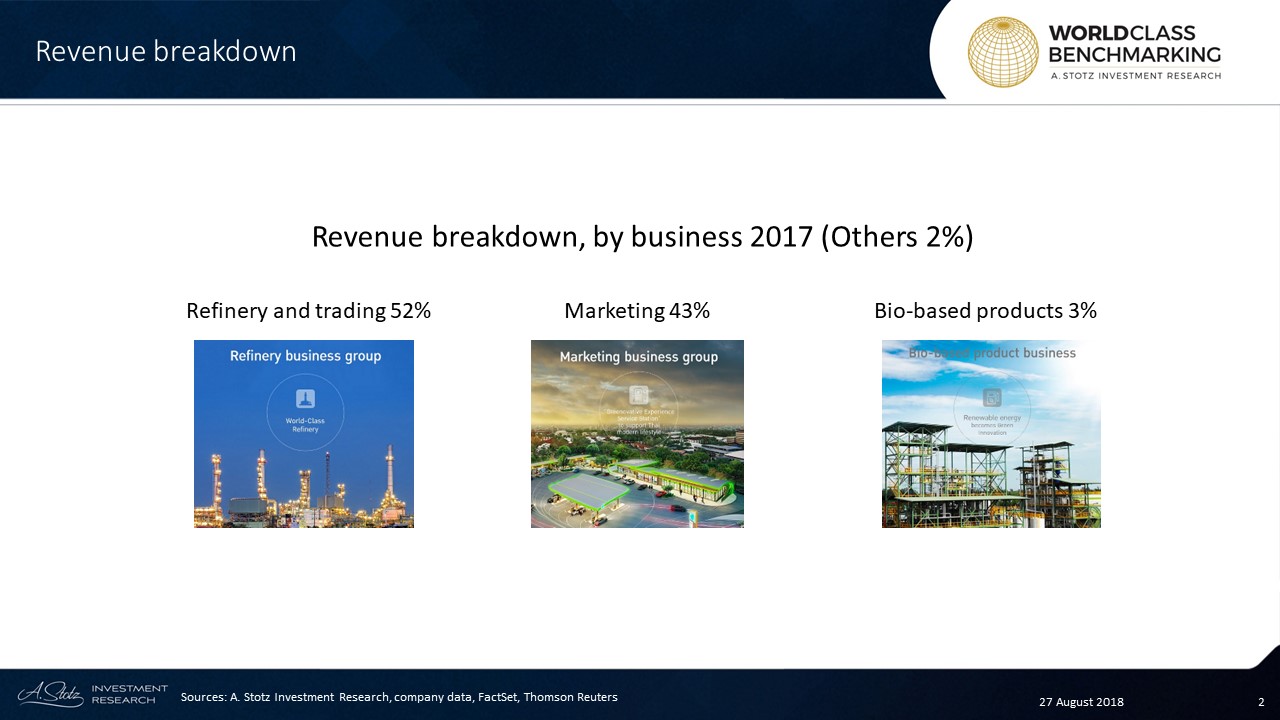 Through 70%-owned subsidiary BCPG PLC (BCPG TB), BCP has 585 MW capacity using renewable and clean sources to generate and distribute electricity. Its biofuel production is Thailand's biggest with a capacity of more than 1.7m liters per day. BCP also engages in natural resources, international energy, and petrochemicals.
BCP to acquire 45% of E&P company OKEA AS at Bt3.8bn, expected to get regulatory approval in 4Q18, and to increase BCP's oil reserves.
Leadership
Pichai Chunhavajira has served as the independent Chairman of BCP since 2012. In addition to his roles at BCP, he is also the Chairman of its subsidiary BCPG Public Company Limited (BCPG TB). He earned his Bachelor's degree in Accounting from Thammasat University, Thailand and a Master's degree in Business Administration from Indiana University of Pennsylvania, US.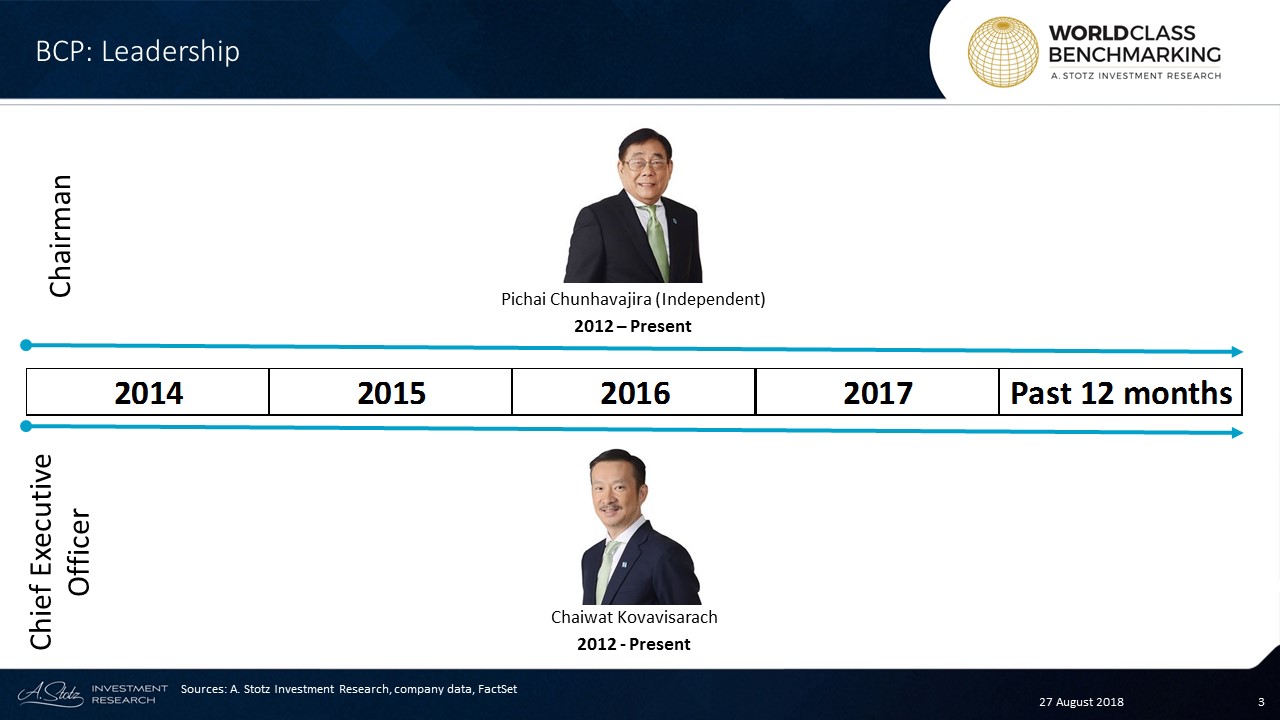 Chaiwat Kovavisarach is currently serving as the CEO and President of BCP. His notable positions in other companies include directorship in Lithium Americas Corp. and chairmanship in Bangchak Retail Co.,Ltd. Before his current position, he worked at Avantgarde Capital Company Limited as an Advisor. His education consists of a Bachelor's in Engineering from King Mongkut's Institute of Technology Ladkrabang, Thailand and an MBA from Thammasat University, Thailand.
World Class Benchmarking
BCP's Profitable Growth improved drastically in 2015 but has been declining since. In the past 12 months, BCP ranked in the top half among 320 large Energy companies worldwide.
Profitability has been above average for most of the time and ranked in the top 40% since 2015. Growth fell below average in 2017 and stayed at a #6 rank in the most recent period.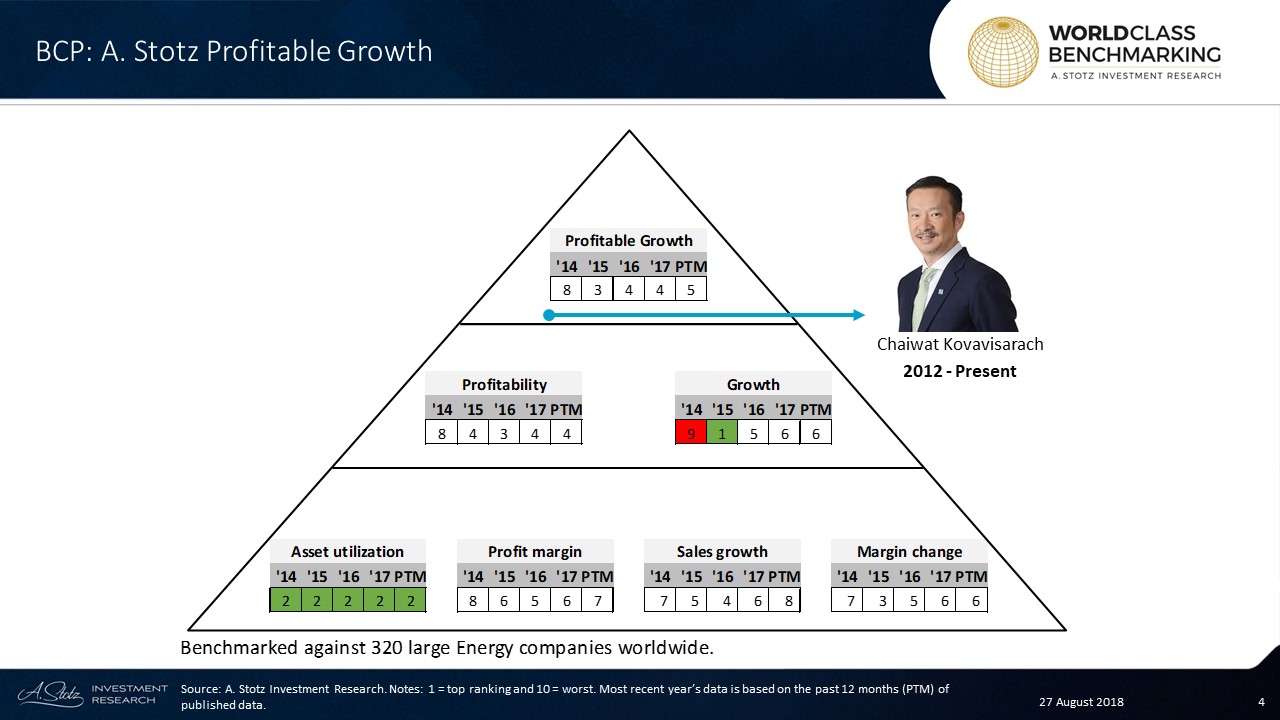 Asset utilization has consistently been ranked at #2 since 2014. Profit margin has been relatively poor for the whole time period and ranked at #7 in the past 12 months.
Both sales growth and Margin change were ranked at #7 in 2014. The rankings have fluctuated over the years and were ranked at #8 and #6 respectively in the most recent period.
---
What're your thoughts on BCP?
If you like our research, share it with your friends.
---
DISCLAIMER: This content is for information purposes only. It is not intended to be investment advice. Readers should not consider statements made by the author(s) as formal recommendations and should consult their financial advisor before making any investment decisions. While the information provided is believed to be accurate, it may include errors or inaccuracies. The author(s) cannot be held liable for any actions taken as a result of reading this article.