PCB Maker's Profits Soar under Heir's Direction
Watch the video with Andrew Stotz or read a summary of World Class Benchmarking on KCE Electronics Public Company Limited.
---
---
Background
Founded in 1982, KCE Electronics Public Company Limited develops, manufactures and distributes printed circuit boards (PCBs) and inks for circuit boards, as well as recycling the chemicals used in making PCBs.
The Thai company is a huge exporter, with 45% of revenue coming from Europe, 43% from Asia and 12% from the US.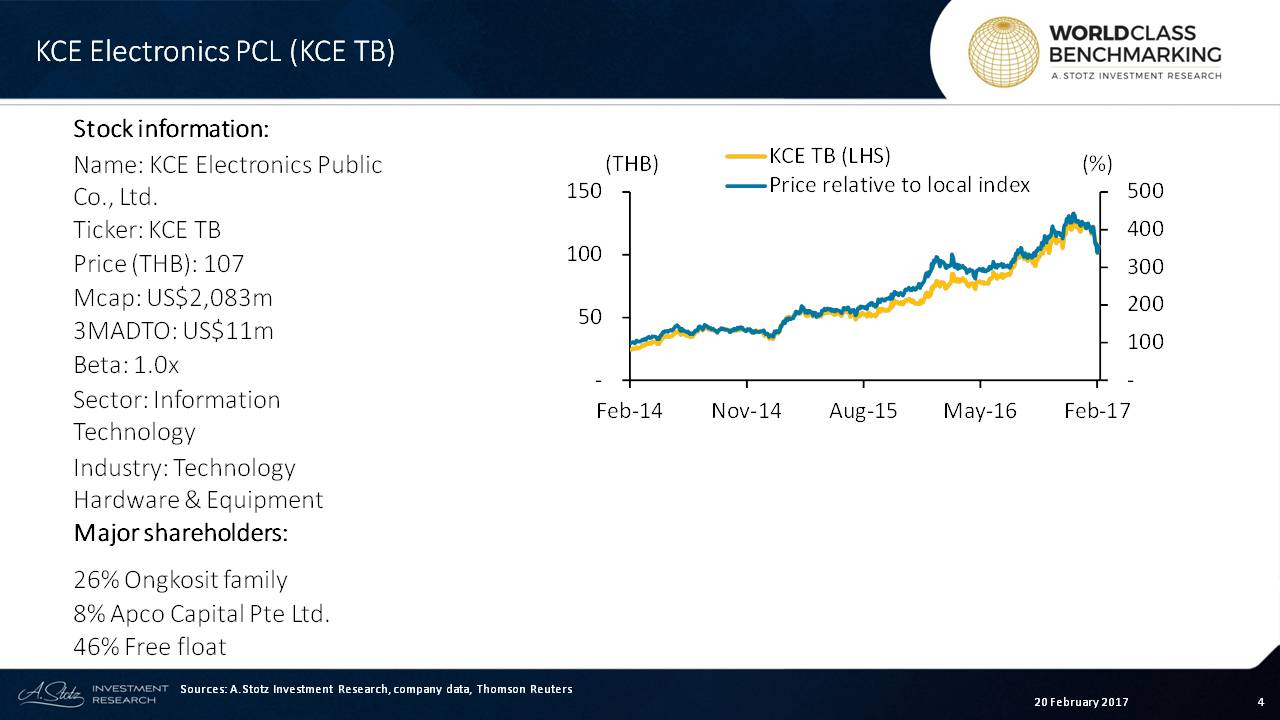 Business Description
KCE is a producer of printed circuit boards (PCB), which are used in almost every computer device to connect electronic components using conductive tracks. Currently, more than 70% of its revenue comes from the automotive sector.
The company also produces chemical products and materials, such as "pre-impregnated" composite fibers (also known as pre-preg) and laminates, which are used during the manufacture of KCE's PCB as well as sold separately to external customers. Chemicals and materials account for only a small part of the company's revenue.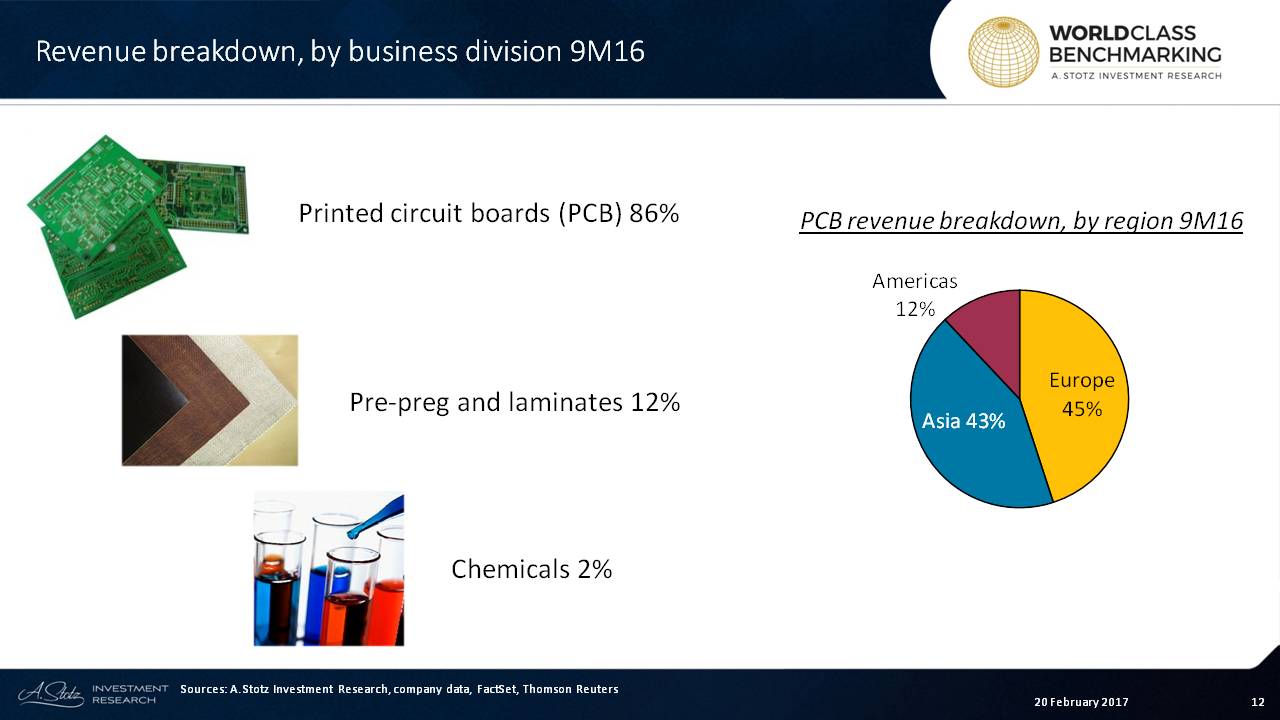 KCE's top customers, including Valeo, Bosch and Continental, are driving the steady profit growth of the company with the increasing demand of car sensors projected to grow over 10% p.a. during 2016-2020.
KCE operates three plants located in Ayutthaya, Bang Pu and Lat Krabang with total capacity of more than 280,000 sqm/month. Its sales offices are located in the Americas, Europe, Mexico, Japan, Korea, China and Singapore.
Leadership
KCE is still largely managed by its founding Ongkosit family of Thailand. Founder and Chairman Bancha Ongkosit started out in the advertising industry before founding KCE in 1982. After experiencing setbacks following the Asian financial crisis in 1997, Bancha helped to rebalance the company's finances.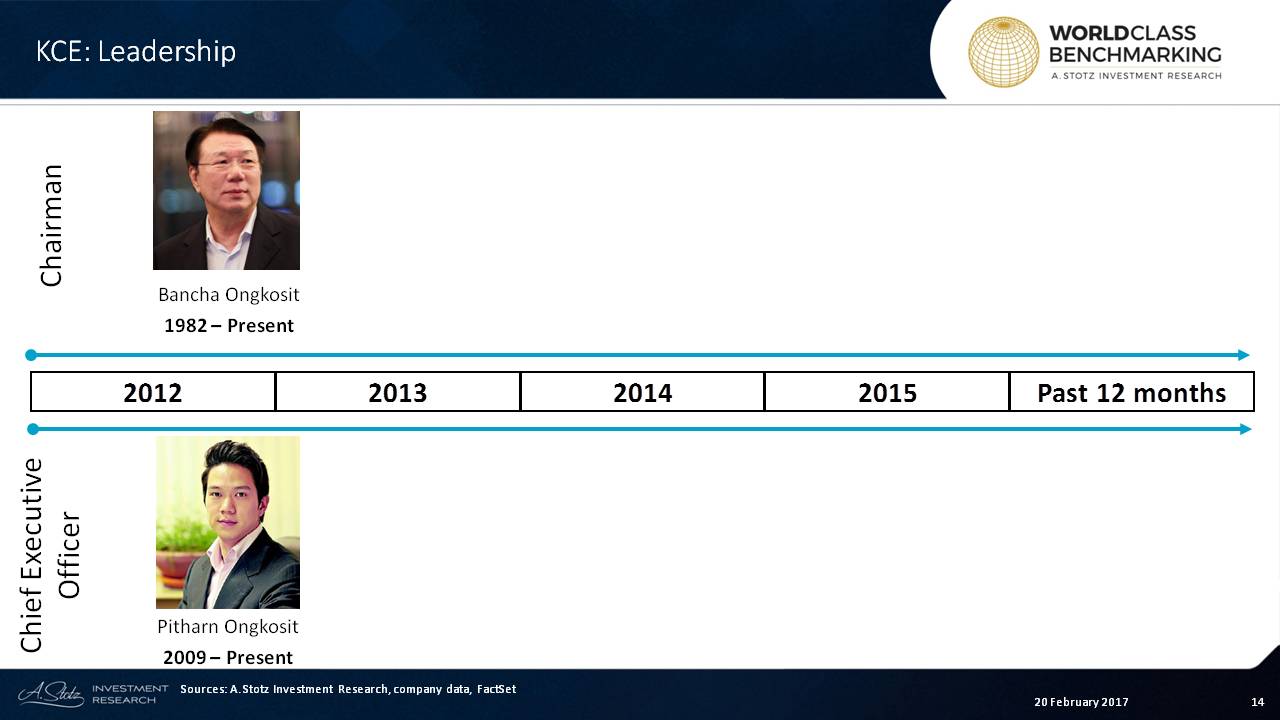 His son, Pitharn Ongkosit, joined the company in 2009 after receiving his MBA from Cornell. After fully taking over the reigns in 2013, the younger Ongkosit has produced stellar results. 2016 was the third year in a row that saw KCE in a #1 ranking for World Class Benchmarking among its peers.
World Class Benchmarking
The company ranks among the best 117 of 1,170 medium-sized information technology companies worldwide.
Profitability, the major driver of the overall ranking, has been #1 since 2014. Growth came back to above average in the past 12 months after sitting at #6 in 2015.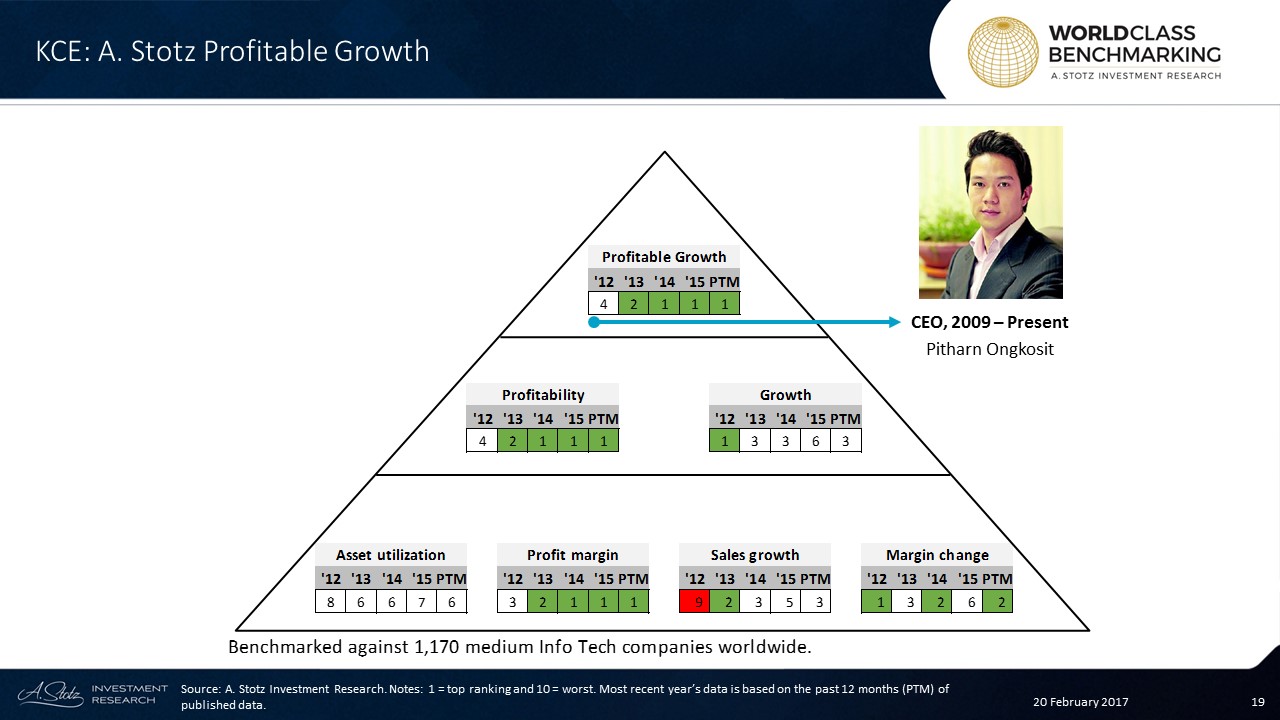 Asset utilization, ranked #6, was the only place where KCE fell below average. Profit margin has driven Profitability at KCE and was ranked #1 for its third year in a row.
Growth improvement came from both Sales growth and Margin change.
---
Would you invest in KCE?
If you like our research, share it with your friends.
---
DISCLAIMER: This content is for information purposes only. It is not intended to be investment advice. Readers should not consider statements made by the author(s) as formal recommendations and should consult their financial advisor before making any investment decisions. While the information provided is believed to be accurate, it may include errors or inaccuracies. The author(s) cannot be held liable for any actions taken as a result of reading this article.