Good Growth at Korean Air Lines
Background
Korean Air Lines Company Limited is the flagship carrier for South Korea and is the largest in the country based on fleet size and number of international destinations.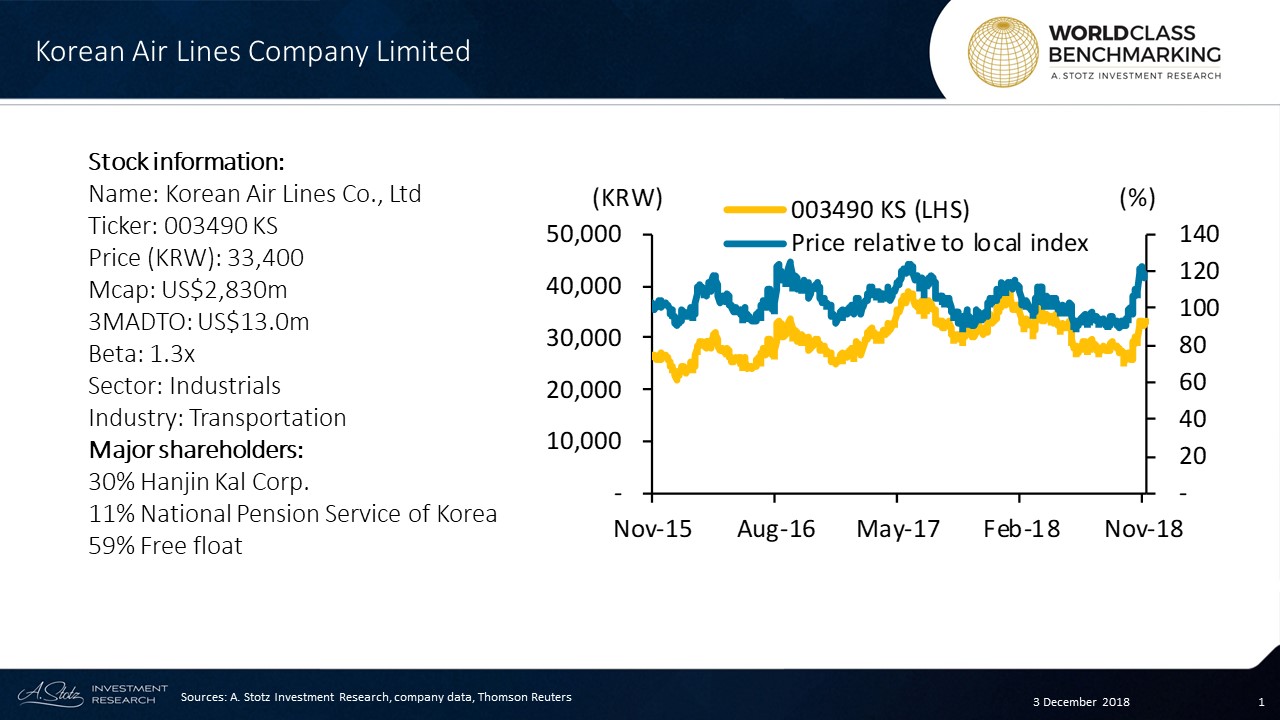 It flies to 127 cities in 44 countries overseas and 12 cities domestically. Its fleet consists of 167 aircraft, of which 144 are for passengers.
Business Description
Nearly 2/3 of KAL's revenue is derived from passenger transportation. Passenger transport includes web reservations, check-in services, ground customer and equipment services and flight transportation to nearly 140 international and domestic destinations.
As of end 3Q18, KAL had a fleet of 167 planes, with 15 new aircraft due to commence flying operations in 2019. Most of this new fleet will be replacing older airplanes, hence the net increase will probably be limited to around four. The enhanced fuel efficiency of the entire fleet will be substantially improved.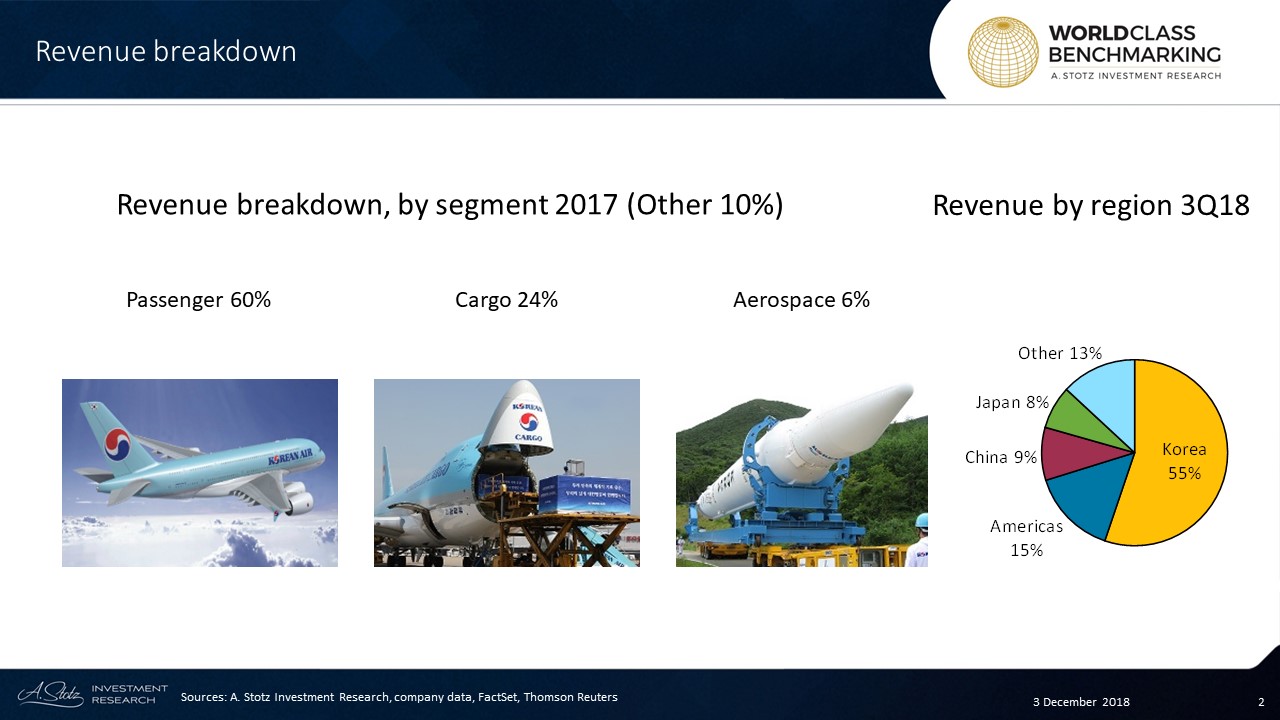 Just under 1/4 of revenue is cargo business, which includes related reservation and documentation as well as other logistics for cargo.
The aerospace division, at 6% of revenue, includes design, manufacture and maintenance of aircraft parts and components.
Others, which accounts for 10% of revenue, includes hotel operations in both the domestic and international markets and domestic limousine bus services.
Leadership
Cho Yang-ho was appointed to be the Chairman and CEO of KAL in 1992. He also holds the positions of CEO at Hanjin Group. He obtained a Bachelor's Degree from Inha University in South Korea, Master of Business Administration from the University of Southern California, US, a Doctorate degree from Inha University and an Honorary Doctorate from Embry-Riddle Aeronautical University, US.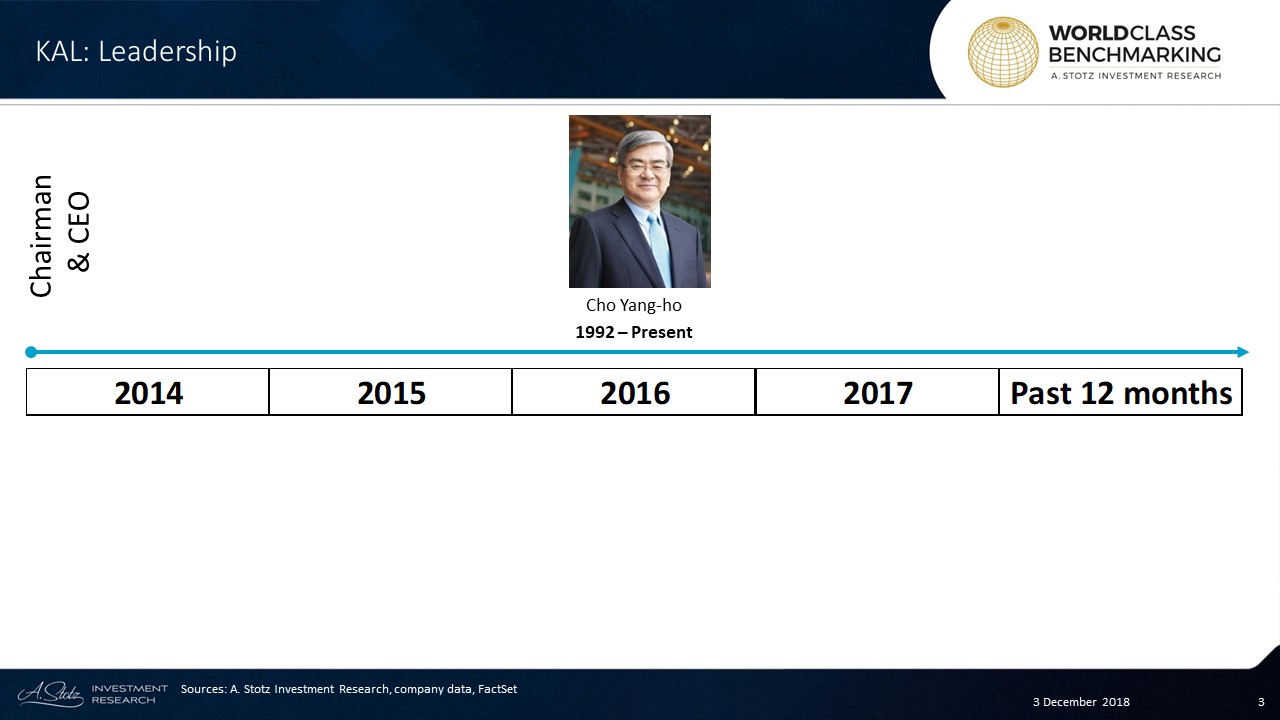 World Class Benchmarking
Profitable Growth performance was among the worst until 2016. In the past 12 months, KAL ranked at #7, hence, in the bottom half among 1,500 large Industrials companies worldwide.
Profitability has been poor for the whole time period, however, Growth has ranked at #1 since 2016.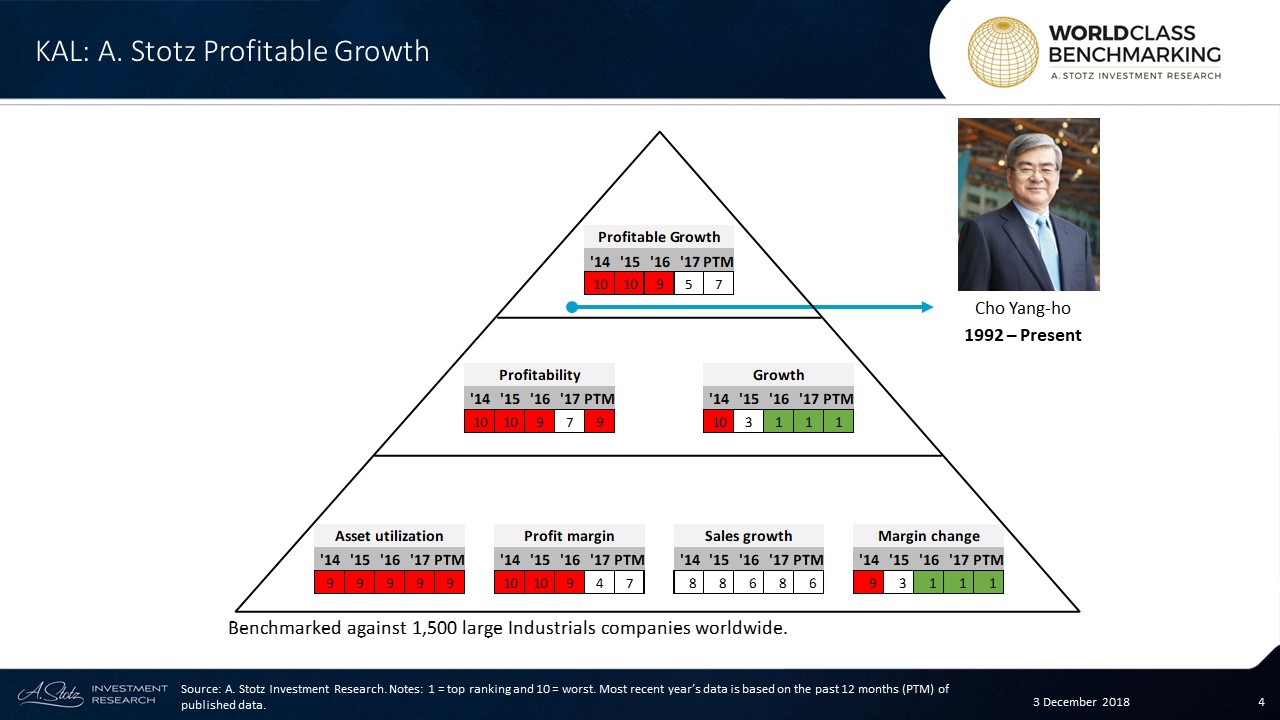 Asset utilization has been steady at #9 throughout the whole period. Profit margin ranked among the worst until 2016 and was ranked at #7 in the most recent period.
Sales growth has fluctuated below the average level over the years. Margin change has been top-ranked since 2016.
---
What're your thoughts on KAL?
If you like our research, share it with your friends.
---
DISCLAIMER: This content is for information purposes only. It is not intended to be investment advice. Readers should not consider statements made by the author(s) as formal recommendations and should consult their financial advisor before making any investment decisions. While the information provided is believed to be accurate, it may include errors or inaccuracies. The author(s) cannot be held liable for any actions taken as a result of reading this article.