Thai Contractor Gains from Mass Transit and Utilities
Background
CH. Karnchang Public Company Limited provides construction services in Thailand.
The company caters to both the public and private sectors, including construction of expressways, public utilities, and industrial plants.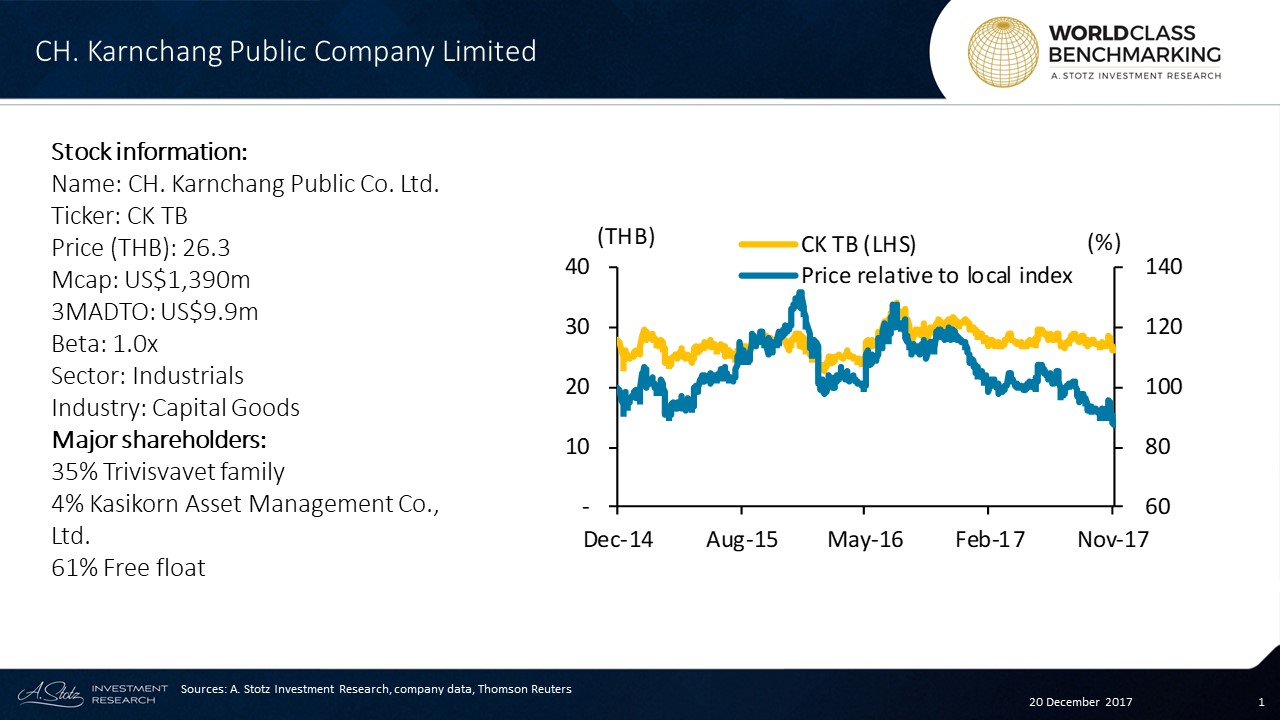 The company also has operations in Laos.
Business Description
CK focuses on construction of large-scale infrastructure, building complex and general civil works. Its construction achievements include mass rapid transit systems, airports, roads, expressways, bridges, utilities, harbors, universities and shopping malls.
The company invests in government concession projects that cover all systems, namely, transportation, mass rapid transit, infrastructure, and hydropower systems.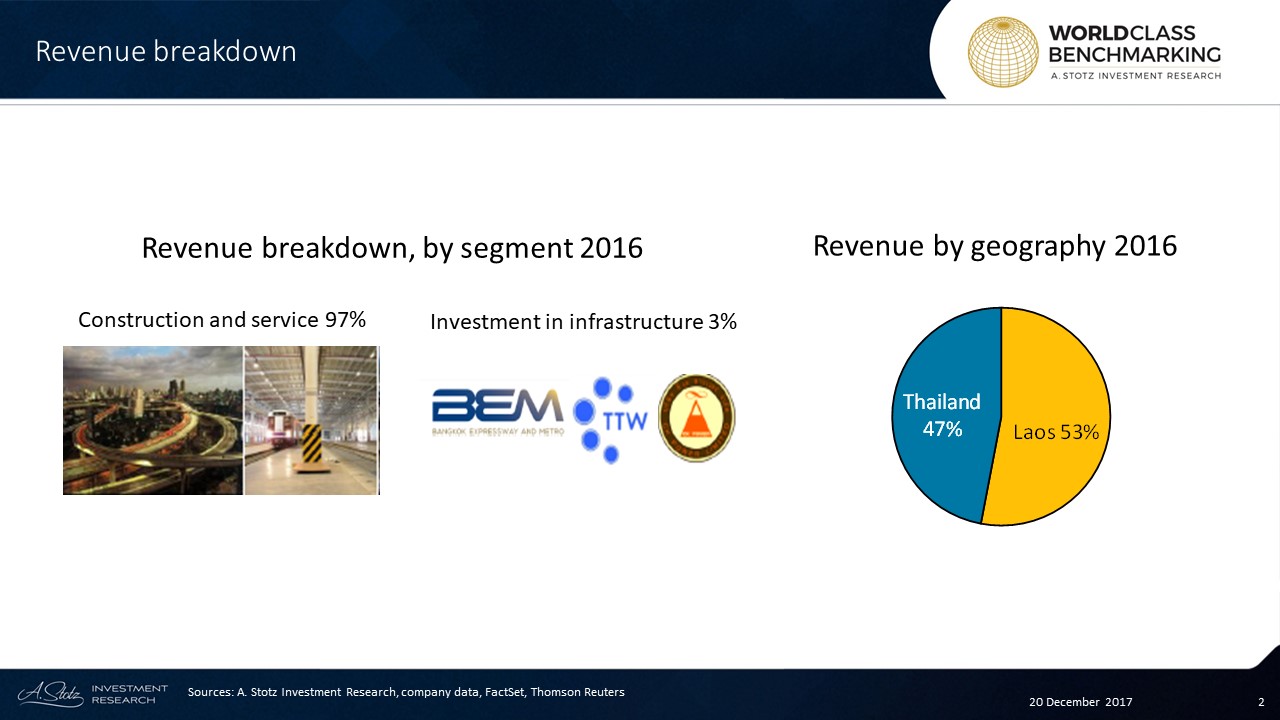 It works on such projects with its affiliates: 30%-owned Bangkok Expressway and Metro PCL (BEM TB), 19%-owned TTW PCL (TTW TB), and 29%-owned CK Power PCL (CKP TB).
Its projects include the Sri Rat expressway, the underground mass transit (MRT) Chaloem Ratchamongkhon line (Blue Line), potable water for communities within Nakhon Pathom and Samut Sakhon provinces in Thailand, and the design, construction and operation of a hydroelectric power plant in Laos. CK plans to expand its portfolio in Laos and bid for other projects in future years.
Leadership
Aswin Kongsiri has been an independent chairman of CK since 1994. He also holds chairmanship in multiple other large organizations and has served as the President of the Industrial Finance Corporation of Thailand in the past. Mr. Kongsiri holds a Bachelor's degree in Philosophy, Politics and Economics from Oxford University, UK.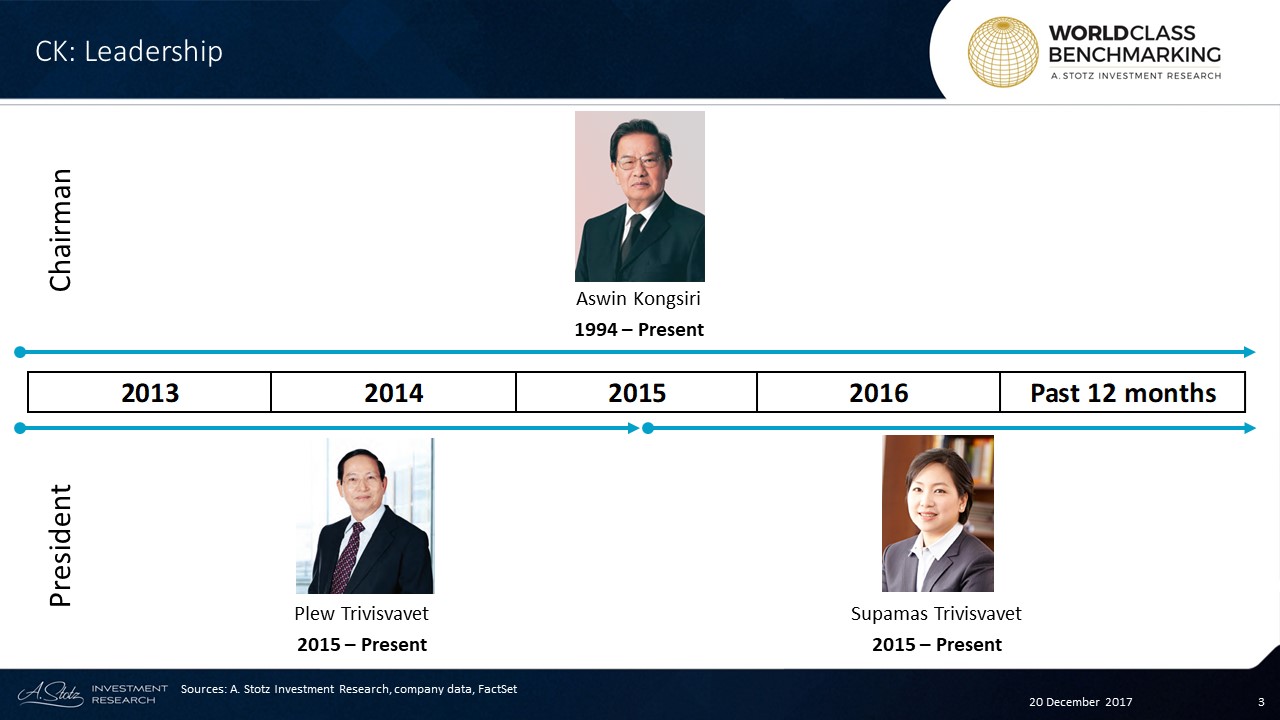 Supamas Trivisvavet took on the role of President of CK in 2015. Along with other certification programs, she has Doctor of Public Administration from University of Southern California, US and Master of Public Policy from Duke University, US. Her family is the current largest shareholder of the company at 35 percent.
World Class Benchmarking
Profitable Growth has been consistently below average after 2013. CK only ranked better than 296 out of 1,480 large Industrials globally.
Profitability and Growth have fallen since 2013, however, Growth has recovered to a#4 rank in the past 12 months.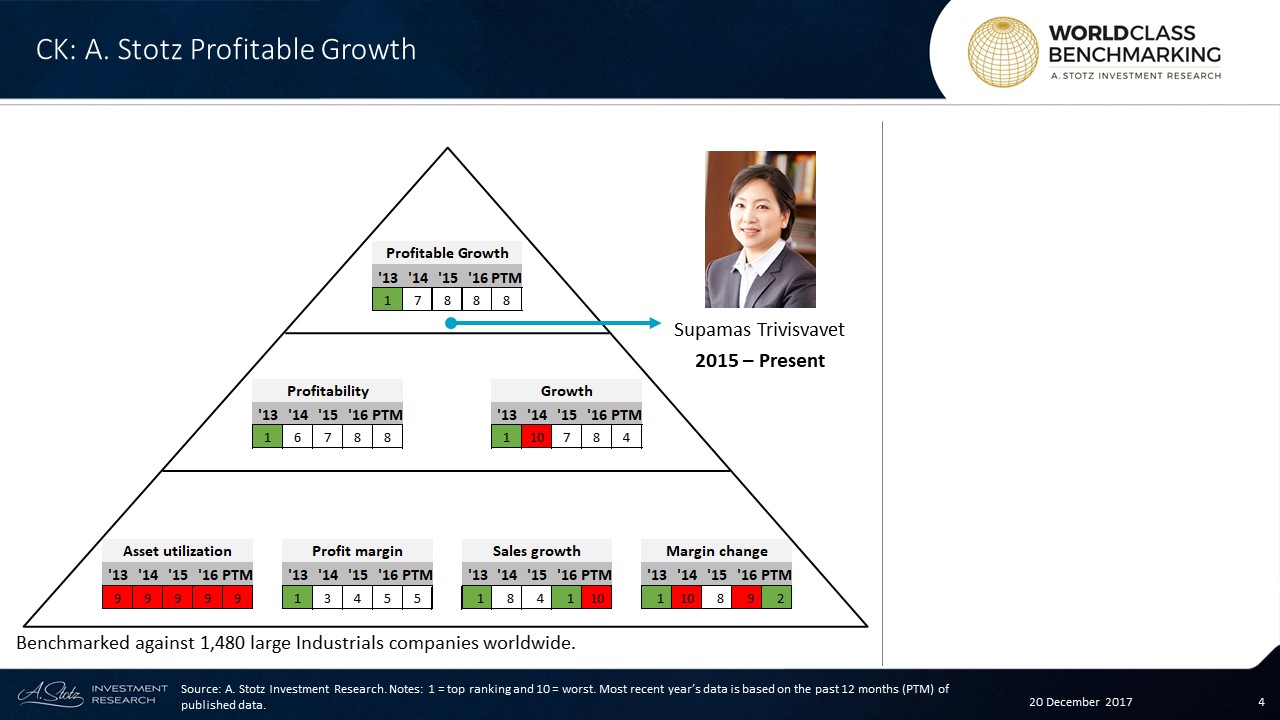 Asset utilization has always been in the red while Profit margin has stayed average since 2016.
Sales growth has fallen to the worst from the best in the past 12 months while the opposite is true for Margin change.
---
What're your thoughts on CK?
If you like our research, share it with your friends.
---
DISCLAIMER: This content is for information purposes only. It is not intended to be investment advice. Readers should not consider statements made by the author(s) as formal recommendations and should consult their financial advisor before making any investment decisions. While the information provided is believed to be accurate, it may include errors or inaccuracies. The author(s) cannot be held liable for any actions taken as a result of reading this article.