Chinese Tightening Supports Growth at Indah Kiat Pulp & Paper
Background
PT Indah Kiat Pulp & Paper Tbk is the largest manufacturer of paper pulp, paper and other paper-related products by sales in Indonesia and one of the largest in the world.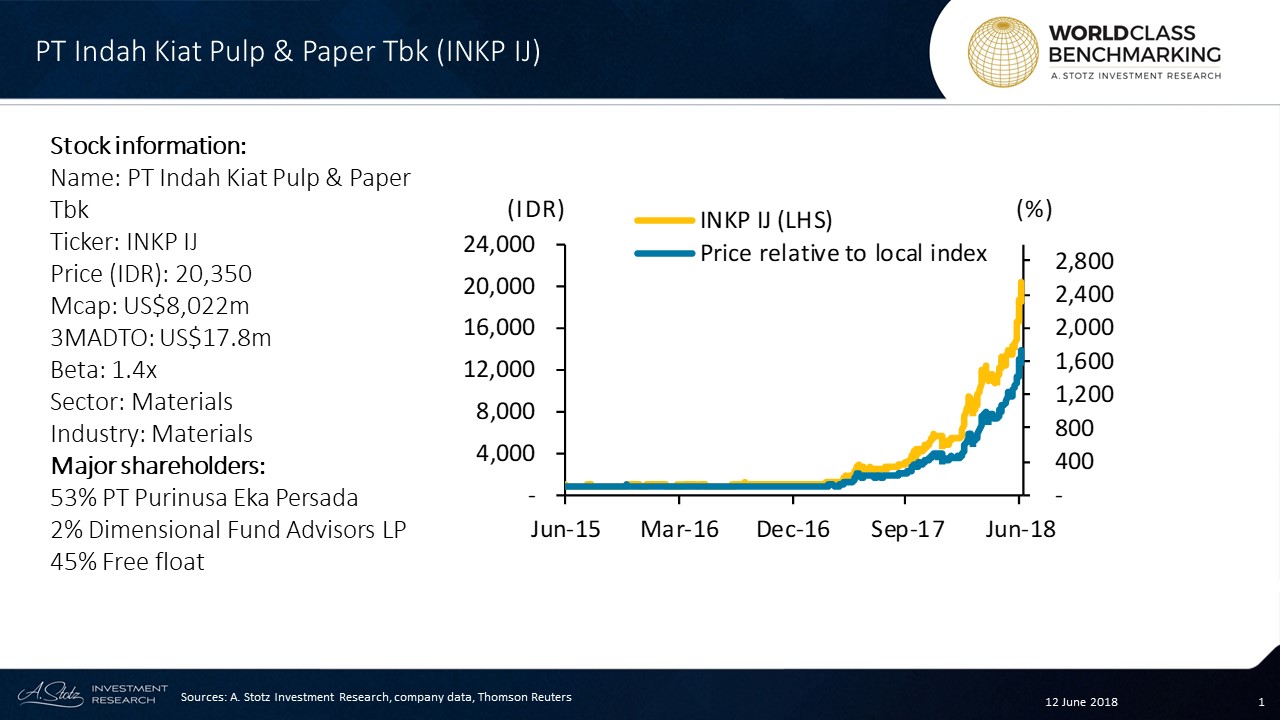 It also produces industrial paper products, such as packaging paper and specialty paper. INKP is part of Asia Pulp & Paper, which is controlled by the Sinar Mas group.
Business Description
The company is the biggest producer of paper pulp, paper, and paper-based products in Indonesia and part of the Asia Pulp & Paper (APP) group
that has the second largest capacity in the world reaching over 19m tonnes per year. INKP accounts for over one-third of APP's capacity.
INKP's largest segment is pulp and paper, accounting for 65% of sales, followed by paper packaging, which generates 35% of revenue.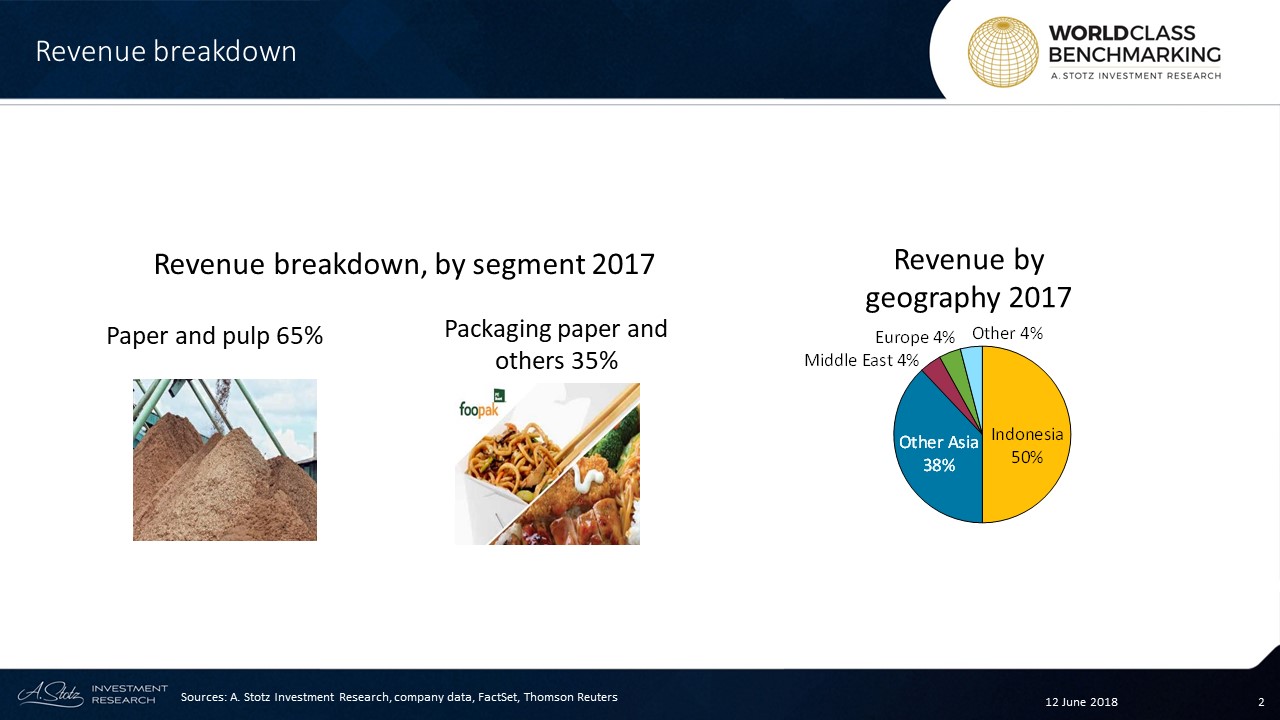 Paper packaging or industrial paper products include linerboards, which are the basic material for making cardboard paper boxes, corrugated mediums (also used in cardboard boxes and packaging), corrugated shipping containers, boxboards and specialty colored paper. Boxboard is the cardboard used in food cartons and shoe boxes.
China is a key player in global paper demand and production. Hence their recent domestic capacity restraint has helped to tighten supply which should support stable or higher prices. Besides recent capacity additions by APP subsidiary PT Pabrik Kertas Tjiwi Kimia Tbk (TKIM IJ) and Fibria (FIBR3 BZ), the earliest announced capacity expansions by leading global paper players are in 2020.
Leadership
Saleh Husin, a former minister in the Indonesian government, is the current President Commissioner of Indah Kiat Pulp & Paper. He has been in the position since 2017. Mr. Husin is also the President Commissioner of PT Pabrik Kertas Tjiwi Kimia Tbk (TKIM IJ), a subsidiary of INKP's mother company.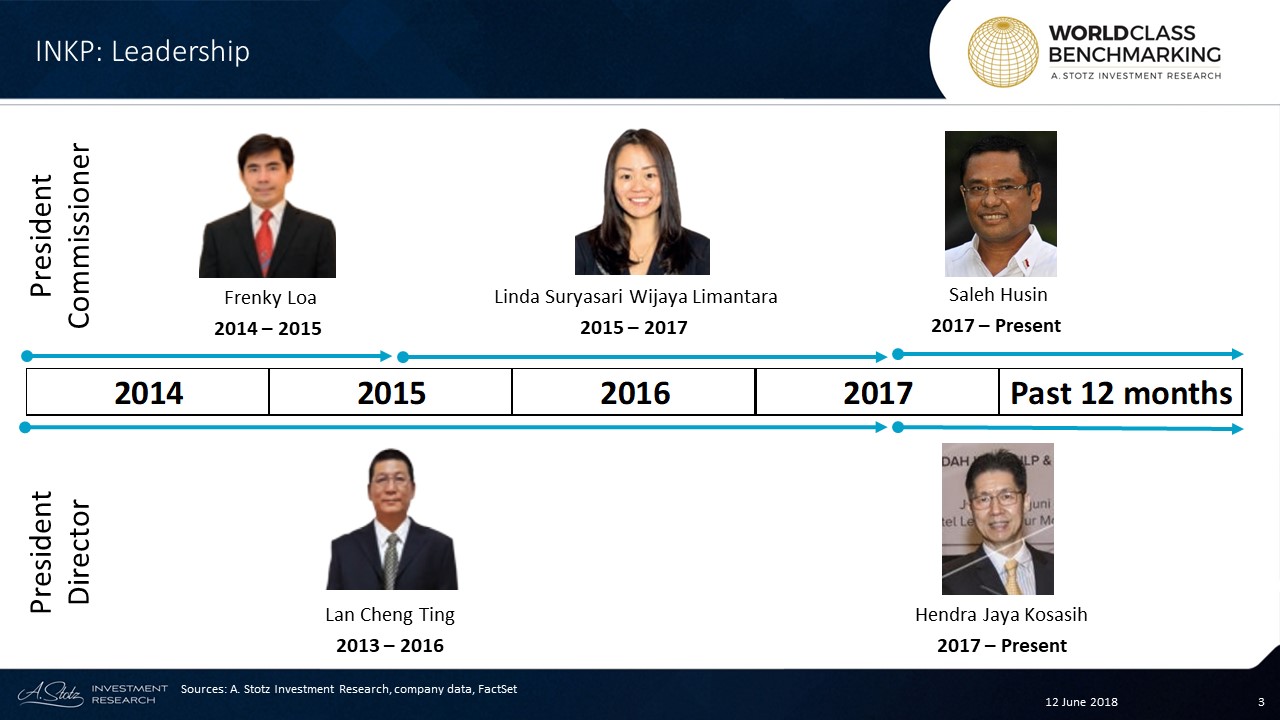 Hendra Jaya Kosasih has been the President Director of INKP since 2017. He holds a Bachelor's degree in Economics from Trisakti University, Indonesia.
Find an updated World Class Benchmarking scorecard of PT Indah Kiat Pulp & Paper Tbk here.
World Class Benchmarking
Profitable Growth has shown a good trend at PT Indah Kiat Pulp & Paper Tbk since 2014. In the past 12 months, Profitable Growth ranked at #4 which is in the top 332 out of 830 large Material companies worldwide.
Similar to Profitable Growth, Profitability has improved over the years and ranked at #4 in the most recent period. Growth dropped to #7 in 2016 recovered to #3 in 2017.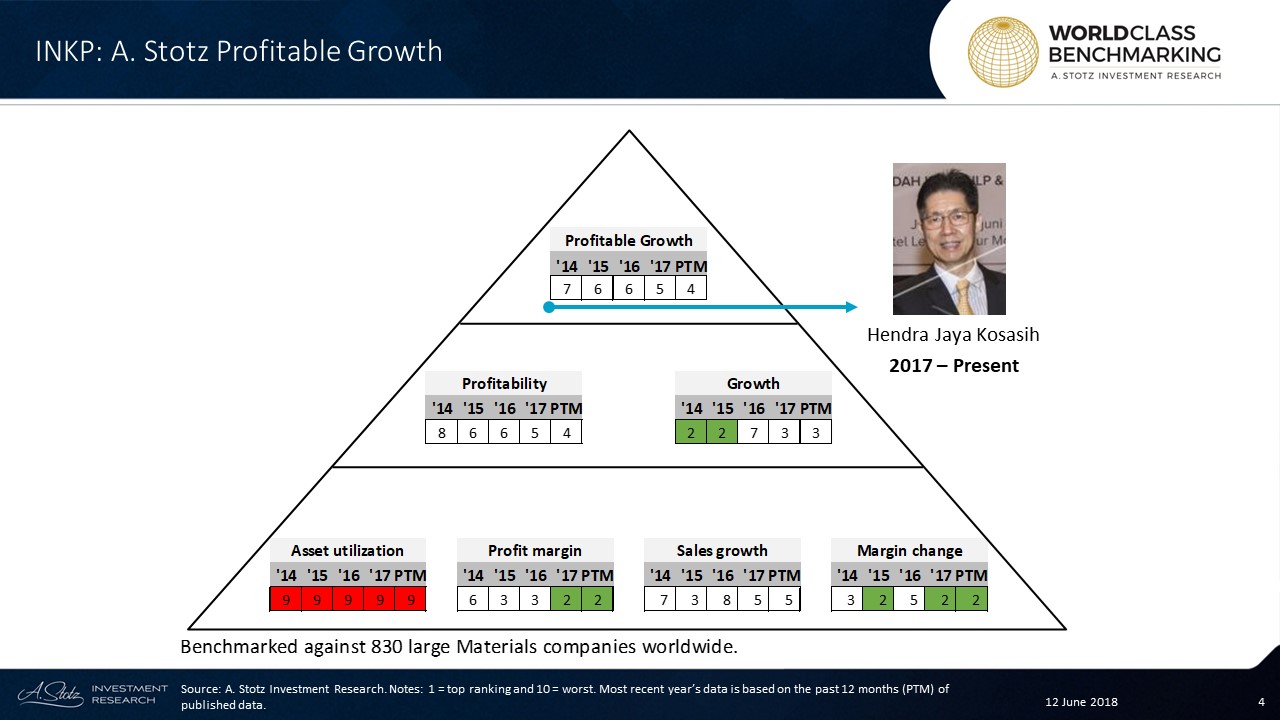 Asset utilization has consistently ranked at #9 while Profit margin has improved over the years and ranked at #2 since 2017.
Sales growth has ranked average since 2017 and Margin change has ranked at #2 since 2017.
---
What're your thoughts on INKP?
If you like our research, share it with your friends.
---
DISCLAIMER: This content is for information purposes only. It is not intended to be investment advice. Readers should not consider statements made by the author(s) as formal recommendations and should consult their financial advisor before making any investment decisions. While the information provided is believed to be accurate, it may include errors or inaccuracies. The author(s) cannot be held liable for any actions taken as a result of reading this article.