Realizing Synergies from Big C Acquisition
Background
Berli Jucker Public Company Limited, founded in 1882 is a manufacturing, trading and retailing conglomerate.
It acquired Thailand's third biggest supermarket chain Big C in May 2016. BJC is also engaged in packaging manufacturing including glass and plastic solutions.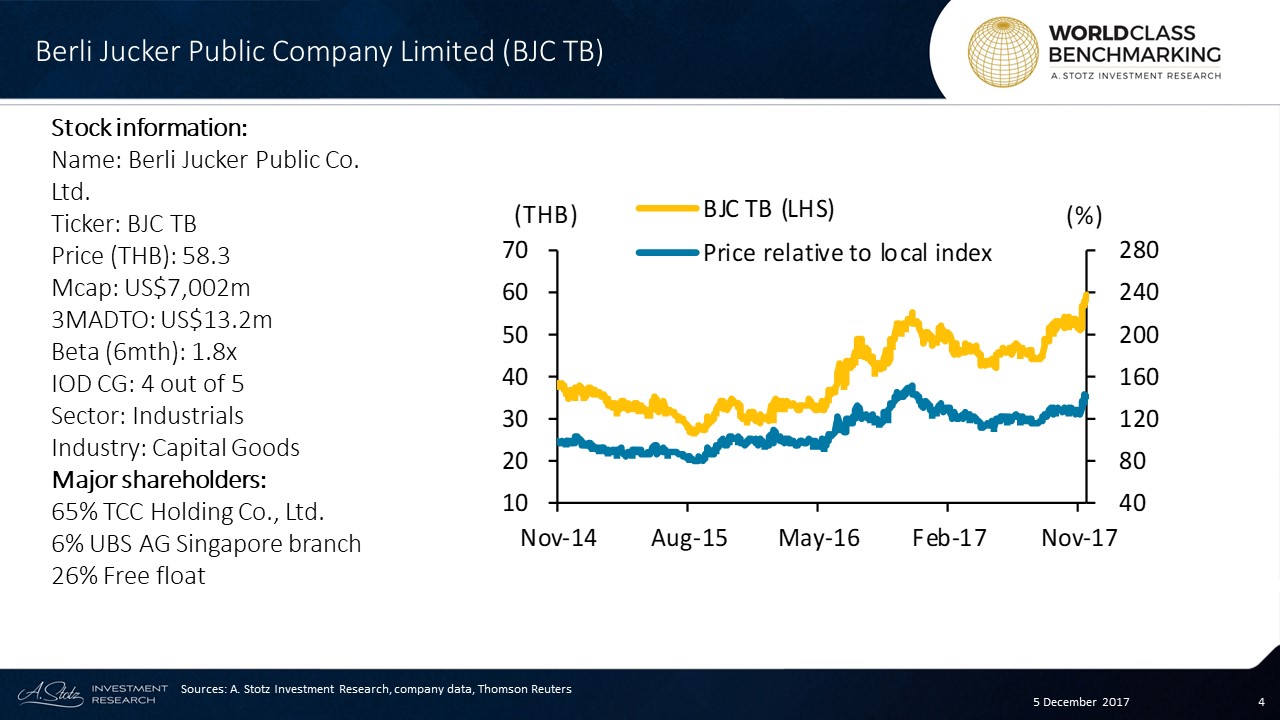 Its consumer and healthcare units produce snacks, beverages and stationery items.
Business Description
Retail business conducted through the Big C retail chain is the biggest revenue contributor and the newest business in the portfolio acquired in May 2016. Big C was later delisted on 28 September 2017.
The rationale behind the deal was to achieve significant synergies through full value chain comprising sourcing, manufacturing and now also the end customer. BJC is also able to leverage on its property assets.
At the end of 3Q17 the Big C chain comprised of 135 Hypermarkets, 60 Big C Market, 574 Mini Big C stores and 135 Pure drugstores.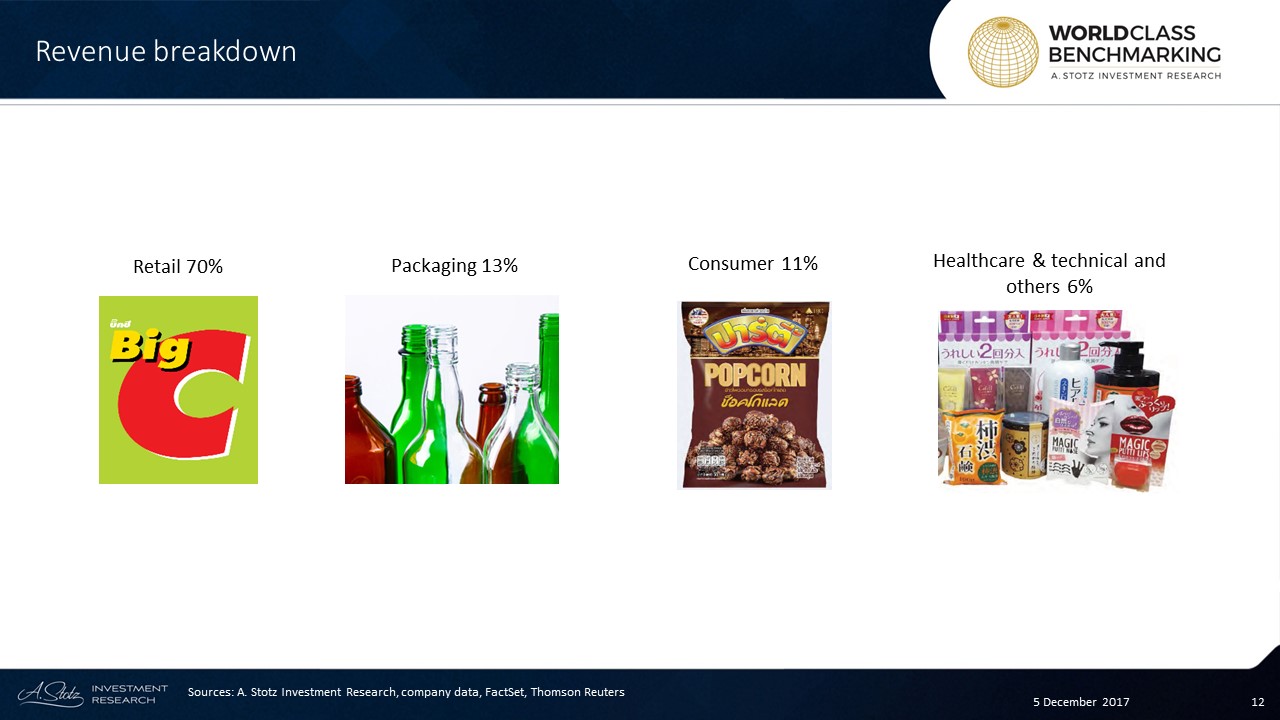 Packaging supply chain business comprises of glass packaging including alcoholic and non-alcoholic beverages and aluminum cans. BJC's biggest bottling customer is Thai Beverage PCL (THBEV SP), Thailand's largest beverage company, owned by Sirivadhanabhakdi family who is also the owner of TCC Holding Co., Ltd, BJC's majority shareholder.
Consumer supply chain unit comprised of foods group, non-foods group and international trading unit distributing several items in Vietnam. Healthcare and tech produce pharmaceutical and medical equipment.
Leadership
Mr. Charoen Sirivadhanabhakdi is the current chairman of BJC. He has held this position since 2001 and is also the chairman of multiple other large companies. Mr. Sirivadhanabhakdi was listed by Forbes as the 2nd richest person in Thailand and 62nd in the world in 2017.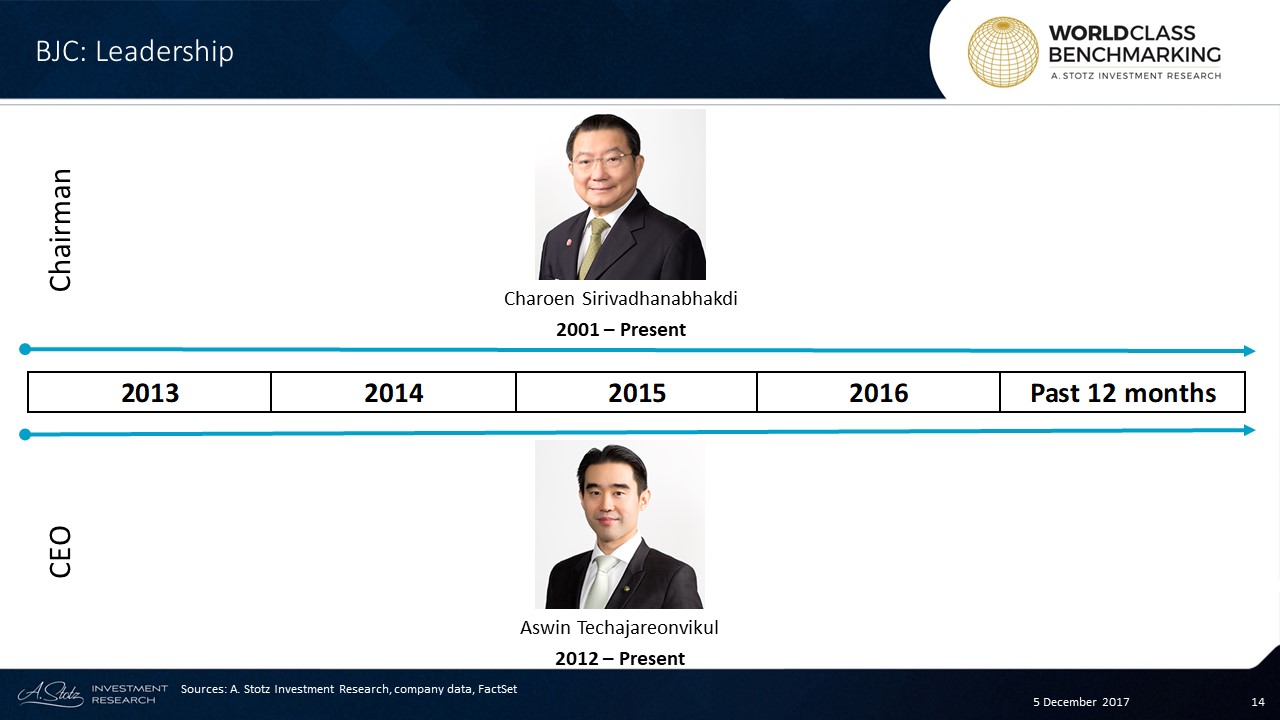 Aswin Techajareonvikul has served the role of CEO at BJC since 2012. He has a strong educational background in world-class institutions such as Harvard University and Massachusetts Institute of Technology (MIT). Along with his position as CEO of BJC, he also the CEO and President of TCC logistics along with other roles.
World Class Benchmarking
Profitable Growth dropped in 2016 following the consolidation of Big C but has since returned to the top three.
BJC ranked among the top 444 of 1,480 large Industrials companies globally.
Profitability dropped further in the past 12 months, while Growth was back in the green.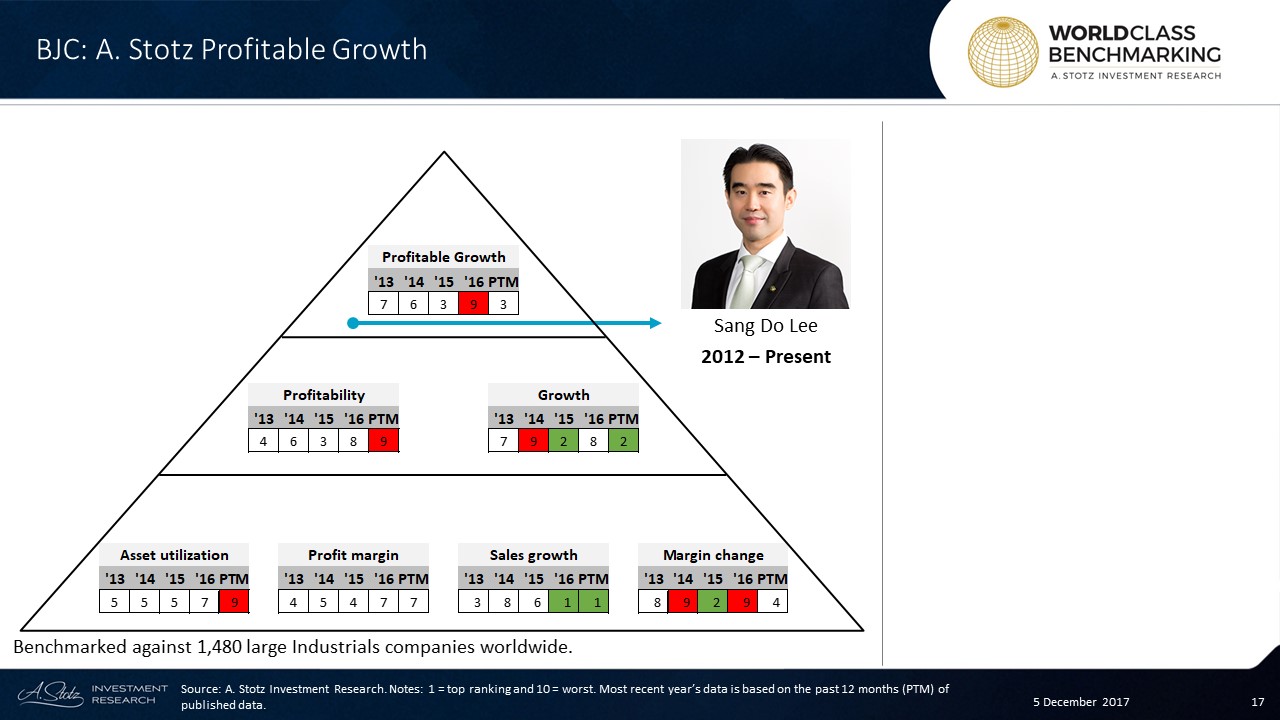 Unimpressive Asset utilization and Profit margin caused the profitability to suffer.
Excellent Sales growth and above average Margin change allowed for a great Growth in the past 12 months.
---
What're your thoughts of BJC?
If you like our research, share it with your friends.
---
DISCLAIMER: This content is for information purposes only. It is not intended to be investment advice. Readers should not consider statements made by the author(s) as formal recommendations and should consult their financial advisor before making any investment decisions. While the information provided is believed to be accurate, it may include errors or inaccuracies. The author(s) cannot be held liable for any actions taken as a result of reading this article.