Persistently Great Profitable Growth at the President of 7-Eleven in Taiwan
Background
President Chain Store Corporation (PCSC) is part of Uni-President Group (1216 TT) and operates 7-Eleven in Taiwan, China, and the Philippines.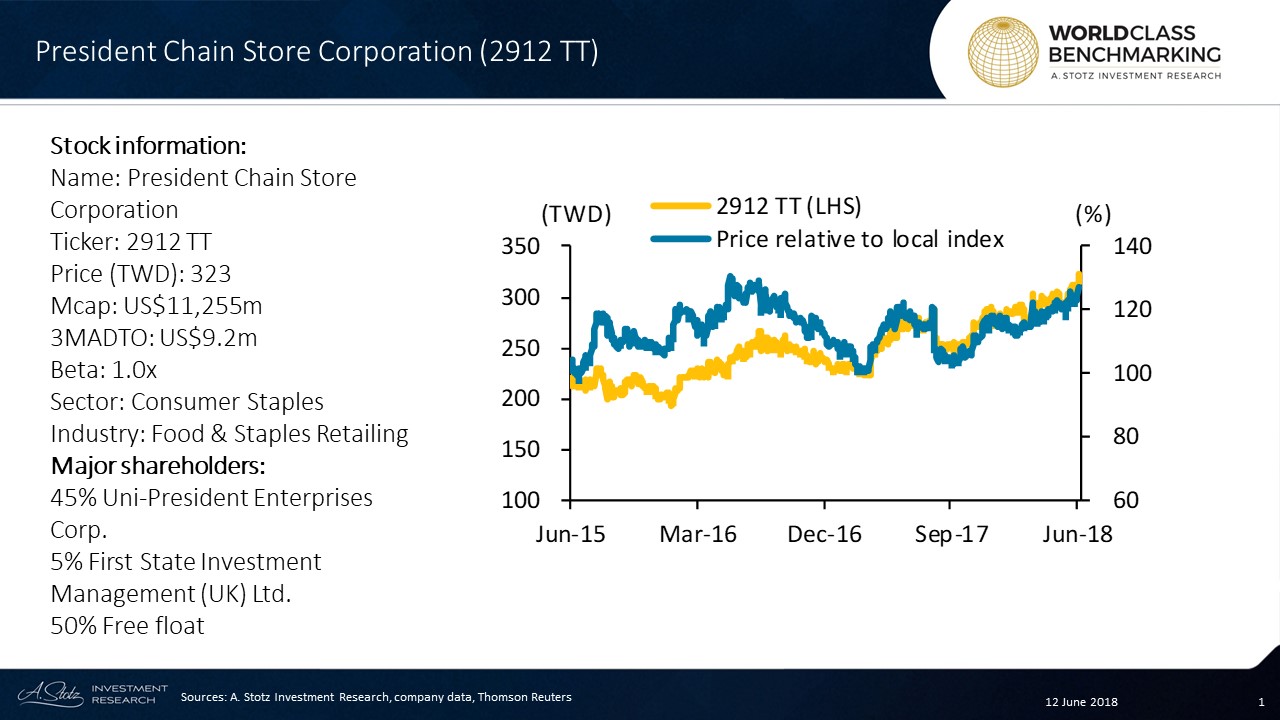 They also invest in retail formats, restaurants such as Starbucks and Coldstone, drugstores, supermarkets etc. PCSC with 50% revenue market share is the largest convenience store player in Taiwan.
Business Description
PCSC's major revenue of 65% comes from its convenience store business which mainly includes an operation of 7-Eleven stores. As of 1Q18, PCSC had a total of 7,697 7-Eleven stores; 5,245 in Taiwan, 2,329 in the Philippines, and 123 in Shanghai, China.
Retail business makes up 30% of the total revenue for PCSC and includes restaurants, cosmetics/drugstores, departmental stores, and supermarkets. PCSC has just under 9,700 stores overall as of June 2018, they have their own stores and operate stores of many well-known international brands including, President Transnet, President Pharmaceuticals, Starbucks, Cosmed, Coldstone, and Mister Donut.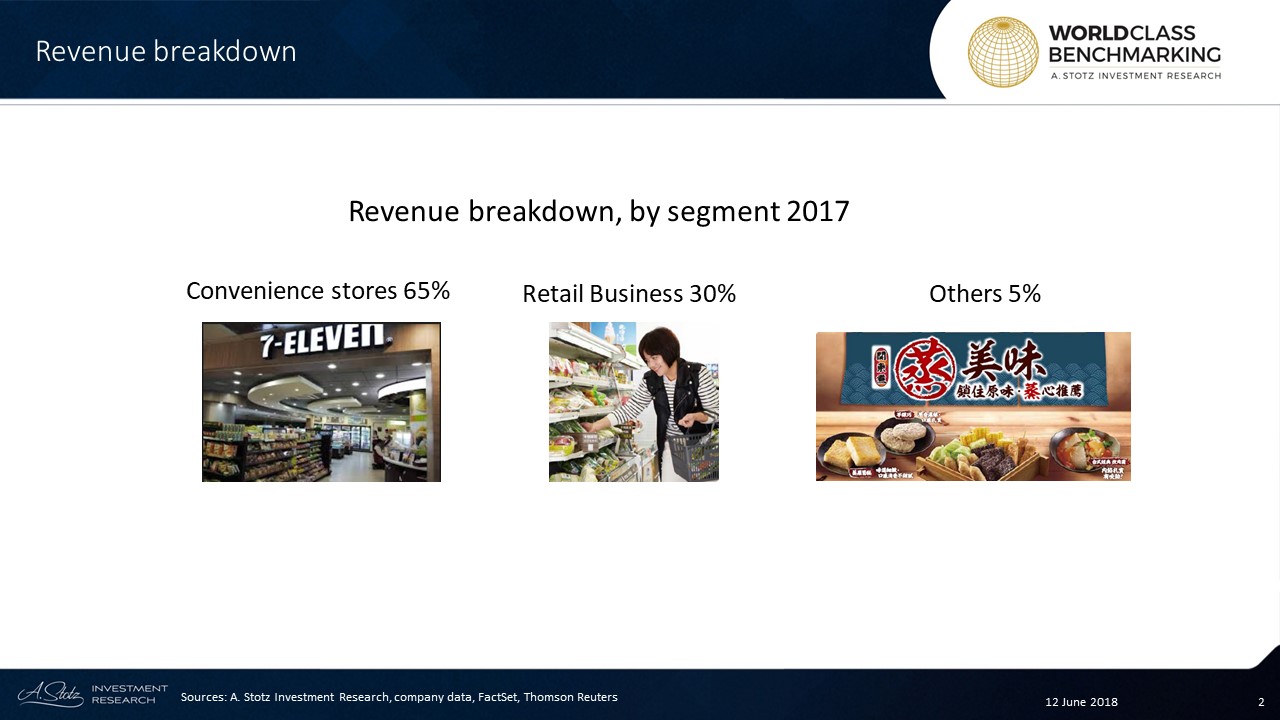 The remaining 5% of revenue comes from logistics services, bill collection services, all-in-one printing, and electronic purse card systems.
In January 2018, 7-Eleven Taiwan announced to launch Taiwan's first tech concept store which it currently calls "X-store." It is aimed to be a self-operating store with robot greeters and sweepers and face pay technology among other things and is currently in its testing phase.
Leadership
Chih-Hsien Lo has been the Chairman of President Chain Store Corporation since 2015. He also serves as chairman at other firms, namely ScinoPharm Taiwan (1789 TT), Uni-President Enterprises Corps. (1216 TT), and Uni-President China Holding (220 HK). Chih-Hsien Lo graduated from National Cheng Kung University, Taiwan and later received an MBA from University of California, Los Angeles, US.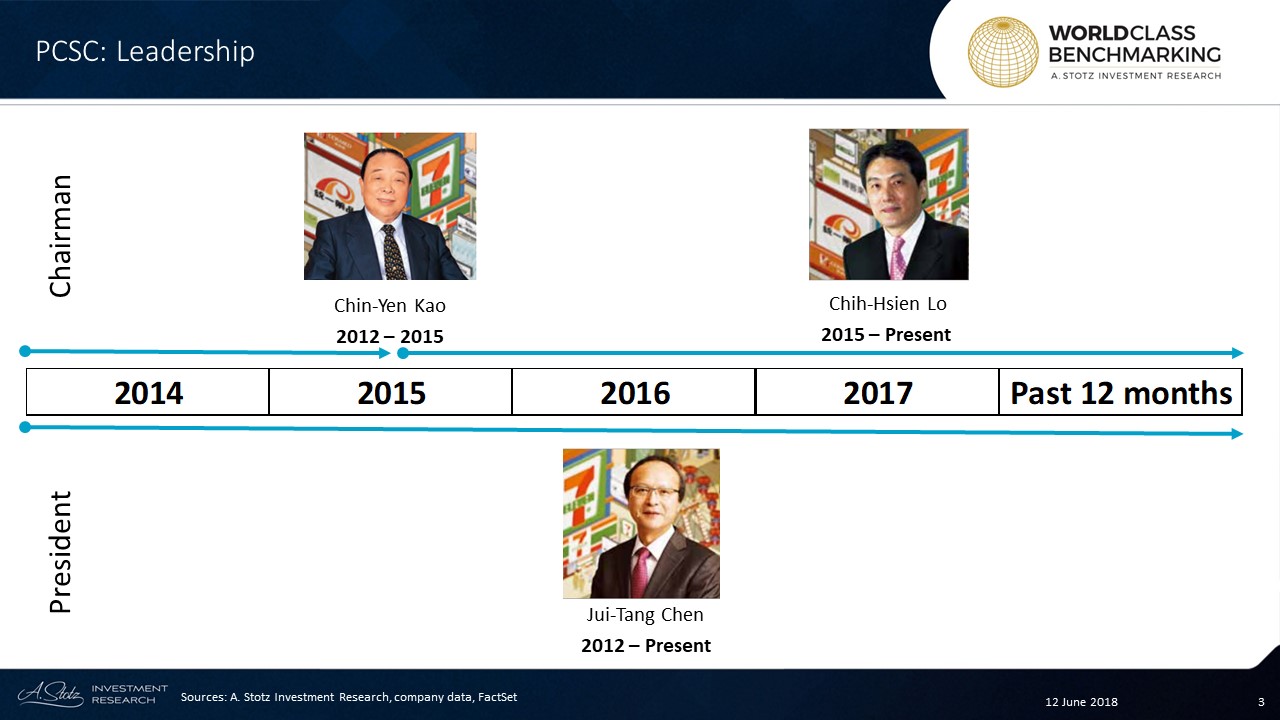 Jui-Tang Chen has served as the President of PCSC since 2012. He is also on the board of directors of Philippine Seven Corp. (SEVN PM) and Uni-President Enterprises Corp. (1216 TT).
World Class Benchmarking
PCSC has persistently shown a great Profitable Growth rank and since 2017 the company has ranked in the top 61 out of 610 large Consumer Staples companies worldwide.
Profitability has shared the same ranks as Profitable Growth. Growth ranked lower in 2014-2016 but improved to #1 in 2017.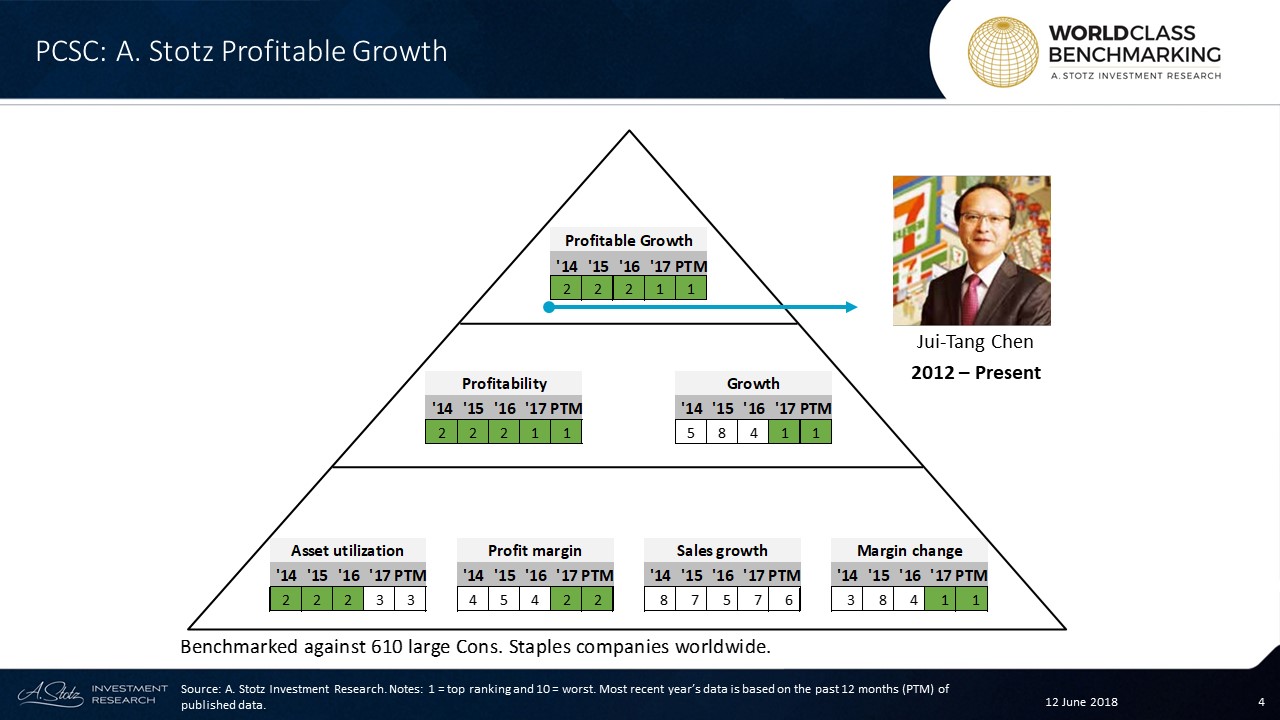 Asset utilization dropped from #2 in 2016 to #3 in 2017 and stayed there in the most recent period. Profit margin improved to #2 in 2017.
Sales growth has ranked average or below for the past five years and ranked #6 in the past 12 months. Margin change has been top-ranked since 2017.
---
What're your thoughts on PCSC?
If you like our research, share it with your friends.
---
DISCLAIMER: This content is for information purposes only. It is not intended to be investment advice. Readers should not consider statements made by the author(s) as formal recommendations and should consult their financial advisor before making any investment decisions. While the information provided is believed to be accurate, it may include errors or inaccuracies. The author(s) cannot be held liable for any actions taken as a result of reading this article.