Malaysian Construction Power House Retains Sky-high Profit Margin
Watch the video with Andrew Stotz or read a summary of the World Class Benchmarking on Gamuda Berhad.
---
---
Background
Gamuda Berhad is one of Malaysia's biggest engineering and construction companies by revenue.
GAM is involved in domestic and overseas property development, and infrastructure concession ranging from toll roads to water treatment plants.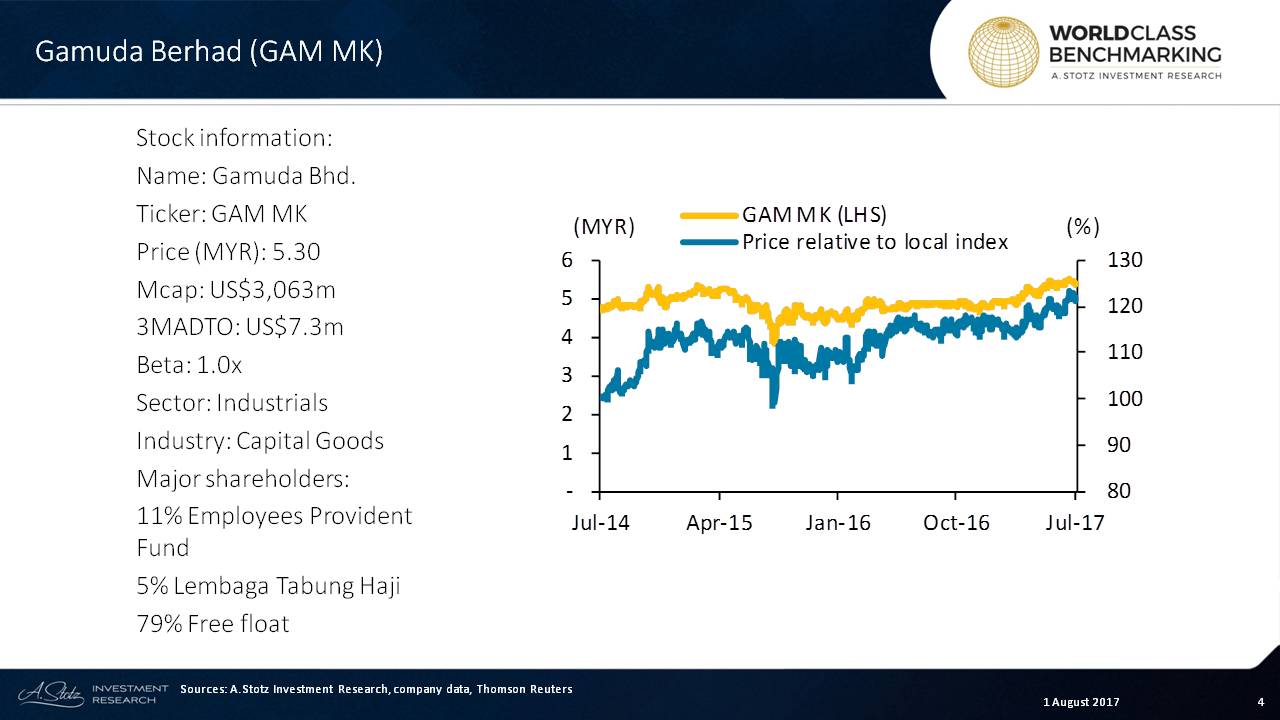 The construction and concession businesses take place mainly in the domestic market.
Business Description
The corporation's businesses can be classified into three main groups.
Construction: GAM  has been heavily involved in tunneling, building viaducts, stations, park and ride infrastructure and other works related to the Singapore government's roll out of the MRT subway system, as well as other rail projects.
The company's order book is currently at a record high, though it plans to continue to bid for continuing rail and major infrastructure projects. The division accounts for nearly one-third of pretax profit.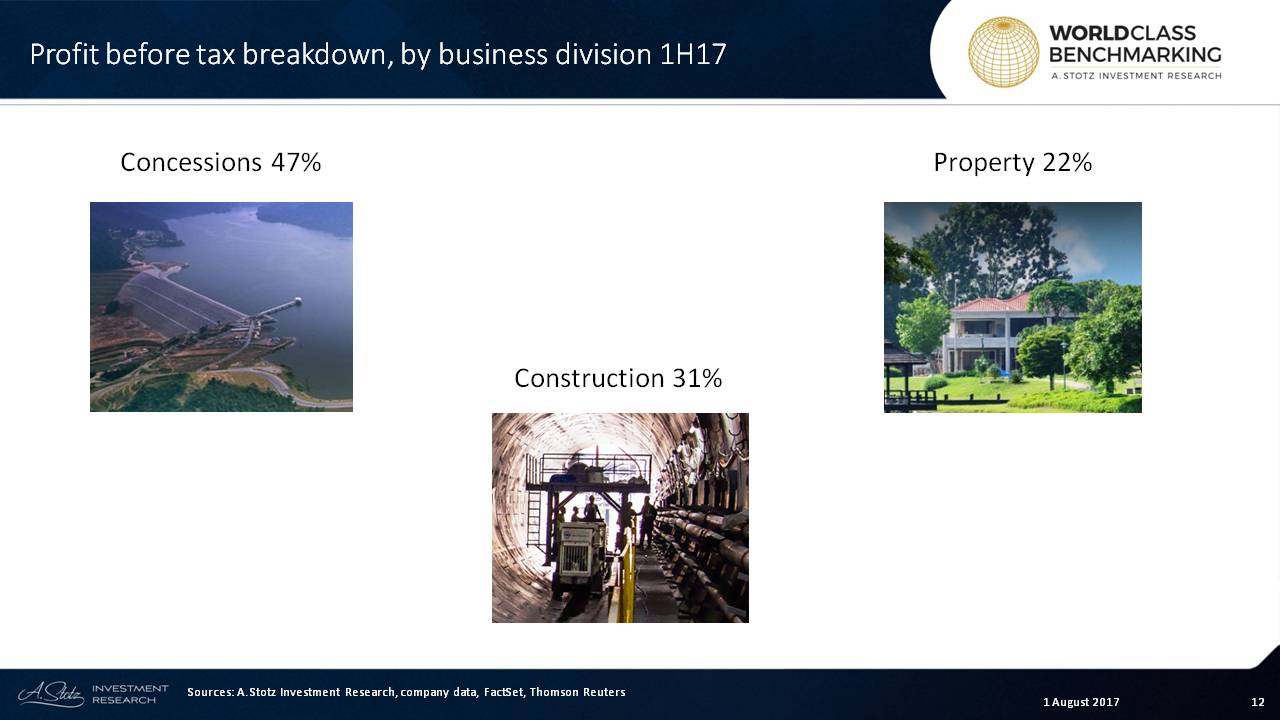 Property: This division is mainly focused on overseas residential projects around Asia and the Middle East, with three major inaugurations in Singapore, Melbourne and Ho Chi Minh City confirmed for 2017. Profits account for just under 20% of the total.
Concessions: The company owns and operates a number of toll-road concessions and is in the process of attempting to sell a water concession with three water treatment plants.
Leadership
Chairman Mohammed Hussein has been in place since December 2013. Previously, he was with the Malayan Banking Berhad ("Maybank") Group for 31 years, during which time he held various senior management positions.
Hussein graduated with a degree in Bachelor of Commerce (Accounting) from the University of Newcastle, Australia in 1971 and completed the Harvard Business School Advanced Management Program in 2003.
He has additionally held or currently holds directorships at Bank of America Malaysia Berhad, Hap Seng Consolidated Berhad, Danajamin Nasional Berhad and CapitaCommercial Trust Management Limited.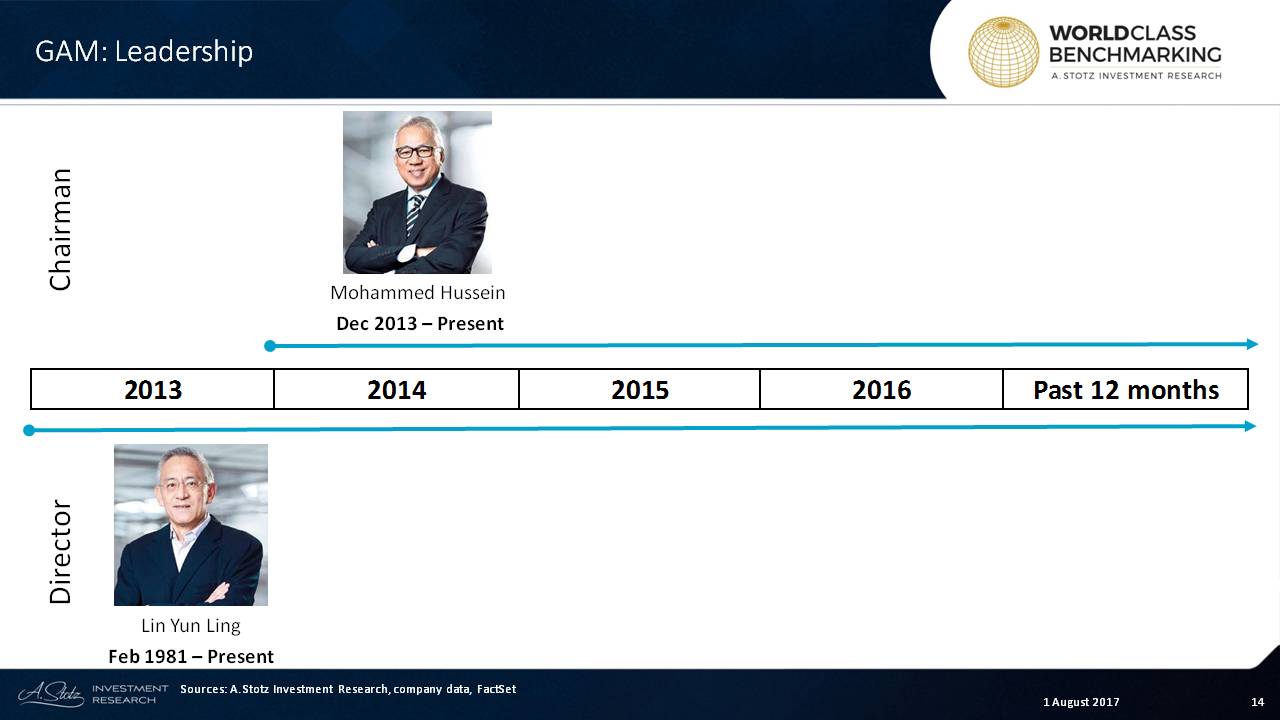 Group Managing Director Lin Yun Ling has been on the board since February 1981.
A civil engineer, Lin joined Gamuda in 1978 as a senior project manager. He brings to the Group more than 38 years of experience in civil engineering and construction.
Lin holds a Bachelor of Science (Honours) degree in Civil Engineering from King's College London, University of London, UK.
World Class Benchmarking
Profitable Growth has been about average over the last five years, except for 2014 when it ranked #2.
Profitability has dropped to #5 from #2 in 2014, while Growth falls below average at #7.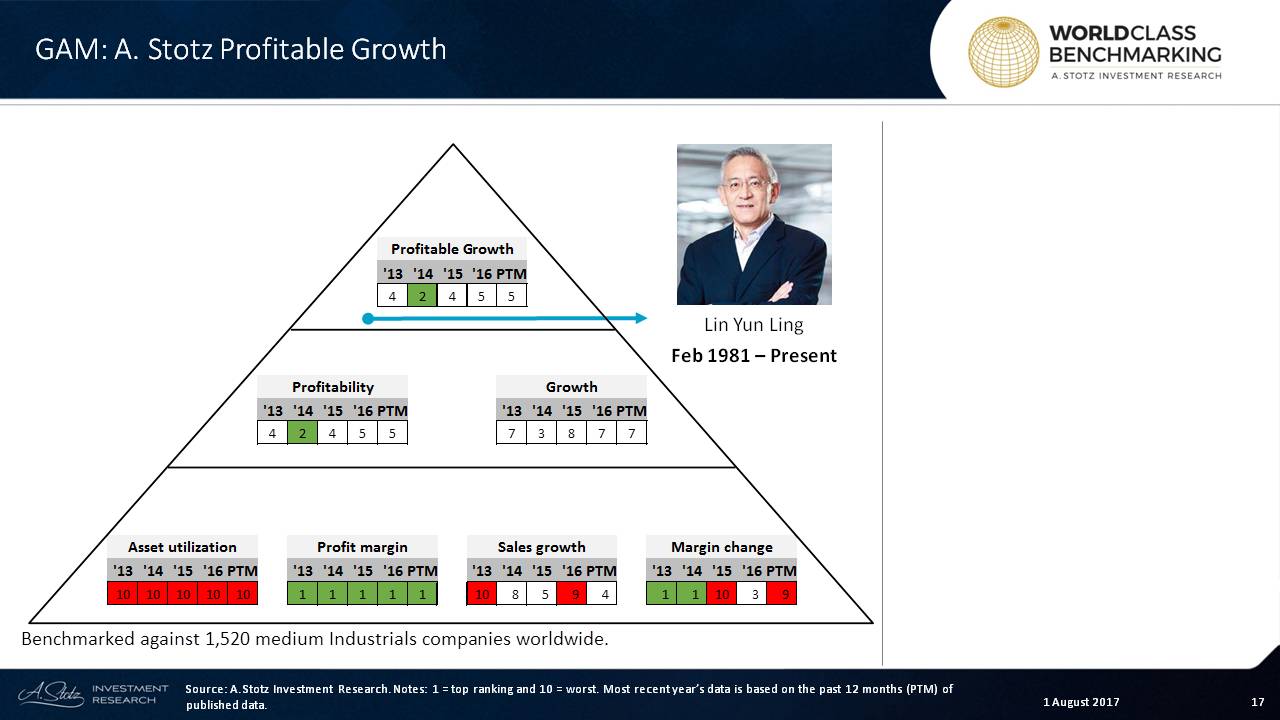 Asset utilization is ranked worst, while Profit margin has been World Class for the entire time period.
Sales growth rebounded to #3 from #9 in 2016. Margin change, on the other hand, has fallen back into the red over the last 12 months.
---
What's your thoughts of Gamuda Berhad?
If you like our research, share it with your friends.
---
DISCLAIMER: This content is for information purposes only. It is not intended to be investment advice. Readers should not consider statements made by the author(s) as formal recommendations and should consult their financial advisor before making any investment decisions. While the information provided is believed to be accurate, it may include errors or inaccuracies. The author(s) cannot be held liable for any actions taken as a result of reading this article.