Malaysian Aluminum Smelter Ranks in Top 3 Globally
Watch the video with Andrew Stotz or read a summary of the World Class Benchmarking on Press Metal Berhad.
---
---
Background
Press Metal Berhad is a Malaysian aluminum company and the largest such producer in Southeast Asia.
It is the leading aluminum extruder and smelter with a 160,000-tonne extrusion capacity and a 760,000-tonne smelting capacity per annum.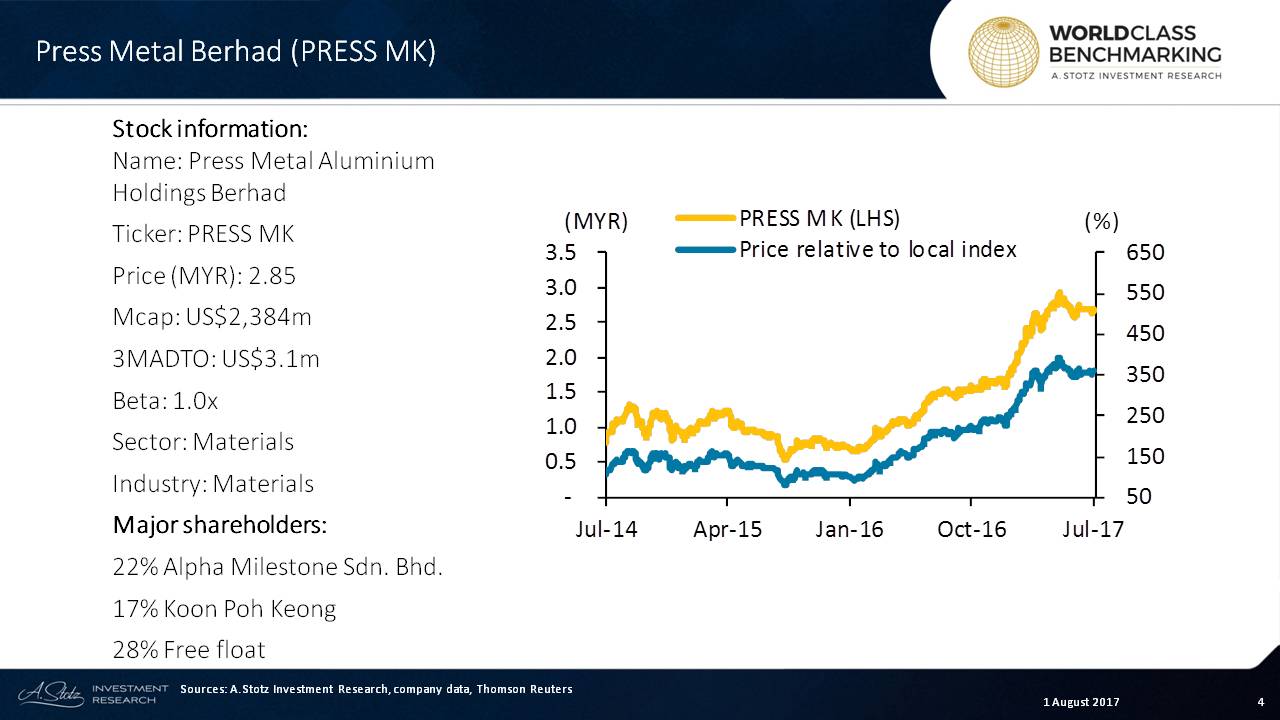 It has operations and distribution centers in China, UK, Australia, North America and the Middle East.
Business Description
PRESS operates via two business segments, but virtually all revenue comes from its smelting and extrusion of aluminum products
The company has smelting plants in Mukah and Samalaju in Sarawak state (Borneo) with a combined smelting capacity of 760,000 tonnes per annum (tpa), and extrusion plants in Malaysia itself and in Hubei, China with combined capacity of 160,000tpa. Its subsidiary in Foshan, China is one of the largest exporters of aluminum products in China with production capacity at 120,000 tpa.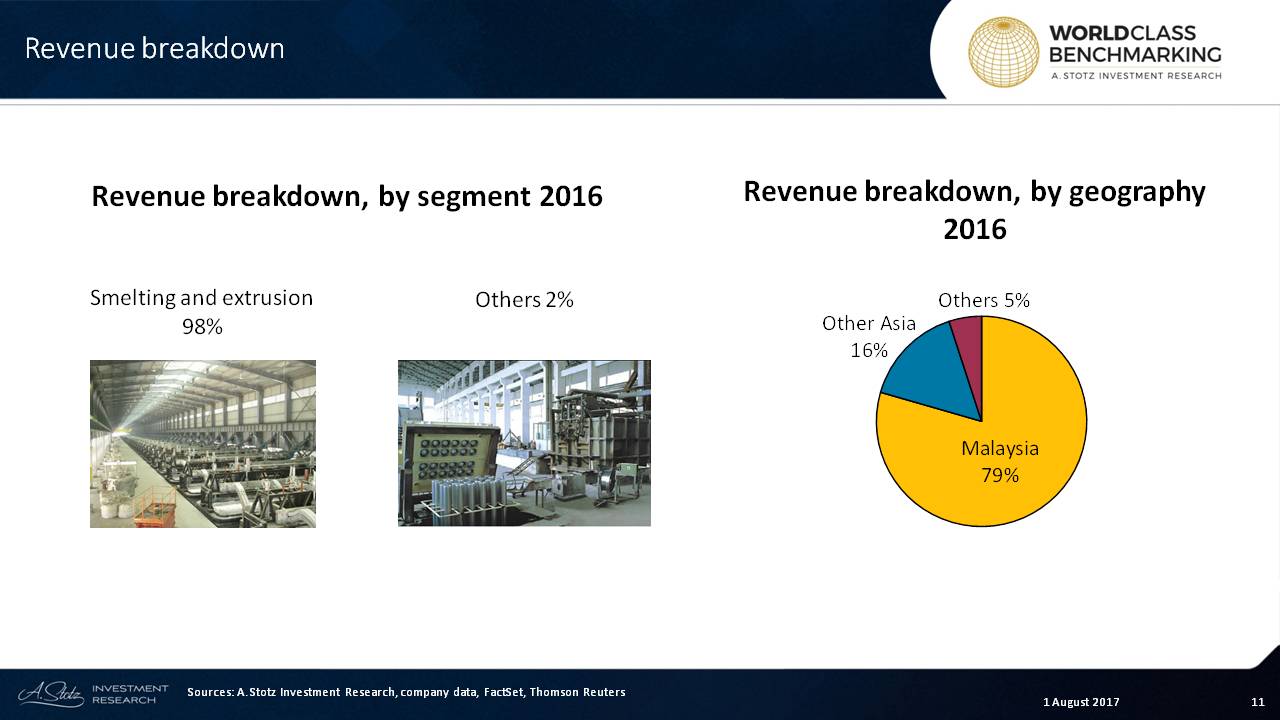 Extruded aluminum is widely used in fabricated products such as windows, doors, louvers and ladders.
PRESS has operations and distribution centers in the UK, Australia, North America and Middle East. Geographically, 95% of the company's revenue is derived from Asia, and almost 80% is sourced from the domestic market. Meanwhile, its contracting business contributes 2% of revenue.
Leadership
Abdul Rahman bin Ahmad has been an independent Chairman since 1995.
He graduated with a Bachelor of Commerce Degree from The University of Melbourne, Australia. He is a fellow of the Institute of Chartered Accountants in Australia, a life member and past president of the Malaysian Institute of Certified Public Accountants, as well as a member of the Malaysian Institute of Accountants.
He served as Executive Director in Kumpulan Guthrie Berhad from 1983 to 1994 and was a partner and managing partner of KPMG Desa Megat & Co. from 1973 to 1983. He served as a Director of Lembaga Letrik Negara/Tenaga Nasional Berhad from 1977 to 2000 and sat on the Board of Universiti Kebangsaan Malaysia from 1985 to 2014. Currently, he sits on the Board of Boustead Holdings Berhad and Yayasan Tenaga Nasional.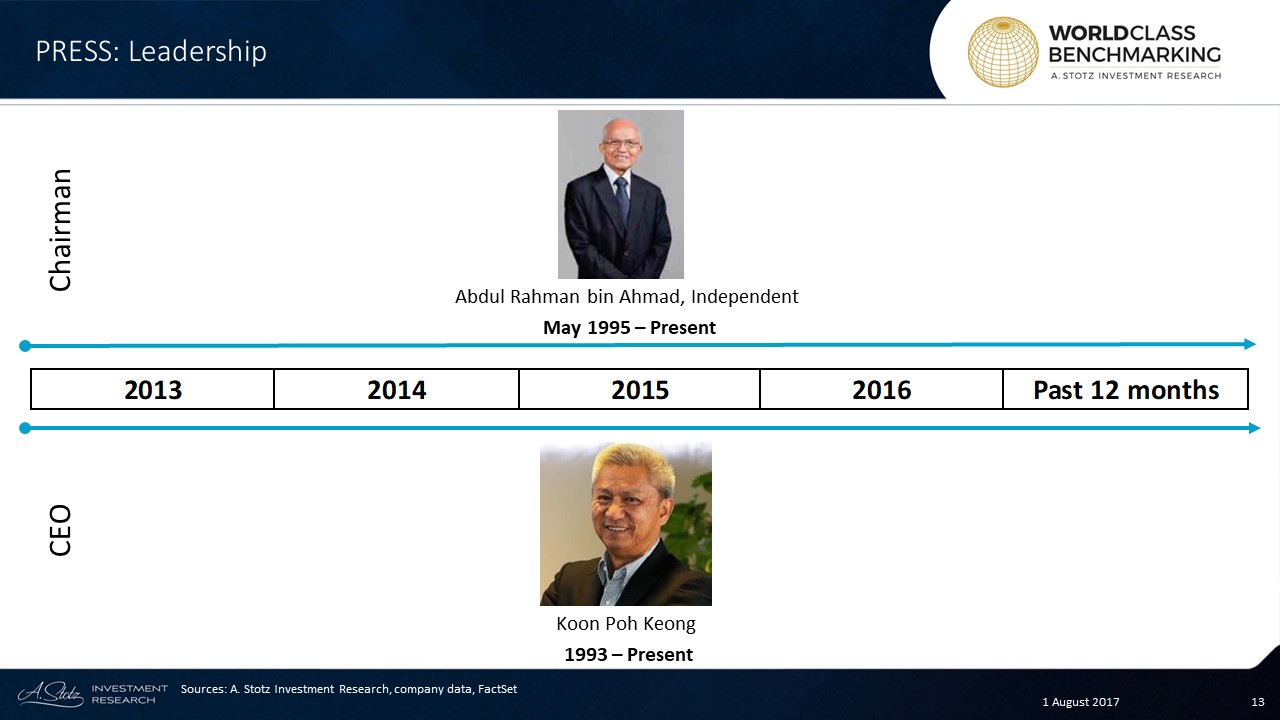 Koon Poh Keong is one of the founding members of the company and has been the Group Chief Executive Officer since Press Metal's listing on Bursa Malaysia in 1993.
Koon Poh Keong graduated with a Bachelor of Science Degree in Electrical Engineering from The University of Oklahoma, US, in 1986. He has more than 30 years of experience in the aluminum industry.
Currently, he also acts as the Executive Chairman of PMB Technology Berhad.
World Class Benchmarking
Press Metal's Profitable Growth ranking improved to #3 in 2016.
It ranked among the top 225 of 750 large materials companies globally this year.
Profitability has improved to #3 from #9 in 2013, while Growth has returned back to the green after a dip in 2015.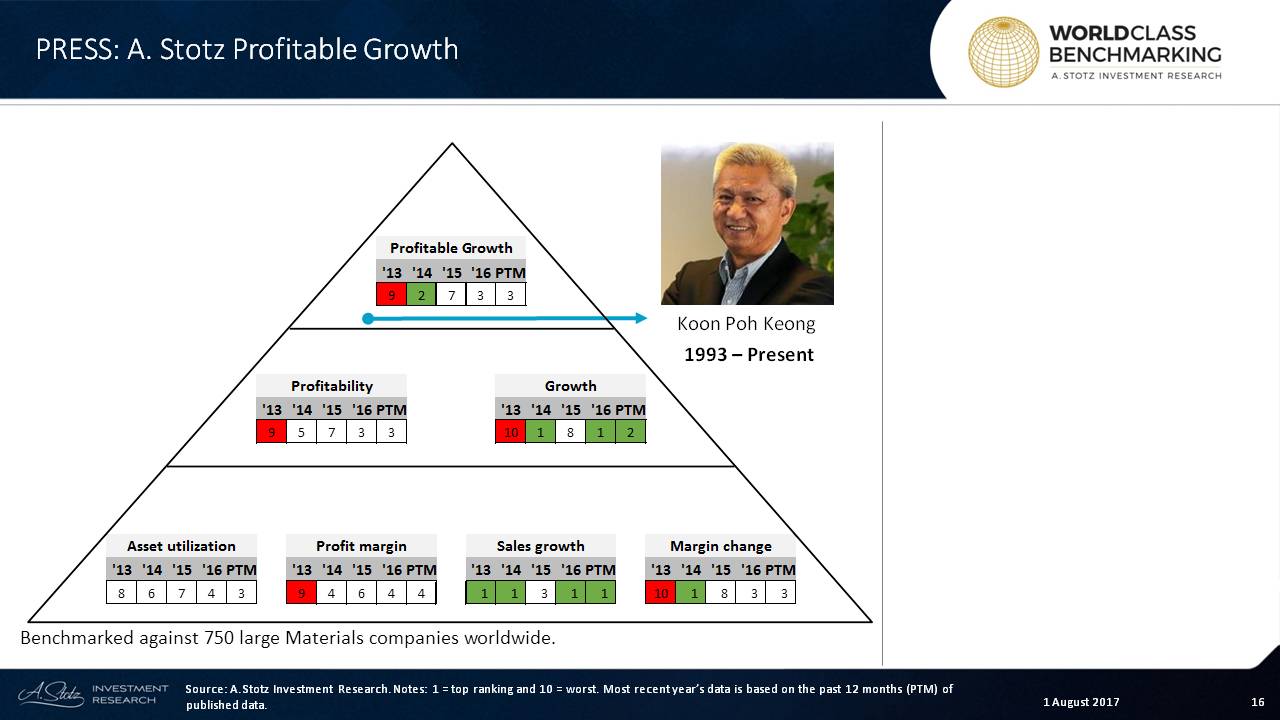 Asset utilization has improved to #3, while Profit margin maintained its #4 rank
Sales growth ranked World Class, and Margin change has improved to #3 from #10 in 2013.
---
What's your thoughts of Press Metal?
If you like our research, share it with your friends.
---
DISCLAIMER: This content is for information purposes only. It is not intended to be investment advice. Readers should not consider statements made by the author(s) as formal recommendations and should consult their financial advisor before making any investment decisions. While the information provided is believed to be accurate, it may include errors or inaccuracies. The author(s) cannot be held liable for any actions taken as a result of reading this article.