Leveraging off Japanese Giants in a Niche Market
Background
Yinson Holdings Berhad is a Malaysian company ranked 6th in the world by fleet size for leasing and operating of offshore production units and offshore support vessels for the oil and gas industries.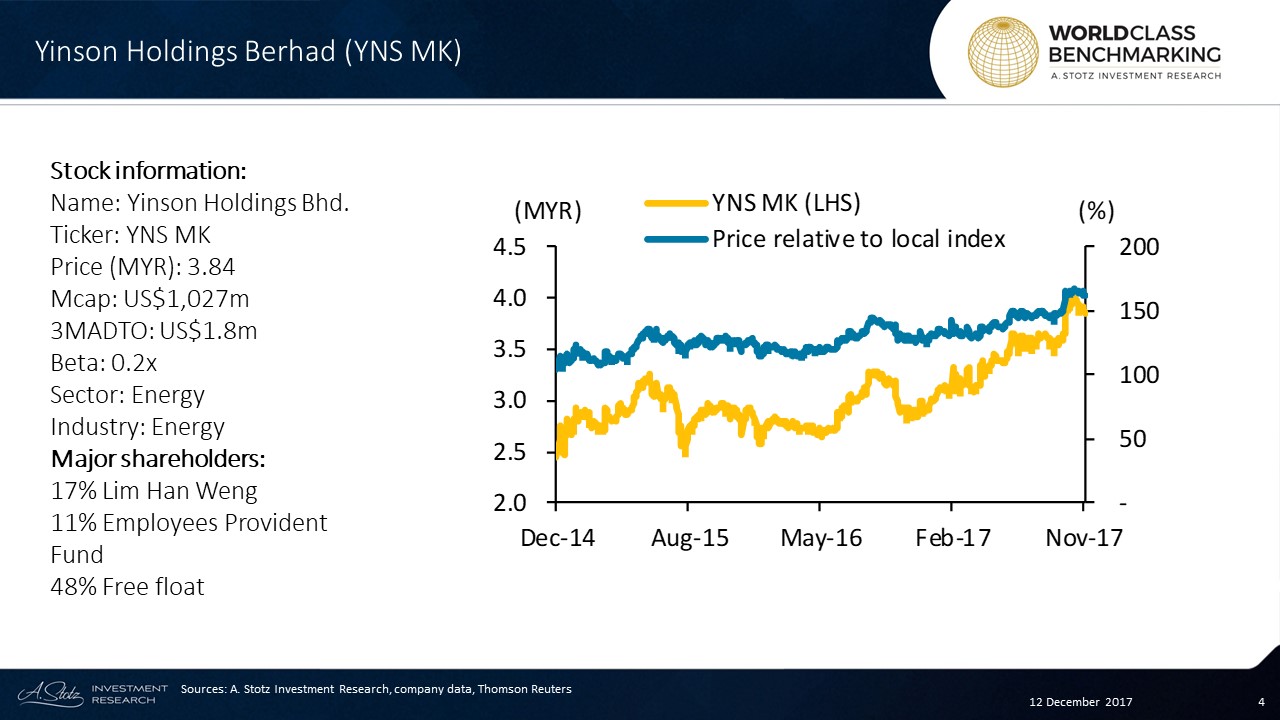 The company's fleet consists of 5 FPSO vessels, and 1 FSO vessel.
Business Description
YNS is a Malaysian company focused exclusively on leasing and running floating oil and gas production storage and offloading vessels (FPSO), and is ranked 6th in the world by leasing contracts value and fleet size. The company's fleet consists of 5 FPSO vessels, and 1 Floating Storage and Offloading (FSO) vessel.
Although FPSO is a niche market within the oil and gas industry, it currently enjoys steady growth and profits because of limited competition and stable long-term contracts. It is also highly efficient; once an existing field has been depleted an FPSO can then be refurbished, relocated and reused for another field. The company has a strong existing order book of just under US$3.7bn (of which US$2.7bn is firm) as of January 2017.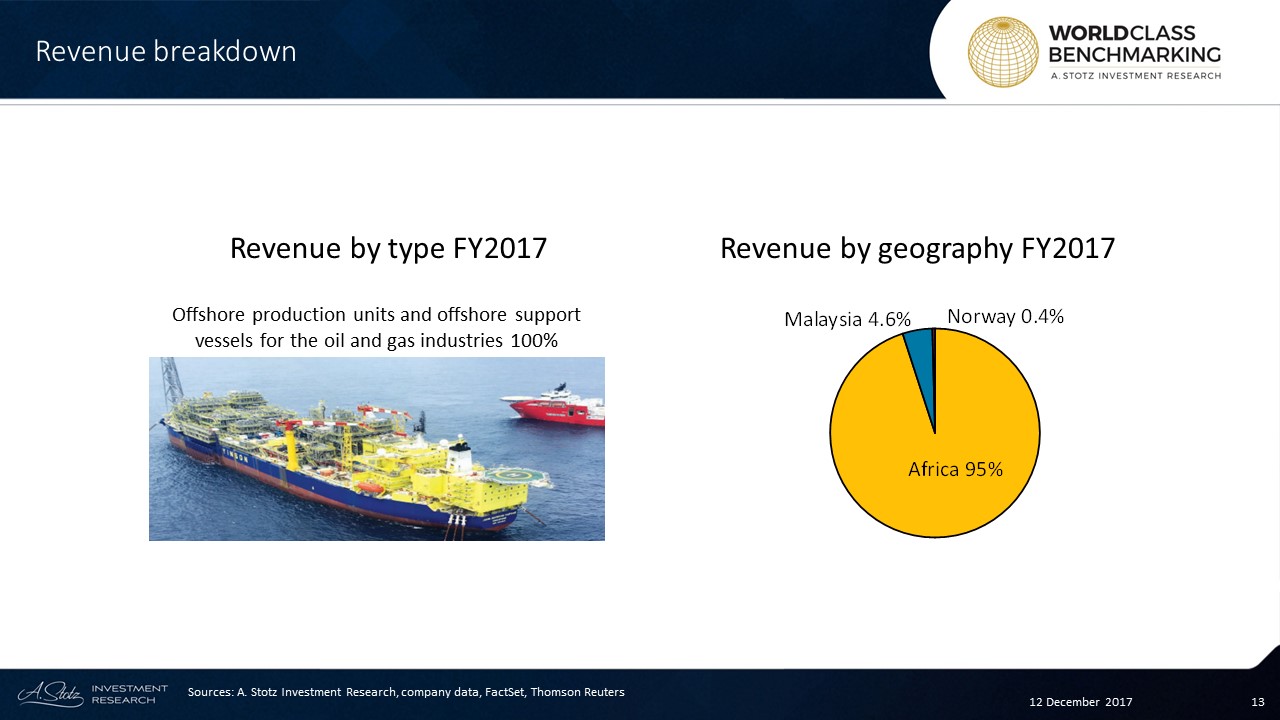 In November 2017, YNS sold a 26% stake in one of its FPSOs as part of a strategic alliance with a Japanese consortium–Sumitomo Corp (8053 JP), Kawasaki Kisen Kaisha (9107 JP), JGC Corp (1963 JP), and Development Bank of Japan. The tie-up with the consortium should allow the group access to potentially even bigger FPSO leasing projects longer term.
Leadership
Lim Han Weng is the founder and Chairman of YNS. He was appointed Chairman in 2009 after working as Managing Director since 1993. Many of his family members also work at YNS. Lim Han Weng is also the largest shareholder of YNS.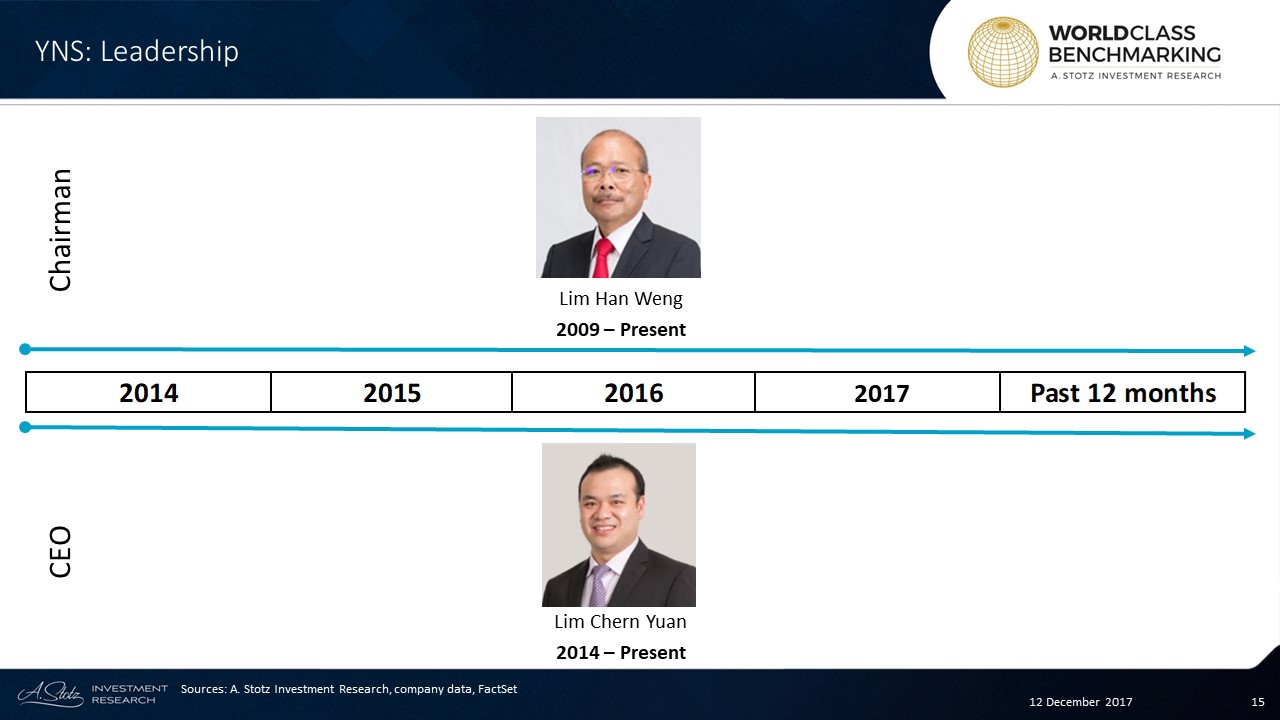 Lim Chern Yuan is the current CEO of YNS and son of Lim Han Weng. He has served in this position since 2014 after being promoted from Senior General Manager. He has obtained Bachelor of Commerce from the University of Melbourne, Australia.
World Class Benchmarking
Profitable Growth has ranked #4 since 2015 (note that the company closes its books in January). YNS ranked among the best 116 of 290 medium-sized Energy companies globally.
Profitability has been stable at #4 since 2015 as well while Growth fell to #6 from #4 in the past 12 months.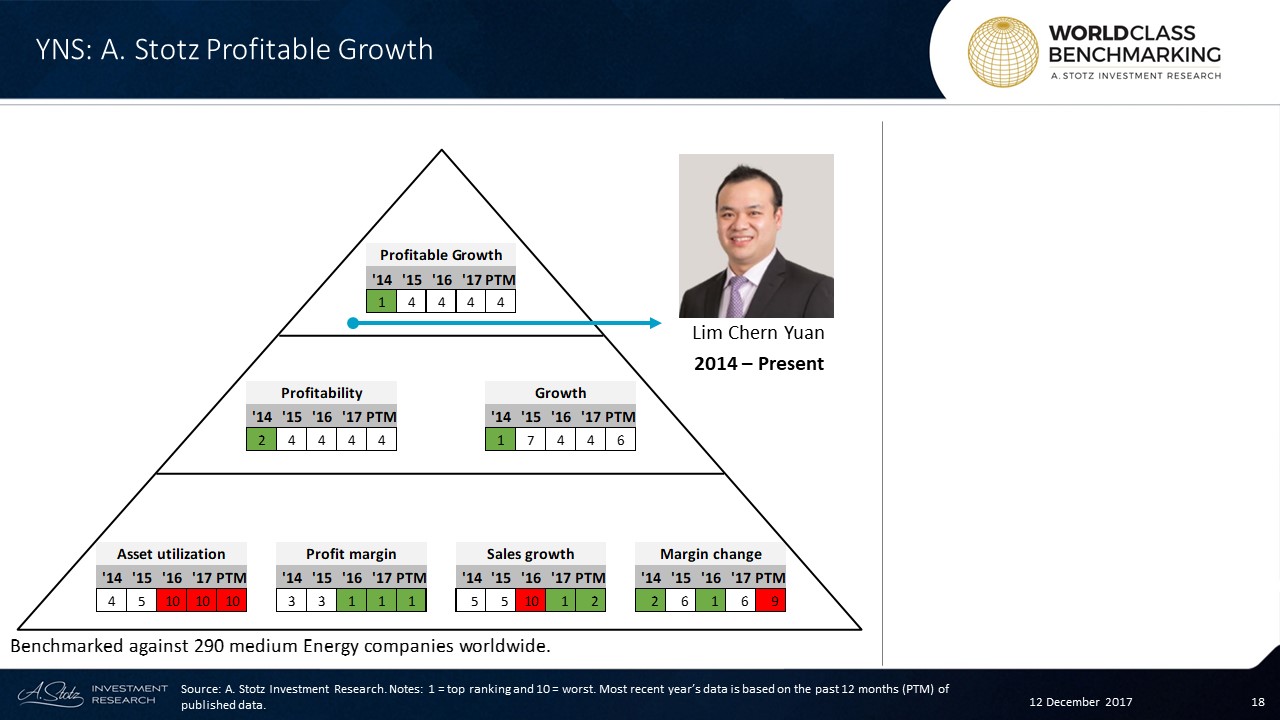 Asset utilization has ranked the worst since 2016, opposite is true for the Profit margin that has ranked the best since 2016.
Sales growth improved to the green in 2017, while Margin change has been fluctuating and was ranked very poor in the past 12 months.
---
What're your thoughts on YNS?
If you like our research, share it with your friends.
---
DISCLAIMER: This content is for information purposes only. It is not intended to be investment advice. Readers should not consider statements made by the author(s) as formal recommendations and should consult their financial advisor before making any investment decisions. While the information provided is believed to be accurate, it may include errors or inaccuracies. The author(s) cannot be held liable for any actions taken as a result of reading this article.