Korean Shipper Well Positioned for BDI Hikes
Background
Pan Ocean Company Limited was founded in 1966 in Seoul, Korea. Together with its subsidiaries, it provides marine transportation.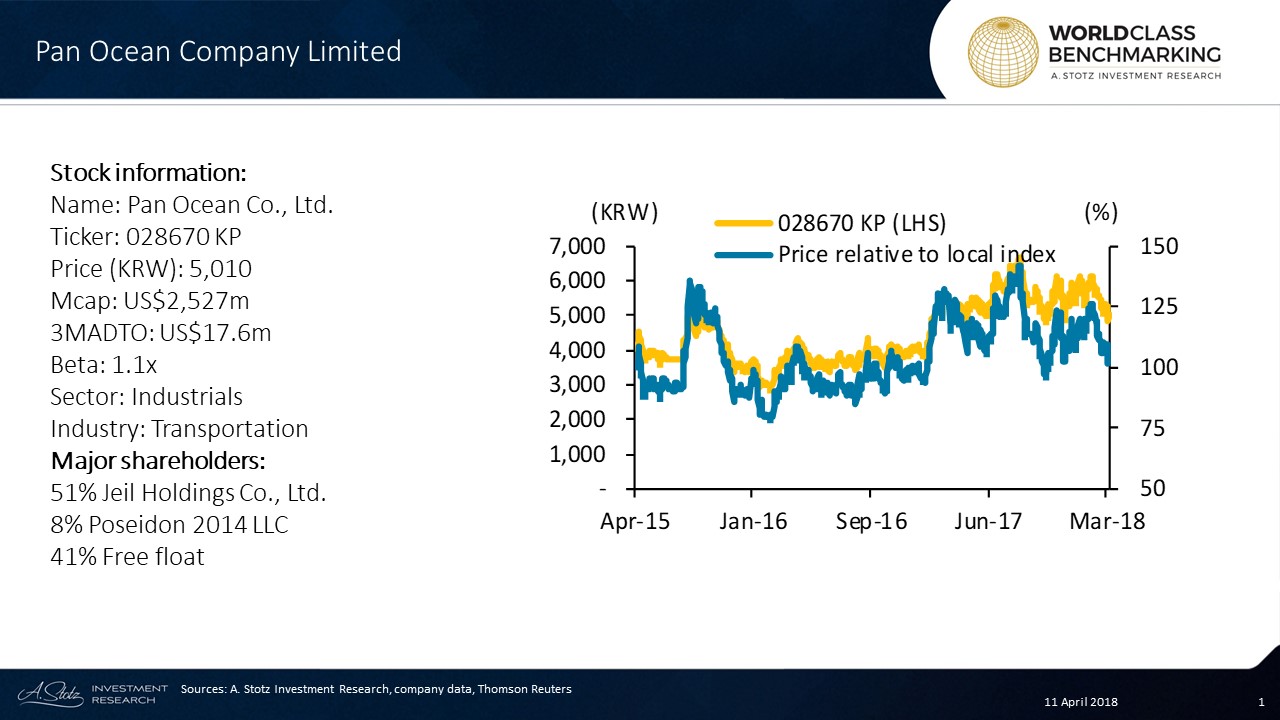 It also offers other related services worldwide such as trading, logistics and heavy lifting. The company has over 1,000 employees, of which 35% are on land and 65% maritime.
Business Description
Pan Ocean ships more than 100m tons of cargo per year, using a total of 204 vessels (81 owned and 123 chartered). The company owns vessels of all sizes, including dry bulk and non-dry bulk ships with capacities ranging between 10,000 to 100,000 deadweight tonnage (DWT). The company offers both liner and tramp shipping. As opposed to liner, tramp ships trade on the spot market and have no fixed schedule.
Its services are divided as Break Bulk Liners for transporting steel, coal, wood, equipment, machinery, and facilities; Trampers for iron ore, wood pulp, grain, sugar, lumber, scrap iron, etc.; Large Bulkers, for dry bulk cargo such as grain, coal, iron ore, and minerals; Containers for a variety of products; and Specialized vessels (tanker, gas carrier, heavy lifter) for petroleum and derivatives.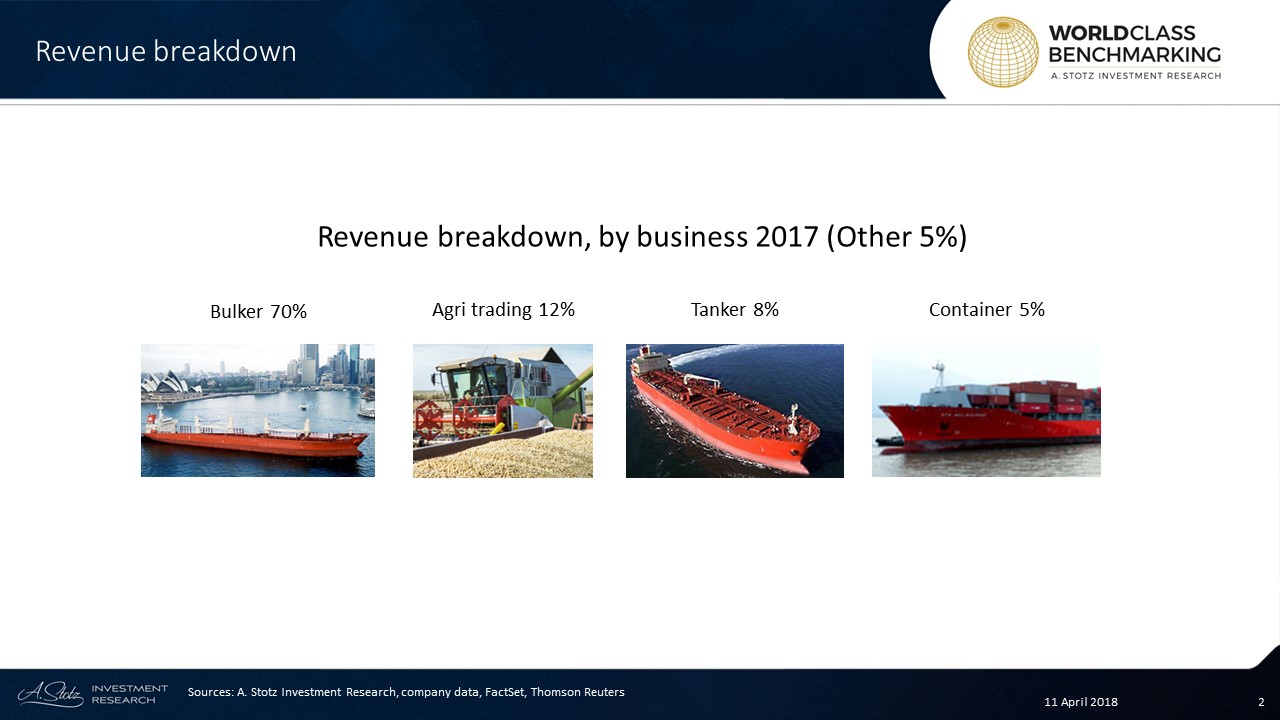 Pan Ocean also offers a variety of services adjacent to shipping such as heavy lifter services, tug boats, drill ships, ocean platforms, as well as steel products, including coils, pipes, wire rods, and plates. Pan Ocean is also involved in trading and logistics of agriculture products, such as corn, soybean, wheat, and soybean meal.
Leadership
Kim Hong-Guk is the current Chairman and co-CEO of Pan Ocean. He is also Chairman in several other companies including Harim Co., Ltd. (136480 KS) and Farmsco Co., Ltd. (036580 KS). His education consists of Bachelor's and Master's degree in Business Administration from Howon University and Chonbuk National University in Korea.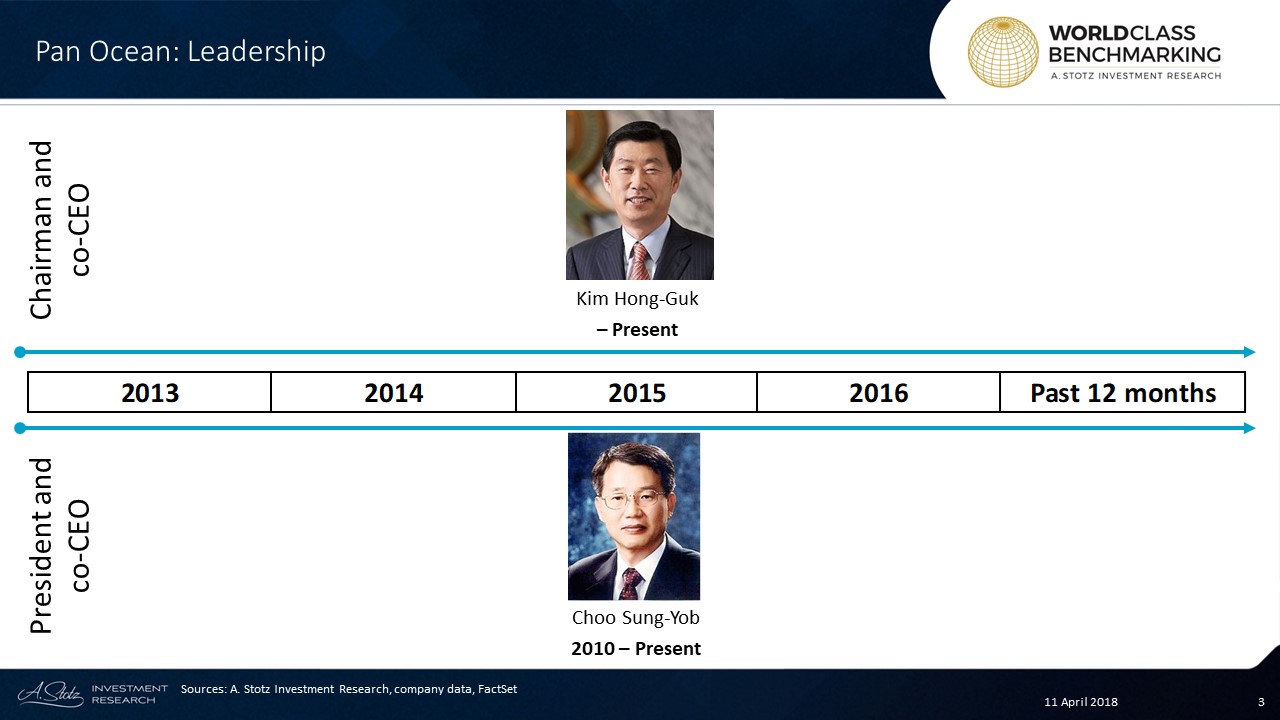 Choo Sung-Yob was appointed the President and co-CEO of Pan Ocean in 2010. He joined the group back in 1997 and has served as the General Manager, Chief of Strategic Planning & Administration as well as several other positions before being appointed to his current role. He received his Bachelor's Degree in Oceanography in 1979 from Seoul National University, Korea.
World Class Benchmarking
Profitable Growth was ranked the worst in 2013 but has improved a bit since. Since 2015, Pan Ocean has ranked at #7 among 1,470 large Industrials companies globally.
Profitability exhibit a similar trend to Profitable Growth. Growth has experienced more fluctuations and ranked at #4 in the past 12 months.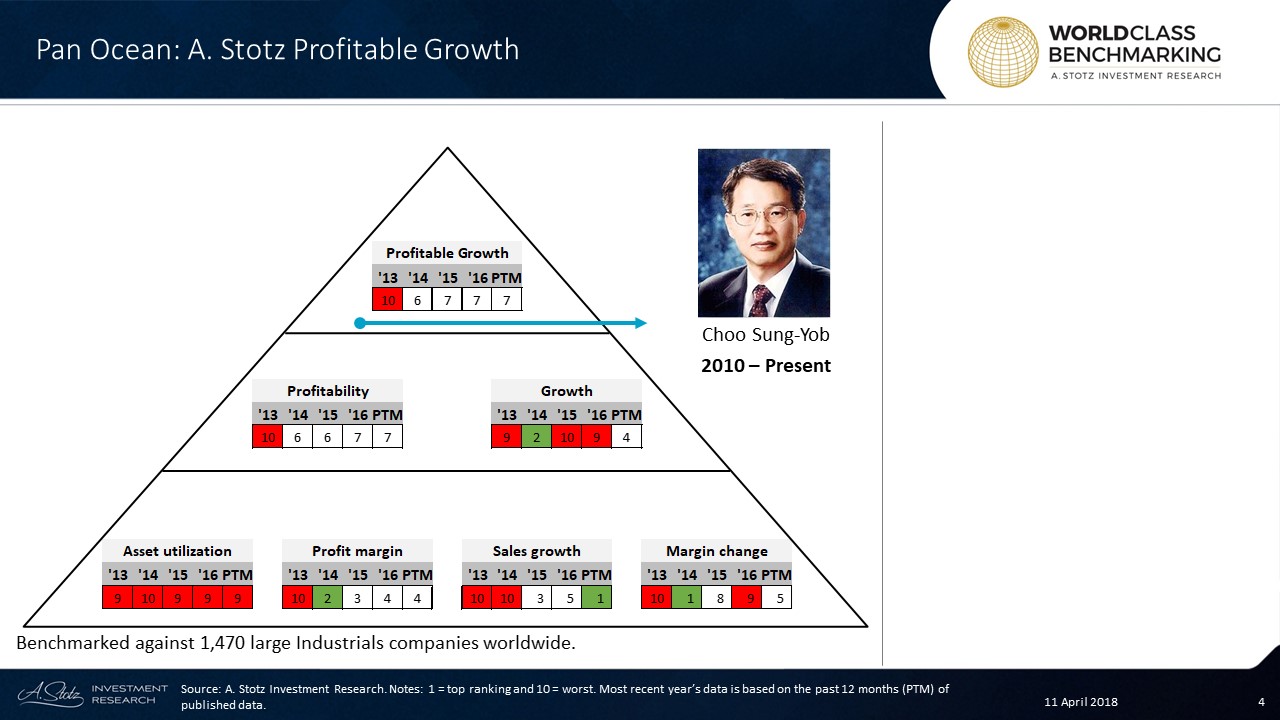 Asset utilization has ranked very poorly over the years. Profit margin has been above average since 2014.
Sales growth has seen great improvements in rank, in 2014 Pan Ocean ranked #10 and in the past 12 months the rank had reached #1. Margin change has been volatile and ranked average in the most recent period.
---
What're your thoughts on Pan Ocean?
If you like our research, share it with your friends.
---
DISCLAIMER: This content is for information purposes only. It is not intended to be investment advice. Readers should not consider statements made by the author(s) as formal recommendations and should consult their financial advisor before making any investment decisions. While the information provided is believed to be accurate, it may include errors or inaccuracies. The author(s) cannot be held liable for any actions taken as a result of reading this article.