SVI Ranks in the Top Half Among Peers on Profitable Growth
Background
SVI Public Company Limited is a Thailand-based electronics manufacturing services (EMS) company that provides a turnkey box-build assembly process. Its main products are components used in printers and video cameras.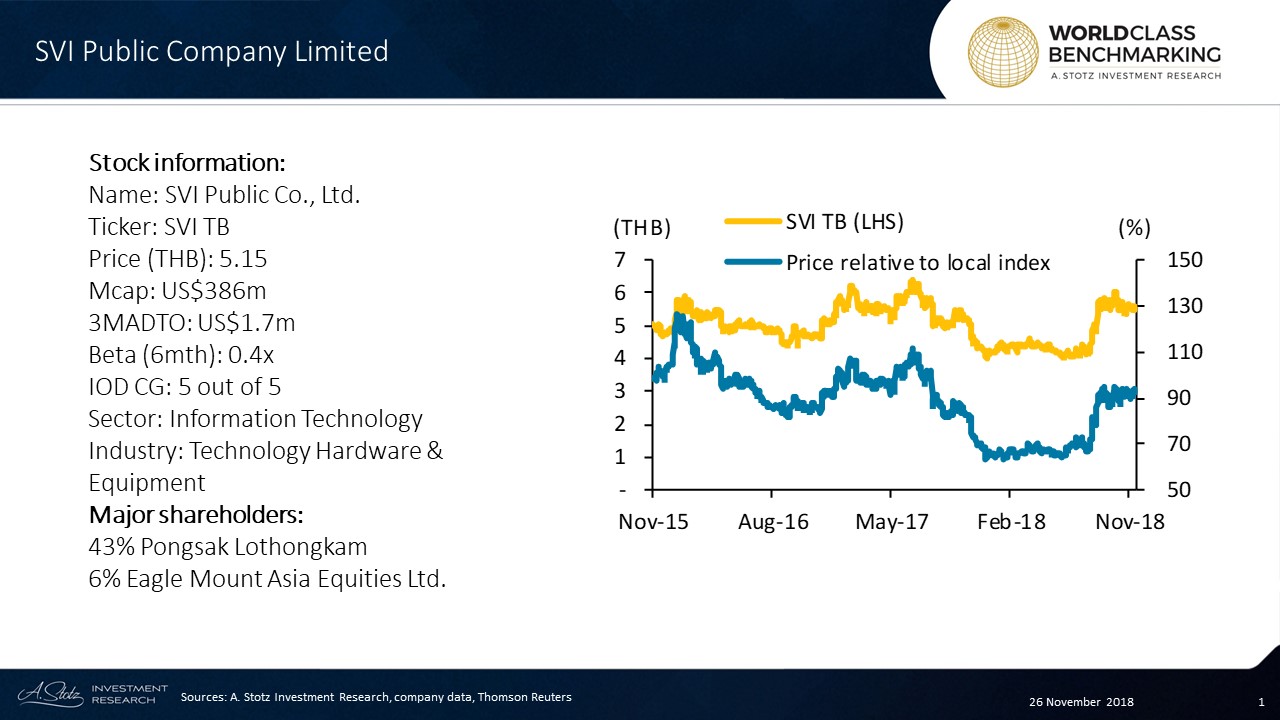 Revenue comes mainly from turnkey box-build and printed-circuit-board assembly (PCBA).
Business Description
Initially, SVI only did Printed Circuit Board Assembly (PCBA) manufacturing, assembly of electronic components to printed circuit board. Gradually, SVI started to focus on Turnkey Box-Build, final assembly of products which can be sent directly for sales.
In 2017, Turnkey Box-Build generated 57% of revenue and PCBA 40%. The rest was from system build, products that require a more complex manufacturing process. These three manufacturing processes allow SVI to create products according to clients' needs across all segments.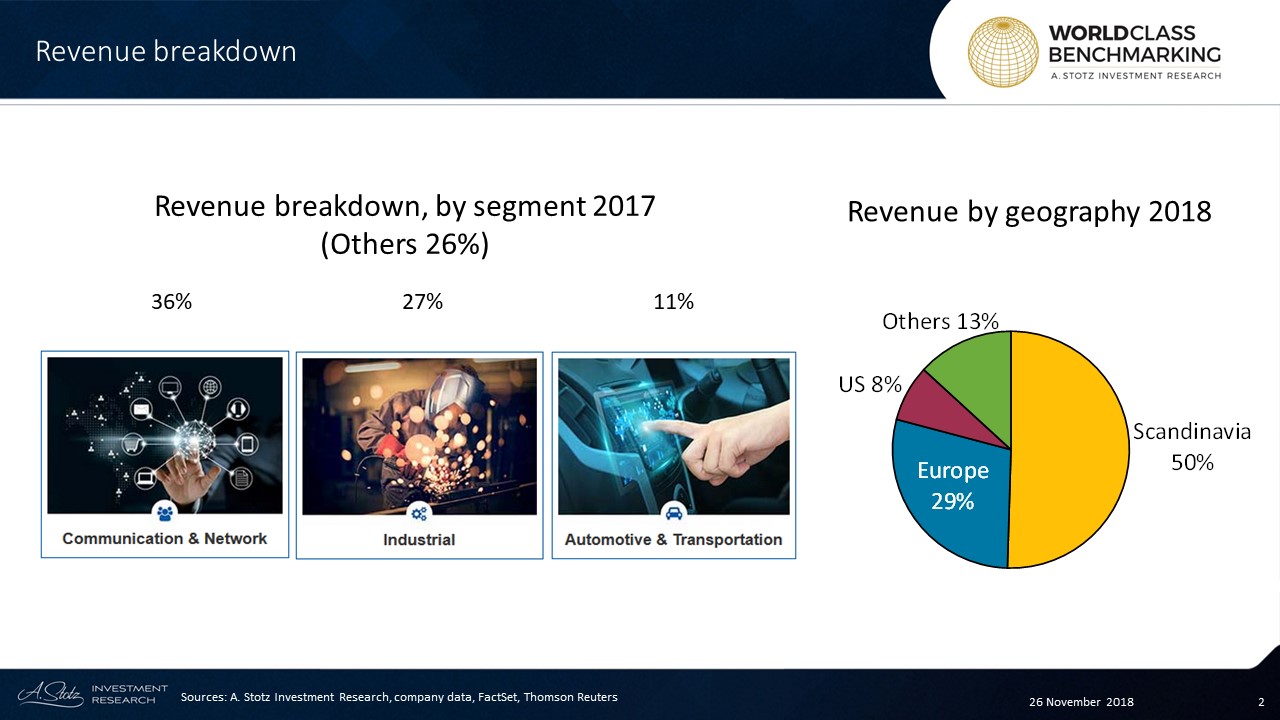 SVI's main segments are Communication and Network System that produces wireless network communication devices, Industrial control that produces temperature control equipment and Automotive and Transportation that produces e.g. tire pressure monitoring system.
The remaining comes from Professional Audio & Video, Medical Laboratory Equipment,  Photonics & Lighting, Clean-Energy, Micro-Electronics & Vertical Integration. Geographically, SVI mainly sells to Scandinavia and Europe which account for 79% in 2017.
Leadership
Prasert Bunsumpun was appointed the Chairman of SVI in 2017 and he also holds chairmanship position at various listed companies, such as Thaicom Public Company Limited (THCOM TB), Thoresen Thai Agencies Public Company Limited (TTA TB), and PTT Global Chemical Public Company Limited (PTTGC TB). He holds a Bachelor's Degree in Engineering from Chulalongkorn University, Thailand and a Master of Business Administration from Utah State University, USA. Moreover, he has obtained Honorary Doctoral degrees in Management from National Institute of Development Administration (NIDA), Petchaburi Rajabhat University, Mahasarakarm University, and Suan Sunandha Rajabhat University and obtained the Honorary Doctoral in Engineering from Chulalongkorn University, all of which are Thai universities.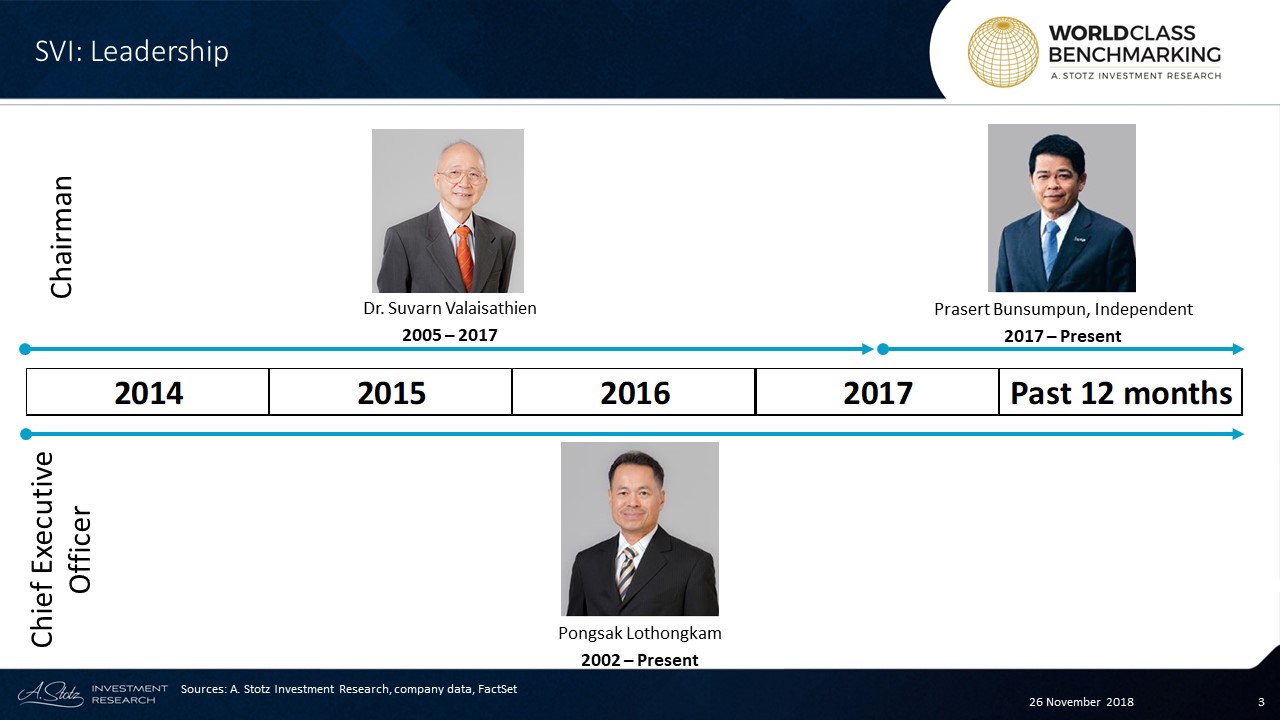 Pongsak "Poe" Lothongkam has been the CEO of SVI since 2002 and is also the company's major shareholder.  He graduated with a Bachelor of Science in Electrical Engineering and Computer Science from the University of California at Berkeley, US. He has achieved Director Certification Program from Thai Institute of Directors and Executive Program from Capital Market Academy in 2011. To learn more about Poe and how he runs SVI, read Business DNA: Legend of the Turnaround Master.
World Class Benchmarking
Profitable Growth at SVI has been about average since 2016. In the past 12 months, SVI ranked in the top half among 1,120 medium-sized Information Technology companies worldwide.
Profitability has shown the exact same ranks as the overall Profitable Growth. Growth ranked relatively poor, at #7, in 2016 and 2017 but improved to #5 in the most recent period.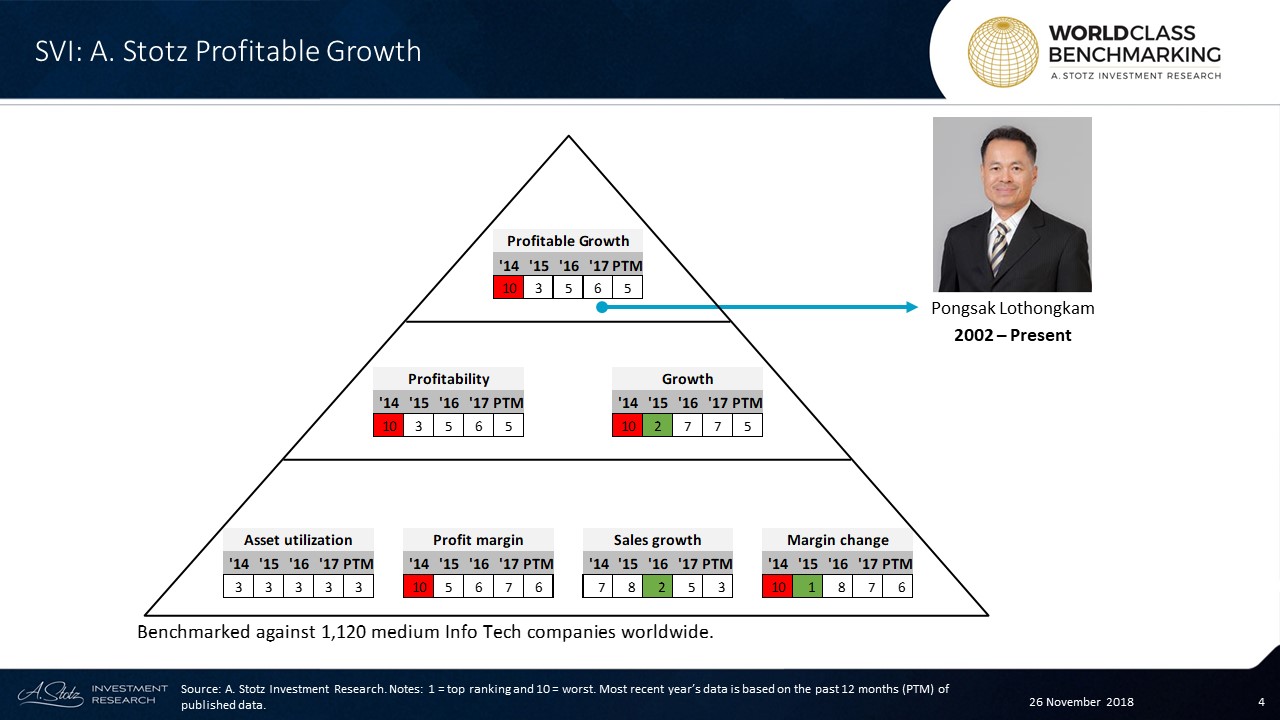 Asset utilization has consistently ranked at #3 over the years. Profit margin has ranked below average since 2016.
Sales growth has fluctuated over the years but stayed in the top half of the sector since 2016. Margin change has advanced in ranks slowly since 2016.
---
What're your thoughts on SVI?
If you like our research, share it with your friends.
---
DISCLAIMER: This content is for information purposes only. It is not intended to be investment advice. Readers should not consider statements made by the author(s) as formal recommendations and should consult their financial advisor before making any investment decisions. While the information provided is believed to be accurate, it may include errors or inaccuracies. The author(s) cannot be held liable for any actions taken as a result of reading this article.