Hong Kong Has Fallen to "Neutral" Rating in Asia
Watch the video with Andrew Stotz or read Watching the Street: Hong Kong below.
---
---
Consensus Recommendations: Hong Kong
What we can see in this chart are the consensus recommendations over five years. Analysts are now neutral on Hong Kong after four years of rating the country a "Buy" in Asia.
One company with the most positive recommendations, Yestar, sells medical consumables and equipment in China from global brands such as Fujifilm and Roche. It's aiming to ride the wave of Chinese healthcare growth.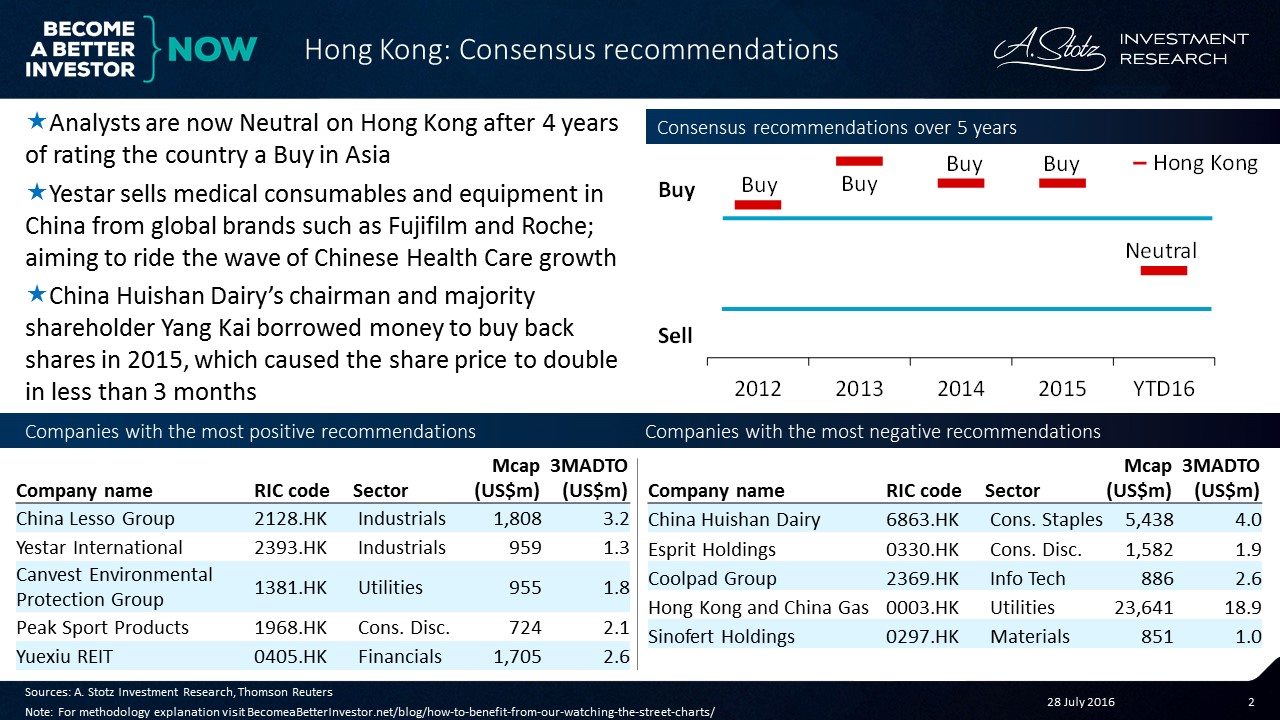 On the negative side, China Huishan Dairy's chairman and majority shareholder Yang Kai borrowed money to buy back shares in 2015 which caused the share price to double in less than three months.
So the recommendations are most negative there right now.
Consensus Earnings Estimates: Hong Kong
If we move on to see consensus earnings estimates, we can see that analysts have expected single-digit growth for the past five years. Estimates have been accurate when EPS has grown but not so much when EPS has fallen.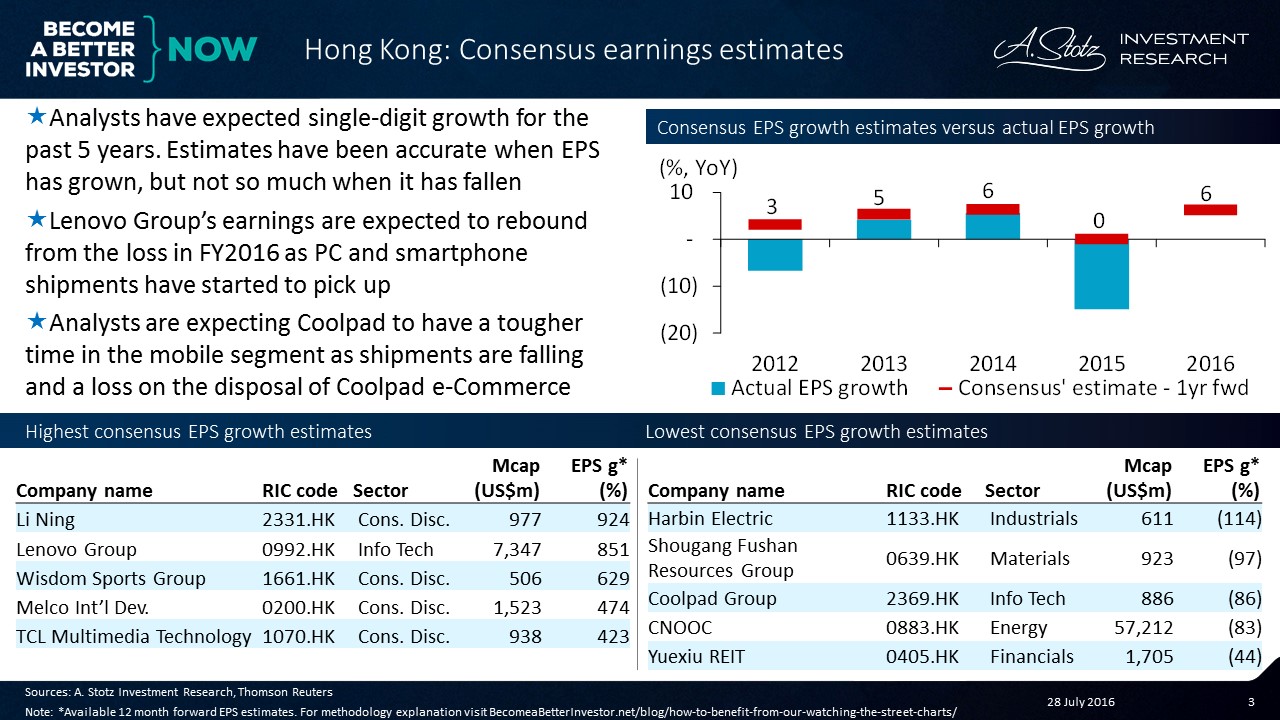 We've seen before that analysts can rarely predict when earnings fall, but they have been highly accurate in their earnings estimates in Hong Kong relative to many other countries in the region.
Lenovo Group's earnings are expected to rebound from a loss in fiscal year 2016 as PC and smartphone shipments have started to pick up. Earnings per share has grown massively.
On the negative side, analysts are expecting Coolpad to have a tougher time in the mobile segment as shipments have fallen.
Consensus Target Prices: Hong Kong
We can see the consensus target price expected return versus the actual return. The gap here shows that analysts are optimistic.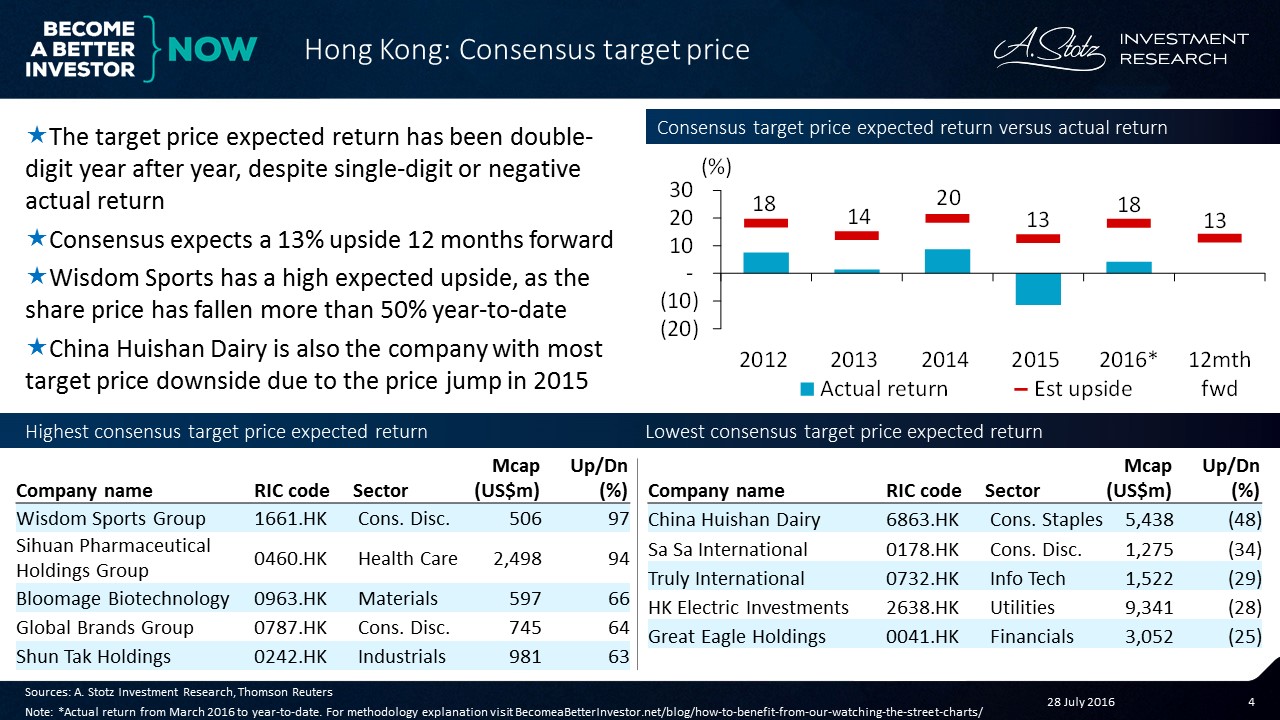 Target price expected returns have been in the double digits year after year, despite single digit or negative actual returns in the market. Consensus now expects a 13% upside over the next 12 months.
Wisdom Sports Group has a high expected upside as the share price has fallen more than 50% year-to-date.
Among the lowest consensus expected return, China Huishan Dairy is also the company with the most target price downside due to the price jump in 2015.
---
Do YOU use any kind of analyst estimate when considering an investment?
Let us know in a comment below.
---
DISCLAIMER: This content is for information purposes only. It is not intended to be investment advice. Readers should not consider statements made by the author(s) as formal recommendations and should consult their financial advisor before making any investment decisions. While the information provided is believed to be accurate, it may include errors or inaccuracies. The author(s) cannot be held liable for any actions taken as a result of reading this article.