Great Profitability in ASEAN Dairy and Soft Drinks
Background
Fraser & Neave Holdings Berhad was established in 1883 and is one of the oldest companies in Malaysia.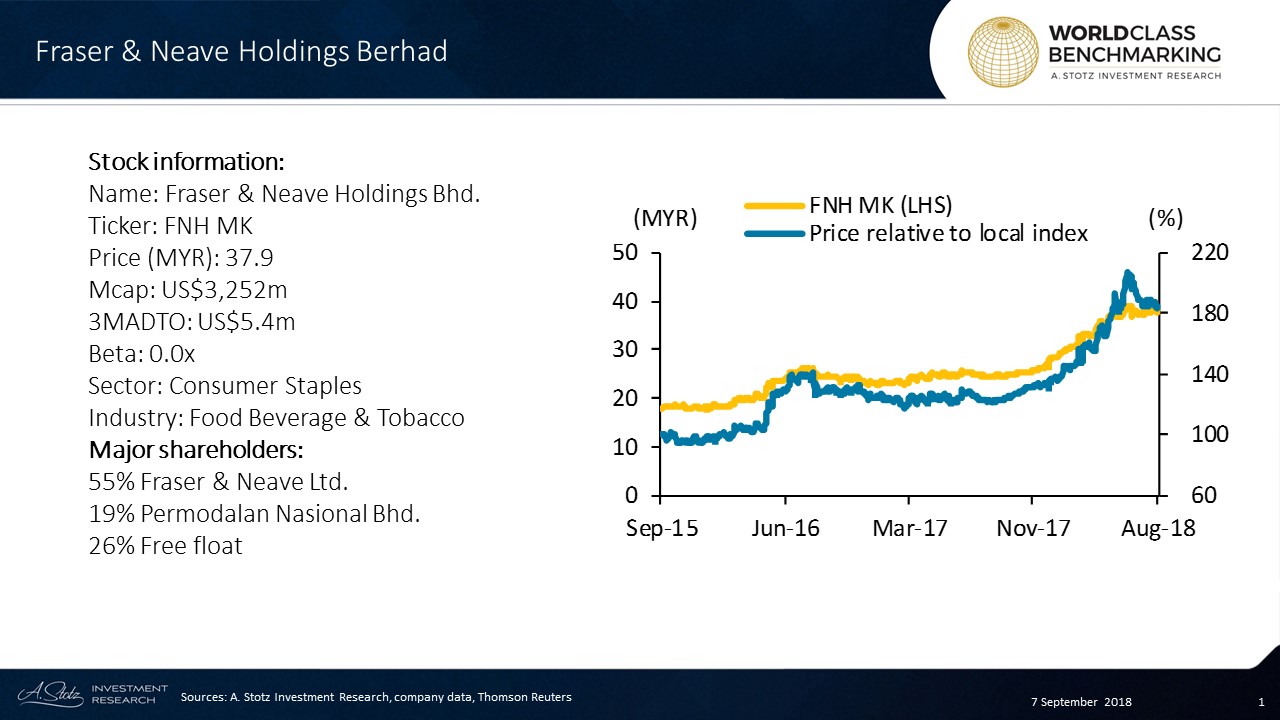 Its main businesses are the manufacture and sale of soft drinks and dairy products, and business in publishing and printing. FNH is the leading non-alcoholic food and beverage player in Malaysia.
Business Description
Dairy products, accounting for 66% of revenue, includes condensed and homogenized milk, and are sold by FNH in Malaysia and Thailand. It comprises many leading brands including F&N, Gold  Coin and Teapot sweetened condensed milk and evaporated milk, as well as Carnation, Bear brand, Ideal, and Milkmaid, which are third-party licensed brands.
In soft drinks, brands include Oishi green tea, est Cola, 100PLUS (isotonic sports drink) and Nutri Soy, a soy drink. All have top market share in Malaysia. FNH has been successfully teaming up with other ASEAN beverage companies to market these brands throughout the region via licensing and other manufacturing and marketing agreements.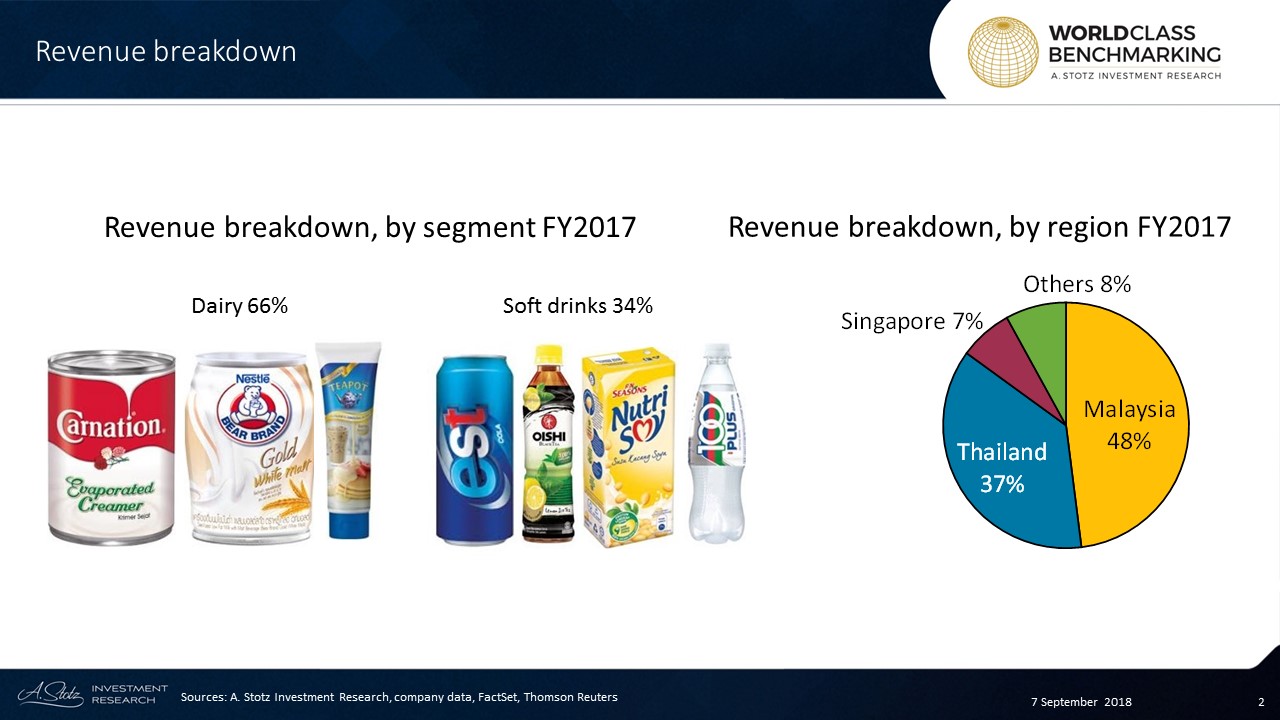 On 1 September, 2018, the Sales & Service Tax (SST) replaced the Goods & Services Tax (GST) in Malaysia. Dairy products are exempted from tax in this new system whereas sugary drinks are still taxed.
Production capacity is expected to double by 2020 from large capex investments of US$48m for new warehouses, production line.
Leadership
Tengku Syed Badarudin Jamalullail was appointed Chairman of FNH in 2001. Since 2014, he has also been an Independent Non-Executive Director of Fraser and Neave Limited (FNN SP). He received a Master of Arts degree in law and History from Cambridge University, UK.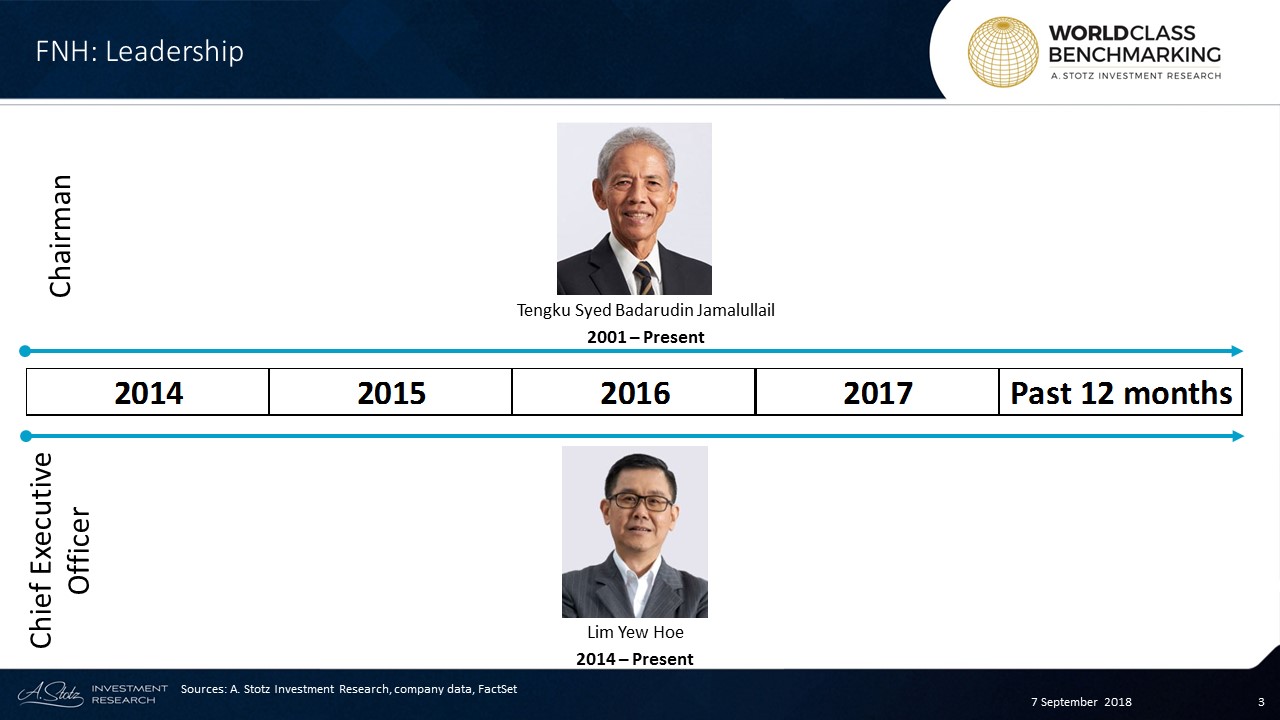 Lim Yew Hoe has been the CEO of FNH since 2014. He graduated with a Bachelor of Science in Estate Mangement from the National University of Singapore and a Master of Business Administration in Banking & Finance from Nanyang Technological University, Singapore.
World Class Benchmarking
Profitable Growth has been performing well since 2014. In the past 12 months, FNH ranked among the top 177 out of 590 large Consumer Staples companies worldwide.
Profitability has stayed excellent and consistently ranked at #2. Growth has fluctuated below the average since 2014, except for the year 2016 when FNH ranked at #3.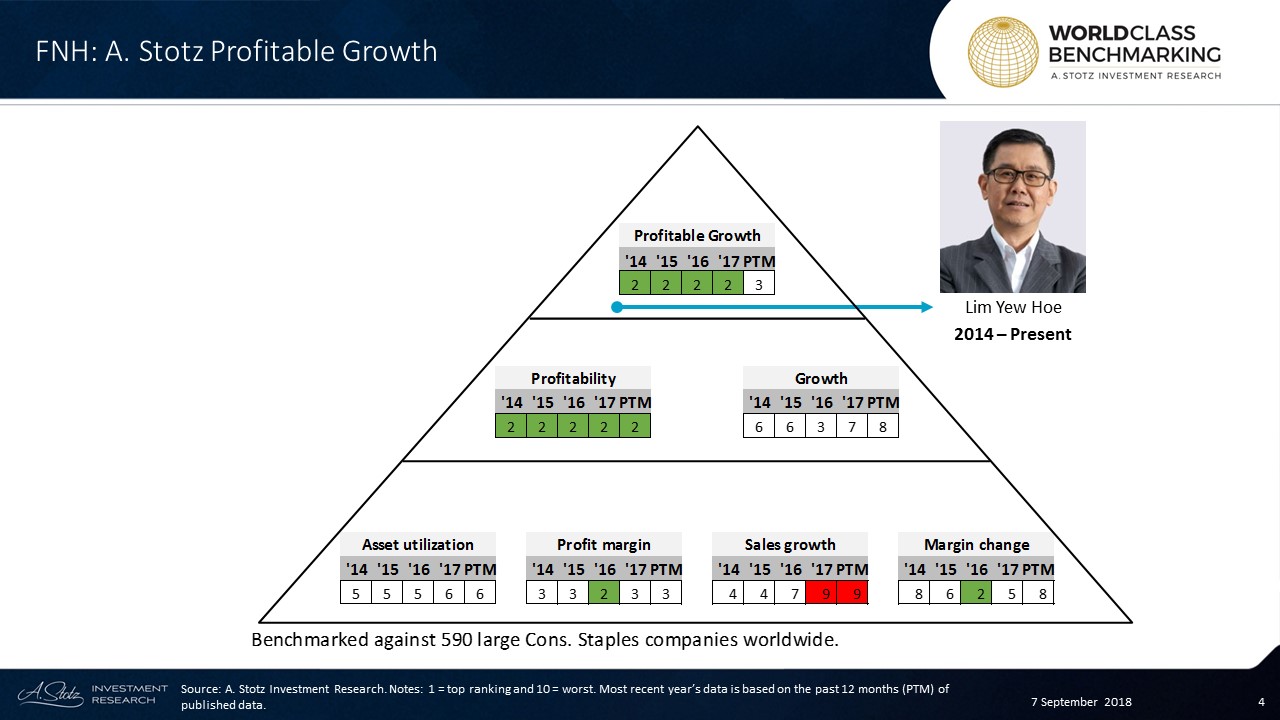 Since 2017, Asset utilization has dropped to #6 and has stayed there till recently. Profit margin has ranked in the top 30% for the whole time period.
Sales growth fell to #9 in 2017 and stayed there in the past 12 months. Margin change has oscillated between #2 and #8 over the years.
---
What're your thoughts on FNH?
If you like our research, share it with your friends.
---
DISCLAIMER: This content is for information purposes only. It is not intended to be investment advice. Readers should not consider statements made by the author(s) as formal recommendations and should consult their financial advisor before making any investment decisions. While the information provided is believed to be accurate, it may include errors or inaccuracies. The author(s) cannot be held liable for any actions taken as a result of reading this article.