Contracted by the Gov't, Owned by the Gov't
Watch the video with Andrew Stotz or read a summary of the World Class Benchmarking on PT Wijaya Karya Tbk.
---
---
Background
PT Wijaya Karya (Persero) Tbk (WIKA) is one of Indonesia's three largest building contractors by revenue. It is a partially state-owned enterprise (SOE).
Wijaya Karya's work involves both sole and joint venture contractor relationships in large public and private sector projects. It is a major player in construction work for oil and gas infrastructure, as well as toll roads and precast concrete.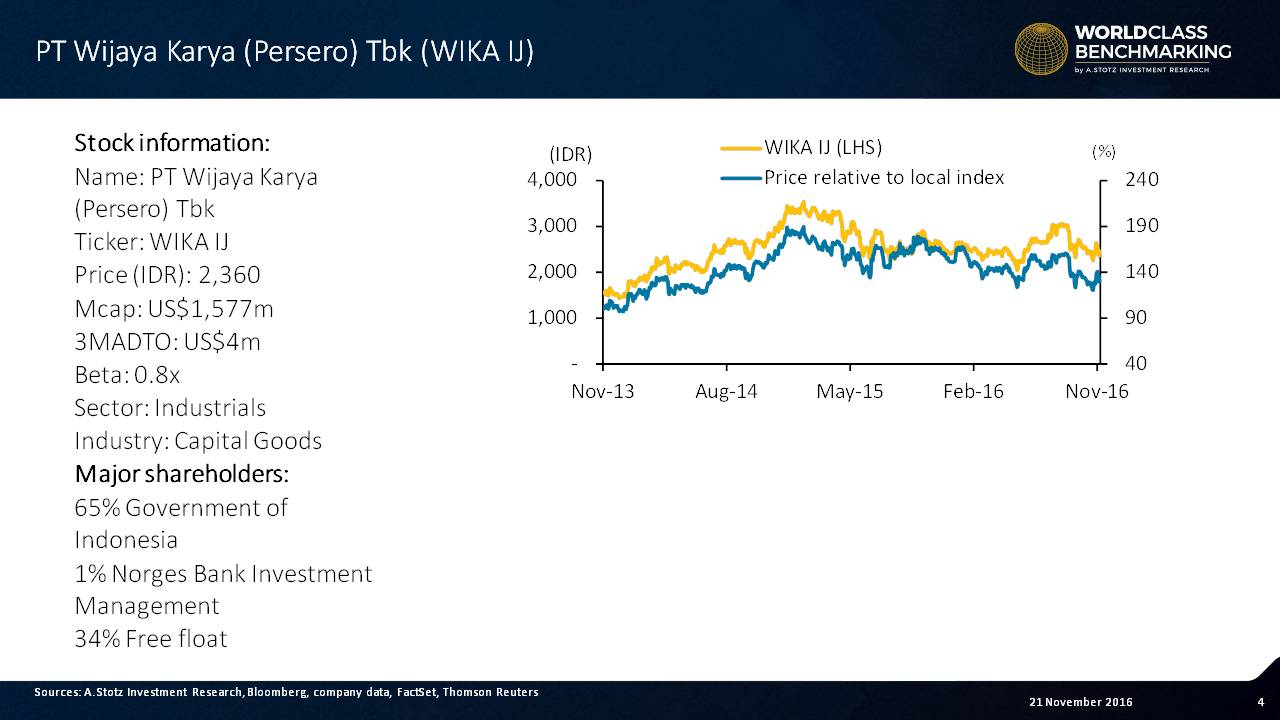 Business Description
WIKA is one of the top-three building contractors in Indonesia, ranked by revenue. The government owns 65% of the company. WIKA's biggest business is construction, which is just less than half of total sales. The second biggest is precast concrete, which accounts for 1/5 of revenue and is operated by a subsidiary.
The two other main divisions, industrial plants and toll roads and bridges, combine for 1/4 of remaining sales. The rest of group sales include property and manufacturing.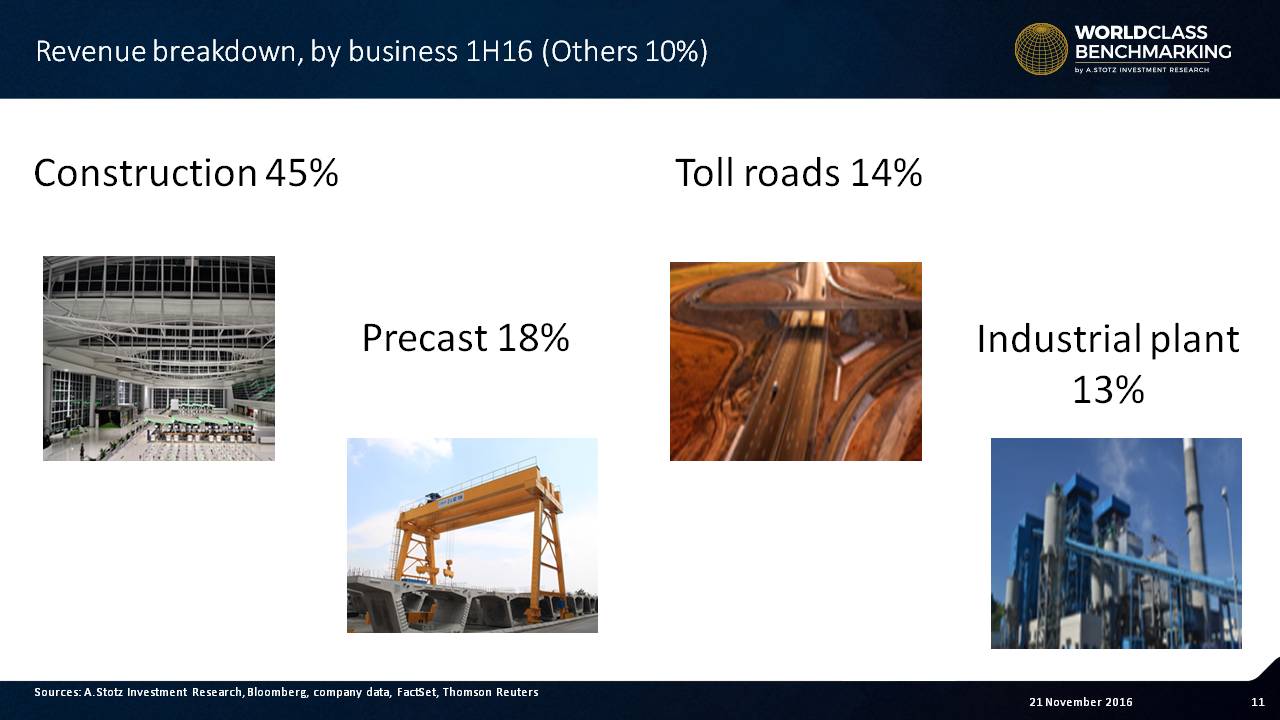 Approximately 75% of the company's total contract projects are government-related. Given Indonesia's great demand for public infrastructure, the government has budgeted a record high infrastructure budget for 2016 and beyond.
One key project is the high-speed rail network, the launch of which is now underway with a consortium including WIKA and other partners. Other major projects being rolled out through 2019 are a number of major toll roads and some government-operated oil refineries.
Leadership
After a year-long interim post by Bakti Santoso Luddin, President Commissioner Mudjiadi took over in August 2016.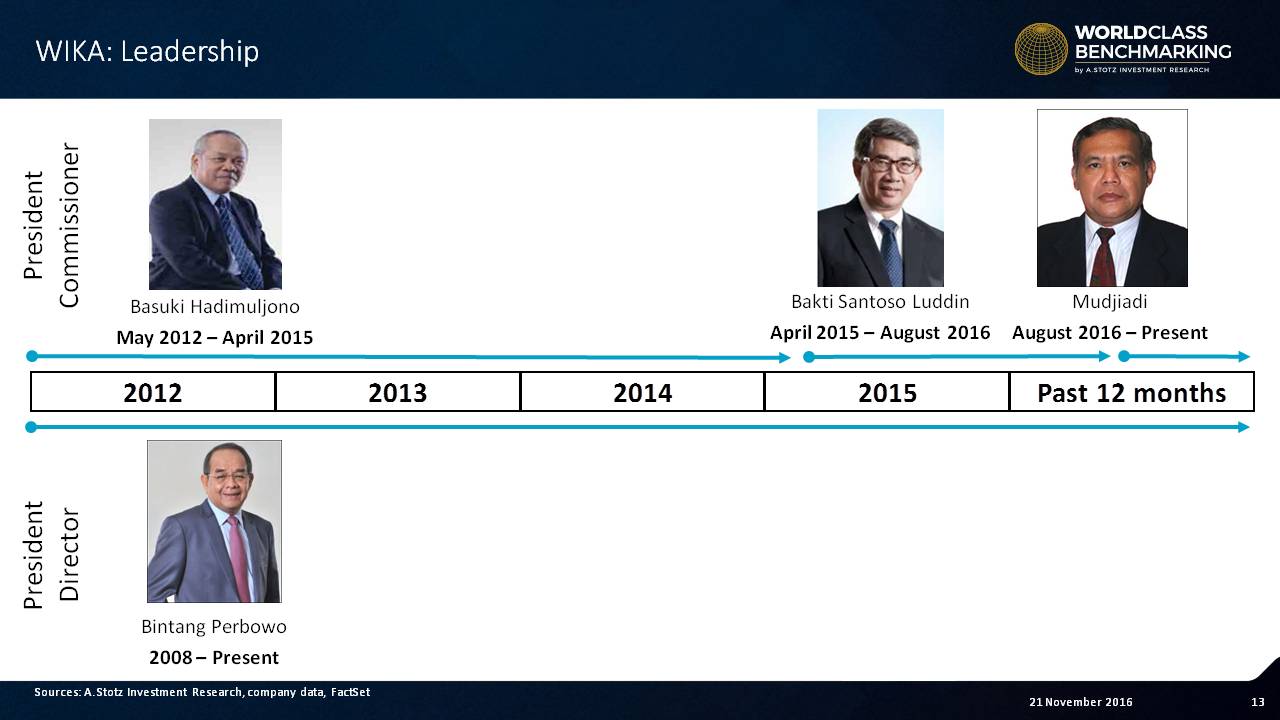 President Director Bintang Perbowo has been in charge since 2008 and deserves most of the credit for the company's steady but average performance.
World Class Benchmarking
If anything, Wijaya Karya suffers from a lack of bright points in our analysis. Over the last five years, the company has turned in unusually average results. Profitable Growth has moved around the average ranking for the last five years.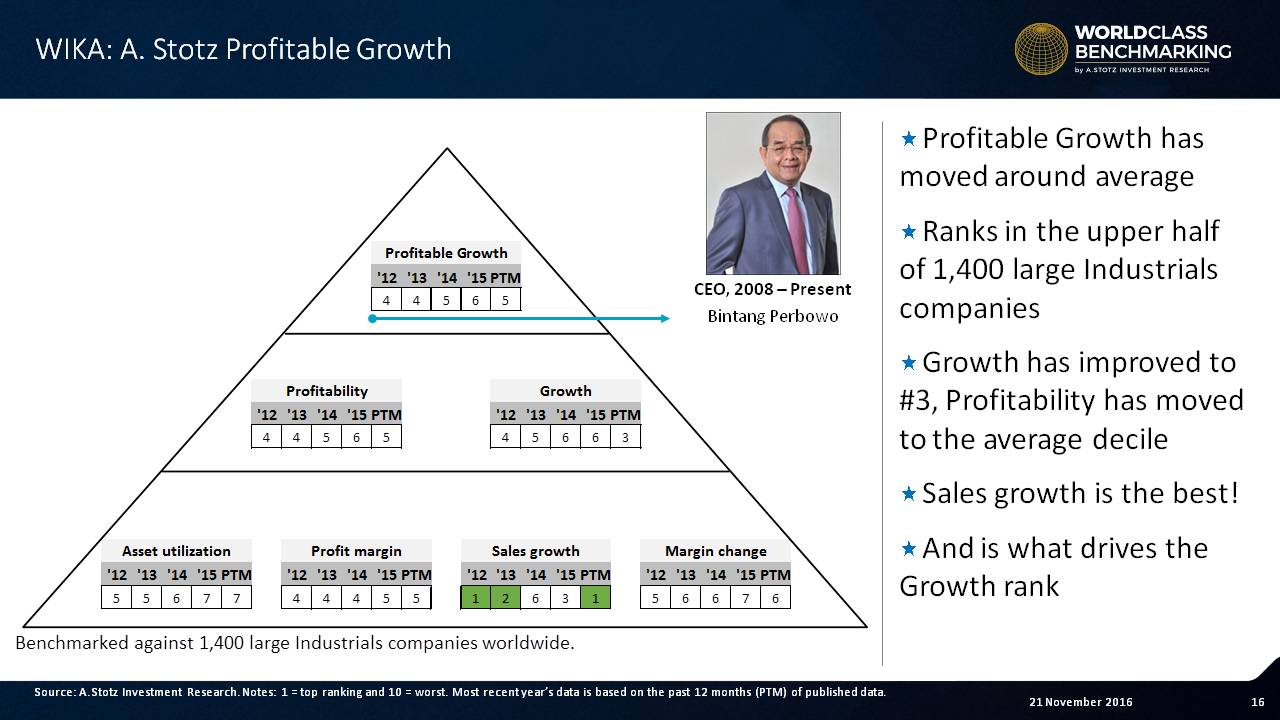 WIKA ranks in the upper half of 1,400 large industrial companies. Growth has improved to #3, which is positive, but Profitability remains uncompromisingly average.
Sales growth is one bright spot, but we'll have to wait and see if this result lasts beyond 2016.
---
Would you invest in WIKA?
If you like our research, share it with your friends.
---
DISCLAIMER: This content is for information purposes only. It is not intended to be investment advice. Readers should not consider statements made by the author(s) as formal recommendations and should consult their financial advisor before making any investment decisions. While the information provided is believed to be accurate, it may include errors or inaccuracies. The author(s) cannot be held liable for any actions taken as a result of reading this article.