A Rising PetroChem Power Player in Indonesia
Watch the video with Andrew Stotz or read a summary of the World Class Benchmarking on PT Chandra Asri Petrochemical TBK.
---
---
Background
PT Chandra Asri Petrochemical Tbk (TPIA) is the largest petrochemical company in Indonesia. PT Barito Pacific Group Tbk (BRPT IJ) owns 50% and Siam Cement PCL (SCC TB) owns 31%.
Chandra Asri has the largest naphtha cracker in all of Indonesia, and its subsidiaries Styrindo Mono and Petrokimia Butadiene, are leading producers of raw materials for tires and plastic casings.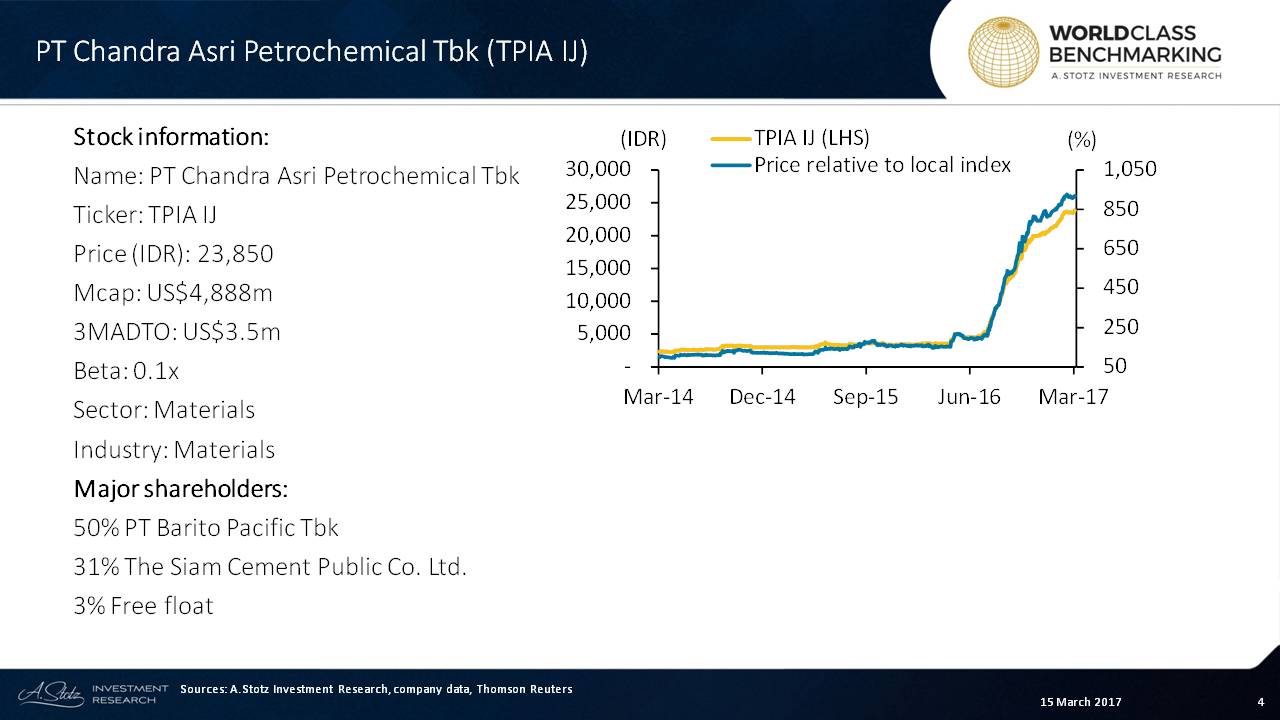 Business Description
The company's main plant is in Ciwadan and has a 45km distribution pipeline that links the petrochemical complex to customers nearby. It is the only domestic producer of styrene monomer and butadiene. The company also enjoys significant market shares in olefins (30%) and ethylene (50%).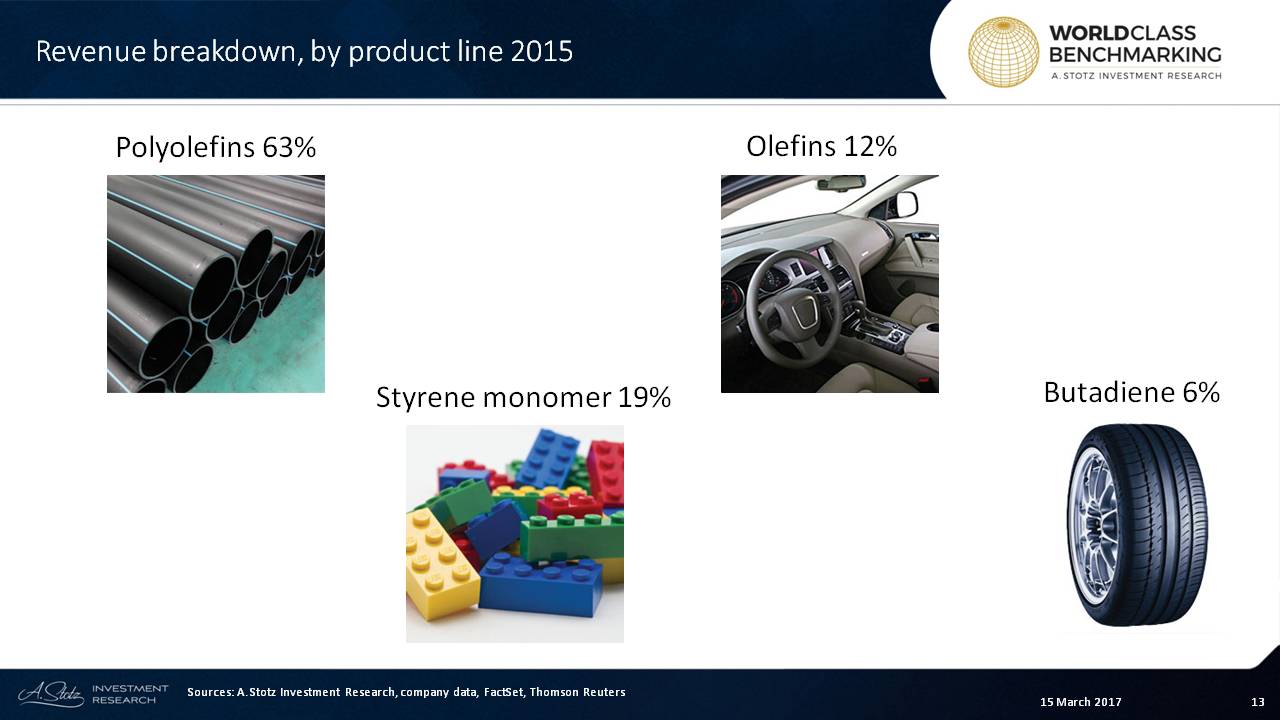 TPIA has four product lines:
Polyolefins – Polyethylene and polypropylene are mainly used in piping systems for water, chemicals or gases.
Styrene monomer – used in the synthetic rubber industry, it is most commonly used in producing polystyrene, which is used in compact disc cases and dinnerware. The derivative acrylonitrile butadiene styrene is used in Legos.
Olefins – Ethylene and propylene are used in ropes, wallpaper, carpeting and vehicle interiors. Its by-products Py-Gas, Mixed C4 and PFO are used as feedstock chemicals.
Butadiene – This is mostly used in producing Styrene-Butadiene Rubber (SBR), used by automobile tire manufacturers. It is also used in producing adhesives, coatings, sealants and rubber parts.
Leadership
Djoko Suyanto took over as President Commissioner in 2015 after Australian petrochemical veteran George Allister Lefroy. Suyanto had a long career in the Indonesian air force and went on to hold many high-level security and defense positions in the Indonesian government. Between 2008 and 2009, he held an Independent Commissioner position at PT Adaro Energy.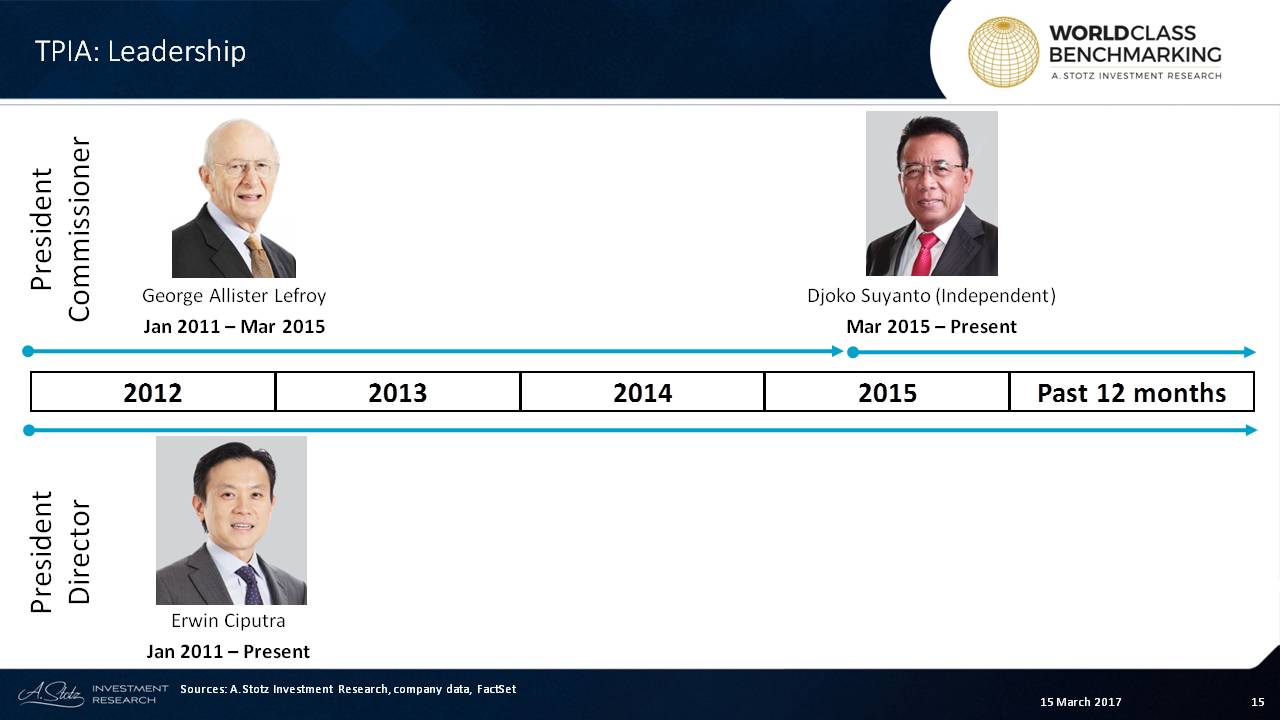 President Director Erwin Ciputra earned his Bachelor's Degree in Economics from Wharton School, University of Pennsylvania in 1996. Under his leadership, the company literally morphed from one of the worst performers in the sector to gaining the top ranking in Profitable Growth.
World Class Benchmarking
Profitable Growth has improved to World Class from being the worst in 2012. TPIA is ranked among the top 66 of 660 large Materials companies globally.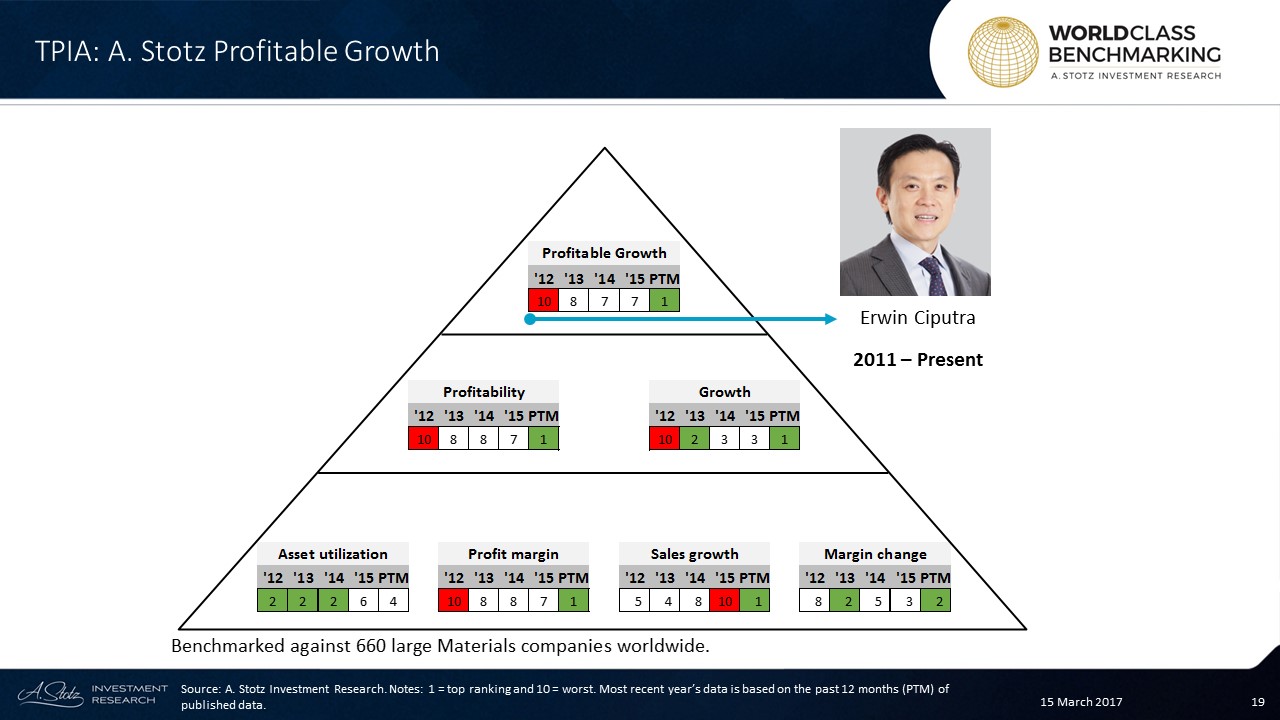 Profitability has improved to #1 from #10 driving much of the Profitable Growth rank. Growth has improved to the best from being worst as well, but it has been in ranked the top 3 since 2013.
Asset utilization has fallen from a #2 rank but is now back above average. Profit margin ranked #1 in the past 12 months, improved from #10 in 2012.
Sales growth rebounded in the past 12 months to #1. Margin change has shown a strong improvement since 2014.
---
Do YOU want to see the Profitable Growth rank for a company in YOUR portfolio?
Leave a comment below with company name and country of listing…and we'll post it if we have it
---
DISCLAIMER: This content is for information purposes only. It is not intended to be investment advice. Readers should not consider statements made by the author(s) as formal recommendations and should consult their financial advisor before making any investment decisions. While the information provided is believed to be accurate, it may include errors or inaccuracies. The author(s) cannot be held liable for any actions taken as a result of reading this article.