Business DNA: Revolutionary Townhouse Design to Beat the Competition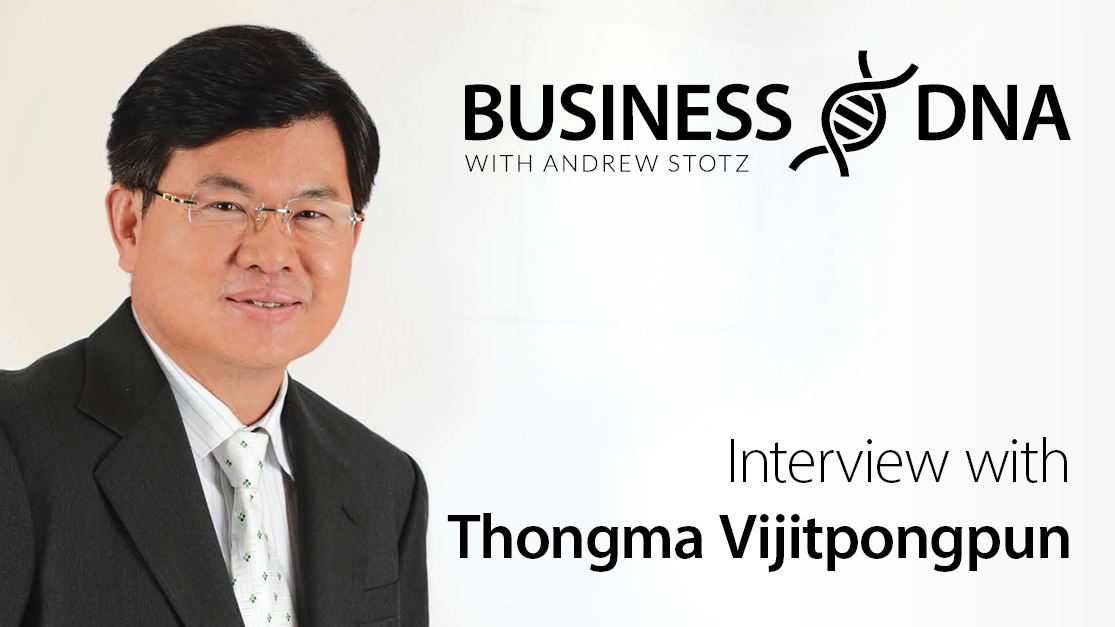 After making ice buckets in his youth in Chonburi on Thailand's eastern seaboard and then as a goldsmith in Bangkok, Thongma went back to night school to finish his high school education. He did well and earned his place at Chulalongkorn University, studying civil engineering. After that, he held various engineering positions on infrastructure projects before he became a civil works subcontractor. In 1993, he founded Pruksa and built it into one of Thailand's largest property developers. Pruksa also revolutionized building techniques, earning renown for its affordable prefabricated townhouses.
Founded in 1993, Pruksa Real Estate Public Company Limited was restructured to relist on the SET as Pruksa Holding Public Company Limited (PSH TB) in March 2016. The company operates as a real estate developer in Thailand, focusing on the low- to the mid-tier and high-end residential market. Projects include townhouses, single-detached houses, and condominiums. The company has seven precast concrete structure factories in Pathum Thani.
Company DNA: Pruksa Holding
The focus of this interview was to try to understand the company's DNA. Now that we had a little bit of a background on the company, we want to drill down to find the unique essence of what differentiates Pruksa.
Revolutionizes townhouse design
Prior to this time, people used to build townhouses 4 meters wide. So, I told the architect to design townhouses 6 meters wide, which was more attractive for the customers since they have more space. Moreover, the roof would use double corrugated tiles, which I changed so that the entire rooves would employ CPAC Monier type tiles (Extruded concrete roof tile) because these tiles were more beautiful and durable.
In the past, walls were built using pillars and brick, but I changed this pattern for our projects to the tunnel-form construction method (tunnel form is a concrete formwork system that allows the contractor to cast walls and slabs in one operation in a daily cycle. It combines the speed, quality, and accuracy of factory/off-site production with the flexibility and economy of on-site construction. The result is a cellular reinforced structure that requires minimal finishing or direct decoration).
My employees estimated that the house should be sold at 350,000 baht, but I thought we could sell it at 330,000 baht and still be profitable. Thus, we decided to sell at 330,000 baht. The construction of a mockup townhouse was yet to be finished, but we still sold 1,000 townhouses in one month. Other developers sold their homes for about 360,000-400,000 baht (with a width of 4 meters), but we were offering 6-meter-wide homes.
Expands plot sizes
Our innovation was that we considered what was beautiful and looked attractive for customers, and the width of 6 meters fit the goal. We also decided to expand the size of the land each home was built on to 18 square wah (72 square meters) while other developers used only 64 square meters. Each townhouse had two bedrooms and one parking space. We aimed at making them the best quality. Quality is also part of the DNA that grew almost organically within my organization. Even though we sold 1,000 townhouses in a month, the sales and expenses were equal (Thongma laughs upon reflection that his company had yet to figure out how to make a profit).
History of continued improvement in production
Back in 1993, the first project was 1,000 townhouses, the total cost of which was about 400 million baht. We had only 10 million baht available, so we had to manage the money effectively. At the time, I thought construction would take six months just to build the masonry alone, even if that was carried out in the shortest estimable time possible. In general, it would take six months to a year to complete projects, but the old method would be impossible to construct quality.
So, I looked for a better alternative in terms of time and money and then contacted Thai tunnel form suppliers; one of the suppliers ordered the tunnel form from France for us. With the tunnel form construction method, a designed steel structure with two sides is used as formwork to connect two L-shaped sides to form a tunnel over which we pour concrete to form the tunnel, which takes about one day and then it is unpacked. Using this process, we cut the build time in half, which meant three months until the house was handed over to the customer.
Leader DNA: Thongma Vijitpongpun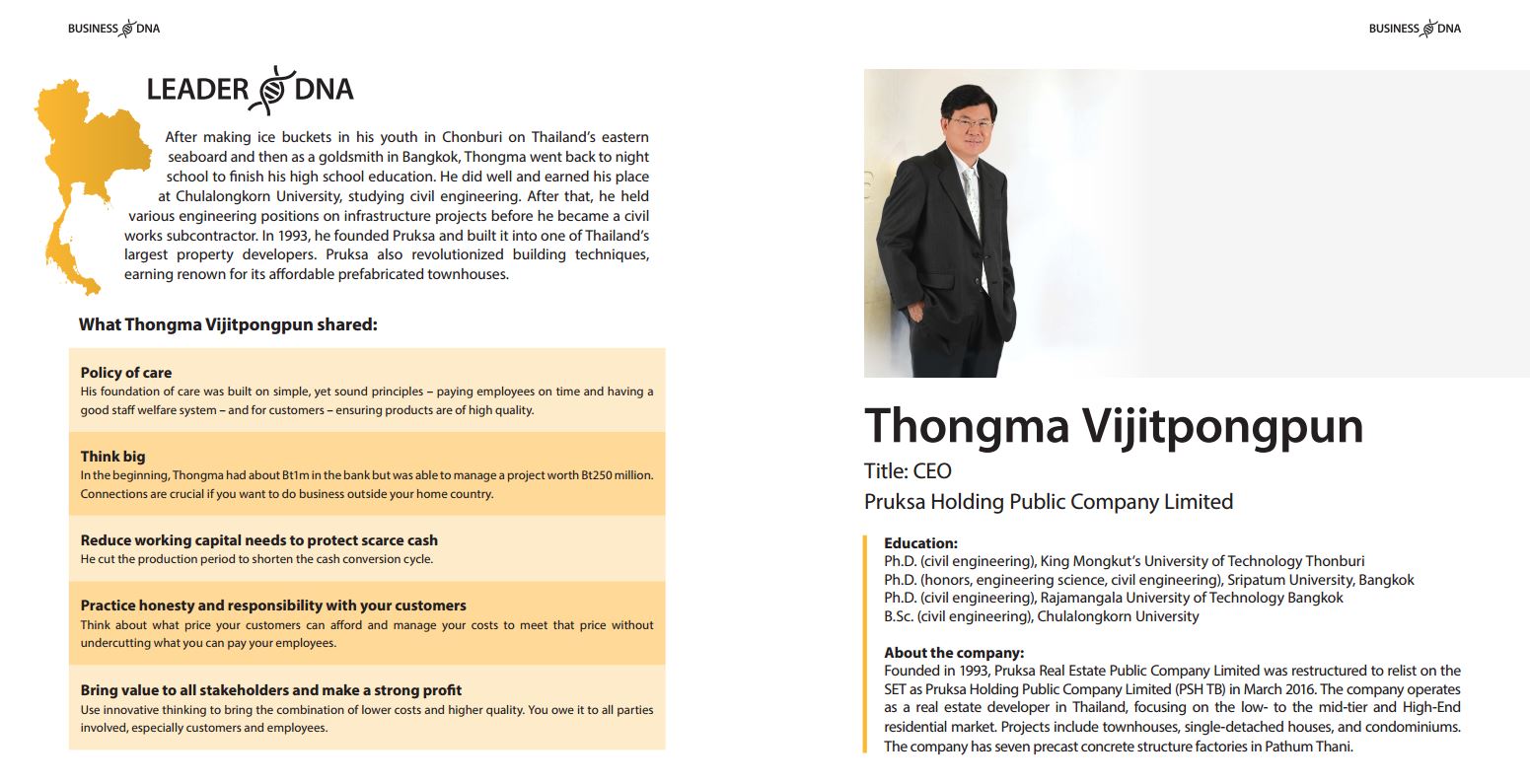 A mentor passes on key leadership behaviors
I learned some valuable people-management principles at that company, especially from my Taiwanese mentor. I had not yet scored my contracts and so had yet to be a contractor. My mentor taught me two vital lessons about leadership. To be a successful entrepreneur, he said, we need to manage two important factors: First, if an employee starts working between day one and 15 of a month, they must be paid by day 20. If an employee starts working during day 16 and 30, they must be paid by day five of the following month. Paying on time comes first. Second, he talked about the principle of taking care of people. If an employee is sick, we have to take responsibility and take them to a doctor. I learned that leadership is a simple commitment to our employees; we earn money to pay to our staff on time and we take care of subordinates when they are sick.
Didn't other companies do that at the time?
THONGMA: My mentor knew that I would be coming aboard as a subcontractor and that I had never worked in that role before, so the chance of my success was small. He, therefore, gave me these concepts about leadership. Overall, he underlined the general principle to take care of everyone and that such concepts would easily become recognized by others as a valued practice.
They could also be applied in other aspects of company operations and workers' lives, such as housing, safety, work, administration, and security management. Everything started with this and formed our company's DNA. If I had started as a contractor, it would have been difficult to succeed. When the Taiwanese subcontractor received a job from his customer, Best Engineering, he would forward it to me to carry out the third stage. He sent one of his people to help me, and the rest was up to me to manage.
These two leadership actions didn't come from a book; do you think they teach this in any MBA courses?
THONGMA: I don't know. I never obtained an MBA. But it is the same principle. It is leadership. First, I have to pay their salary on time. Second, I must take care of the sick. It applies to every issue. They are simply two aspects that apply to all.
These two principles are so valuable because they are very important for employees.
THONGMA: They're very important for employees and very important to me as part of my leadership values. Behaving otherwise would be like abandoning my principles in the middle of a journey. Such core principles give us patience as we practice compromise and being flexible. If I argue with any companies I am subcontracting for; it is not just me who will suffer financially when the money isn't paid. My staff will also suffer. If safety measures are insufficient, people will get hurt. I am concerned about everything in my businesses, but the underlying concepts came from these two things, which I have been implementing since 1985. We remain fully responsible for these matters, and they have been part of our DNA for at least 34 years. When we do anything, these concepts are applied.
Key Takeaways
Policy of care – His foundation of care was built on simple, yet sound principles – paying employees on time and having a good staff welfare system – and for customers – ensuring products are of high quality.
Think big – In the beginning, Thongma had about Bt1m in the bank but was able to manage a project worth Bt250 million. Connections are crucial if you want to do business outside your home country.
Reduce working capital needs to protect scarce cash – He cut the production period to shorten the cash conversion cycle.
Practice honesty and responsibility with your customers – Think about what price your customers can afford and manage your costs to meet that price without undercutting what you can pay your employees.
Bring value to all stakeholders and make a strong profit – Use innovative thinking to bring the combination of lower costs and higher quality. You owe it to all parties involved, especially customers and employees.
Learn more about Thongma and Pruksa in the full interview.
---
DISCLAIMER: This content is for information purposes only. It is not intended to be investment advice. Readers should not consider statements made by the author(s) as formal recommendations and should consult their financial advisor before making any investment decisions. While the information provided is believed to be accurate, it may include errors or inaccuracies. The author(s) cannot be held liable for any actions taken as a result of reading this article.