Excellent Profitable Growth at Thailand's Largest Mobile Operator
Background
Advanced Info Service Public Company Limited is a telecommunications company based in Thailand.
It is the leading mobile operator in the country since 1990 with currently 48% of revenue market share.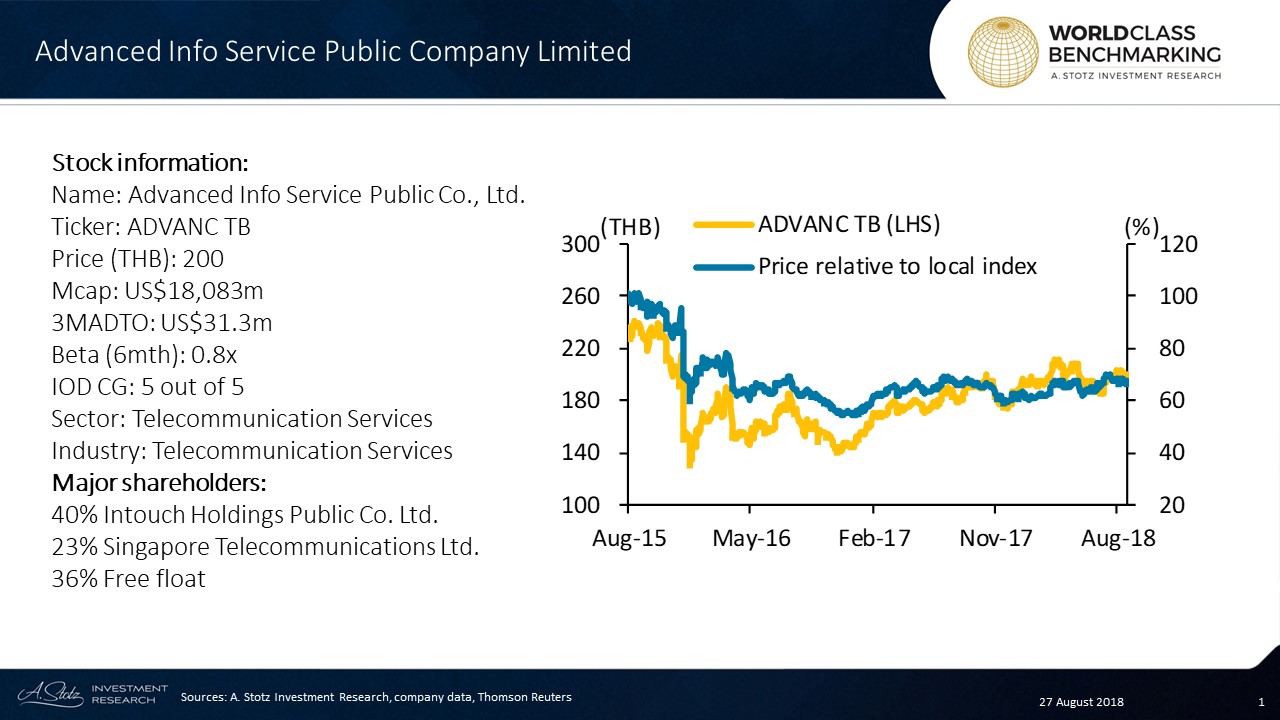 ADVANC offers mobile phone services, fixed broadband connection and digital content.
Its mobile network covers 98% of Thailand's population.
Business Description
ADVANC offers the full range of telecommunication services, from the sales of handsets to mobile phone services and fixed broadband connections. It also offers other related services such as digital content and cloud-based services. Another key revenue source is equipment rental, as usual in this sector.
The company has three operation licenses: 900MHz (ending Jul 2031), 1800MHz (ending Dec 2033) and 2100MHz (ending Dec 2027). It also has a partnership with TOT PCL for the 2100MHz (ending in 2025).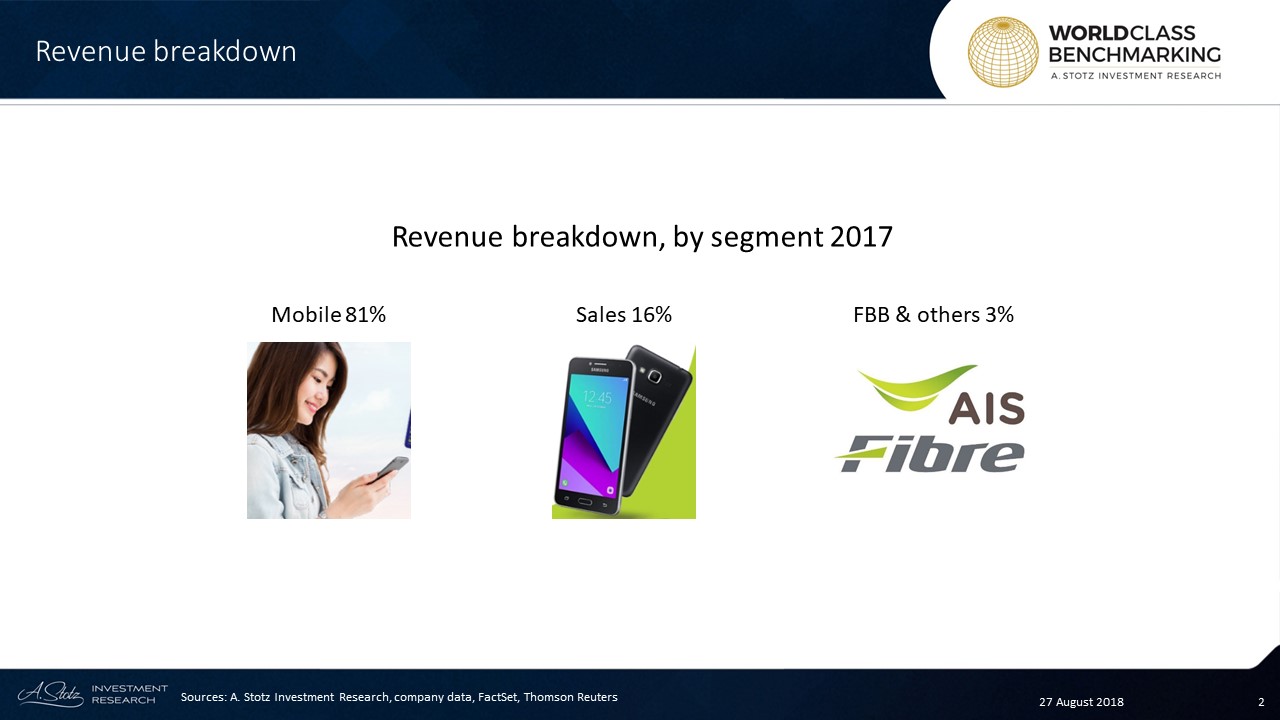 In the mobile space, ADVANC currently has 40m subscribers, among whom 61% are data users. The mix of prepaid/postpaid subscribers is 81%/19%.
AIS Fibre, fixed broadband (FBB), has 623,000 subscribers as of 2Q18. That represents a 7% market share in this space. ADVANC is also developing its digital strategy offering video content, mobile payments/transfers, cloud services as well as an Internet of Things platform.
Leadership
Kan Trakulhoon was appointed the role of independent Chairman in November 2016. He also holds directorship in Siam Cement PCL (SCC TB) and The Siam Commercial Bank PCL (SCB TB) among others. His education consists of a Bachelor in Electrical Engineering from Chulalongkorn University, Thailand and a Master's in Management from Georgia Institute of Technology, US.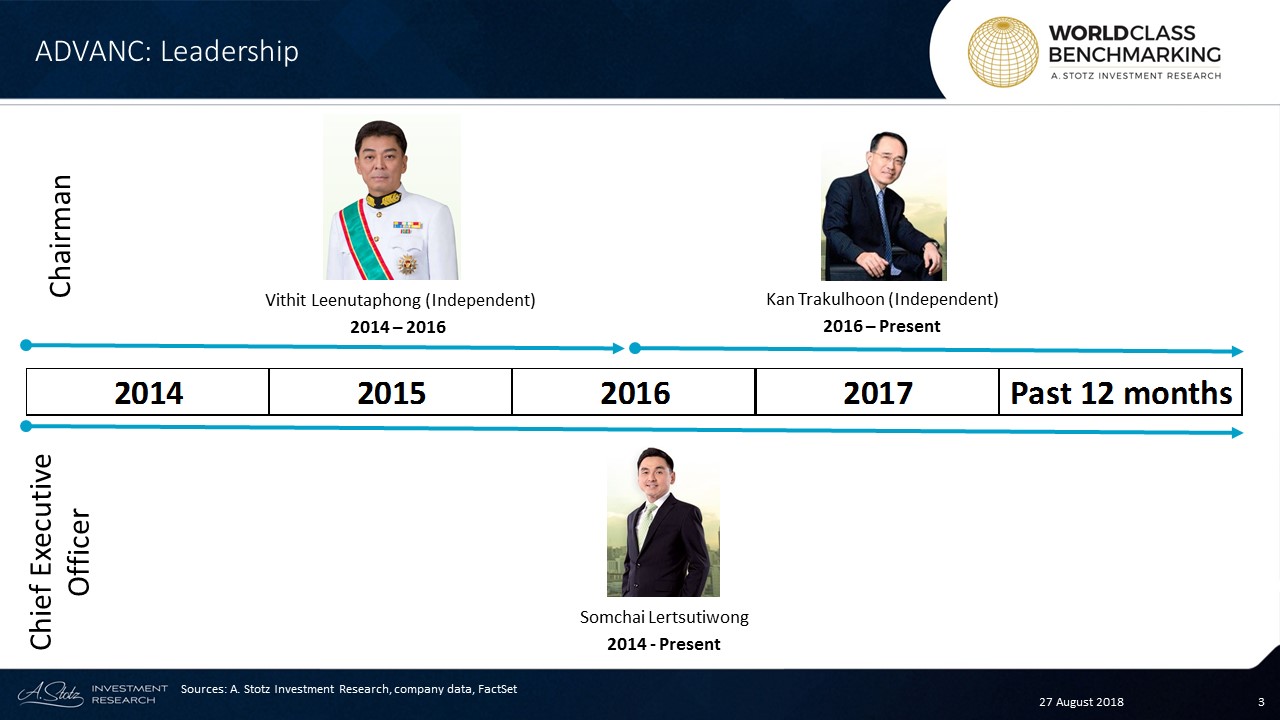 Somchai Lertsutiwong joined ADVANC back in 2004 as a Senior Vice President. Since then, he has served multiple roles and attained his current position of CEO of ADVANC in 2014. Mr. Lertsutiwong received his MBA from Chulalongkorn University, Thailand.
World Class Benchmarking
ADVANC's Profitable Growth has been excellent over the years consistently ranked in the top 20% among 130 large Telecom companies worldwide.
Profitability has consistently ranked in the top as well and has been the main driver of the company's overall Profitable Growth rank. However, Growth has been mostly below average up until recently where it ranked at #4 in the past 12 months.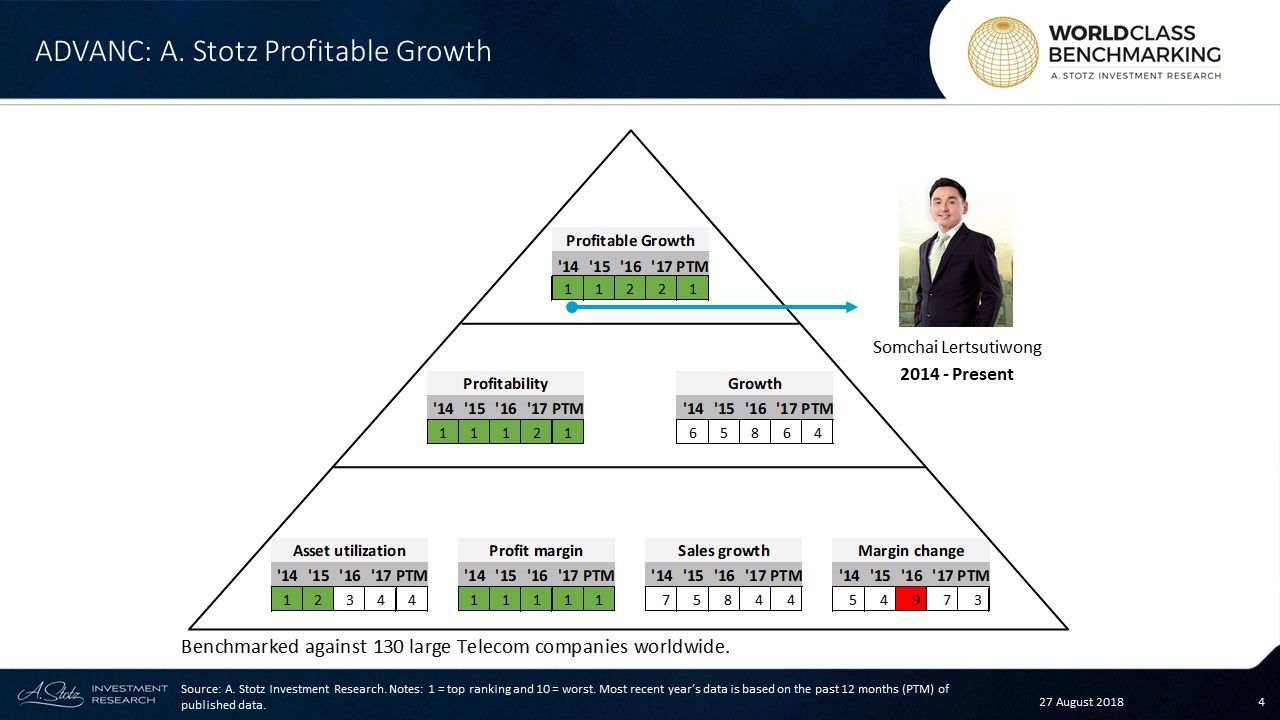 While still maintaining an above average rank, Asset utilization has displayed a downward trend in rank since 2014. Profit margin has consistently ranked at #1 since 2014.
Both Sales growth and Margin shows have fluctuated. Sales growth has improved and ranked at#4 since 2017 and Margin change improved to #3 from #7 in the past 12 months.
---
What're your thoughts on ADVANC?
If you like our research, share it with your friends.
---
DISCLAIMER: This content is for information purposes only. It is not intended to be investment advice. Readers should not consider statements made by the author(s) as formal recommendations and should consult their financial advisor before making any investment decisions. While the information provided is believed to be accurate, it may include errors or inaccuracies. The author(s) cannot be held liable for any actions taken as a result of reading this article.