Business DNA: Legend of the Turnaround Master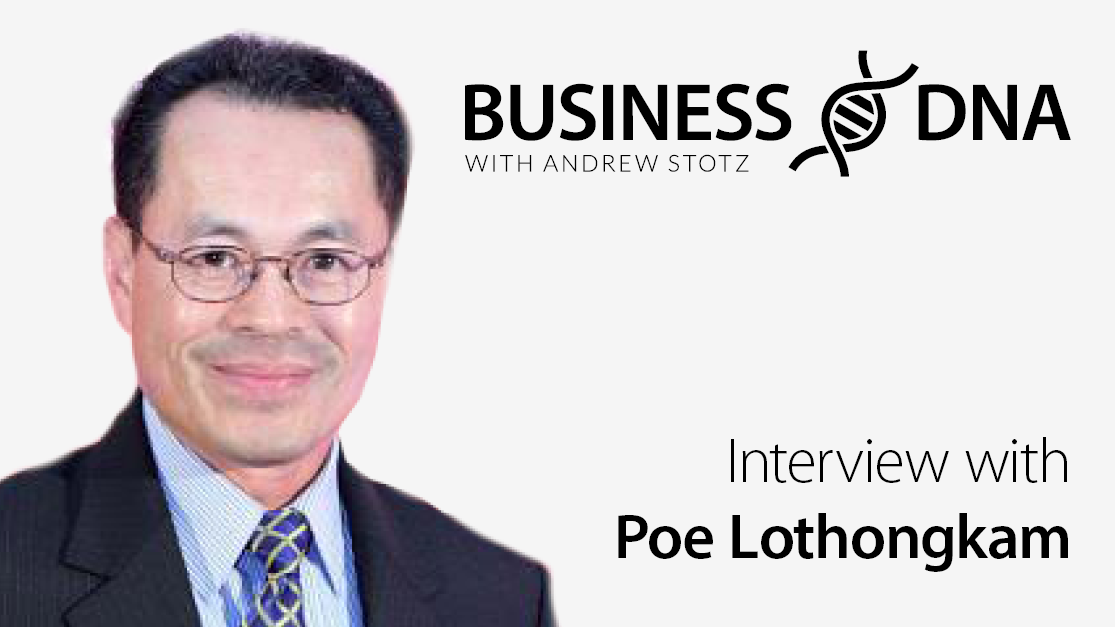 Poe Lothongkam is nothing if not a born entrepreneur. After leaving Thailand to study electrical engineering at the University of California, Berkeley in the early 1980s, Lothonkam parlayed a $2.75/hour restaurant gig into founding and flipping two separate restaurants all before he graduated.
After graduating, Lothongkam worked for a semiconductor company in Silicon Valley that later went public, giving him his first but not last taste of success.
He later joined Sequoia Capital and lead several high-profile corporate turnarounds. Later he worked for Hana Microelectronics and Universal Instruments across Asia. Then he found a bank to loan him the money to buy a large stake in SVI Public Company Limited, the Thailand-based electronics company he now runs.
Company DNA: SVI Public Company Limited
The focus of this interview was to try to understand the company's DNA. Now that we had a little bit of a background on the company, we wanted to drill down to find the unique essence of what differentiates SVI Public Limited from its competitors.
Can you give us a clear description of your business as it is today?
PL:  I take the headache away from my customers, which usually has something to do with manufacturing products. I build the product. I buy stuff from suppliers, ship them to this factory, and ship them out to the customers as soon as possible.
I make sure that my customers get the product to their customers before they expect to see the product. That's my business model. If they tell me it will take nine months to launch a product, I will try to do it in three months.
What is something that people don't understand about your business that you would like to explain?
PL: We build a lot of products for a lot of customers, but we don't own any products. Our brand name is not in the market.
You can't go in a store and buy a product from SVI. But most people have used a product from SVI at one time or another, because we make the controls for lifts. You hit the button, and the lift goes up in the building. We make that. You buy Coca-Cola. We make stuff that runs the factory.
Just about any concert around the world is powered in some way by an instrument or electronic component made at our factory. We make the guitar controller. We make the lighting system. We make the voice Doppler, voice synthesizer, amplifiers and things like that. And you hear my products. You don't see that I'm the one making them. We're like the guy who puts the gold leaf on the back of the temple.
Leader DNA: Poe Lothongkam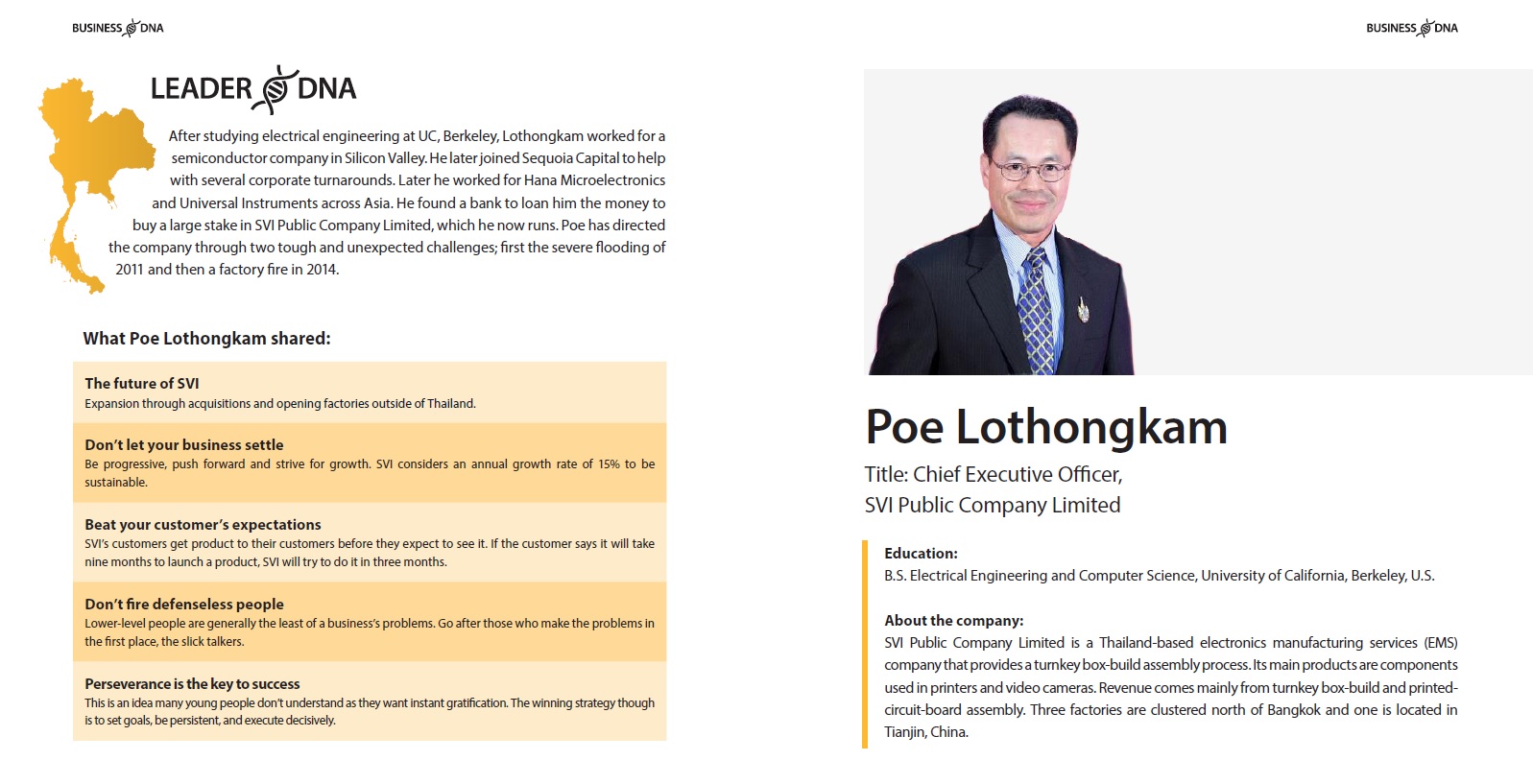 Explain how you got involved with SVI Public Company Limited?
I got a job working for John Cary, a guy who I used to do some projects for. He was the founder of AMD. When he left to start his own company, I went to join him. I worked there as a member of the start-up team of the company, building the first products. I understood technology pretty well at that time, as it was the early days of the semiconductor industry.
Then I got a lucky break when the founder decided to issue stock options. By that time, I was already a key member of the team. So I got a big stock option. In 1984 or 1985, they went public, and I made a lot of money on my shares.
Then a guy who founded the company decided to join Sequoia Capital. And Sequoia Capital needed somebody to work in another company that they'd invested in, which wasn't doing well. So they hired me to work in that other company. That's where I learned the world of venture capital.
Since then I've worked for various restructuring jobs: one job in Boston and two jobs in California. The last job I had in the U.S. was the president of Multichip Technology.
Eventually, I got a job at Hana Microelectronics in Thailand. I worked for Hana for two and a half years. Then I went to work for Dover Investments, which had me running a factory and company in Asia. I ended up in Hong Kong for two years running a Universal Instruments division for Asia. I built a factory in Shenzhen. I built a new sales team for them and ramped up sales from $80 million to between $300 to $400 million in a very short period of time.
Then H&Q Asia Pacific hired me to run SVI in Thailand.
Can you share what motivates you and gives you inspiration during difficult times?
PL: There are two sides to this. The most important one is the personal drive that I have. I'm always looking for opportunities to do more and to do better. There are four things in life I go after. One is the financial world. You've got to have money. You can't be poor in business. You have to have money.
The second thing I go after is the spiritual world. You've got to believe in something. You can't walk around and say, "I don't believe in anything. I'm it." When you come to your deathbed or you've gotten into a corner, you've got to be able to say that God will take care of you, or Buddha will take care of you or Allah will take care of you. You have to believe in something. The spiritual world is important to keep you stable.
The third one is physical health. Physical wealth and health are important. You've got to have your body intact. This is the vehicle you need for 50, 70 or 80 years. You've got to keep that in good shape. You can't abuse it all the time.
The last is emotional wealth. You've got to be respected. You've got to respect people. You've got to have people who love you unconditionally. You've got to love people unconditionally. And you've got to have a heart that people can love and live with. That's emotional wealth. I can go out with my friends. I can laugh out loud knowing that what I've told them won't come back and haunt me in the wrong way. This is so important.
When you keep these four things in mind, you run your business in just a way that is well balanced. You don't go after the bottom line only. You don't go after the numbers for the sake of numbers. You don't cut the headcount because of hard times this quarter
Key Takeaways
The future of SVI – Expansion through acquisitions and opening factories outside of Thailand.
Don't let your business settle – Be progressive, push forward and strive for growth. SVI considers an annual growth rate of 15% to be sustainable.
Beat your customer's expectations – SVI's customers get product to their customers before they expect to see it. If the customer says it will take nine months to launch a product, SVI will try to do it in three months.
Don't fire defenseless people – Lower-level people are generally the least of a business's problems. Go after those who make the problems in the first place, the slick talkers.
Perseverance is the key to success – This is an idea many young people don't understand as they want instant gratification. The winning strategy though is to set goals, be persistent, and execute decisively.
Learn more about how Mr. Lothongkam built a successful career and company on fundamental principles you can put to work in your professional life today!
---
What do you think about Mr. Lothongkam's Leader DNA?
Feel free to share this article with your friends.
---
DISCLAIMER: This content is for information purposes only. It is not intended to be investment advice. Readers should not consider statements made by the author(s) as formal recommendations and should consult their financial advisor before making any investment decisions. While the information provided is believed to be accurate, it may include errors or inaccuracies. The author(s) cannot be held liable for any actions taken as a result of reading this article.