Business DNA: From Starbucks, McDonald's, and 7-Eleven to Real Estate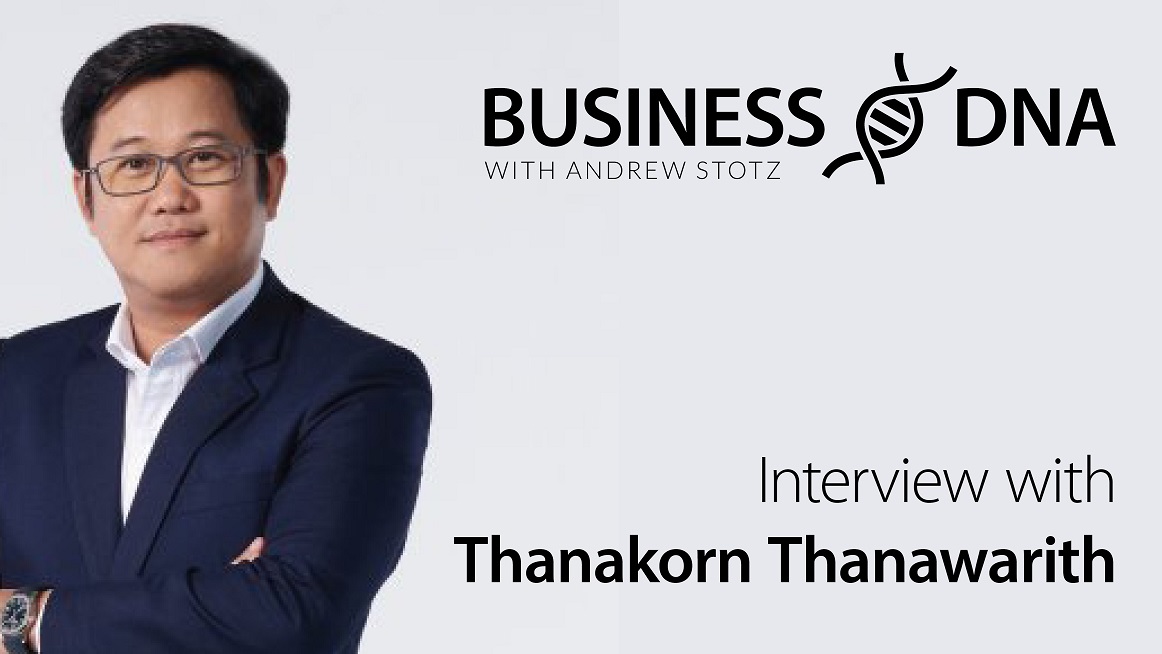 At the age of 12, Thanakorn Thanawarith lost his father to cancer. It felt like losing everything to him. He had to sacrifice his education so his older brother could go to school, and he also helped his mother sell noodles and help her support the family.
Thanakorn describes himself as a street fighter. Being sincere, honest, and realistic are very important for doing business. Don't over promise for the things that you can't do. Strive to know everything so you can be number one in all the things you do.
In 2013, All Inspire Development Public Company Limited (ALL TB) was established. It was listed on the Market for Alternative Investment (mai) on 8 May 2019. The company develops residential property, including low-rise condominiums, high-rise buildings, and townhome projects. Under its three brands, The Excel, Rise, and Impression, it develops fully-furnished residential properties, attracting the mid to high-income segments. The company also provides property management services such as maintenance, repair, and security and offers real estate brokerage services for international investors.
Company DNA: All Inspire Development
The focus of this interview was to try to understand the company's DNA. Now that we had a little bit of a background on the company, we want to drill down to find the unique essence of what differentiates All Inspire Development.
All Inspire Development is a total real estate solution and mass-premium residential business.
An affordable model
THANAKORN: During my time at 7-Eleven, when I was also investing in property, I realized that people needed homes. I saw the demand, so I decided to become a developer. I did not know anything about engineering, but I knew marketing and selling products. So, I studied the gap in the market. My model was affordable, so I knew there was the potential of succeeding as a developer.
Adapt to your target market
THANAKORN: I believe that no one can hold the market a hundred percent. So because I came from the employee experience, I understood what people like me want when buying their first house. They want a big condominium, but they cannot afford it, so they start small. So I targeted that market.
For a newcomer like me, it was simple. Since you do not have any platform, you have to build for the market and have a lot of flexibility. You can sell at a low margin, discount your prices, or change anything based on your customer's needs, all without first talking to your boss.
Most people look at their budget first
THANAKORN: With my business model, I focus on the people and not the plan. When it comes to the location, I do not focus on the main streets. I go for affordable and convenient because most people look at their budget first before looking at the location.
I do not have an engineering background. But if you want to do something, you do not need to know everything. I just learned what I needed to learn to run my business. Now I try to be realistic. We now offer every segment, and we are a mass-premium residential business.
So, given all that, can you tell me the biggest misconception people have about your business?
THANAKORN: We are now a listed company. We have been running for about six years and experiencing continuous growth. We are small, but we have room to grow. Our revenue is about 3 billion. So to get to 5 billion or 6 billion is not a dream but a possibility.
Leader DNA: Thanakorn Thanawarith
Sacrificed his education to help the family
THANAKORN: When I was 12 years old, I lost my father to cancer; he was only 45. Losing a father is like losing everything. We sold everything and had no place to stay.
I stopped going to school because we had no money. I had to sacrifice my education for my older brother to go to school. I started selling noodles to support my mom; we also grew and sold vegetables. I think the most influential person in my life is my mom.
Really wanted to go to school
THANAKORN: I wanted to go to school so badly. I would cry whenever I saw my friends go to school. Later, I managed to find a way to make money and go back to school. I would go to the market early in the morning to buy chicken to sell later. This way, I was able to make enough money for school.
Joined Starbucks after graduation and spent his days off to learn finance
THANAKORN: After graduation, I joined Starbucks; while there, I would go to the finance department and ask them lots of questions about how they worked. I tried to learn everything because I wanted to get promoted. My role was managing the day-to-day operations of serving coffee at Starbucks, but I also wanted to understand more about finance.
After Starbucks came McDonald's and 7-Eleven
THANAKORN: After Starbucks, I moved to McDonald's. I wanted to step up a little bit so that I can get a high salary. I wanted to become an entrepreneur and make money. The only way to do this was to have a high-level-salary and build up my savings to fund my own business. At McDonald's, I learned how to run the business for the mass market and how to scale-up.
Then I moved to CP All (7-Eleven), where I worked as the General Manager for five years. I learned a lot about consumer behavior at 7-Eleven because it was dynamic, and the stores were always busy.
Can you share with us what motivates you? What is your source of inspiration during difficult times? Can you tell us about a time that you had to dig deep and rely on this inspiration?
THANAKORN: I came from zero, and it was hard to get here, I cannot lose it. I do not want to waste more than 20 years of hard work from the days of being an employee to building a company. I am also responsible for my team. I do not want to fail them.
I have not reached my goal yet. My goal is to be in the top five business owners in the world.
What is your main constraint to growth?
THANAKORN: The biggest constraint to growth in this industry is demand. The demographic is changing, lifestyle is changing, and society is aging.
My biggest challenge is finding people with the same mindset as me. I cannot run the business by myself. I work very fast, but if my team cannot catch up, I will not succeed.
Key Takeaways
Reading books give you theory, working gives you practice – When Thanakorn was young, he would read about role models and inspiring entrepreneurs. You can learn from reading but, that is all theory. Working with people gives you practical knowledge.
Have a passion for everything you do – Thanakorn learned to work with passion from Starbucks. If you have passion, you want to know everything there is about something to become the best.
Adapt to your target market – You have to build for the market and have a lot of flexibility. Thanakorn came from the employee experience and understood what people like him wanted when buying their first house.
Most people look at their budget first – All Inspire Development goes for affordable and convenient because most people look at their budget before considering the location.
Demand is the main constraint to growth in Thai Real Estate – The biggest constraint to growth in the industry is demand. The demographic is changing, lifestyle is changing, and society is aging.
Learn more about Thanakorn and All Inspire Development in the full interview.
---
DISCLAIMER: This content is for information purposes only. It is not intended to be investment advice. Readers should not consider statements made by the author(s) as formal recommendations and should consult their financial advisor before making any investment decisions. While the information provided is believed to be accurate, it may include errors or inaccuracies. The author(s) cannot be held liable for any actions taken as a result of reading this article.