A System Integrator to Hang Your Hat On
Watch the video with Andrew Stotz or read a summary of the World Class Benchmarking on Advanced Information Technology PCL.
---
---
Background
Advanced Information Technology Public Company Limited is a developer and provider of computer systems and computer communication systems in Thailand.
AIT provides services to both state-owned enterprises and private companies in the form of billing and charging systems, enterprise resource planning and customer relationship management systems.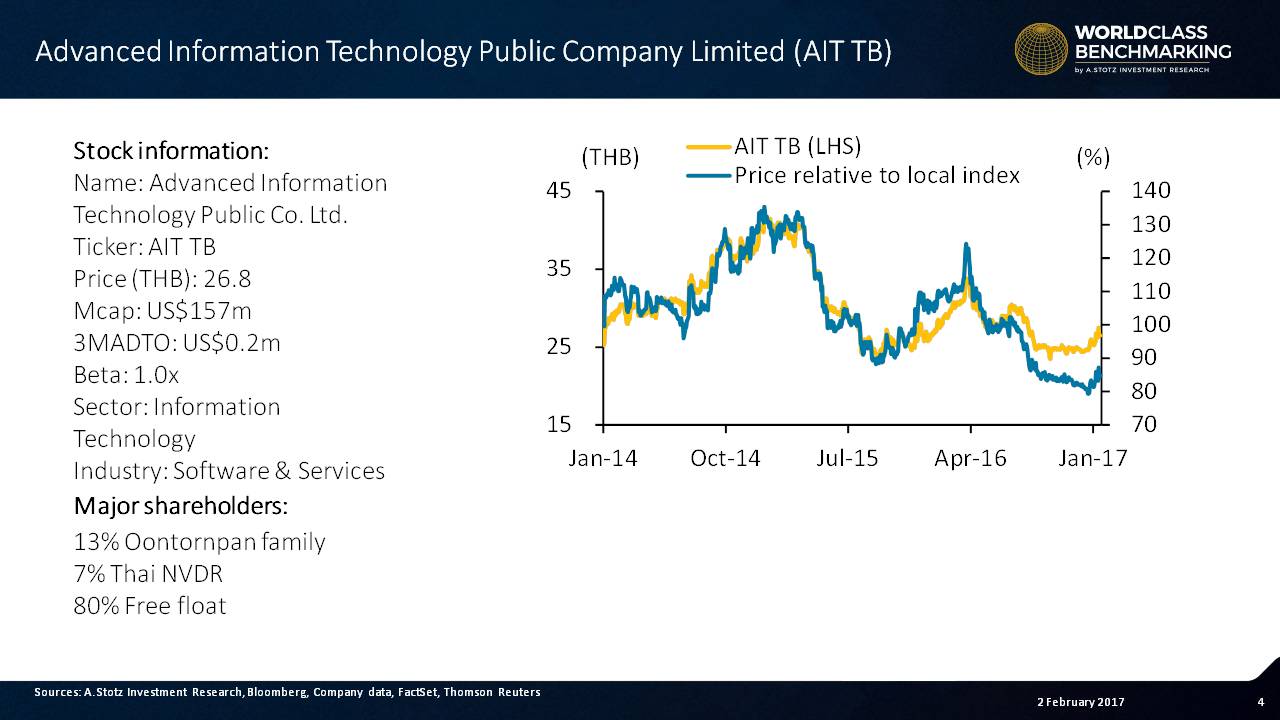 Business Description
AIT develops the tools to facilitate everyday life inside companies and institutions through more effective planning and management.
Foreign observers might categorize AIT as a System Integrator (SI). The company designs system solutions, including hardware, software, applications and computer network equipment to provide network services.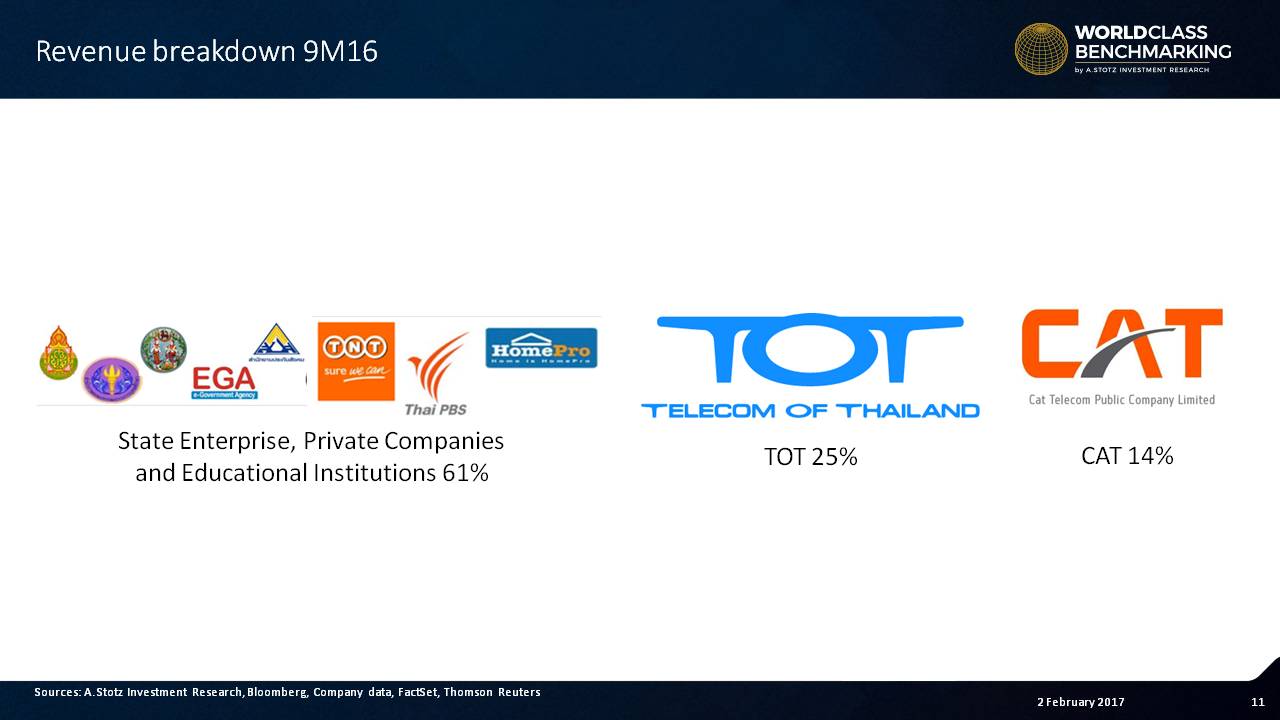 The core business of AIT is the design, development and servicing of network infrastructure based on client demand. Those include management information systems (MIS), transportation systems, geographic information systems (GIS), operational support systems (OSS), billing and charging systems, enterprise resource planning (ERP) and customer relationship management (CRM) systems among others.
Two big telecom players in Thailand, CAT PCL and TOT PCL, use AIT network services and account for 25% and 14% of the company's revenue, respectively, at last check. The remainder comes from state enterprises, private companies and educational institutions.
Leadership
Chairman of the Board Thana Chaiprasit has been with the company since 2003. He owns 1% of AIT's shares and is not related to the company's management. Beside AIT, Chaiprasit has held the chairman position for both Siam Glass Company and Thanarom.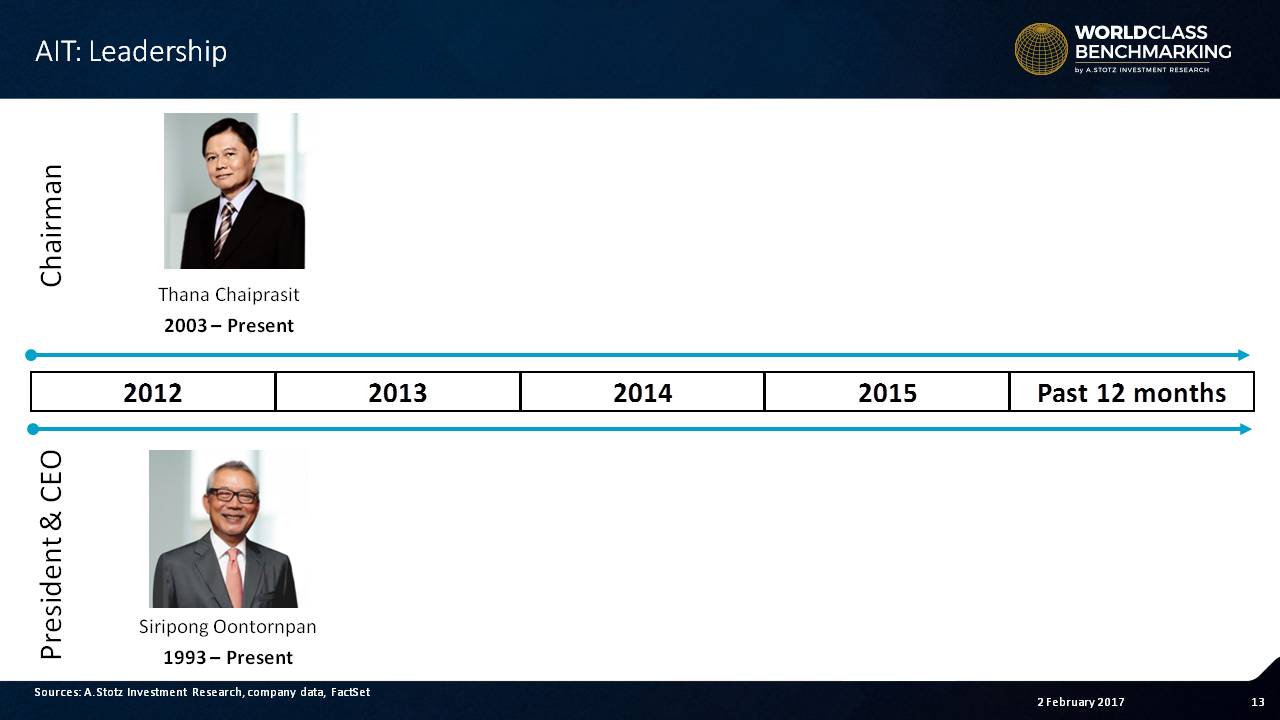 President Siripong Oontornpan has held his present position for 24 years. Together with his family, he holds 13% of shares.
Over the last 5 years, AIT has remained in the top 30% of firms in its sector, based on our World Class Benchmarking.
World Class Benchmarking
Profitable Growth fell to a lower rank #3 in the trailing 12 months for the first time in 4 years.
However, AIT has remained highly ranked for 5 consecutive years. AIT ranks among the best 351 of 1,170 medium information technology companies worldwide.
Profitability has been in the green since 2012 and is the main driver of the high Profitable Growth numbers. Growth, however, remained the same at #7. For most of the last 5 years, Growth has been below average for the sector.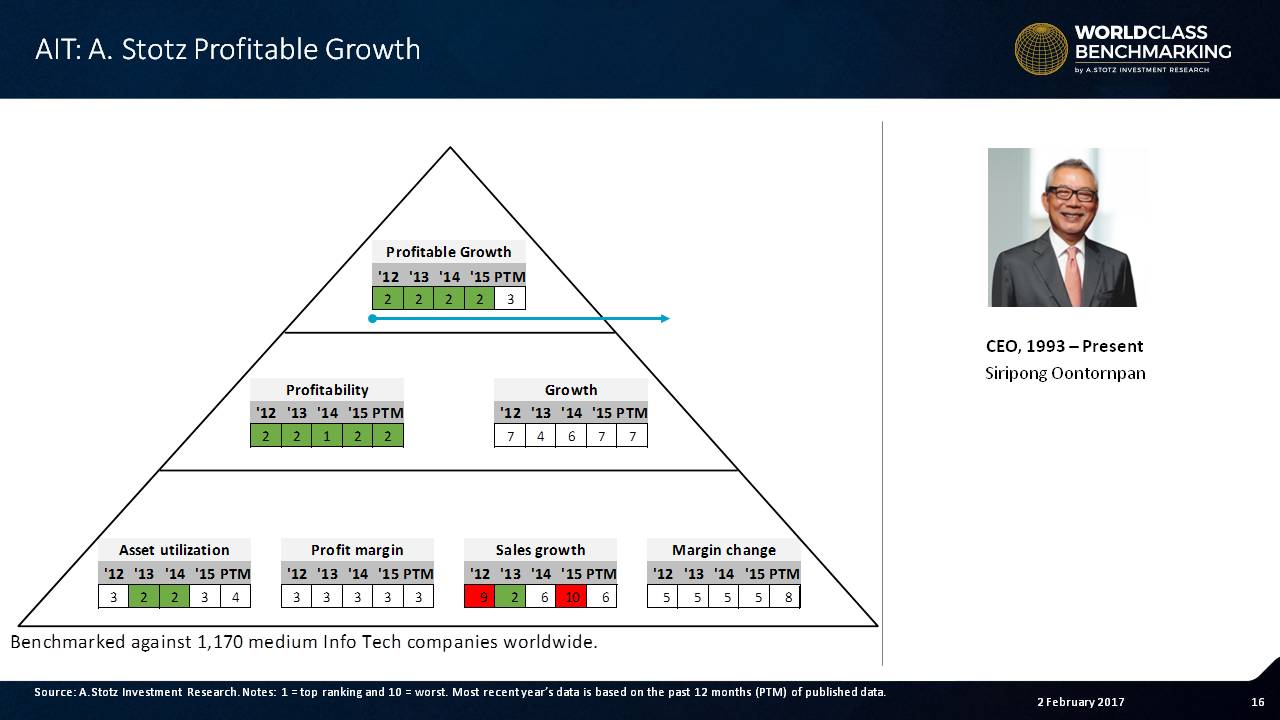 Asset utilization has fallen since 2014 but remains above average. Sales growth improved to #6 from #10, but Margin change dropped to #8.
That left side of the triangle has really supported AIT's ranking all along.
---
Would you invest in AIT?
If you like our research, share it with your friends.
---
DISCLAIMER: This content is for information purposes only. It is not intended to be investment advice. Readers should not consider statements made by the author(s) as formal recommendations and should consult their financial advisor before making any investment decisions. While the information provided is believed to be accurate, it may include errors or inaccuracies. The author(s) cannot be held liable for any actions taken as a result of reading this article.