Profitability is Key at Puregold Price Club
Watch the video with Andrew Stotz or read a summary of the World Class Benchmarking on Puregold Price Club Incorporated.
---
---
Background
Puregold Price Club Incorporated is the second-largest food retailer in the Philippines, catering to both end consumers and resellers.
It sells consumer goods through its 291 stores. Its Puregold stores contribute 82% of revenue and its S&R brand delivers 18%.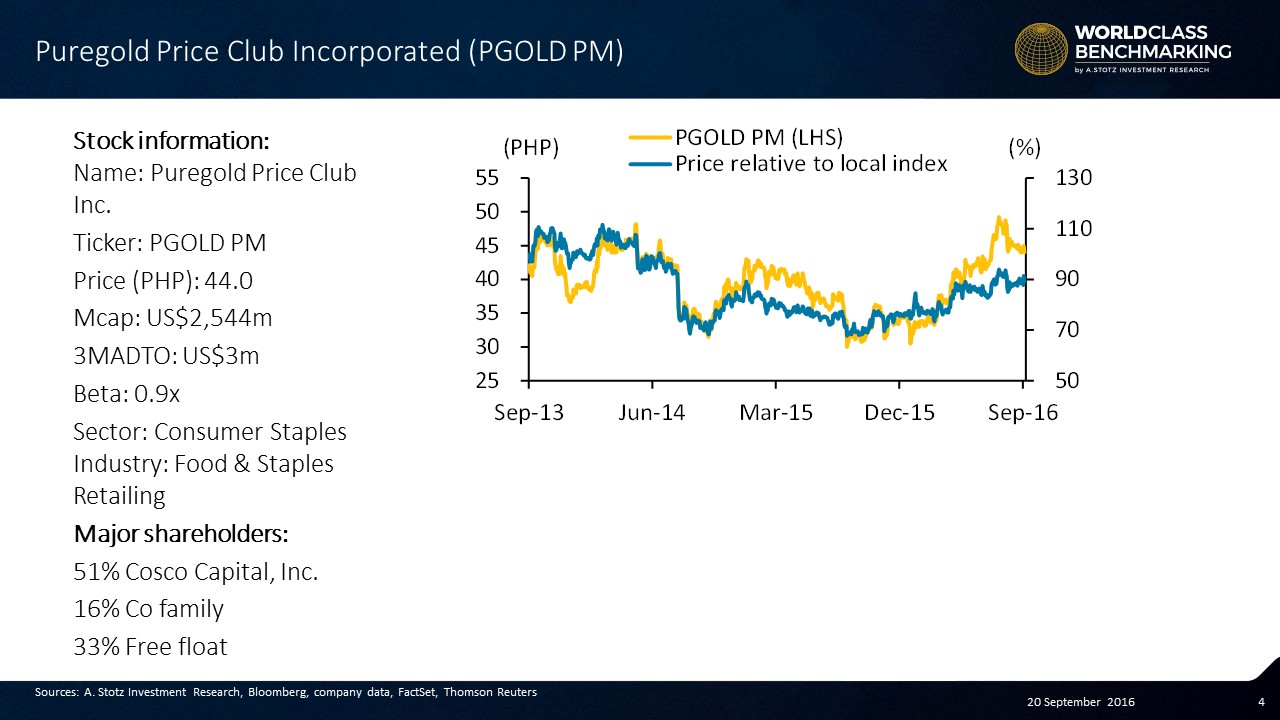 Business Description
The company is principally involved in trading consumer products on a wholesale and retail basis through its 291 stores as of the first half of 2016.
PGOLD is positioned as a low-cost food retailer and is known for its strong following by low-end resellers, while its S&R brand is a membership-only store targeting the upper-income segment of shoppers. S&R does also have its S&R Quick Service (QSR) store format. The recent everyday-low-price (EDLP) strategy has grown S&R memberships.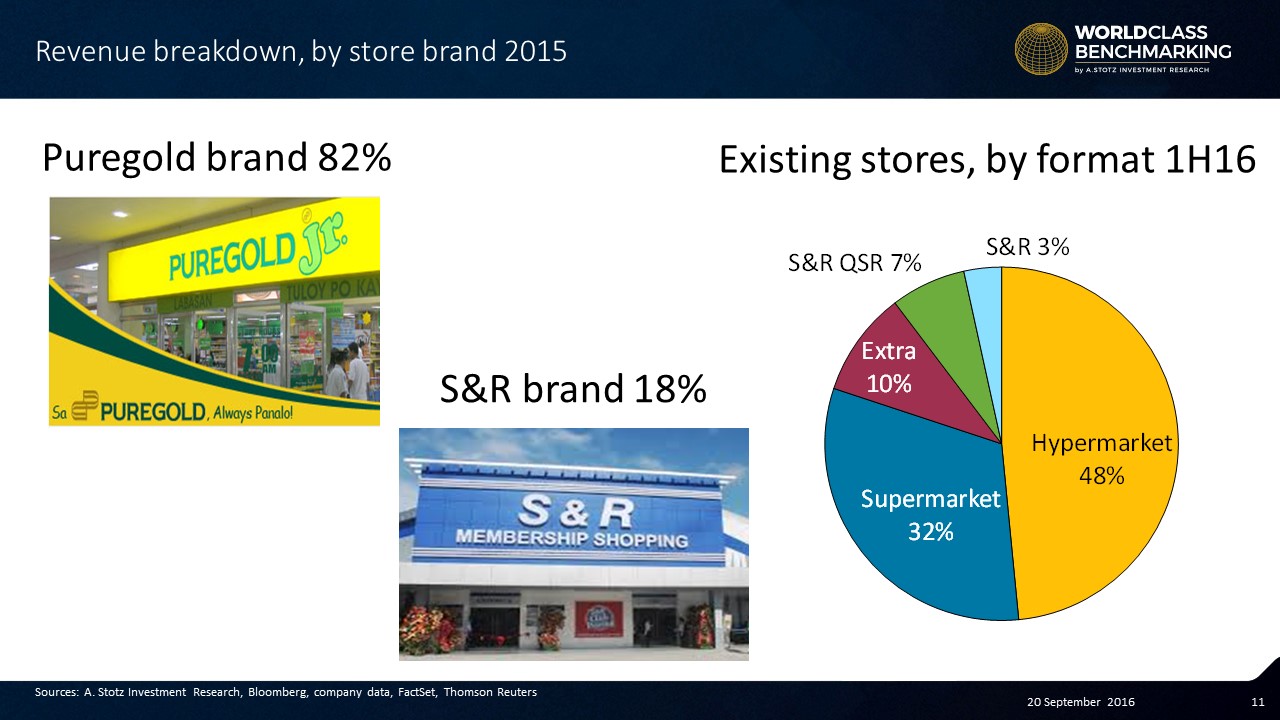 Most of its operations are run under the Puregold's three store formats, which are hypermarkets, Puregold Jr. (supermarkets) and Puregold Extra (discount stores). The supermarkets are placed outside malls in stand-alone outlets or as anchor tenants of commercial centers.
Under its join venture with Lawson, it plans to add 50-75 Lawson stores in 2016. The Lawson stores will focus on residential locations before penetrating business districts. It also plans to add one Merkado store, a new brand of stores under its 50-50 venture with Ayala Land (ALI PM), which will cater to mid-income consumers.
Leadership
Leonardo Dayao has been a director and the president of the company since 1998. In the last five-year period, both profitability and sales growth have remained high.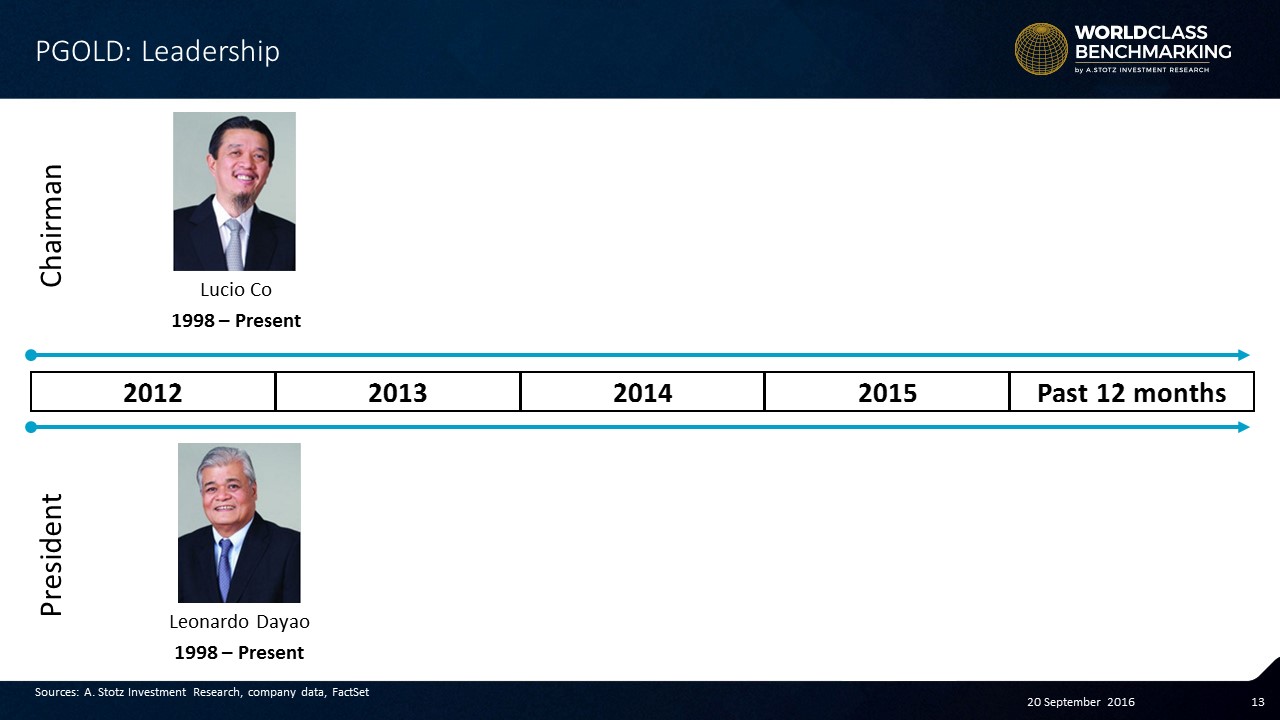 Likewise, Chairman Lucio Co has been a director at Puregold since it was incorporated in September 1998. The Co family owns 16% directly in PGOLD and the largest shareholder Cosco Capital Inc. (COSCO PM) is 60%-owned by the Co family. Lucio Co is also the Chairman of Cosco Capital, and Leonardo Dayao is President of the company.
World Class Benchmarking
Profitable Growth has been stable at #3 in recent years, but it has improved to #2 in the PTM.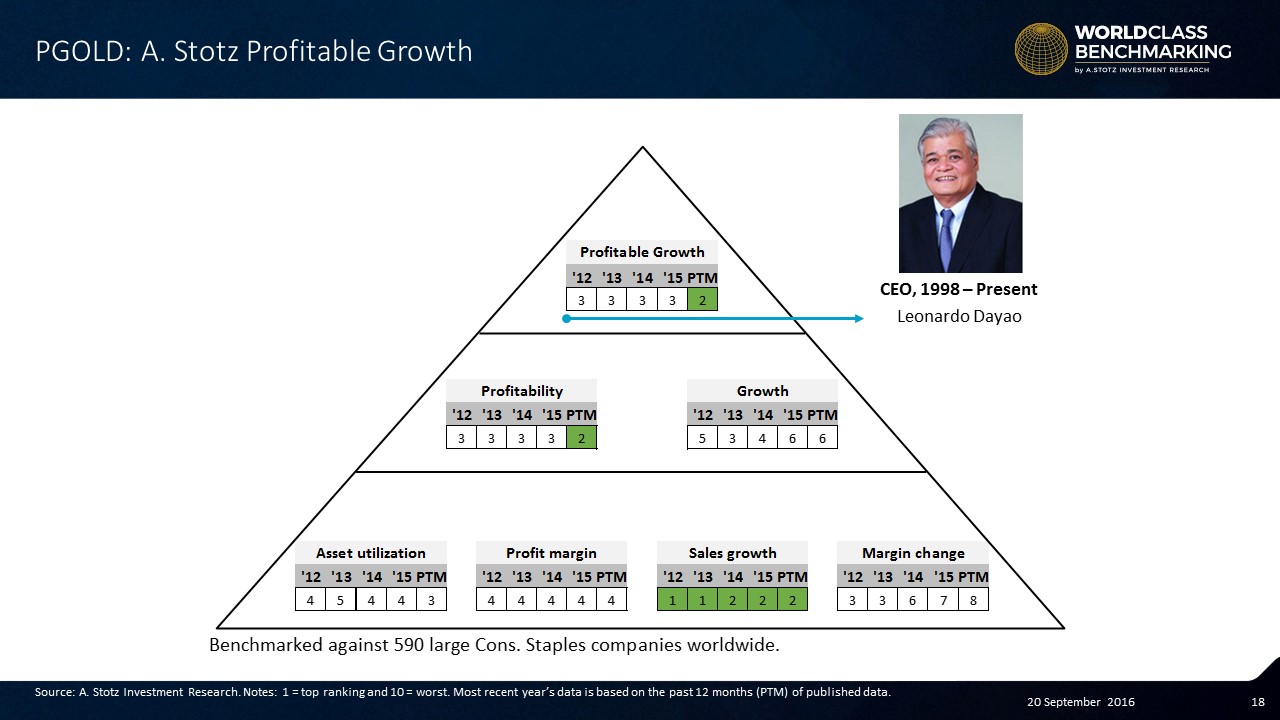 PGOLD ranks among the best 118 large Consumer Staples companies. Profitability has been the main driver of the improvement, while Growth has remained below average.
Asset utilization has also driven Profitability's improvement in the last year, while Sales Growth has remained steady at PGOLD.
---
Do YOU shop at Puregold and/or S&R? How do you like it?
If you like our research, please share with your friends.
---
DISCLAIMER: This content is for information purposes only. It is not intended to be investment advice. Readers should not consider statements made by the author(s) as formal recommendations and should consult their financial advisor before making any investment decisions. While the information provided is believed to be accurate, it may include errors or inaccuracies. The author(s) cannot be held liable for any actions taken as a result of reading this article.