A Diversified Philippines Portfolio in One Stock? That's LT Group
Watch the video with Andrew Stotz or read a summary of the World Class Benchmarking on LT Group Incorporated.
---
---
Background
LT Group Incorporated is one of the largest conglomerates in the Philippines and was founded in 1937. LTG invests in the banking industry with PNB; in tobacco, with its interest in PMFTC; and beverages, through Asia Brewery; property development, through Eton Properties; and distilled spirits, through Tanduay Distillers.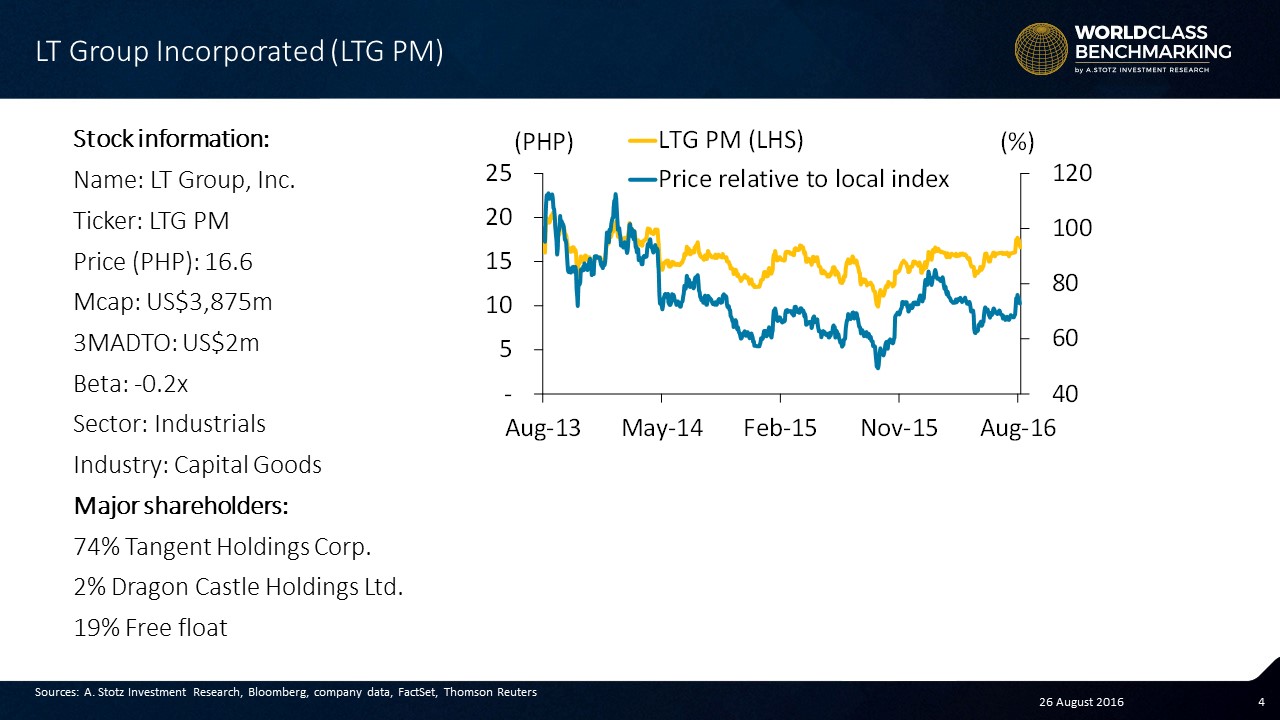 Business Description
LTG's business can be divided into five main divisions: banking, tobacco, beverages, alcohol and real estate.
Its presence in the banking industry is maintained through the Philippine National Bank (PNB PM), which is the fourth largest bank in the country. PNB provides financial services to corporate, middle market and retail customers, as well as government and non-governmental units.
Its tobacco business is run through PMFTC, a joint venture between Philip Morris Philippines Manufacturing and Fortune Tobacco, in which LTG holds a 49.6% stake. PMFTC supplies and manufactures cigarettes, tobacco, packaging, labels and filters.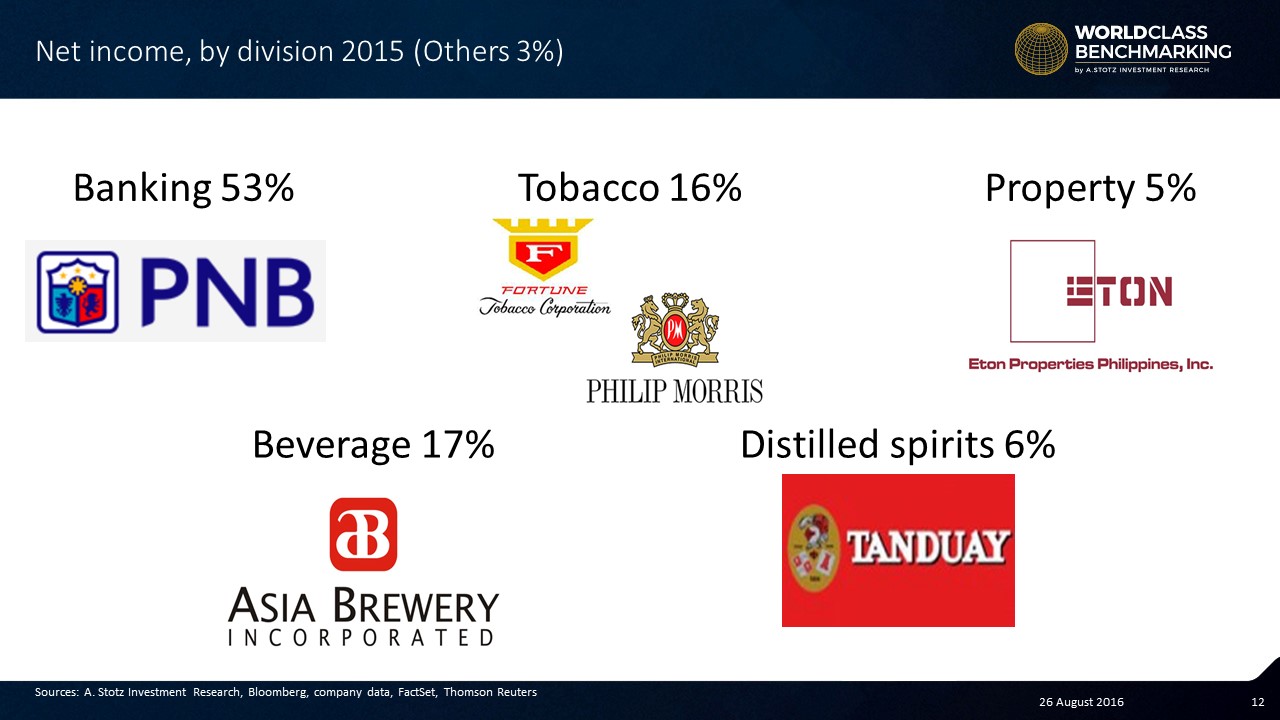 The Beverages division, operated by Asia Brewery, is one of the two breweries operating in the Philippines. It provides beer, liquor, soft drinks and bottled drinking water.
It bottles and distributes spirits through Tanduay Distillers Inc., the operations of which include selling and importing spirits.
Property development is carried out via Eton Properties, which acquires, develops and sells commercial, urban, and industrial properties.
Leadership
Dr. Lucio C. Tan is both the Chairman of the Board and the CEO, since 1995. Additionally, he sits on the boards of many other corporations, such as Philippines Airlines.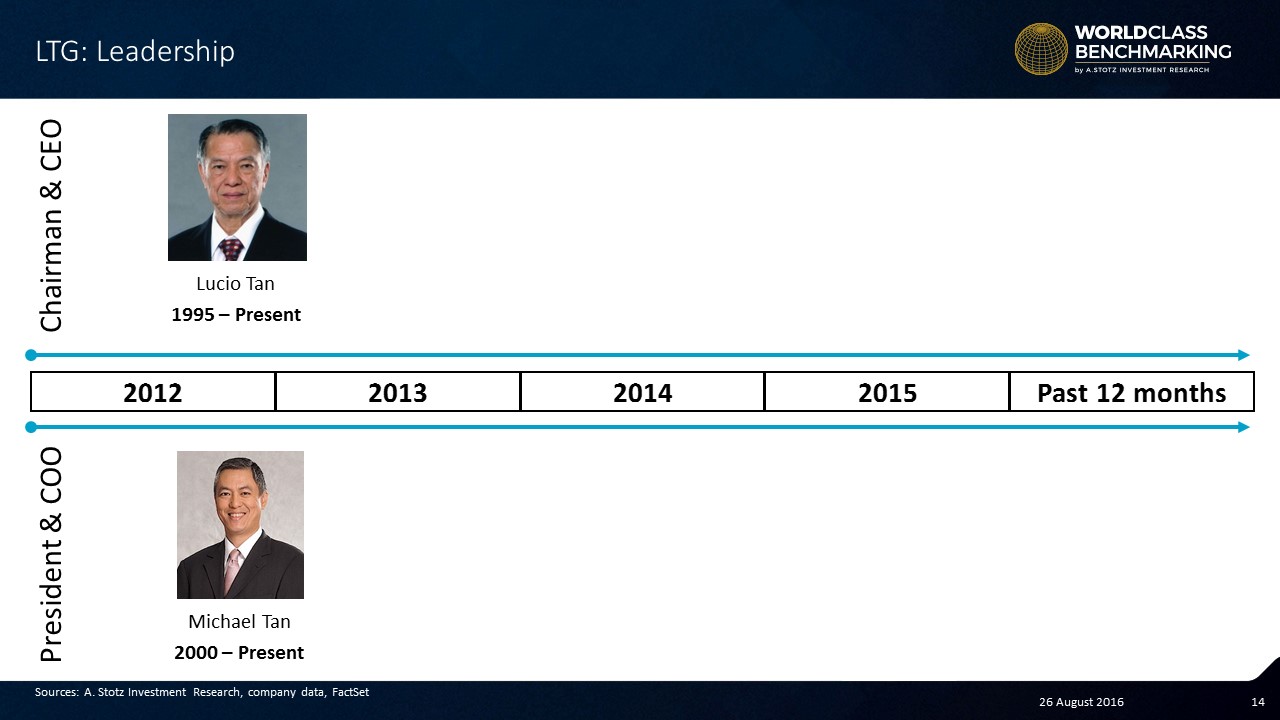 Michael Tan is one of Lucio Tan's sons and has been the President and COO since 2000. Micahel has been educated in Singapore, China and Canada and is likely to be the one to take control of LTG after Lucio Tan.
World Class Benchmarking
LT Group's Profitable Growth metric maintained its #8 rank, meaning it ranks better than only 286 of 1,430 large industrial companies globally. While this is not a preferable result, large conglomerates often feature slow organic growth.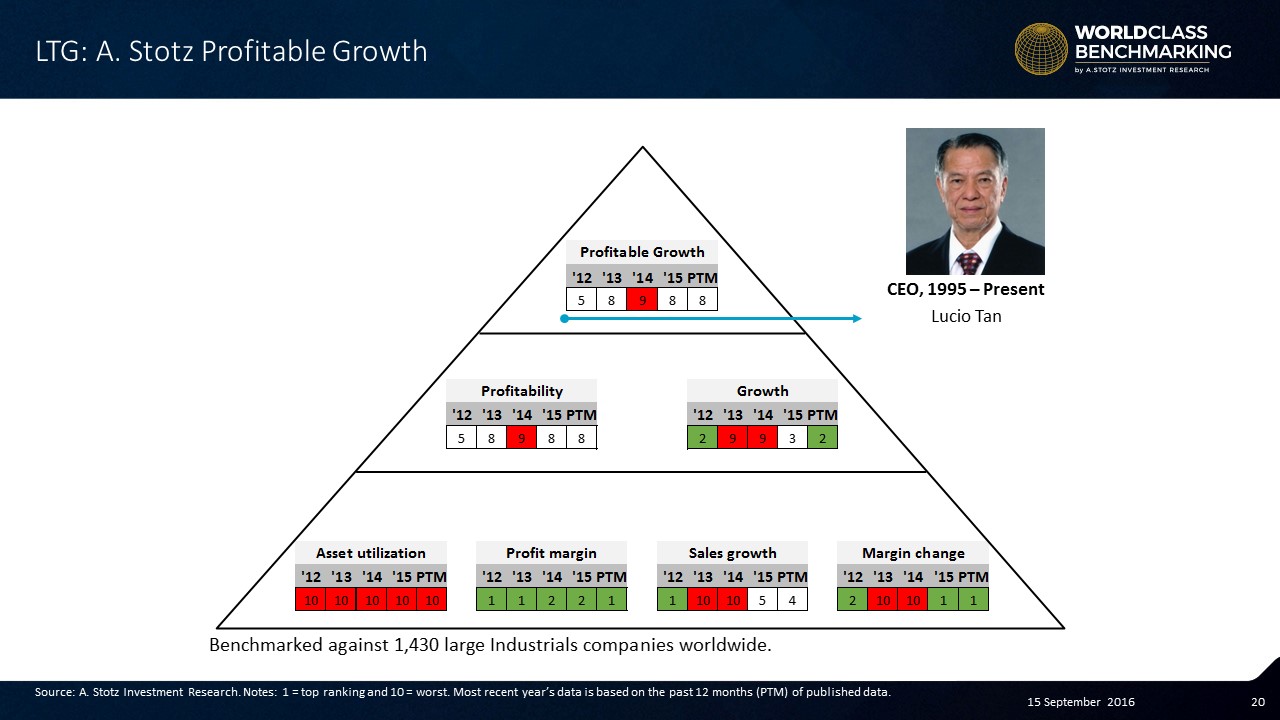 While Profitability rank low among its cohort, Profit margin remains in the top echelon.
Sales growth has improved to slightly above average in recent years, following the difficult 2012-2013 period, but Asset utilization remains at the bottom of the pack.
---
Do YOU invest in the Philippines? Why / Why not?
If you like our research, please share with your friends.
---
DISCLAIMER: This content is for information purposes only. It is not intended to be investment advice. Readers should not consider statements made by the author(s) as formal recommendations and should consult their financial advisor before making any investment decisions. While the information provided is believed to be accurate, it may include errors or inaccuracies. The author(s) cannot be held liable for any actions taken as a result of reading this article.