World-Class Profitability at Carlsberg Brewery Malaysia
Background
Carlsberg Brewery Malaysia Berhad was incorporated in 1969 and is engaged in the manufacturing, distribution, and marketing of alcoholic beverages including beer, stout, and shandy and non-alcoholic malt beverages in Malaysia and Singapore with stake in a Sri Lanka brewery.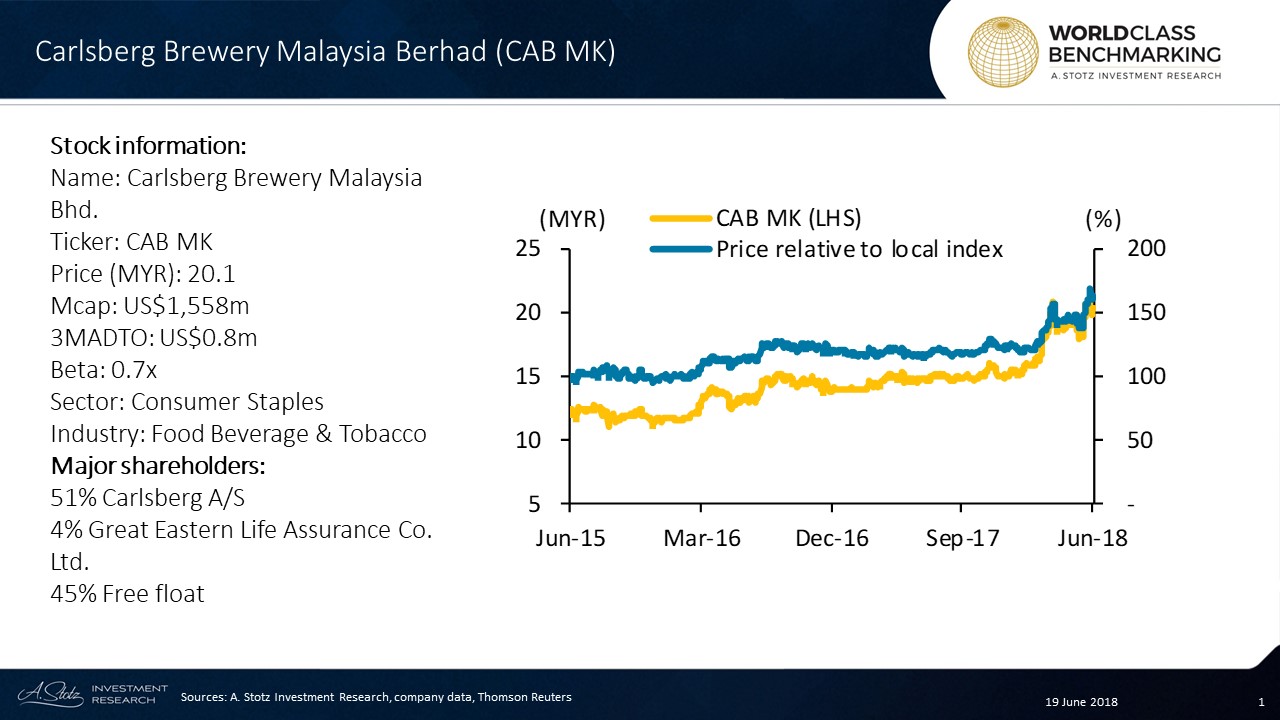 It also has regional presence in Thailand, Taiwan, Hong Kong, and Laos.
Business Description
The company is 51%-owned by the Carlsberg Group (CARLB DC) and started production in Malaysia in 1972. CAB manufactures, markets and distributes alcoholic and non-alcholic beverages in Malaysia and Singapore and currently has 39% market share in the Malaysian beer market. CAB also exports to Thailand, Taiwan, Hong-Kong, and Laos.
Portfolio brands include Carslberg, Probably, Smooth Draught, and Special Brew. Premium brands include Somersby Cider, Kronenbourg 1664 Blanc, Asahi Super Dry, Connor's, and Brooklyn. CAB has the rights in Malaysia to manufacture Asahi and license to import and market Corona.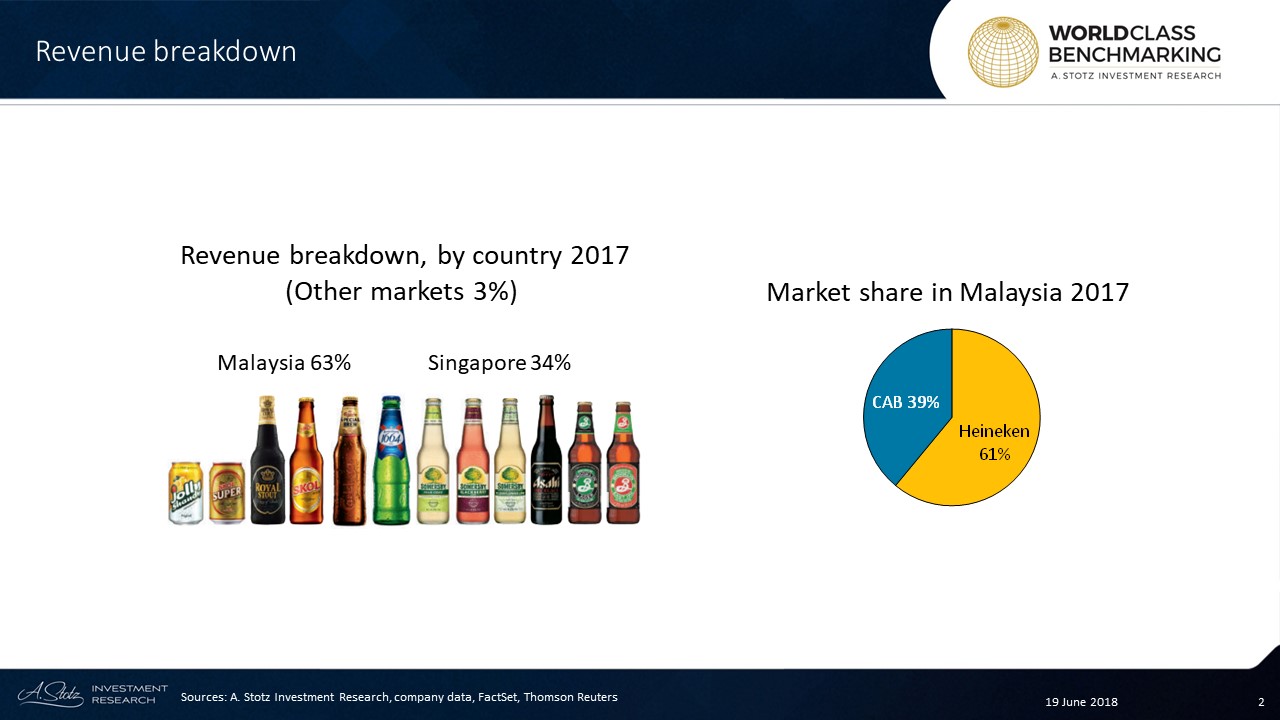 CAB plans to focus on promoting its premium brands as part of its growth strategy as consumer demand for premium products is strong and resilient. Volume growth for CAB's premium brands was 24% in 2017.
In 2017, Malaysia accounted for 63% of sales and Singapore for 34%. CAB has a 25% stake in Lion Brewery (Ceylon) Plc in Sri Lanka (LION SL); the associate has recently recovered from flood damages and returned to positive core profit in 4Q17.
Leadership
Ah Wah Toh is the current Chairman of Carlsberg Brewery Malaysia and has been in the position since 2018. He also holds an Independent Non-Executive Director at Petronas Chemicals Group (PCHEM MK). Ah Wah Toh obtained his Bachelor of Commerce from Concordia University, Canada.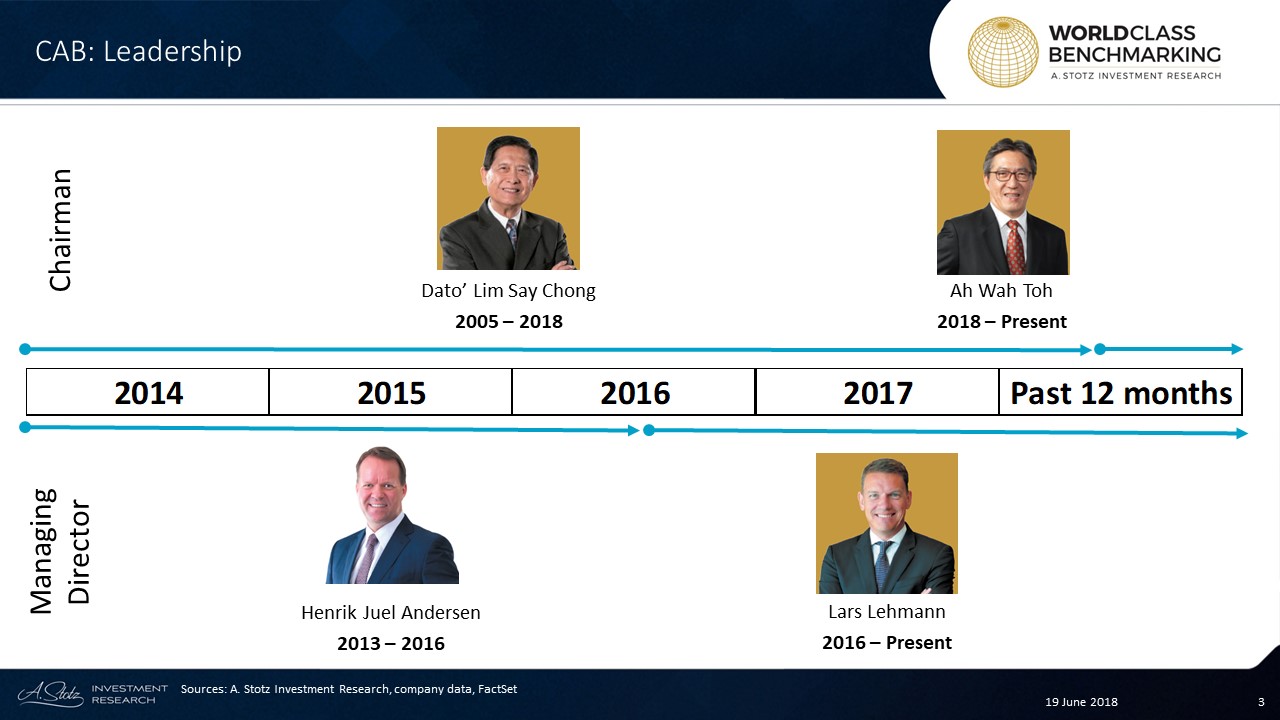 Lars Lehmann was appointed Managing Director in 2016. Before the appointment, he was the Regional CEO for Carlsberg Western Europe. Mr. Lehmann holds a Bachelor of Business Administration and Master of Science in International Marketing from Copenhagen Business School, Denmark.
World Class Benchmarking
Carlsberg Brewery Malaysia has shown an excellent Profitable Growth and ranked at #1 for the whole time period which is in the top 133 out of 1,330 medium-sized Consumer Discretionary companies worldwide.
Profitability has also ranked #1 for the entire period, while Growth hasn't shown the same high ranks. Growth improved to #5 from #8 in 2017.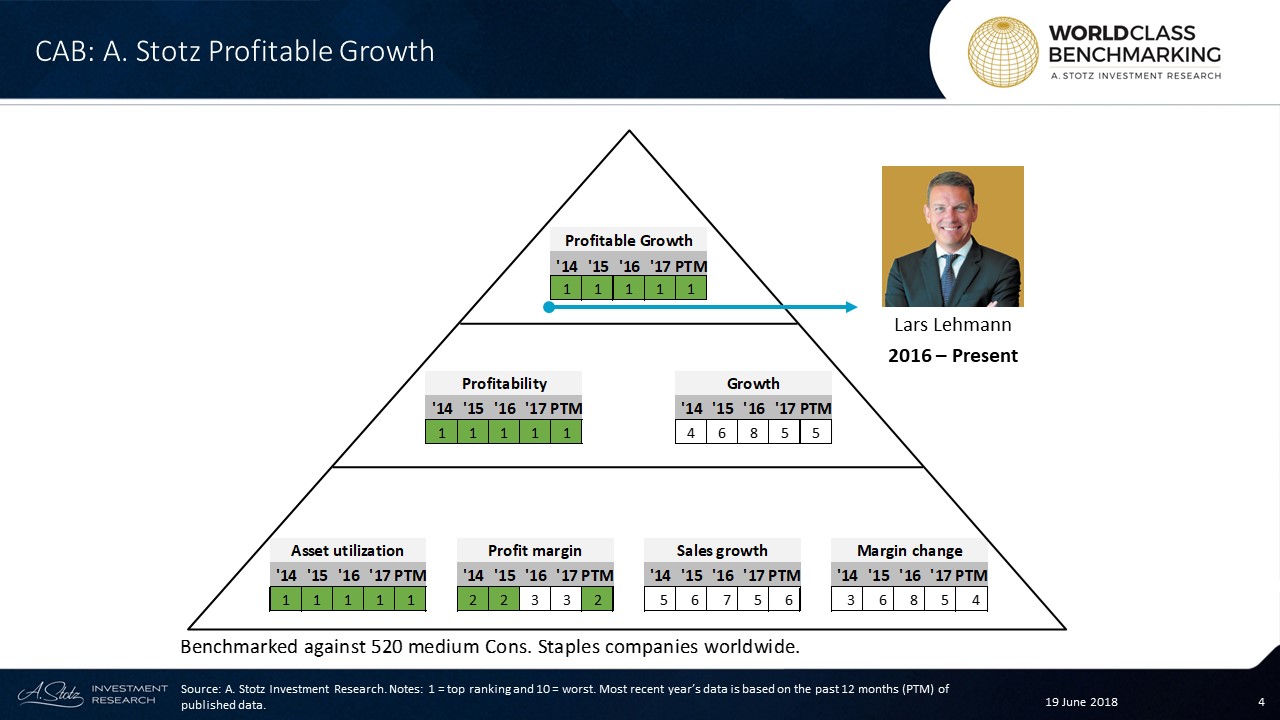 Asset utilization has shown persistent great performance by remaining in the top 10% for the whole time period. Profit margin returned to #2 in the past 12 months after being ranked at #3 in 2016-2017.
Sales growth has ranked average or below average over the years and ranked at #6 in the most recent period. Margin change has shown an improving trend and ranked at #4 in the past 12 months.
---
What're your thoughts on Carlsberg Brewery Malaysia?
If you like our research, share it with your friends.
---
DISCLAIMER: This content is for information purposes only. It is not intended to be investment advice. Readers should not consider statements made by the author(s) as formal recommendations and should consult their financial advisor before making any investment decisions. While the information provided is believed to be accurate, it may include errors or inaccuracies. The author(s) cannot be held liable for any actions taken as a result of reading this article.