Thai Weed Boom is Seaweed
Watch the video with Andrew Stotz or read a summary of the World Class Benchmarking on Taokaenoi Food & Marketing Public Company Limited.
---
---
Background
Founded in 2004, Taokaenoi Food & Marketing Public Company Limited is a Thai snack company primarily engaged in the manufacturing and distribution of flavored seaweed snacks, as well as popcorn, potato snacks and dried fruits.
The company has six production facilities in Nonthaburi, Pathum Thani and Phra Nakhon Si Ayutthaya (Ayutthaya).
Business Description
TKN's main revenue contributor is its snack division, comprising 92% of its total sales.
It manufactures and distributes fried, grilled, baked and snack seaweed for both domestic and export markets. Its branded products include Tae Kae Noi seaweed snacks, Want More Corn Snack, Mini Bread, Tob Corn and Potato Stick. Dried fruit products include the Marvel Fruit, which is a Crispy Banana with a lightly salted flavor.
The restaurant segment works as a retailer of snacks, food and beverages and franchising. Seasonings, the last business segment, manufactures and distributes seasoning powder for seaweed snacks.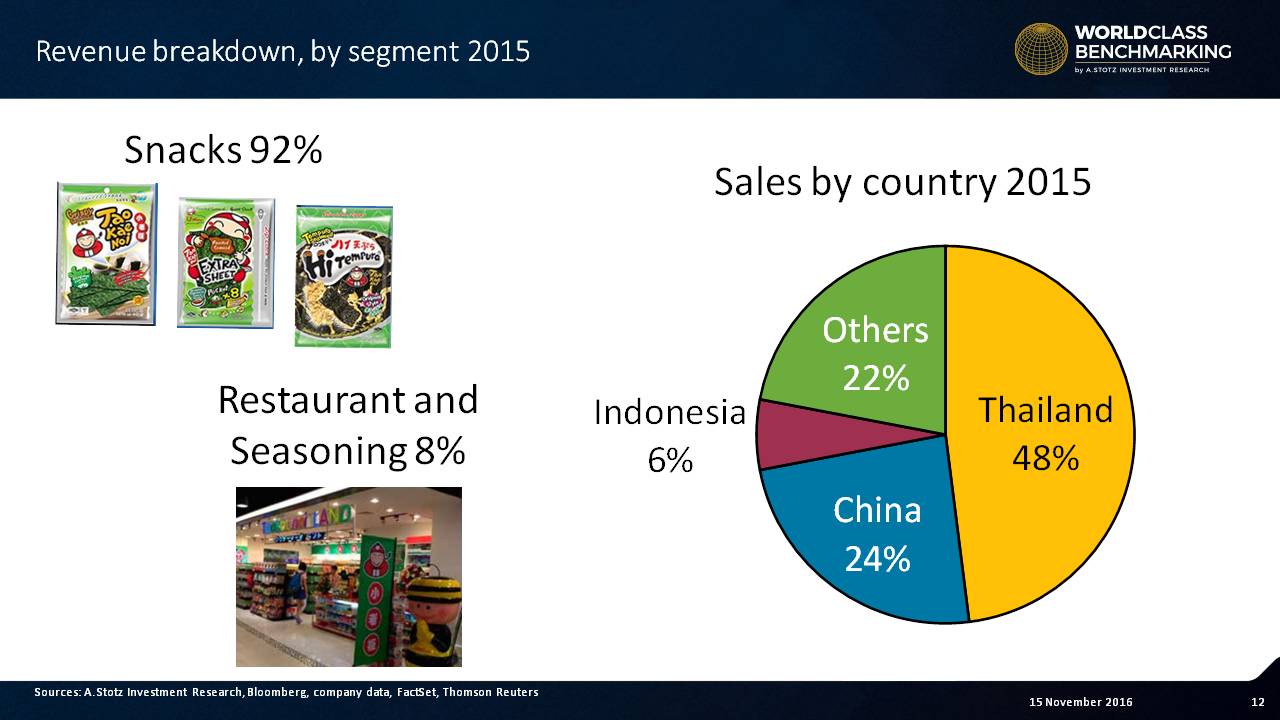 TKN's domestic and export sales accounted for 48% and 52%, respectively, of total revenue in 2015. TKN export its products to 35 countries, though Thailand and China account for more than 70% of sales.
To meet demand mainly from exports to China, TKN is building new plants in Ayutthaya. Besides increased capacity, these plants should be more automated to increase efficiency.
Leadership
CEO Itthipat Peeradechapan has been at the helm since 2004 when he helped found Taokaenoi. Only 31 years old, Peeradechapan has already spent his entire adult life running the company.
And, boy, has he been successful! Every single profitability and growth metric is well above average.
He has a bachelor's degree in entrepreneurship from the University of the Thai Chamber of Commerce. Currently, both directly and indirectly, he and his family control 74% of the company.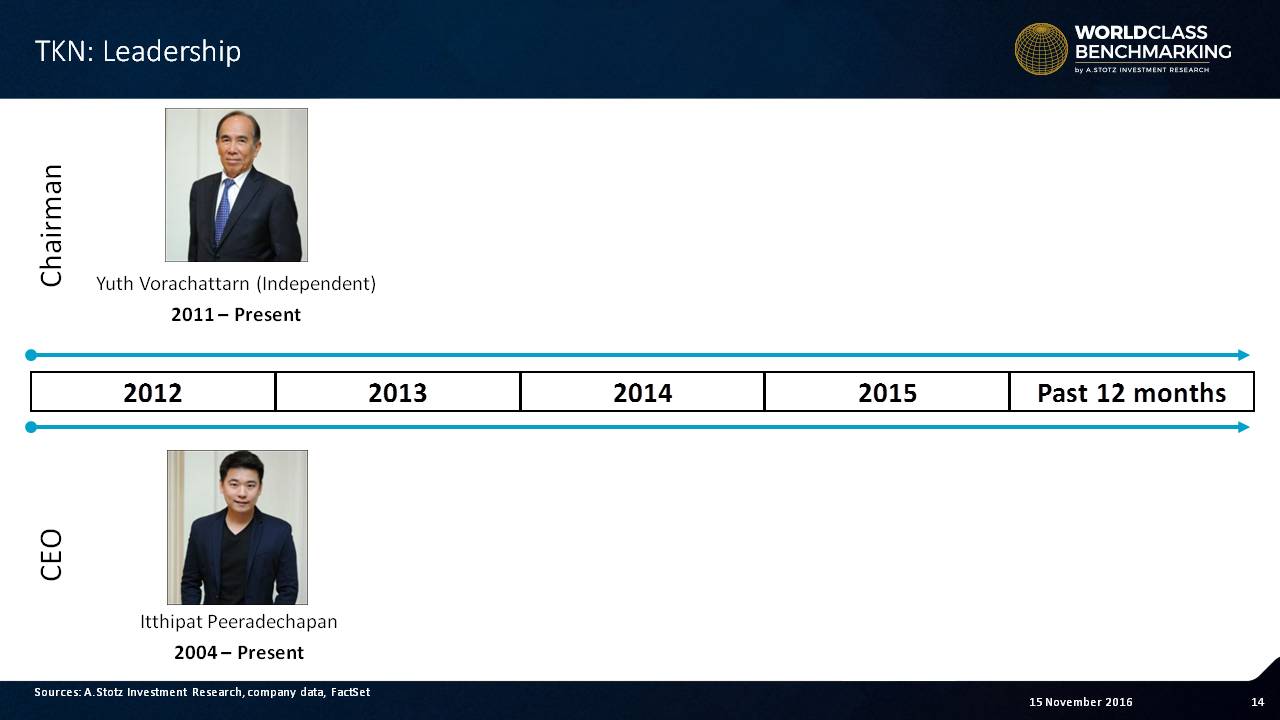 Chairman Yuth Vorachattarn has a background in economics and has been an active chairman for a half dozen other companies over the last 15 years.
World Class Benchmarking
Unsurprising to anyone who has been following the company recently, Taokaenoi's Profitable Growth metric has remained World Class for the last two years.
The company ranks among the best 33 of 330 small consumer staples companies worldwide.
Growth is now ranked #3 as well, an achievement that foretells CEO Peeradechapan's ambition and marketing prowess.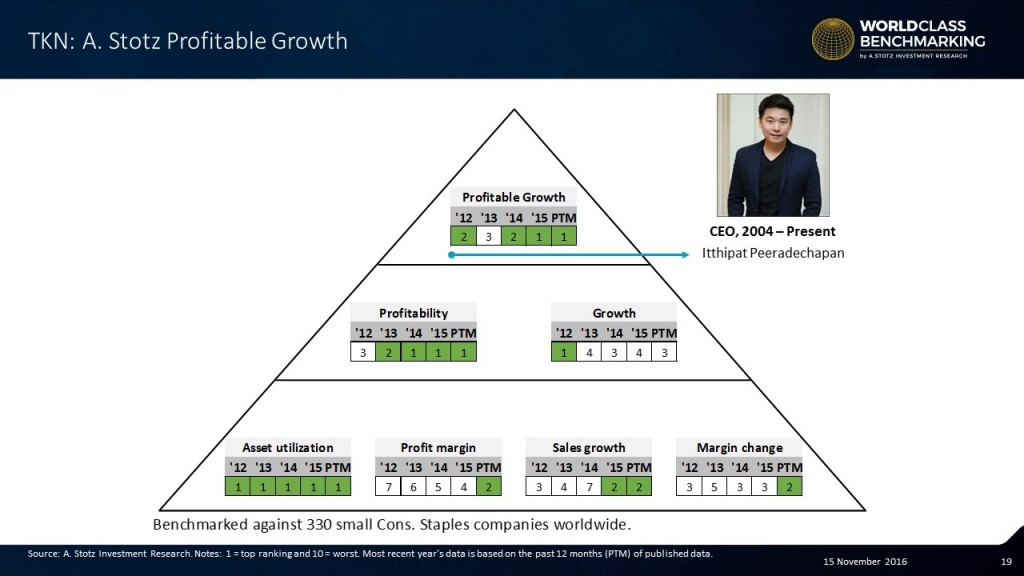 To add to the litany of optimistic forecasts, Profit margin has steadily improved to #2 in the past 12 months. It ranked #7 in 2012.
Sales growth has remained at #2 for two years now, a sure improvement from its #7 ranking in 2014.
It's certainly hard to find any negative news for this company. Even Asset Utilization, a common smear on even the best company's record, has been ranked World Class for five straight years!
---
Do YOU eat Taokaenoi snacks? Did they make you want to buy the stock?
If you like our research, share it with your friends.
---
DISCLAIMER: This content is for information purposes only. It is not intended to be investment advice. Readers should not consider statements made by the author(s) as formal recommendations and should consult their financial advisor before making any investment decisions. While the information provided is believed to be accurate, it may include errors or inaccuracies. The author(s) cannot be held liable for any actions taken as a result of reading this article.