Sole Operator of 7-Eleven in Thailand
Background
CP All Public Company Limited was established in 1988 by the Charoen Pokphand Group.
The company is the sole operator of 7-Eleven convenience stores (CVS) in Thailand, offering bill payments, e-commerce and food and bakery products, among others.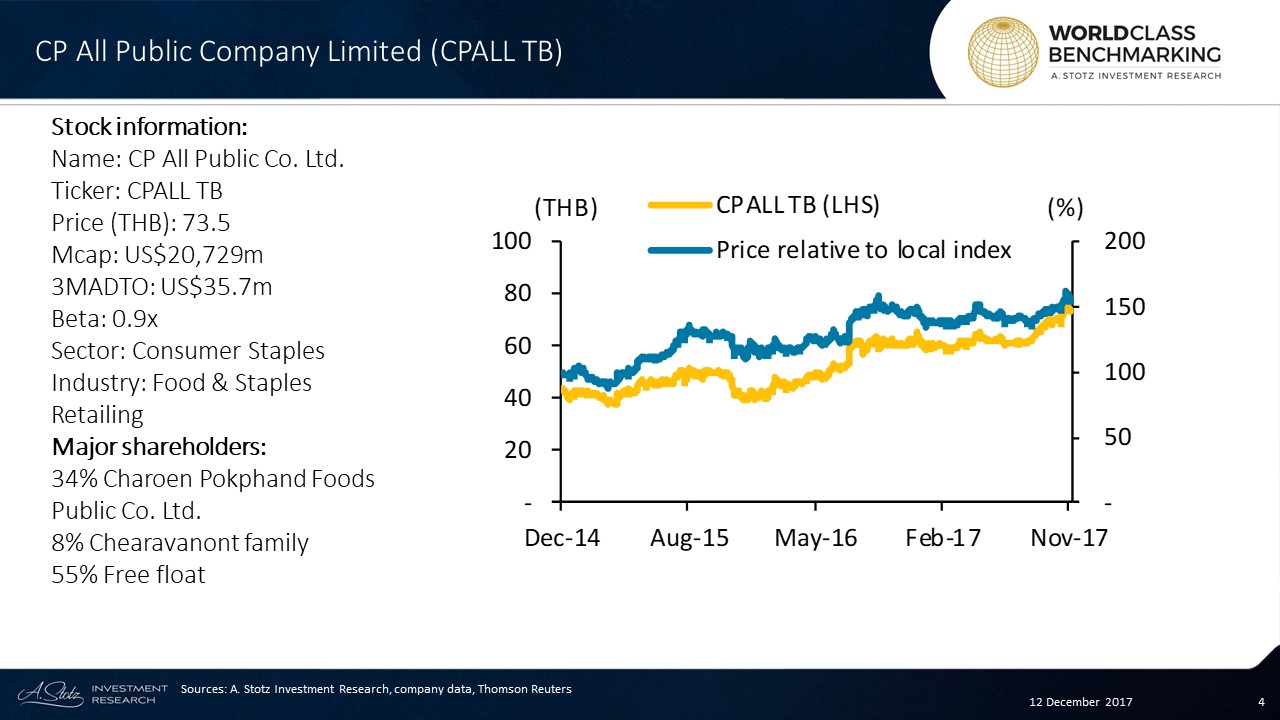 It also has 98% stake in Siam Makro PLC (MAKRO TB) that operates cash and carry trade centers.
Business Description
CPALL's main revenue contributor is its convenience stores (CVS) business comprising 64% of total sales. This segment operates and franchises 7-Eleven convenience stores in Thailand. As of 9M17, it had 10,152 stores in Thailand, planning to increase to 10,942 in 2018.
The remaining 36% of sales is contributed by its more than 100 MAKRO stores which are cash and carry. It offers food and frozen food stores that supply hotels, restaurants, small convenience stores and caterers.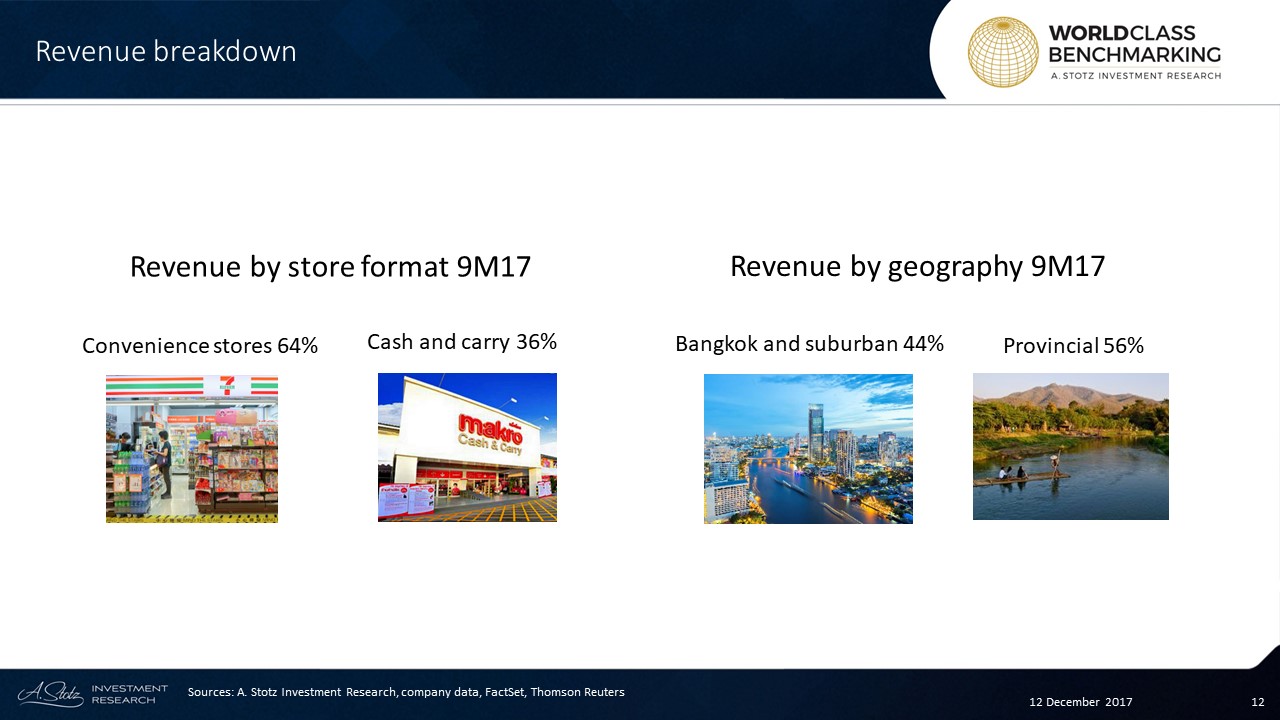 CPALL's dominant market share of 53% in the CVS market has resulted in an excellent distribution network across Thailand. Expansion is mainly focused on provincial areas. However, MAKRO has established a long-term expansion plan to Cambodia with operation expected to start in 4Q17.
Bangkok and suburban areas account for 44% of sales while the remaining 56% comes from provincial areas in Thailand. Food sales accounts for 70% and the remaining 30% are non-food related such as cigarettes, personal care and household products.
Leadership
Dhanin Chearavanont is the Chairman of CPALL and was appointed this position in 1999.  Mr. Chearavanont was ranked the 132nd richest person in the world and the 2nd richest in Thailand by Forbes in 2017. He also holds chairmanship in Charoen Pokphand Group and directly holds, with his family, 8% of CPALL's shares.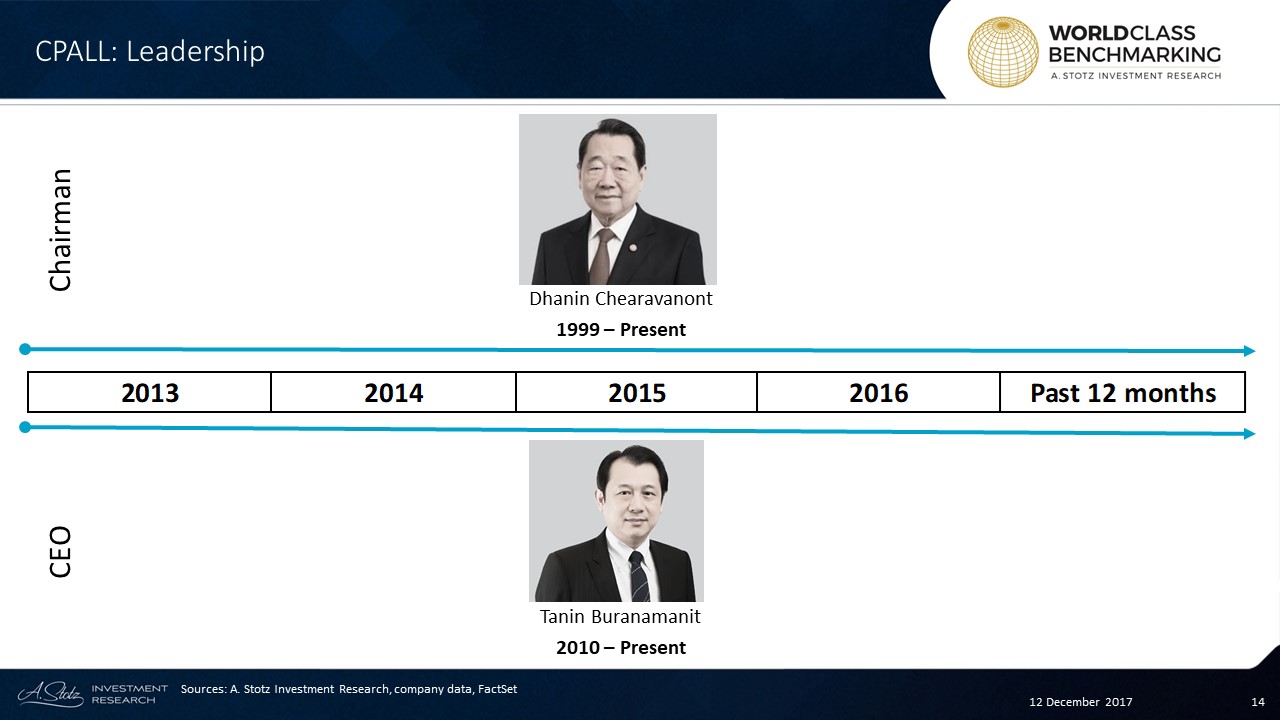 Tanin Buranamanit has served as the CEO of CPALL since 2010. He has a bachelor's degree in Marketing from Thammasat University, Thailand. He also personally holds some shares in CPALL.
World Class Benchmarking
Profitable Growth has been improving since 2014 and ranked #5 in the past 12 months. CPALL ranked among the top 310 of 620 large Consumer Staples companies globally.
Profitability maintained its average rank in the past 12 months and Growth stayed at #4.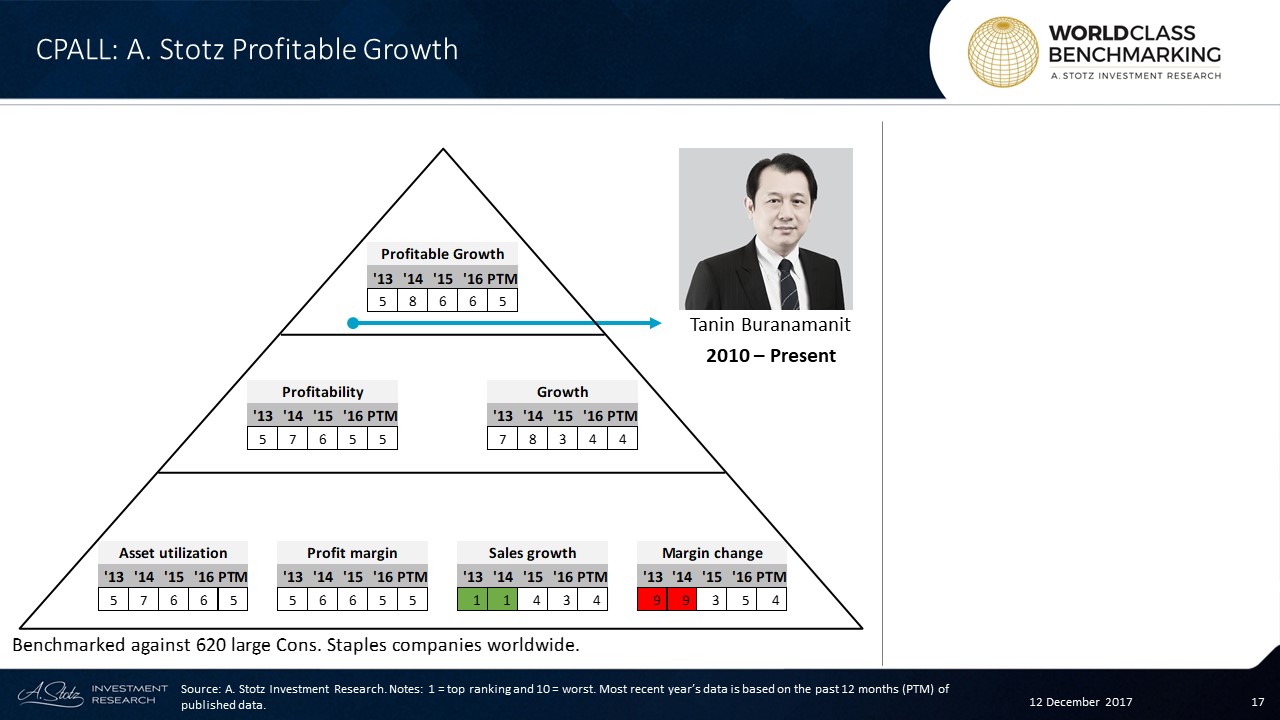 Asset utilization and Profit margin both ranked average in the past 12 months.
Sales growth has declined while Margin change has improved since 2014.
---
What're your thoughts of CPALL?
If you like our research, share it with your friends.
---
DISCLAIMER: This content is for information purposes only. It is not intended to be investment advice. Readers should not consider statements made by the author(s) as formal recommendations and should consult their financial advisor before making any investment decisions. While the information provided is believed to be accurate, it may include errors or inaccuracies. The author(s) cannot be held liable for any actions taken as a result of reading this article.