Singapore: Still Cheap, but for a Reason
Watch the video with Andrew Stotz or read a summary of the country profile on Singapore.
---
---
Four Pillars of GDP: Export-driven economy
Overall, Singapore is experiencing slow GDP growth, which is mainly driven by exports. Investments and Private consumption constitute a drag on economic growth.
Still cheap, but for a reason
Singapore has among the lowest PE in Asia. But when we look at it relative to previous and estimated earnings growth Singapore doesn't look attractive.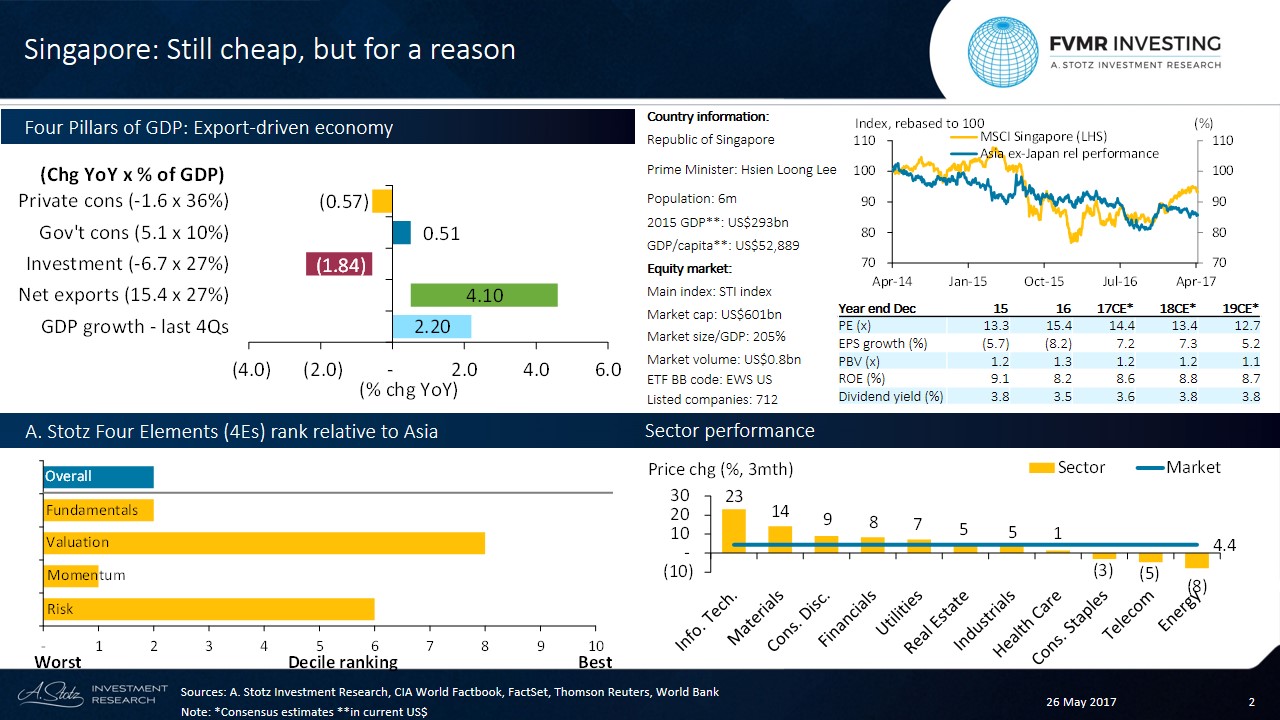 A. Stotz Four Elements: Unattractive
Overall, Singapore appears second least attractive in Asia considering all our four elements: Fundamentals, Valuation, Momentum, and Risk.
Fundamentals: Singapore had the second lowest ROE in Asia over the past 12 months.
Valuation: Attractive, multiples are low and dividend yield high.
Momentum: Ranked worst in Asia, poor earnings and price momentum.
Risk: The market has been moderately volatile.
Top-two performing sectors are a tiny part of the overall market
Top 3 largest sectors: Industrials is 28% of the total market capitalization, Real Estate 22%, and Financials 19%.
Best sector & stock: Information Technology +23.0%, Venture Corporation Ltd +25.2%.
Worst sector & stock: Energy -8.0%, Golden Energy and Resources Ltd -21.1%.
---
Are you investing in Singapore?
If you like our research, share it with your friends.
---
DISCLAIMER: This content is for information purposes only. It is not intended to be investment advice. Readers should not consider statements made by the author(s) as formal recommendations and should consult their financial advisor before making any investment decisions. While the information provided is believed to be accurate, it may include errors or inaccuracies. The author(s) cannot be held liable for any actions taken as a result of reading this article.