Recommendation is Currently at Maximum Level for the Philippines
Watch the video with Andrew Stotz or read Watching the Street: Philippines below.
---
---
Consensus Recommendations: Philippines
We can see that the bottom-up country relative consensus recommendation is currently a maximum level "Buy" for the Philippines.
Two of the companies with the most positive recommendations are FGEN, the third largest supplier of electricity in the Philippines, and PCOR, the largest oil refining company in the country.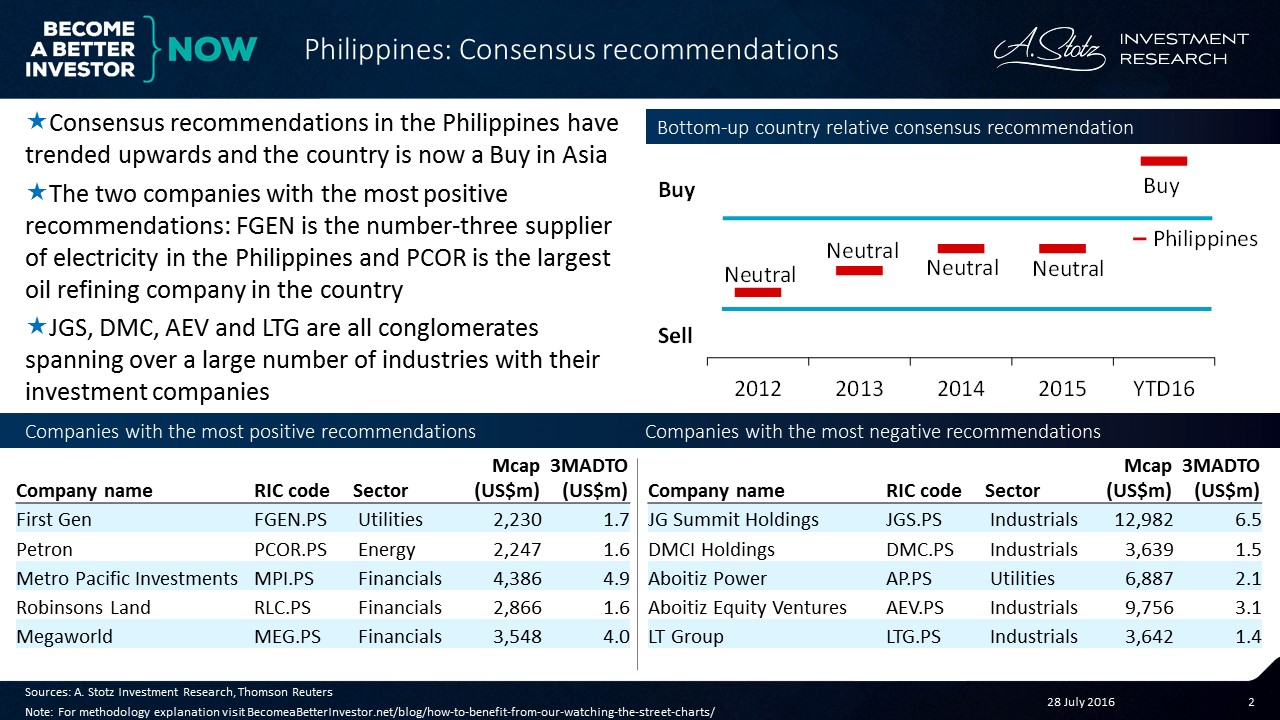 The four companies with the most negative recommendations are curiously all conglomerates that span a large number of industries through their investment vehicles.
Consensus Earnings Estimates: Philippines
If we move on to consensus earnings estimates, we can see the consensus EPS growth estimates versus the actual EPS growth. The consensus EPS growth estimates have been stable over the last five years at about 11% on average.
However, analysts were only fairly accurate in one year, and that was in 2014.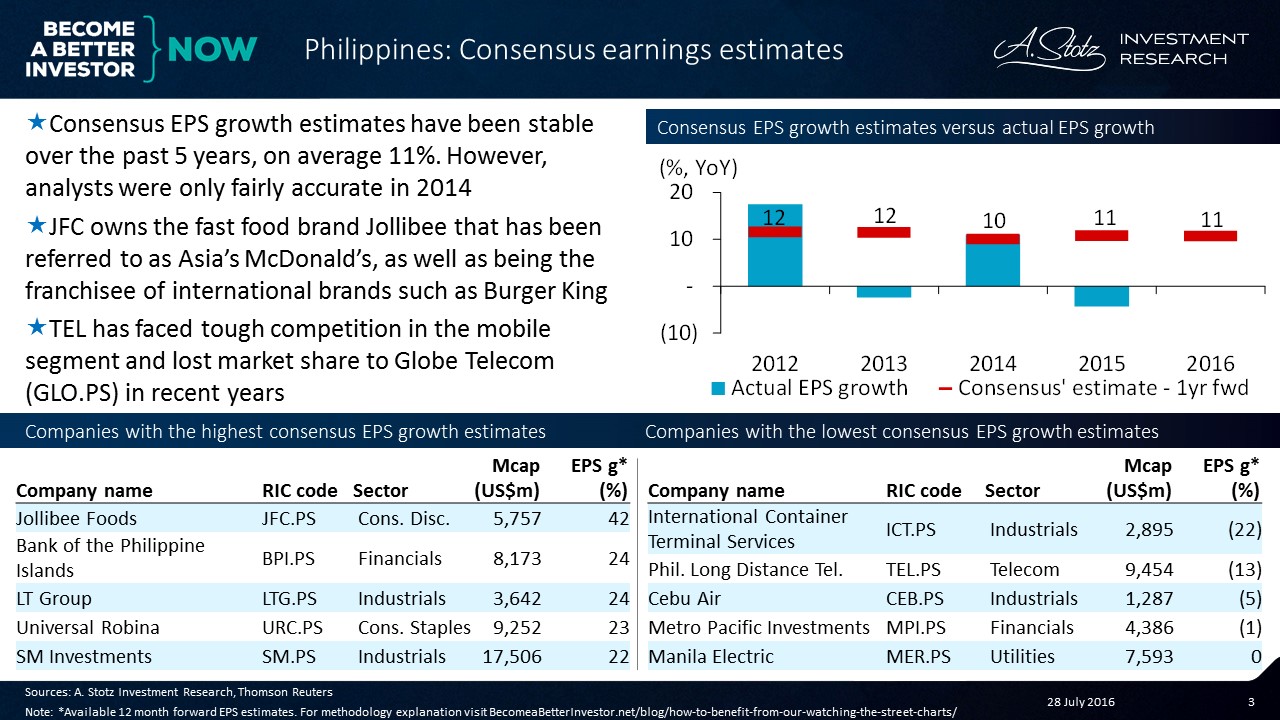 Among the companies with the highest consensus EPS growth estimates, JFC leads the lot. They own the fast-food brand Jollibee, which has been referred to as "Asia's McDonald's," as well as owning Burger King franchises.
One of the companies with the lowest consensus EPS growth estimates is TEL, the Philippine Long Distance Telephone Company. It has faced tough competition in the mobile segment and has lost market share to Globe Telecom in recent years.
Consensus Target Prices: Philippines
As we look at consensus target prices, this next chart shows expected return versus the actual return. Both the actual return and the estimated upside have been very volatile in the Philippines.
Analysts were only fairly accurate in 2013. In fact, it's very rare that you see analysts this consistently negative.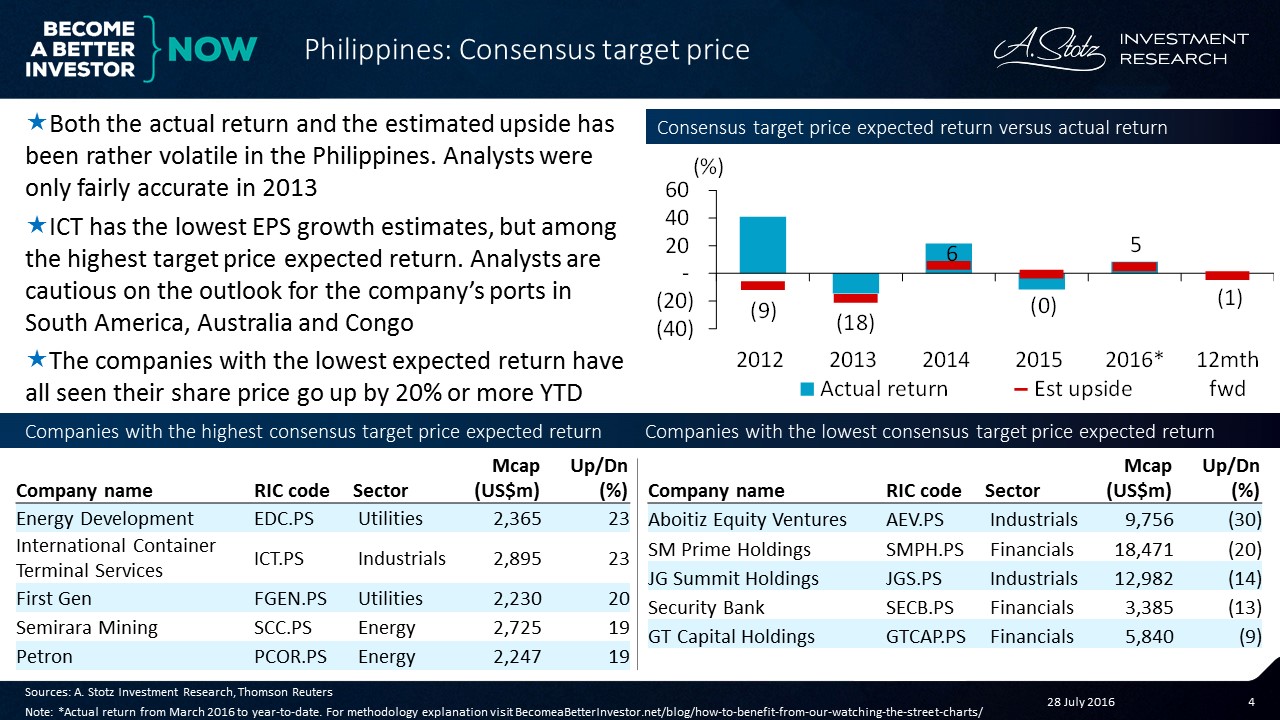 One of the companies with the highest consensus target price expected return is ICT, which has the lowest EPS growth estimates but is among the highest in target price expected returns. Analysts are cautious for the company's ports in South America, Australia and the Congo.
The companies with the lowest consensus target price expected return have all seen their share prices go up by 20% or more year-to-date.
---
Do YOU use any kind of analyst estimate when considering an investment?
Let us know in a comment below.
---
DISCLAIMER: This content is for information purposes only. It is not intended to be investment advice. Readers should not consider statements made by the author(s) as formal recommendations and should consult their financial advisor before making any investment decisions. While the information provided is believed to be accurate, it may include errors or inaccuracies. The author(s) cannot be held liable for any actions taken as a result of reading this article.