Philippine D&L Industries Remains World Class
Background
D&L Industries Incorporated is a Philippines-based company doing product customization and specialization in food, plastics and aerosols.
More than 70% of sales are to consumer companies and more than 50% come from food ingredients.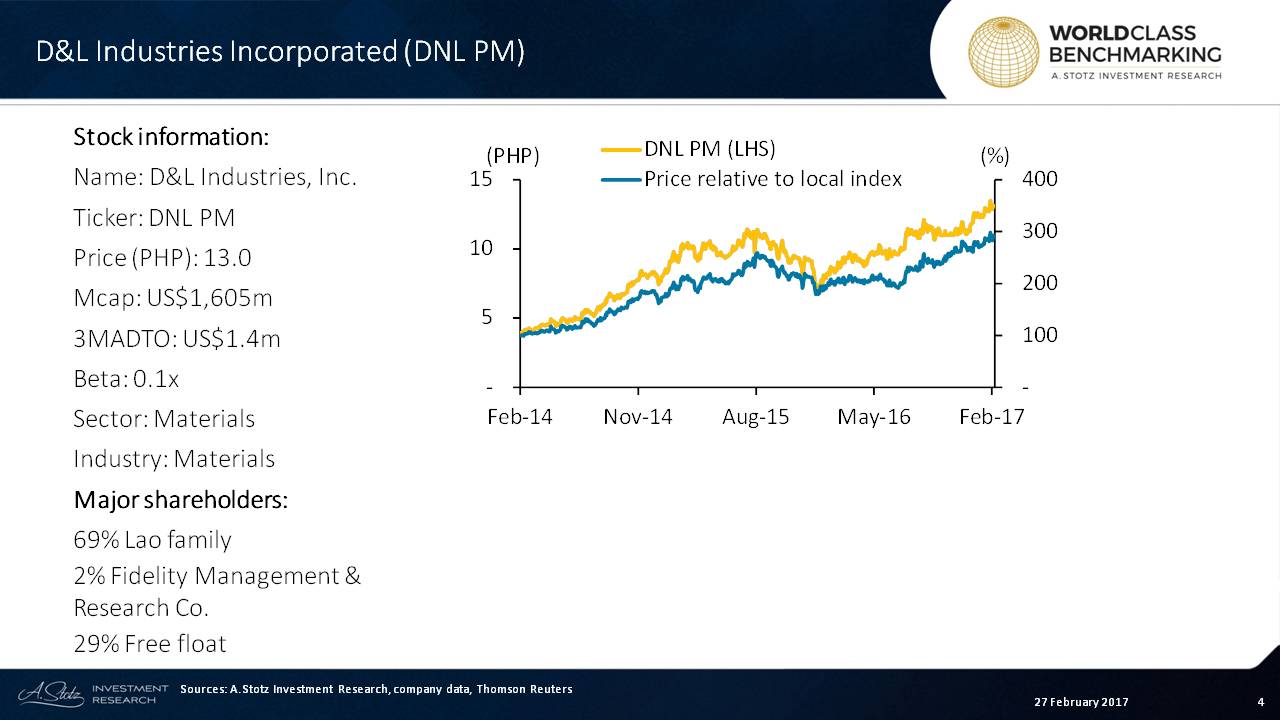 D&L has many large domestic and international companies in the food and chemicals sectors as customers, including KFC, Jollibee (JFC PM), 3M (MMM US) and Petron Corp. (PCOR PM).
Business Description
The majority of DNL's sales (about 80%) comes from the domestic market. The food ingredients segment contributes 52% of total sales and makes industrial and specialty fats and oils, culinary and other food ingredients. It supplies leading manufacturers and fast-food chains in the Philippines, such as Universal Robina (URC PM), KFC and Jollibee (JFC PM).
The oleochemicals, resins and powder coatings segment comprises 32% of DNL's sales, and it produces Coco-Biodiesel (derived from coconut oil) and oleochemicals (derived from vegetable oils) that are used to make soaps and detergents. It also makes resins, such as polystyrene, acrylic emulsion and polyester. Petron Corp. (PCOR PM) is one of its biodiesel customers.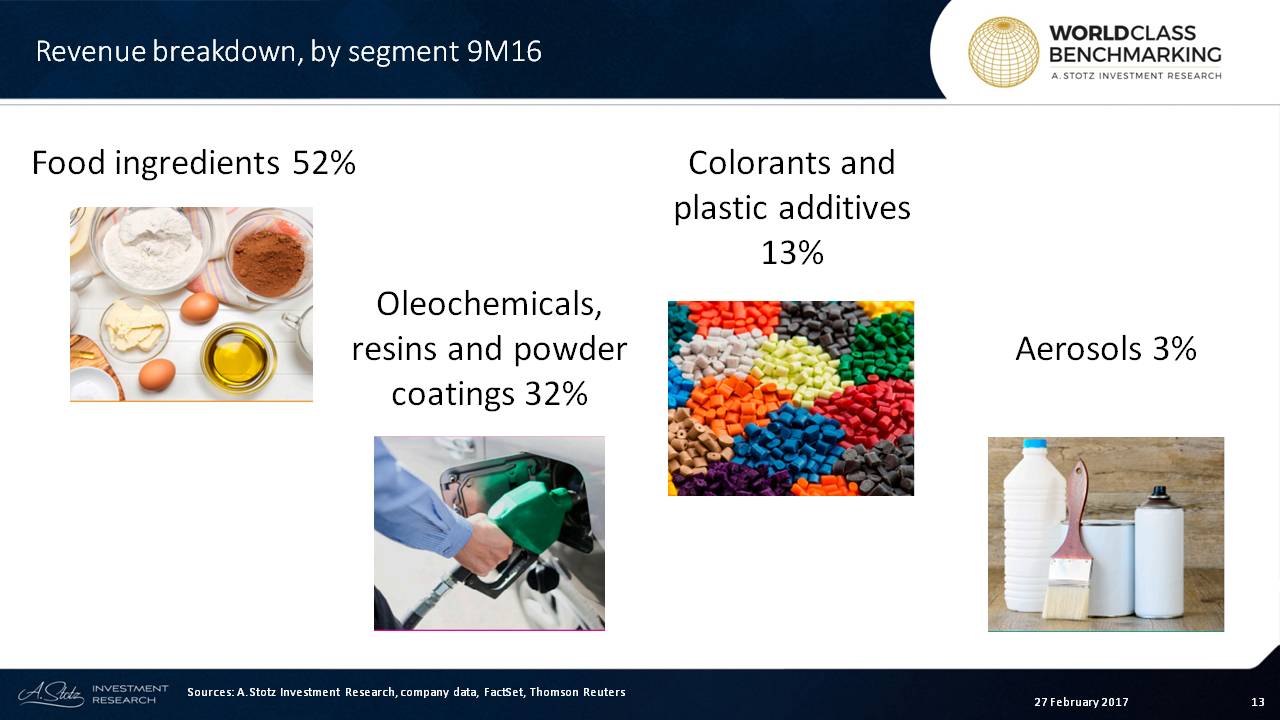 Colorants and plastic additives contribute 13% to total sales. It provides plastic color dyes and PVC compounds to the automotive industry, as well as emulsions and colorants to Boysen Paint, a leading Philippine paint brand.
The aerosol segment produces 3% of total sales. DNL makes aerosol cans and components used for home care products, such as body sprays, insect control sprays, spray paints and air-conditioner cleaners.
Leadership
Co-founder Leon Lao, a director since 1971, has filled the role of chairman since 2012 when the company went public. The Lao family, of which he is a member, retains ownership of 69% of the company.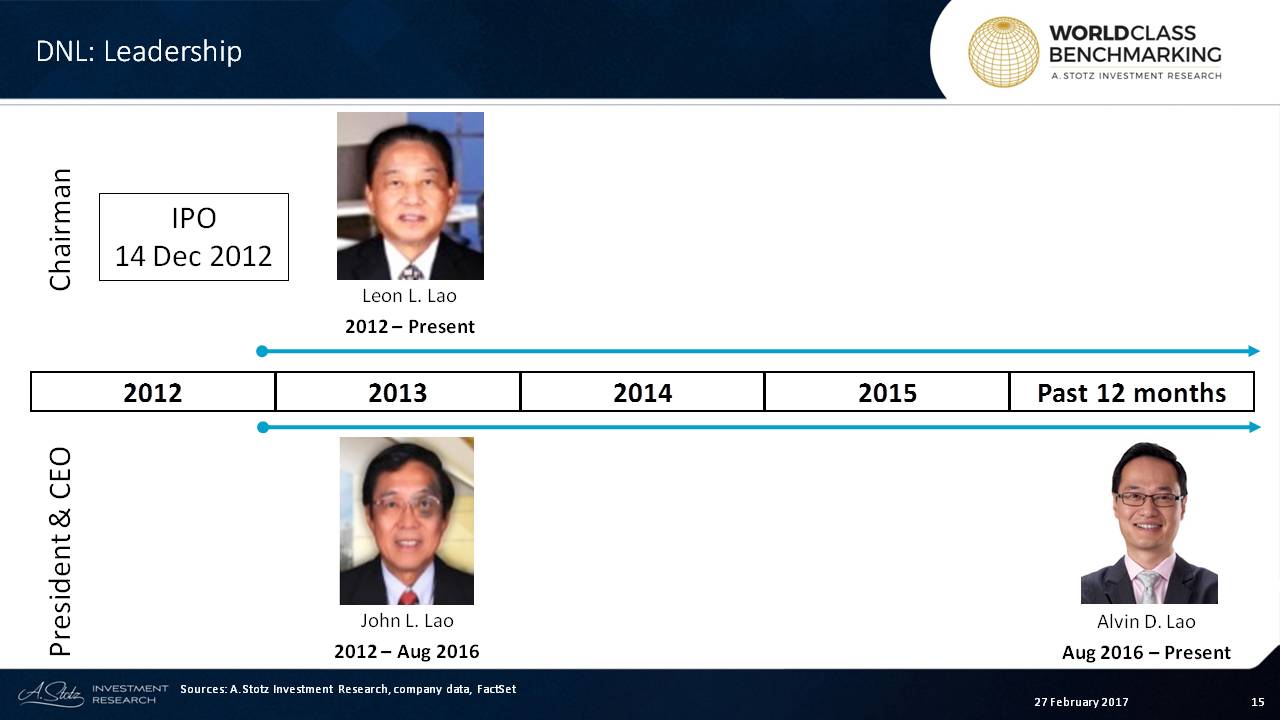 Taking over after a relative, John Lao, ran the company as CEO for the first four years of its public existence. Alvin Lao, a member of the younger generation, took control in August 2016.
He has inherited a company in prime performance, currently ranked at #1 overall among its peers.
World Class Benchmarking
Profitable Growth has been World Class for most of the last five years, except for a dip to #2 in 2013.
D&L Industries ranked among the best 97 of 970 medium-sized Materials companies globally.
Profitability drives Profitable Growth and has remained #1 for each of the last five years.
Growth, however, has been less stellar. It fell to #7 in 2015 from #1 in 2014 and then to #5 in 2016, which means Growth ranked average in the past 12 months.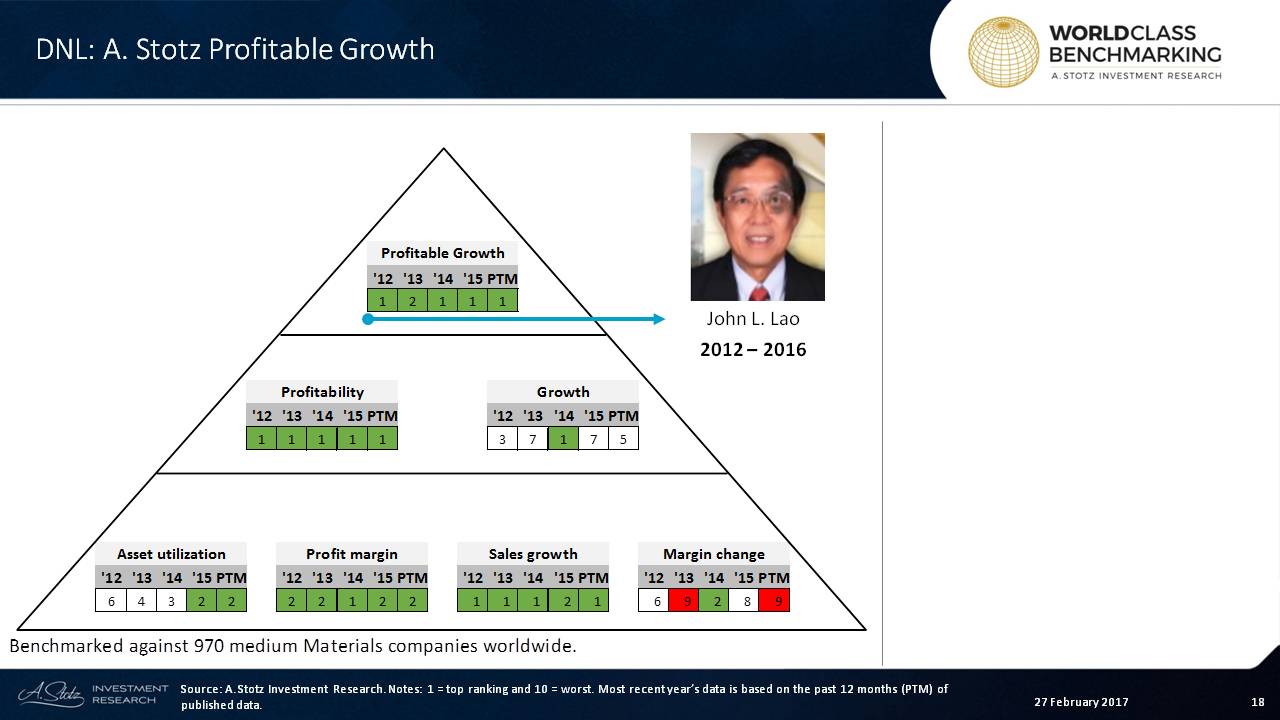 Asset utilization and Profit margin are both performing well at #2.
Sales growth has been strongly competitive over the last five years. Margin change has suffered though in the last two consecutive years.
---
Are you impressed by D&L Industries?  What's your thoughts?
If you like our research, share it with your friends.
---
DISCLAIMER: This content is for information purposes only. It is not intended to be investment advice. Readers should not consider statements made by the author(s) as formal recommendations and should consult their financial advisor before making any investment decisions. While the information provided is believed to be accurate, it may include errors or inaccuracies. The author(s) cannot be held liable for any actions taken as a result of reading this article.