Conglomerate with Big Exposure to Philippine Consumers
Background
San Miguel Corporation (SMC) is one the largest conglomerates in the Philippines.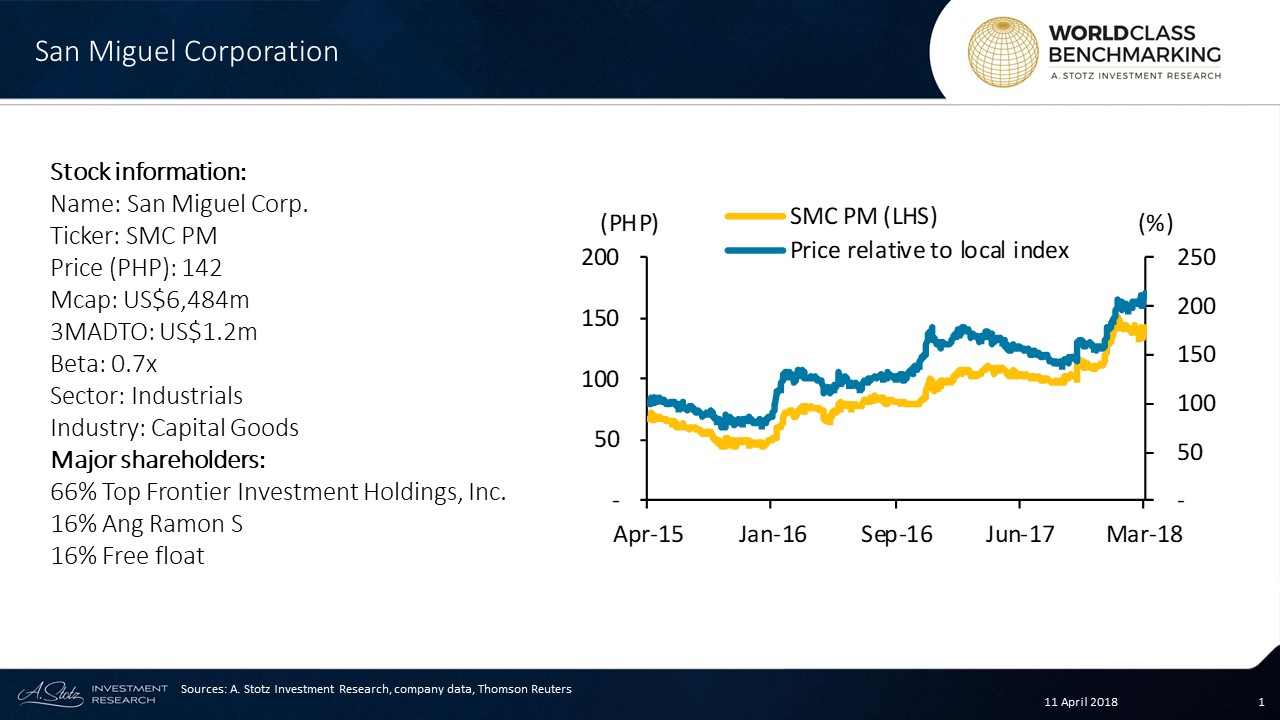 It operates beverage, food, packaging, power, fuel, oil and infrastructure businesses.
SMC produces beverages, poultry, animal feeds, fresh and processed meats, dairy products, various packaging products, and a range of refined petroleum products.
Business Description
SMC's largest contributor (53%) is its fuel and oil segment through Petron Corporation (PCOR PM). It is the largest refining and marketing company in the Philippines, supplying nearly 40% of the country's oil requirements with a rated capacity of 180,000 barrels per day.
The food segment, San Miguel Food and Beverage, Inc. (FB PM) contributing 14% of total sales, is engaged in feed production, livestock farming, processing, manufacturing and selling of meat, canned meat and bakery ingredients among others.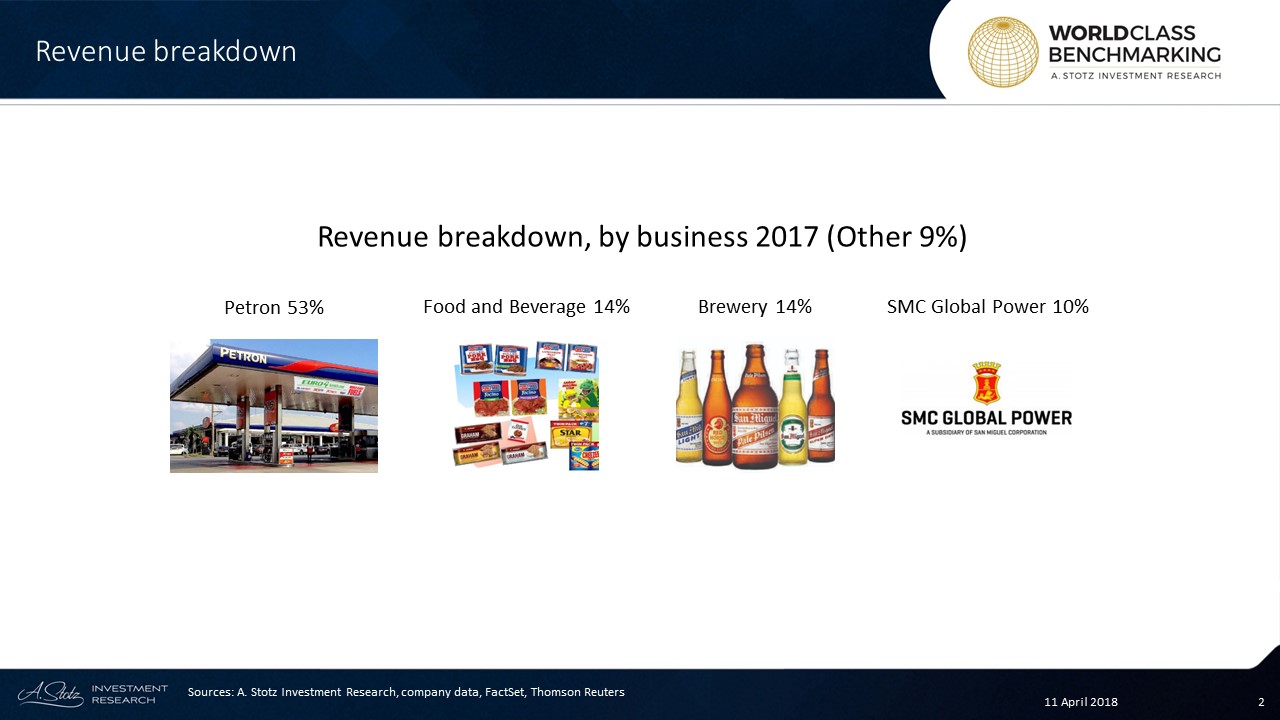 San Miguel Brewery, Inc. also contributes 14% of sales, the largest producer of beer in the Philippines with a market share of 93%, meanwhile Ginebra San Miguel, Inc. (GSMI PM) its liquor business, is engaged in the manufacturing of alcoholic and non-alcoholic beverages.
SMC Global Power Holdings Corp. sells and distributes power. The packaging business produces glass containers, PET bottles, etc. SMC infrastructure engages in construction and development of various infrastructure projects such as airports, roads and highways.
Leadership
Eduardo M. Cojuangco, Jr. has served as the Chairman and CEO of San Miguel Corporation since 2003. He is also the Chairman of SMC's listed subsidiaries Petron Corporation (PCOR PM), San Miguel Food and Beverage, Inc. (FB PM), and Ginebra San Miguel, Inc. (GSMI PM). Mr. Cojuangco has completed multiple Master's degrees in the field of Economics, Humanities, and Agri-Business from multiple institutes in the Philliphines.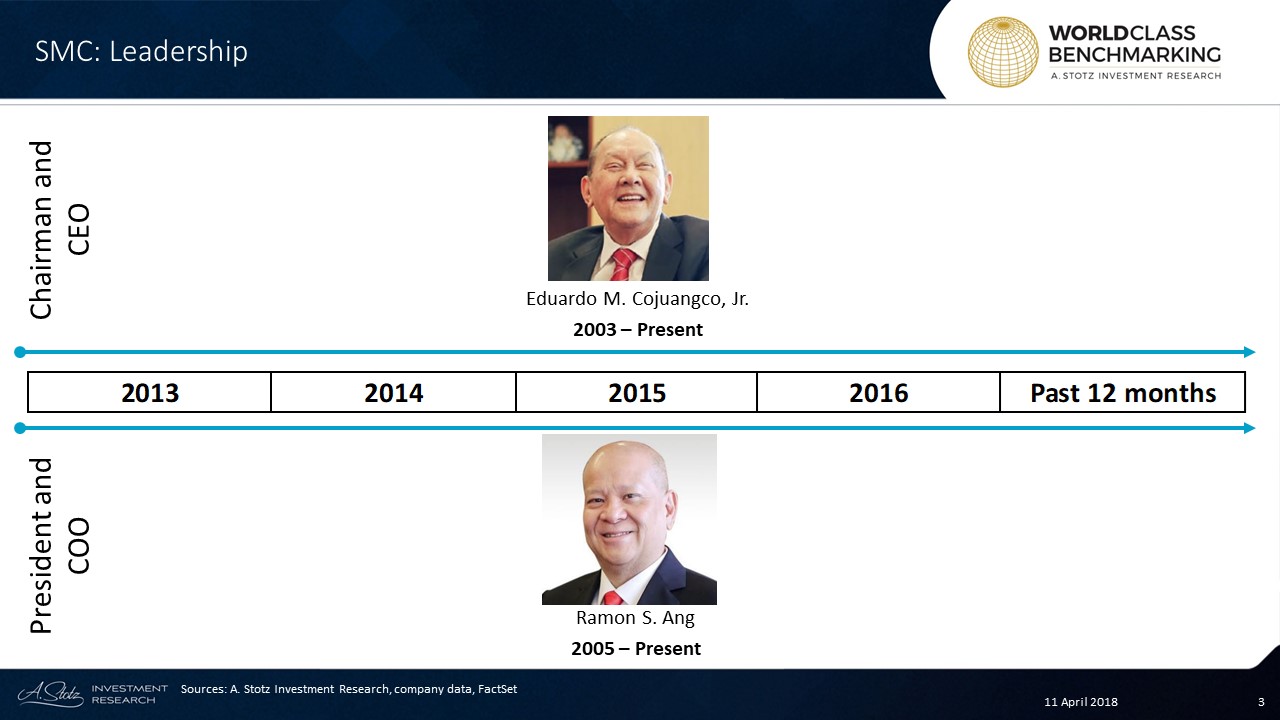 Ramon S. Ang joined the group in 2002 and is the current Vice Chairman, President, and COO of SMC. As Chairman Cojuangco he also holds leadership positions in a number of organizations including subsidiaries of SMC. His education consists of a Bachelor's degree in Mechanical Engineering from the Far Eastern University, Philippines.
World Class Benchmarking
Profitable Growth has been poor after 2013 and ranked at #9 in the past 12 months.
Profitability greatly resembles the trend of Profitable Growth while Growth has been better, attaining above average ranks in most years.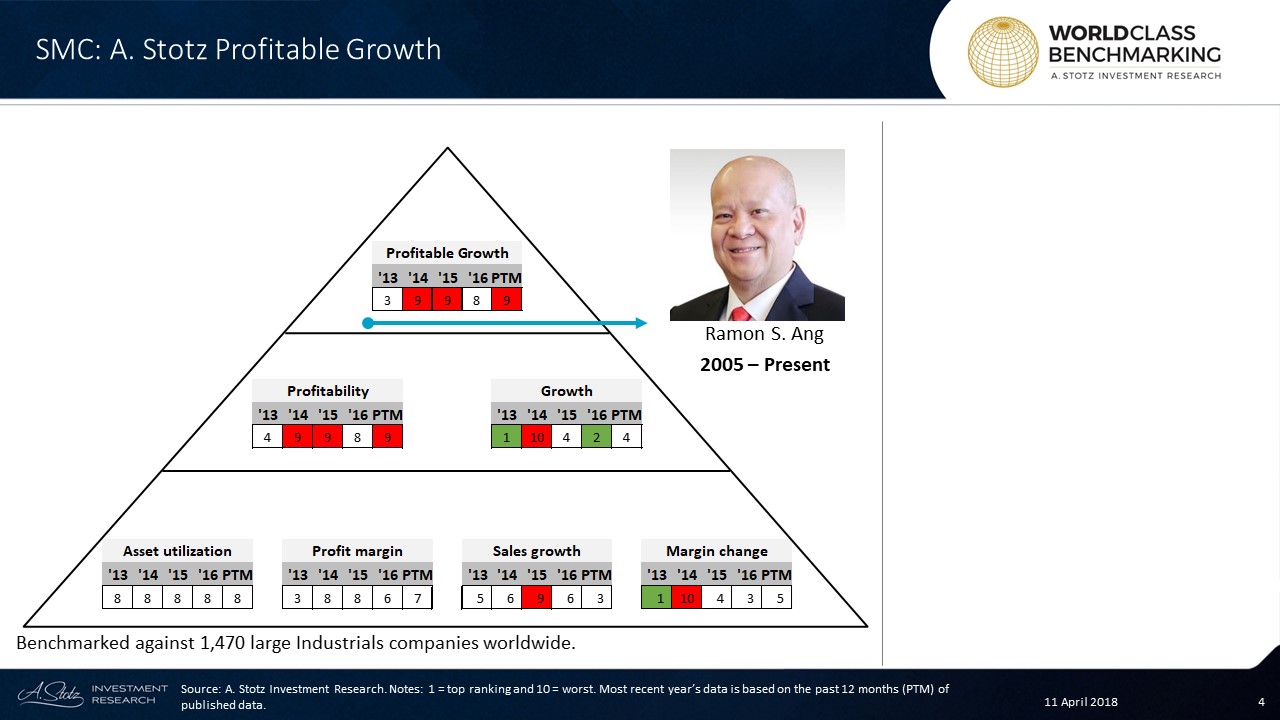 Asset utilization has consistently ranked at #8 throughout the years. Profit margin saw an improvement to #6 in 2016, but fell back one step to #7 in the past 12 months.
Sales growth has ranked below average in most years but has risen to rank #3 in the past 12 months. Margin change saw good improvements in rank in 2015-2016 but fell to an average rank in the most recent period.
---
What're your thoughts on SMC?
If you like our research, share it with your friends.
---
DISCLAIMER: This content is for information purposes only. It is not intended to be investment advice. Readers should not consider statements made by the author(s) as formal recommendations and should consult their financial advisor before making any investment decisions. While the information provided is believed to be accurate, it may include errors or inaccuracies. The author(s) cannot be held liable for any actions taken as a result of reading this article.