Placing Your Bets on Bloomberry Resorts
Watch the video with Andrew Stotz or read a summary of the World Class Benchmarking on Bloomberry Resorts Corp.
---
---
Background
Bloomberry Resorts Corp is a holding company that provides lodging and commercial properties through Sureste, financial services through Bloom Capital, and tourist facilities with casinos, hotels and amusement-themed projects through Bloomberry Resorts and Hotels, Solaire Korea and Golden & Luxury.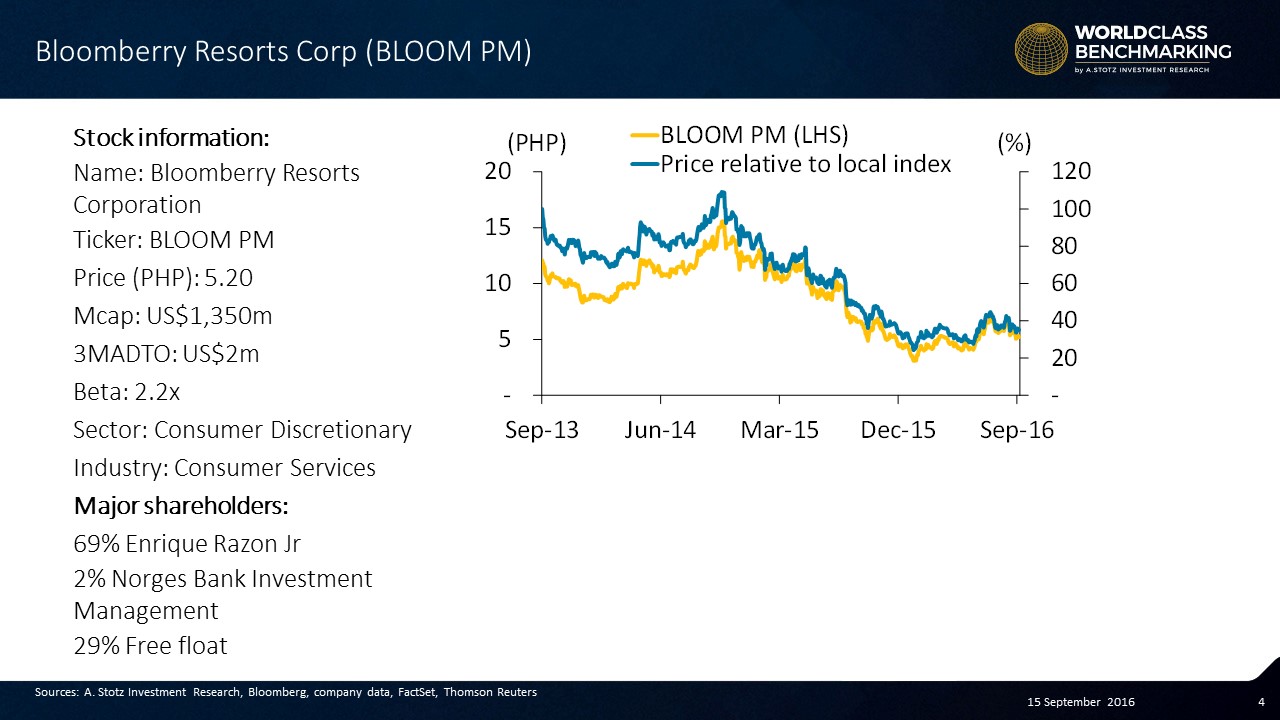 Business Description
BLOOM focuses on managing and operating high-end hotel & casino complexes in the Philippines and South Korea.
In the Philippines, the group currently holds a 25% market share among casino operators. Solaire Resort & Casino is the first Philippine luxury hotel and gaming resort in Entertainment City. BRHI, as the license holder, operates the casino, while Sureste operates the hotel and other non-gaming businesses.
In Korea, the company owns Golden & Luxury Company, a hotel and casino operator of Jeju Sun in Jeju Island. At the end of June, BLOOM announced that it had agreed to sell Jeju Sun to Iao Kun Group (IKGH US), however, the deal has yet to be finalized.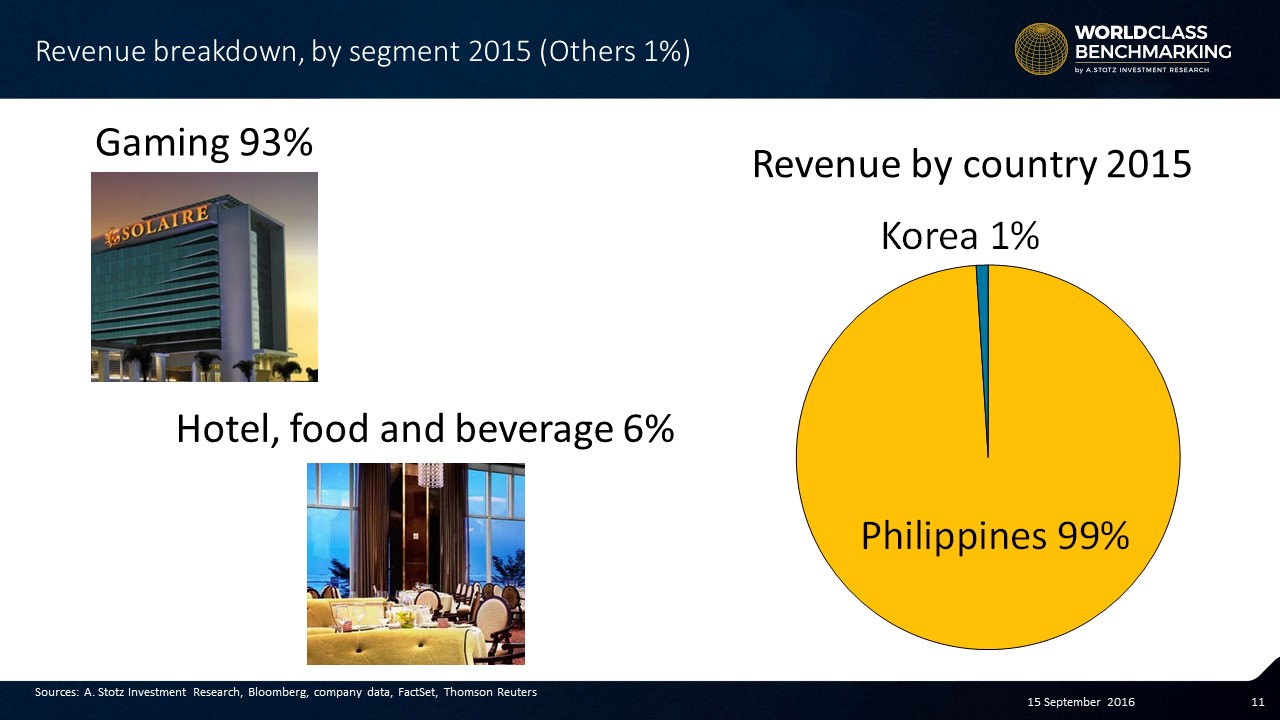 Leadership
Enrique Razon Jr. is both the chief executive officer and the chairman. He holds 69% in direct and indirect ownership of BLOOM. He was appointed as Chairman on November 23, 2011.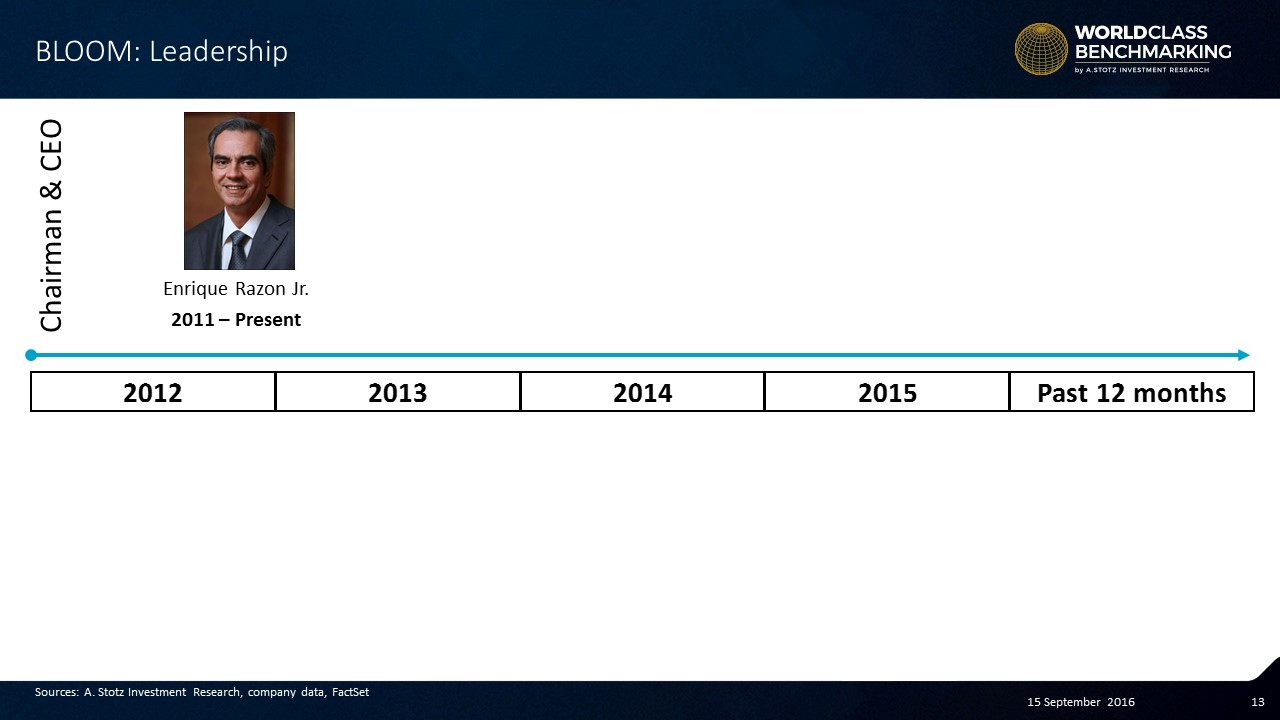 World Class Benchmarking
While 2014 was a fantastic year for BLOOM, the company has fallen to the lowest ranking for profitable growth the last two years under Razon's leadership. It ranks among the worst 138 medium-sized Consumer Discretionary companies worldwide.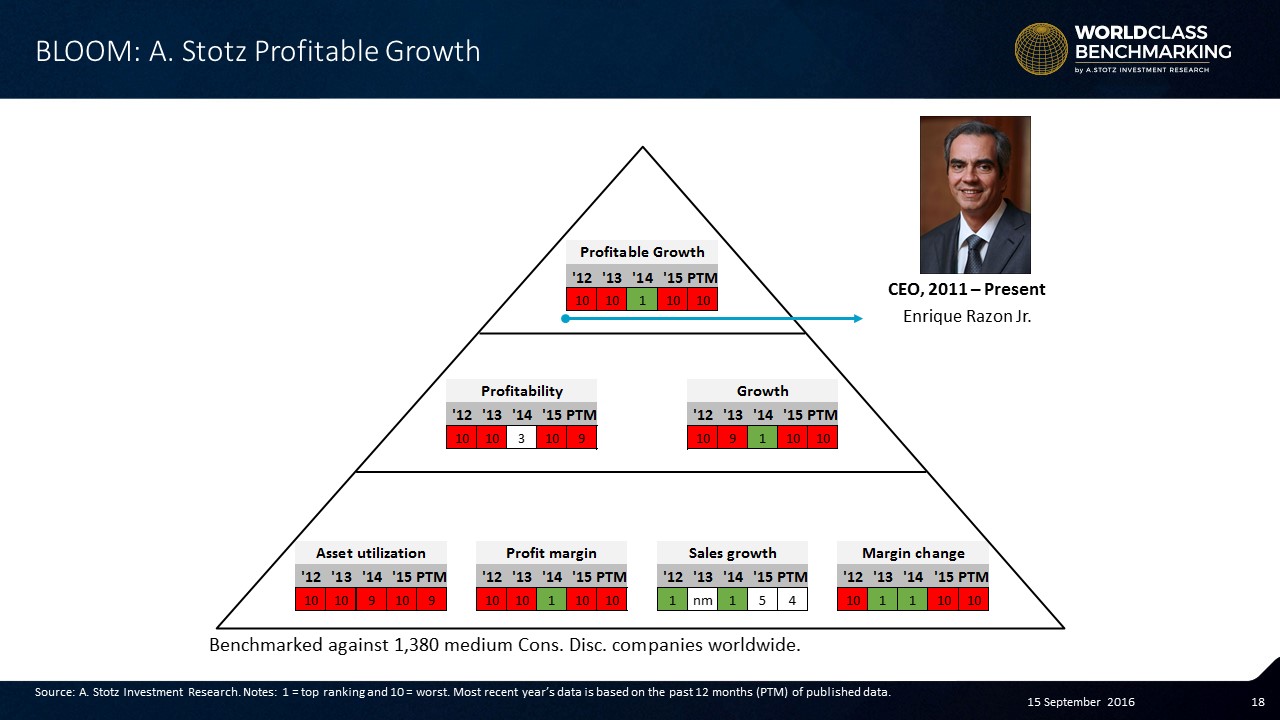 If we look at the company's profitability and growth metrics, we see that profitability has improved to #9, which is good. Growth, however, still receives the lowest possible ranking.
Though asset utilization is ranked low at #9, sales growth has improved to slightly above average.
---
Do YOU invest in Gambling Stocks? Why / Why not?
If you like our research, please share with your friends.
---
DISCLAIMER: This content is for information purposes only. It is not intended to be investment advice. Readers should not consider statements made by the author(s) as formal recommendations and should consult their financial advisor before making any investment decisions. While the information provided is believed to be accurate, it may include errors or inaccuracies. The author(s) cannot be held liable for any actions taken as a result of reading this article.