Sappe Delivers Great Profitable Growth Riding on Health Trend
Background
Sappe Public Company Limited produces and distributes health drinks and powders.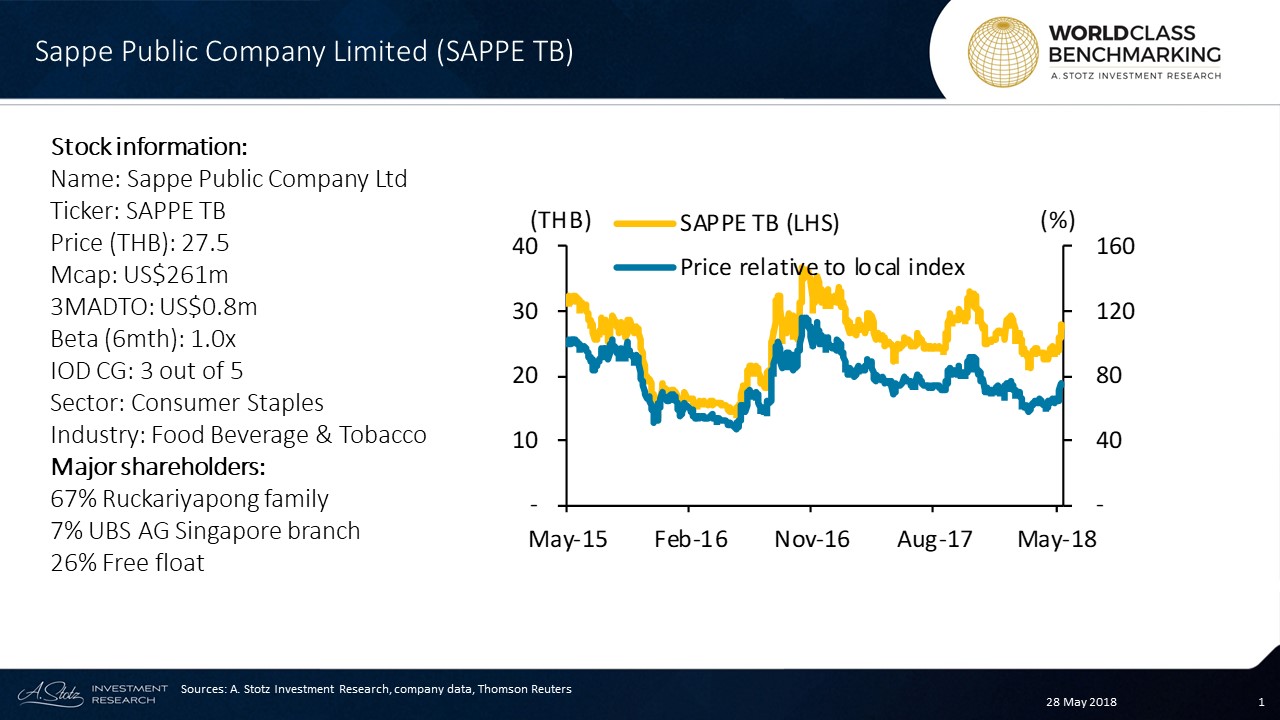 It manufactures dietary and fruits juice drinks as well as functional beverages and powders. SAPPE has two factories in Thailand and distributes their products internationally with the help of two fully owned subsidiaries in Indonesia and Slovakia.
Business Description
Majorly owned by the Ruckariyapong family, SAPPE manufactures and distributes beverage products and functional drinks targeting the health and beauty markets. Products are divided into three main categories under various brands as follows:
Fruit juices and juice drinks (e.g. Mogu Mogu, Chewie, Coco Crash, and SAPPE Aloe Vera Drink)
Functional beverages (e.g. Sappe Beauti Drink, Sappe Beauti Shot, and St. Anna)
Functional powders (e.g. Swiss Garden Coffee, Slim Coffee, Preaw Chlorophyll, and Sappe Beauti Powder)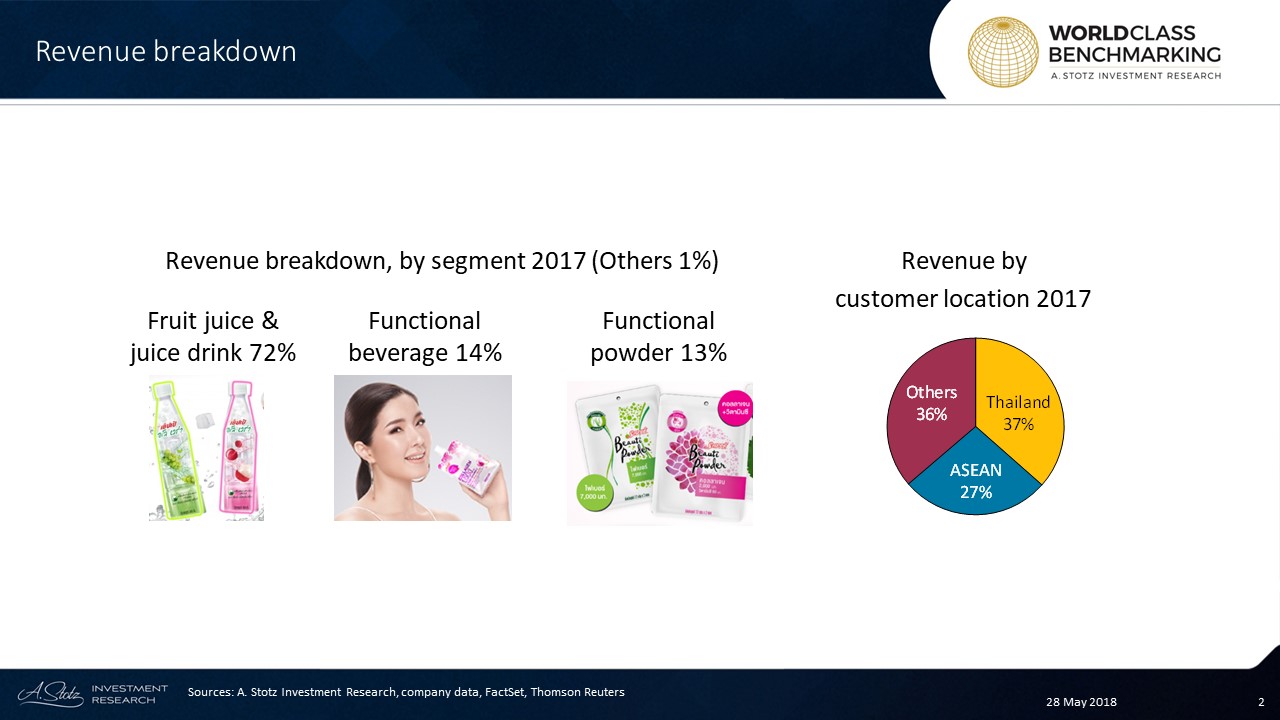 Functional beverages and powders are consumer products that are intended to convey a health benefit. SAPPE Beauti Drink is the #1 dietary drink in Thailand with over 52m bottles sold per year. It also exports its products to Asia, Middle East, Europe, and America.
SAPPE is set to increase its stakes to 51% from 40% in All Coco Group Co., Ltd. by 2H18. All Coco complements SAPPE's product portfolio well and reported a Bt320m revenue in 2017, +130% YoY. It has 13 branches in Thailand and two overseas branches in Korea and the US.
Leadership
Natee Onin is the chairman of SAPPE and has been in the position since 2013. Natee holds a BBA from Assumption University, Thailand, and M.Sc. in International Business from London South Bank University, UK, and a Ph.D. Business from Ramkhamhaeng University, Thailand.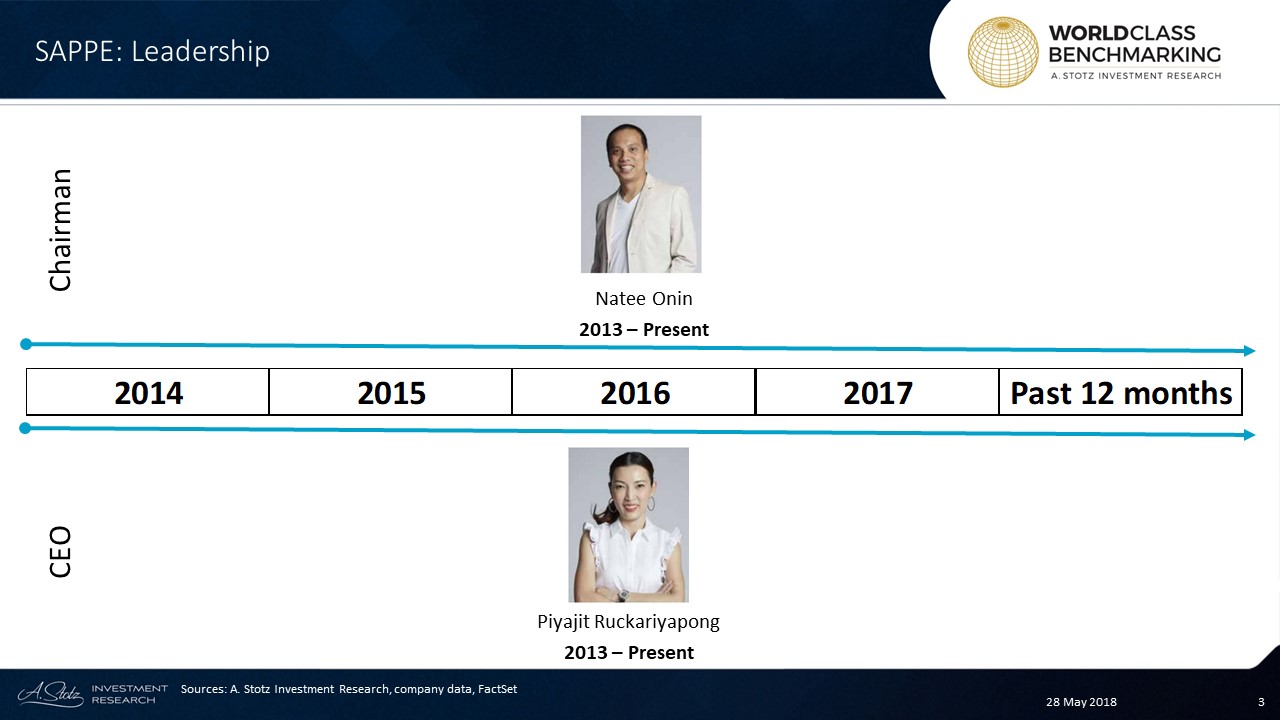 Piyajit Rakariyaphong is the CEO of SAPPE. She obtained a Bachelor's degree in Liberal Arts from the University of Sheffield, UK. Piyajit also holds 17% of SAPPE's outstanding shares. The Rakariyaphong family is the majority shareholder of SAPPE at 67%.
World Class Benchmarking
Profitable Growth has ranked in the top 20% since 2015. In the past 12 months, SAPPE ranked among the top 58 of 290 small Consumer Staples companies worldwide.
Profitability has been top-ranked for the whole time period, except for a #2 rank in 2015. Growth hasn't been as strong but improved to #4 from #6 in the past 12 months.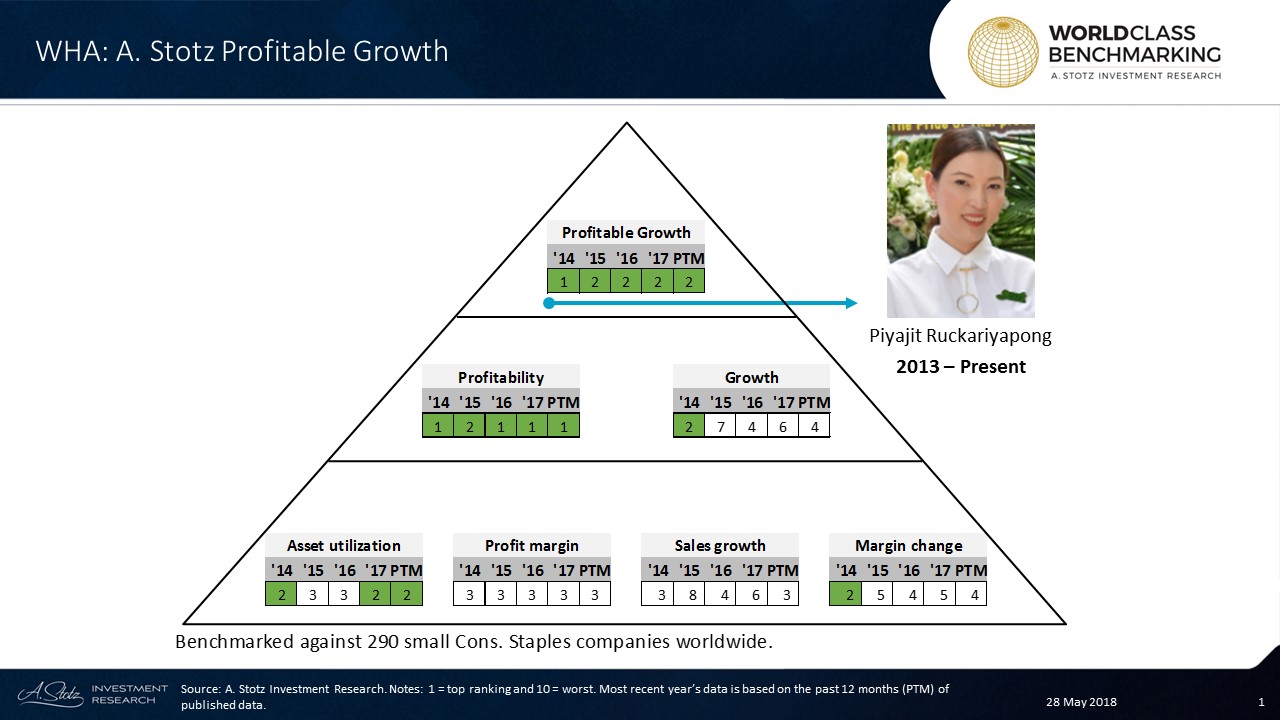 Asset utilization has ranked in the top 30% for the whole time period and has kept a #2 rank since 2017. Profit margin has been stable in the third decile for the whole time period.
Sales growth has been volatile and improved to #3 from #6 in the past 12 months. Margin change has moved around #4 and #5 rank since 2015.
---
What're your thoughts on SAPPE?
If you like our research, share it with your friends.
---
DISCLAIMER: This content is for information purposes only. It is not intended to be investment advice. Readers should not consider statements made by the author(s) as formal recommendations and should consult their financial advisor before making any investment decisions. While the information provided is believed to be accurate, it may include errors or inaccuracies. The author(s) cannot be held liable for any actions taken as a result of reading this article.